< Part 108 | Part 109 | Part 110 >
Pages 6447-6474
Act 6 Act 6 Intermission 1, Part 5 of 5
Hell.
Fucking.
YES!!!!!!!
This is probably going to be my last Homestuck post for at least a few weeks, depending what content we get on this year's 4/13. I'm honestly kind of nervous for it, it might be something really cool or it could just be more unreadable meta drivel.
Anyway, as this post's title says, I've been waiting to get to this part for over four years and now I'm finally here. I was so excited to finally make this post and I'm just as excited now to finally release it.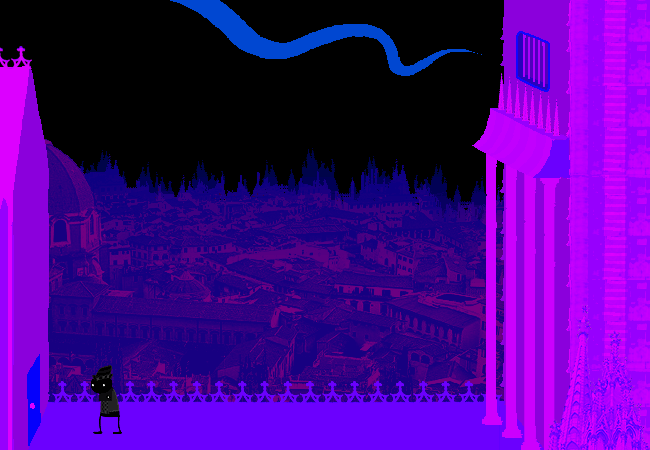 Oh my god, this is happening, it's happening, it's actually happening!!!!!! I seriously can't believe I've made it to John's first conversation with Roxy in my Homestuck post series after all this time, but I really shouldn't waste any time rambling about how I never thought I'd get to this point until I finally got there, oh wait, I'm rambling about it right now, oh you know, whatever. Let's jump right the fuck in.
Wait for it… wait for it… (also, note the pumpkin)
Here we GO!
Roxy is humorously making it clear that she's making the most of her time in prison by goofing around in a pyramid she made using void powers. All through these three words, "who goes thr", it's clear that…
I don't know what it's clear that, actually. Nor do I have any idea to phrase that sentence in a way that sounds like proper English grammar.* I'm just… like, wow. Now that I'm finally here, I don't even know what to say. This is pretty much a special post in my Homestuck post series, like a holiday special episode of a TV show or whatever else might constitute a "special episode".
* I actually do ("I don't know what's clear"), I just thought it would be funny to say I didn't. Though it's probably not very funny at all.
Continue reading