< Part 101 | Part 102 | Part 103 >
Pages 6055-6110
Act 6 Intermission 5, Part 4 of 5 (probably not 6)
I'll only split Act 6 Intermission 5 into six parts if I feel I absolutely have to, like if the next post becomes insanely huge. Really don't want to ruin my Pitbull pun from my last post.
This is my first Homestuck post of 2020!!! As I've said on Twitter, I intend on releasing posts regularly (on my usual once to twice a week basis) throughout at least the first half of the year, and boy am I excited to get back in the swing of things. I've estimated that I'll reach Caliborn's Masterpiece (a significant landmark point) in May or June, which means I'll be able to make lots of progress on my Homestuck posts this year. And if I get bored of those, maybe I'll even resume my rewritten post series.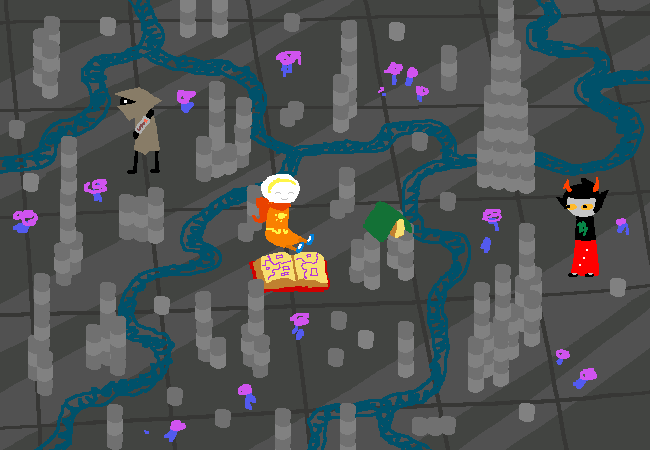 Picking up from where we left off, we're about to see what everyone's favorite lesbian couple is up to in the meteor.
Rose's instinct to write the number 413 shows us that alcohol exaggerates her already uncanny recognition of all things meta.
This panel is a rather odd sight. It's so unlike Rose to be goofing around drawing on cans, and it's both amusing and tragic to see Kanaya react to her antics with this expression.
KANAYA: Rose You Are Willfully Ignoring My Trail Of Finish Crumbs
ROSE: Humm?
KANAYA: I Said Them Quietly In Sequence To Convey One Of Your Human Pregnant Pauses Before Speaking
ROSE: Ahaha.
KANAYA: The Pause Was Human Expecting In The Same Sense That I Am Expecting An Explanation For Your Present Conduct
KANAYA: We Were To Meet The Others On The Roof By Now
ROSE: Kanaya, whas with this pregnancy shHIC! shit, are you trying to toll me something? 😉
KANAYA: Im Trying To Toll… To Tell You That We Are On The Verge Of Reaching Our Destination And Here I Find You Doing
Last time we saw drunk Rose, she gave an intelligent Dirk-style philosophical lecture about the symbolism of apples blurred merely by a swath of typos. Now, alcohol has demented her so strongly that she can't even understand the metaphorical meaning of words like "pregnant". Or maybe this is simply the recent flirty Rose obfuscated by alcoholism? You get the idea either way: this is nothing like the Rose we've always known.
KANAYA: Really What Are You Doing Here In The Tiny Simulated Village
KANAYA: Are You
KANAYA: Are You Writing Numbers On All Of These Nutrition Cylinders
ROSE: *LAFF.*
ROSE: God I just love troll words for things!
KANAYA: Yes
KANAYA: You Have Mentioned This
ROSE: Nushrition cylinders, thad's a good one. I forgot about that one.
ROSE: Maybe cylanders ins't stilted enough, though. What about.,.
ROSE: Tallcircles.
KANAYA: Tallcircles
ROSE: ;D
KANAYA: Tallcircles No That Sucks
KANAYA: Answer My Question Please Why Are You Numbering The Tallcirc…
KANAYA: CANS
ROSE: I am docurmenting their original locations.
ROSE: Soo that we way relocate the city faithfully to our new home.
ROSE: Wheyrever that may be!
KANAYA: You Want To Relocate The City
KANAYA: Now??
KANAYA: This Is Such A Foolish Use Of Your Time
It's pretty interesting the way some aspects of Rose's character are retained when she's drunk. Her detail-oriented, analytical self is still there, just with her list of priorities turned upside-down so that maintaining Can Town is right on top. Though the concept of Can Town later becomes the crux of reconstructing Earth's civilization, Rose is misguided to think it's a worthy use of her time, because rebuilding civilization is what characters like the Mayor are explicitly designed by Sburb to be good at. Act 2 shows us that the Mayor has uncanny mathematical memory, so while he's no doubt delighted that Rose is sharing this interest, there's objectively no reason for her to go around helping with that of all things.
ROSE: Oh,, but you could not be further fromp the truth.
ROSE: The prestervation of Can Town has trenendous symbolic importance.
ROSE: We are ahll that's left of our respective races, Kanaye. kan(a)ye west lol
ROSE: We are the light of civivization!
ROSE: Is our responsipility to carry the torch through the abyss whilest keeping it lit, and hic…
ROSE: And set it pupon the harth of the newd world.
KANAYA: I Think The Torch Is Not All You Have Managed To Keep Lit
ROSE: Its light… OUUR light will spread throughout our creation, but only, Kayaka, ONLY,
ROSE: If we respect the light of civilazation itself. If we respect the light of DEMCOCRACY!!
KANAYA: ……
KANAYA: So Many Finish Crumbs Up In Here
ROSE: Civilitey/ Liberby. Reason. Efidication. Civilty.
ROSE: Rationality. Learning, Jutstice. Libersty. Hornor. Elucidution.. Civlity. Raison…
ROSE: This are the virshues which emboby the magnificence that is Can Town.
KANAYA: You Said Some Of Those Words Two Or Three Times And Most Of Them Werent Words
I'm not sure how I feel about the long-gone exile arc being lampooned like this. In any other context, this would be a delightful callback to the days back when the Mendicant wasn't just an angry white dog and when AR and all the other exiles still existed. But here, it feels sort of like making fun of those days and dismissing the many story developments in the exile arc as pointless antics? I digress though. Early act nostalgia or not, I think these callbacks effectively show how badly alcohol has messed with Rose's personality.
Note that the book in this panel seems to be the exact same one Rose had written the spiritual successor to her Sburb walkthrough in a few intermissions prior.
I like how the panel above uses Rose's standard facial expression she's had since Act 1 to convey her extreme drunkenness. This is achieved by juxtaposing her expression with an extremely aggravated Kanaya.
KANAYA: I Do Not Believe This
KANAYA: You Promised Me You Would Be Ready For Our Arrival
ROSE: I am ready!
ROSE: My god robe's on n evrything.
KANAYA: This Is Not Ready!
KANAYA: When I Said Ready I Believe Your Sobriety Was More Than Implied As The Operative Criterion
ROSE: Mehehe, Kanasta,
ROSE: U so
ROSE: Wordy. 😉
One of the worst things about Rose and Kanaya's relationship in this scene is that Rose still expresses what she likes about Kanaya, but now an extremely blunt un-Roselike way. It kind of reminds me of how Roxy expresses what she likes about John in a similarly blunt way early in the Candy Epilogue—as I discussed in one of my Openbound posts, these two relationships have a lot of parallels.
KANAYA: Ugh!
KANAYA: I Have Been As Polite As I Can Be But Honestly Your Demeanor Is Not Nearly As Charming As You Appear To Believe When You Have Consumed A Lot Of That Liquid
KANAYA: You Have Assured Me That Chronic And Habitual Exploitation Of This Substance Is "Not A Problem" For Your People But At This Point I Must Conclude That You Were Just Lying!
KANAYA: Why
KANAYA: Why Did You Do This Just Before Our Arrival When You Told Me You Wouldnt!!!
ROSE: Well.
ROSE: I wasnt' going to.
ROSE: But I starded to think about evereything.
ROSE: About meeting my mom.
ROSE: And I startled getting nervous.. .
While Roxy had given some long, heartfelt speeches about how badly she wanted to connect to her dead mother not too many pages prior, here Rose is stating the same idea in much fewer words. Perhaps it's better to keep Rose's words about her mother short—this brevity may be a testament to how much the Lalondes have in common beneath their contrasting personalities, which would mean Rose doesn't need to say the same stuff Roxy had said all over again.
KANAYA: But You Cant Help Us Like This!
KANAYA: We Need You!
KANAYA: Youre The Smartest One On This Meteor!
KANAYA: By Quite A Lot!
ROSE: Hey now.
ROSE: Kapaya, I'm flatter. But I think you're might be selling the Mayor short.
KANAYA: What
ROSE: THIS GUY
ROSE: Lemme tell yuoi.
ROSE: THIS GUYY,
ROSE: is
ROSE: THE BEST ;D
KANAYA: Okay That Was Literally The Most Inebriated Thing You Have Ever Said
It's only fitting that immediately after I point out a parallel between the Lalondes, Rose goes full-on Roxy with the way she talks about the Mayor.
After Kanaya argues against Rose's claims that the Mayor is a paragon of intellect, we get another amusing little meta bit:
KANAYA: This Is Not A Hypothetical Exercise In Your Earth Psychiatrics!
KANAYA: You Made A Promise To Me And You Did Not Keep It!
KANAYA: Yes You Are Usually Very Smart And We All Need You But More Importantly I Need You!
KANAYA: Dont You Remember!
KANAYA: You Said You Would Help Me Resurrect My Species!
KANAYA: I Still Dont Know How Im Going To Acquire A New Matriorb!
KANAYA: How Are We Supposed To Solve That Problem When Your Think Pan Is Addled So!
ROSE: Kamaya, why do'nt we go aesy on the shout poles.
which demonstrates yet again that alcoholism has boosted Rose's trademark meta awareness while washing away any semblance of usefulness to the plot.
ROSE: I tolt you, to relax about the matribob.
ROSE: Have some faith in us, that we;re going to make everything work out.
ROSE: I have a vvvery goog feeling i twill all be fine. 😉
KANAYA: That Is Not Reassuring Coming From You Like This!
KANAYA: I Often Cant Tell Even At Your Most Lucid If You Put Too Much Trust In Your Seering Abilities
KANAYA: But When You Say Such Things While Obscured By These Toxins You Sound Outright Delusional!
KANAYA: You Stumble Around This Lab In Such High Spirits Which Makes It Impossible To Broach The Subject From A Standpoint Of Mutual Agreement That Your Behavior Is A Problem!
ROSE: But if I'm always happay then…
ROSE: Why IS it a problem?
KANAYA: ARGH YOU SEE
This dialogue is incredibly on-the-nose if you think back to the trickster arc, where Dirk struggles to tell the alpha kids exactly what Kanaya is trying to tell Rose. Alcoholism and trickster mode in Homestuck both make very similar points about the problems with eternal happiness.
ROSE: Im'm not following. I would LIKE to, wait am I…
ROSE: Have I been being a bistch to you witout realizing?
ROSE: Oh noh…
KANAYA: No Not Exactly
KANAYA: I Have Already Explained
KANAYA: You Have Severely Hobbled Your Intellect And Your Efficacy
KANAYA: The Objectives You Prioritize Have Become Ridiculous
KANAYA: You Have Just Now Decided To Draw A Map Of A False Metropolis!
Could it be that alcohol gives characters special abilities in Homestuck, just like it does in Problem Sleuth? Rose and Roxy both become considerably more concerned with carapacian matters when inebriated, which is probably just a demonstration that alcohol fucks with your head, but it's fun to think of it as a Problem Sleuth callback because—guess what?—fun things are fun.
KANAYA: Others Have Suffered As Well
KANAYA: What Ever Happened To Your Concern For Terezi And Gamzee
KANAYA: Were All My Lessons In Auspisticism For Nothing??
ROSE: I tried!
ROSE: I tried, Kakaka.
ROSE: But aushitspitschism… or whatever…
ROSE: Is's
ROSE: It sactually REALLY HARD!
KANAYA: I Know Its Hard!
KANAYA: Its Supposed To Be Hard!!
KANAYA: And My Name Is Not Kakaka!!!
There we have it, an ashen relationship sunken shortly after it was first proposed. Kanaya put too much trust into Rose again and made the mistake of letting a human be the auspistice for a change. The question of whether humans can experience troll romance is explored a lot towards the end of Homestuck and in the epilogues, and its answer goes back and forth quite a bit with cases like John's relationship with Terezi and the unhealthy three-way relationships in the Candy Epilogue.
ROSE: Whoops I'm sorry, Yakaya..
ROSE: .. Kayolo.
ROSE: ., …
ROSE: Papaya. Shit!
ROSE: Your name is so lovely, why can't I shay it!
KANAYA: You Cannot Say It!
KANAYA: Because You Are!
KANAYA: HUMAN DRUNK!!!!!!!!!!
ROSE: … .
ROSE: Yuo're right,
ROSE: My delinqancy has bend inexcusable.
ROSE: If you just help me fishish indexing an gathring up the rest of theze cans, we-
KANAYA: Raaararraauuuaaaauuaghghgghgggghhgh!
Despite being extremely human drunk, Rose does still fondly remember a few things about their Sburb session, which we haven't seen as much talk about on the meteor as we have on the battleship. As far as Rose knows, dear sweet little unambiguously male Viceroy is dead forever, and she genuinely wants to memorialize him, perhaps as another way to connect to her mother who took great passion in grandiose funerals.
Fun fact: Rose almost spelled "moirail" just now when she tried to say "memorial".
In a moment of genuine worry, Rose asks Kanaya if she is going to brek [sic] up with her, to which Kanaya responds "NO!!!!!!!!!!!!!!!!!!!!!!!!!!!!!!" This scene semi-humorously shows that this isn't the last we'll be seeing of their relationship, and perhaps assures readers that this relationship, unlike many others, will eventually go in a healthier direction. Is this evidence that the retcon may have been conceived during Act 6 Intermission 5? At this point I'm genuinely starting to think that's the case, but it's no matter because it's now time for Act 6 Intermission 5 Intermission 4.
I NEED MORE ANSWERS. VERY QUICKLY.
I thought you had given up on getting answers from me.
NO. I JUST HAVE NOT HAD TIME.
THE BOMB COUNTDOWNS ARE GETTING SO SHORT. THIS IS GETTING HARD. IT'S NOT FAIR.
I really don't see how it's any less fair than being allowed to solicit the omniscient narrator of your quest for answers.
Nobody else who plays this game gets to do that. What makes you so special?
BUT YOU'RE THE ONE WHO SAID I WAS SPECIAL.
I shouldn't have said that.
Now you're strutting around, all thinking you're special.
I AM SPECIAL!
I know.
I like how Caliborn is only now complaining about the difficulty of his planet exploding mission, when he's almost done and on the third to last planet. Really shows how the strange way his brain works disguises his extreme talents.
LESS BULLSHIT. MORE ANSWERS.
I HAVE COLLECTED MORE FROG MEN.
WHAT DO THEY DO.
Frog men???
You are getting really esoteric with your headcanons now.
MY WHAT.
And what makes you so sure they are all men?
Have you sexed them?
FUCK YOU. AND YOUR RIBALD INSINUATIONS.
MY RELATIONSHIP WITH THE FROG MEN IS STRICTLY PROFESSIONAL.
No, I mean determined their sex.
Do you even know how?
I DON'T CARE.
THEY'RE ALL MEN. BECAUSE I SAY THEY ARE. AND I WANT THEM TO BE.
IF I BELIEVE HARD ENOUGH IN THEM BEING MEN.
THEN THAT FACT BECOMES ABSOLUTELY INDISPUTABLE AS A PERMANENT MAN REALITY.
It does?
ARE YOU TELLING ME. THAT YOU HAVE REASON TO BELIEVE. THAT MY ENTOURAGE OF DISTINGUISHED GENTLEMEN.
CONSISTS OF ANYTHING OTHER THAN BOYS???
No.
I mean, I don't know.
I'm not there, so I can't sex them to be sure.
Caliborn gives us a narrative justification for why the Felt's leprechauns, unlike most other groups of characters in Homestuck, are all male: it's retroactively a misogynistic narrative decision on his part. It's unknown if female leprechauns are even a thing in Homestuck, and that's retroactively all thanks to Caliborn.
I HAVE OBTAINED SOME STRIPE HATS.
YELLOW STRIPE HAT. BLUE STRIPE HAT. RED STRIPE HAT.
WHAT DO THEY DO.
Why do you always want me to spoil stuff for you?
Why can't you be at least a little scientifically inquisitive, and find out what they can do yourself?
Have you tried injuring blue stripe hat yet?
NO.
WHY WOULD I HURT HIM. HE IS MY LOYAL MINION, ALBEIT ONE WHO IS OVERWEIGHT AND APPARENTLY USELESS.
Mentally dense as ever, Caliborn provides a rather adorable excuse for why he wouldn't want to use Sawbuck's power. Of course the leprechauns' allies wouldn't use that power—Sawbuck is useful for getting people who try to hurt him stuck in complicated time shit. Caliborn is really starting to warm up to his crew of frog men.
ANYWAY. I DON'T HAVE TIME FOR SCIENCE. JUST TELL ME.
Fine.
Blue stripe hat randomly time travels somewhere if you injure him.
Red stripe hat can also travel through time, but only using fire as a gateway.
This is notably the first time Matchsticks' ability to time travel using fire is made clear in-comic rather than on Hussie's Formspring. This clarification is useful because a lot of readers were confused when Matchsticks appeared in the Doc Scratch intermission.
Yellow stripe hat is a tailor.
A TAILOR.
Yes.
YOU MEAN. SOMEONE WHO SEWS STUFF.
Yes. A damn good one, too.
THAT'S NOT A POWER. IT'S MORE LIKE. A FUCKING HOBBY.
WHICH HAS NO VALUE TO ME WHATSOEVER.
If you want to be a bigshot time traveler, you're going to need a good tailor.
Everyone knows that.
NO. MAKES NO SENSE.
What if some day you get some sweet new threads? Who will maintain your wardrobe for you??
Hussie's explanation of Stitch's ability is muddled yet again by Caliborn's literal-mindedness. He doesn't see the point of having a tailor handy for when he turns into an all-powerful demon…
Do you think you'll wear that tee shirt and those stupid suspenders all your life?
I WILL NEVER STOP WEARING MY AWESOME SUSPENDERS.
NO ONE CAN MAKE ME. NOT EVEN MY TAILOR.
… but he does demonstrate how well he sticks to his promises, even silly ones like always wearing his suspenders. When Caliborn becomes Lord English and gets a hold of the Cairo Overcoat that Stitch kindly maintains, he keeps this promise by simply wearing his suspenders underneath.
Whatever you say.
You're wasting time again. Better hurry up and conquer this planet so you can find Eggs.
WHAT??
Whoops. I mean purple stripe hat.
Forget I called him that.
OH. YES.
I'M REALLY LOOKING FORWARD TO THESE NEXT FEW GUYS.
I HAVE A FEELING. THE FARTHER I GO. THE MORE USEFUL AND EXCITING THE FROG MEN ARE STARTING TO BE.
You won't be disappointed.
If you stop to think about how big and strong the last few Felt members are, you can see why Caliborn is excited to unlock them. These big mean green guys will prove to him that this tedious quest was worth it in the end.
This is the only time we ever see a Beforan troll's fetch modus.
Act 6 Intermission 5 Intermission 4 is followed by a short flash featuring ominous Murderstuck music where Kurloz of all people finds Vriska's coat and captchalogues it in his modus, which is the same as Gamzee's. It's still unknown what the plot significance of captchaloguing this coat is—does it later become Lord English's coat through time shenanigans?—but as Hussie's self-insert has said, Kurloz and his crew probably do all this demon cult nonsense because they think it's funny.
Next up is a conversation between John and Meenah about the Ring of Life that reads very differently after the epilogues. This will be my first time after the epilogues reading this scene, which is sure to be fun.
If you're reading this post and haven't read the epilogues, I'll make it brief for you: after the battle against Lord English concludes and the Furthest Ring is destroyed, Meenah does exactly what she fears is inevitable word-for-word. It makes me wonder if it almost makes sense that she didn't get much screen time after coming back to life? A major theme near the end of the Candy Epilogue is that by this point it isn't all that rewarding anymore to see characters finally fulfill the heroic roles they were always meant to have, as discussed by Aradia and Sollux when eyepatched Karkat makes a brief appearance.
MEENAH: just one problem though
JOHN: what's that?
MEENAH: i dunno if i wanna?
JOHN: hmm.
JOHN: alright. then i guess that settles that.
MEENAH: no but you dont understand
MEENAH: if i ganked your ring and put it on
MEENAH: and became not a ghost anemonemore
MEENAH: and had to hit the road and conquer stuff
MEENAH: i would miss my friends 38(
JOHN: then, uh…
JOHN: don't?
MEENAH: no blue boy you arent listening
MEENAH: i cant even handle it
MEENAH: thinkin aboat ditching my fronds
MEENAH: they meant so much to me since i been dead
MEENAH: ya feel me blue dweeb
JOHN: yes.
JOHN: my friends mean a lot to me too.
MEENAH: the serket twins
MEENAH: they just
MEENAH: bleugh
MEENAH: look at em
MEENAH: so disgustinly adorbs together
MEENAH: all likin each other and BEING like each other and junk
MEENAH: i dont think i could take it
MEENAH: i aint ready to say fareshell
Many fans have expressed dislike of the fact that Meenah revives herself in the epilogues knowing this conversation. However, considering the reasons she gives for being afraid to bring herself back to life, maybe it makes sense she does so after the Furthest Ring is destroyed and she has nowhere else to go? I don't know, just throwing around ideas for how to explain a part of the epilogues I'm still not sure how I feel about.
Meenah here is talking about how she never fit in with her group of Sburb players and has always wanted a friend who is as fearless and aggressive as she is. She gets this wish fulfilled for real in the epilogues when she gets together with Karkat, which again isn't particularly satisfying to readers (and instead makes them feel bad for Dave) because of how little screen time she gets.
MEENAH: but the point is blue chump
MEENAH: im happy now
MEENAH: more than i was on my moon with my sweet gold statues an shit
MEENAH: and more than i think ill be if i gotta be alive again and have to go knocking over galaxies or whatever to make a bomb new fishqueen empire
This is one of the few parts of Meenah's speech that we don't see addressed in the epilogues: there is no indication as to whether she is happy as a co-leader of Earth C's troll rebellion, because like I said, she barely got any screen time. Again, maybe it makes sense to put her more into the background somewhat like the Condesce, but it still bothers me that she didn't get more speaking scenes. People don't talk much about the role Meenah had in the epilogues, not like with characters like Roxy or Jane or (loudly sighs) Gamzee.
MEENAH: but its killin me blue schmuck
MEENAH: its killin me to know you got that ring and knowin ill have to take it from ya some day
MEENAH: augh why
MEENAH: why you have to swim in here and present me with this codawful dilemma
MEENAH: why do you have to be so lame and chumpy and such an obvious mark
MEENAH: your dork ass face just screams waaaah gimme a fuckin wedgie and take my ring!
MEENAH: but i dont wanna but i think i gotta cause i mean come on OBVIOUSLY its mine, just why
MEENAH: W)(Y W)(Y W)(Y W)(Y W)(Y W)(Y W)(Y
JOHN: ok, jeez!
JOHN: i promise no matter what, i won't let you have the ring!
JOHN: i'll hide it or something. or better yet, i'll just give it to someone else before you get the chance to steal it.
JOHN: how does that sound?
By the end of Homestuck proper, John has fulfilled his promise to Meenah and given the ring to Calliope, retroactively before anyone else got the chance to steal it. But in the epilogues, he finds a free ring all over again and keeps the precious treasure right in this pocket like the airheaded dork he is so that Meenah can fulfill her prophecy of stealing the ring from him. As questionable a narrative choice this may have been, I sure as hell can't say it wasn't well-executed.
While Aradia smiles like a creep as usual, Meenah hugs John and says "T)(ANK YOU". Now she's definitely crossed off the list of resurrection candidates forever, just like Vriska was not long ago.
In a short little flash, John and the Serkets descend the Yaldabaoth platform, with Aradia and Meenah shortly following.
Vriska blatantly dabbles with the fourth wall when it's finally time to reveal what the treasure is, which can only mean one thing:
And with Vriska's sassy flourish of dramatic irony, it suddenly becomes evident to anyone with a brain that we aren't going to see what the treasure is for hundreds, if not thousands of pages.
So why don't we stop wasting everyone's time, shut the lid on this lousy MacGuffin, and be Viceroy Bubbles Von Salamancer.
In Homestuck's increasingly self-satirical spirit, the grand reveal is interrupted with a self-indulgent joke interlude that happens to be one of the last times Homestuck uses command-based narration.
Oh yes! You kick your adventure off to a phenomenal start with liveliest jig you have ever attempted!
Your little legs could use the workout after being cooped up on that ship for three years. Wait, shouldn't Casey have reached adulthood in that timeframe, or at least gotten somewhat bigger? You seem to recall from earlier somewhere that salamanders have short lifespans, and grow up quickly. Oh well, you decide to graciously disregard the one and only plothole in this elaborate tale. In fact you think you will use your dark sorcery to make it – POOF – disappear! Ha ha, what problem?
You are so excited for this side quest to begin. It's going to be almost as delightful as it is thorough, and almost as thorough as it is relevant.
Enjoy ironically disregarding plot holes while it lasts. It's kind of weird to read the story erasing continuity errors in a satirical fashion when the story legitimately falls into a horrid trench of plot holes after the retcon happens. The joke where Viceroy uses his magic to destroy a plot inconsistency may be meant to hint to readers that John's retcon powers will soon make the story way more meta than it already is.
You retrieve your adorable amphibious arms from your RAG OF DEMONS. And in doing so you reveal them to be adorably grasping the dreaded CROOK OF FRAILTY. No young salamancer should dabble in the dark arts without one.
You twirl the grim cudgel in the air and begin to disturb ancient spirits from their slumber. In spite of necromancy's notoriously bonkers FAKENESS ATTRIBUTE, you begin to cast a spell!
Somewhat like the scene with Rose and the Mayor at the start of this post, this VBVS interlude is a farcical throwback to the early acts. This portion of the story is especially intended to troll readers, but there are surely some Problem Sleuth purists who genuinely enjoyed this throwback.
You beckon a horrifying cadre of skeletal friends. They lurch from the mounds to serve their dark master. You're so happy to see them. You start to blow some sinister friendship bubbles.
You look at all these skeletons and think to yourself, this is probably going to be really important later on. Because that's what happens in adventures. A thing happens, then you forget about the thing for a while, but it turns out to be important down the road. Like some heroes will be fighting a bad guy, and things will look bleak for them. But then out of nowhere this skeleton army will arrive as reinforcements or something, thus turning the tide of battle. Then you go, ah-ha. So that's why that little salamander summoned those skeletons. Everything makes sense now, and in retrospect is elegant in its simplicity.
The whole thing about Casey/VBVS's army showing up as foretold here was a frequent discussion topic among Homestuck fans before [S] Collide came out. If you weren't there for those times, I speak from experience when I say that the Casey "plot mystery" was talked about a lot more than you probably think. In retrospect, I find it amusing that this plot point was fulfilled exactly as the story told in a fairly underwhelming manner, sort of like Meenah's resurrection in the epilogues.
Vriska is so frustrated with Hussie's antics that she's now using her meta awareness characteristic of heroes of light to try to intervene with this now full-on adventure game parody. This little interlude is interesting because it shows that 2013 Hussie was still capable of writing in the style of Problem Sleuth rather well. It makes me wonder why he seemed to prefer taking Homestuck in the direction of teens talking at length about emotional stuff, but I digress.
Since Vriska straddles the line between hero and villain with basically everything she does, she doesn't quite have the same meta powers that many of Homestuck's antagonists have, but here she's furious enough that she manages to successfully wrest the narrative back into her hands.
What follows is a Vriska rant that I'm going to analyze in a bit more depth than usual.
VRISKA: OHHHHHHHH NOOOOOOO!!!!!!!!
VRISKA: OH FUUUUUUUUUUUUUUUUUUUUUUUUUUUUUUUUCK NOOOOOOOOOOOOOOOOOOOOOOOOOOOOOOOO!
VRISKA: WE'RE G8ING TO LOOK AT WH8T'S IN THIS CH8ST RIGHT N8W!!!!!!!!
VRISKA: DO YOU HE8R ME Y8U F8CK?
VRISKA: I D8DN'T SCRAPE AND CLAW MY W8Y 8ACK TO RELEV8NCE F8R THIS SHIT!
VRISKA: I'M DOING S8METHING F8CKING IMPORTANT! AND WHEN I DO SOMETH8NG FUCKING IMPORT8NT, EVERY88DY 8ETTER D8MN WELL PAY ATT8NTION TO ME!!!!!!!!
Vriska starts off by reminding us that she's had to work her way up to becoming relevant to the story, which is an arduous task for anyone who's stuck as a ghost. Only a Serket would be so contemptuous of sticking around in the dream bubbles as a background gag character, and only Vriska Serket would so overtly campaign for her narrative relevance.
MEENAH: (wut)
ARADIA: 😀
VRISKA: YOU DON'T TH8NK I'M ON TO YOU 8Y NOW? AS IF I C8N'T SENSE WH8N SOME SORT OF 8ULLFUCKERY IS AFOOT????????
VRISKA: YOU DON'T THINK 8'M WISE TO YO8R FUCKING G8MES????????
JOHN: (who's she talking to?)
ARANEA: ::::?
ARADIA: 😀
The other party members are understandably confused, even Vriska's equally ambitious-minded dancestor. Unlike Vriska, Aranea's attempts at relevance are much more sneaky and subtle as we'll see in later acts (sub-sub-intermissions, I know).
VRISKA: GO AHEAD! TRY AND FUCK W8TH US SOME M8RE!
VRISKA: MAKE MY D8Y YOU PI8CE OF SHIT!
VRISKA: EVERYONE HERE WANTS TO KNOW WH8T'S IN THIS CHEST, SO THAT'S EX8CTLY WHAT THEY'RE GONNA SEE!
VRISKA: THERE'S PRO8A8LY SOME IDEAL WAY FOR ME TO REVEAL THIS THING TO M8KE IT SEEM AS COOL AS POSSI8LE, 8UT Y8U KNOW WHAT!
VRISKA: I DON'T GIVE A F8CK!!!!!!!!
VRISKA: I'M JUST G8NNA DUMP IT OUT ON THE FLOOR RIGHT HERE AND NOW!
Vriska is so worn out of Hussie fucking with her story arc that she doesn't even care about looking cool anymore; all she wants to do is finally see the treasure already. Revealing the chest's contents to make it seem as cool as possible will have to wait for Act 7, in the anime sequence that gave a controversial heroic conclusion to alive Vriska's arc.
Vriska dumps out the chest and loudly explains the story of the juju (Lord English used it as a weapon when he was young and now it can only be used as a weapon against him) while Aradia smiles harder than she ever has before and the other three watch in confusion, making for a humorous subversion of the pattern of dramatic exposition sequences that's been happening a lot the past few hundred pages.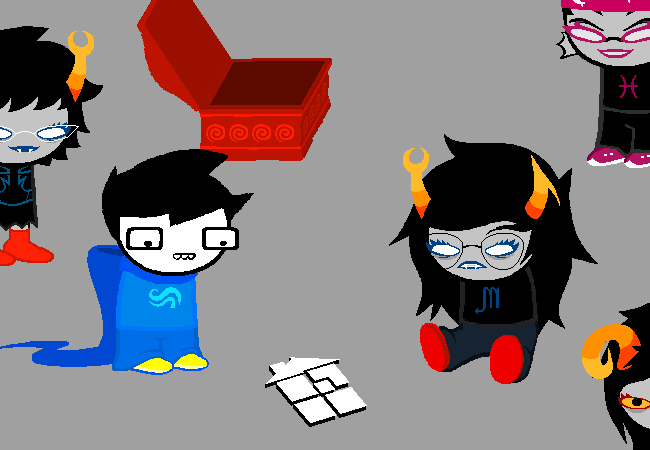 Vriska's warning to John sounds almost like she knows her narrative relevance is at severe stake if John tries touching the juju.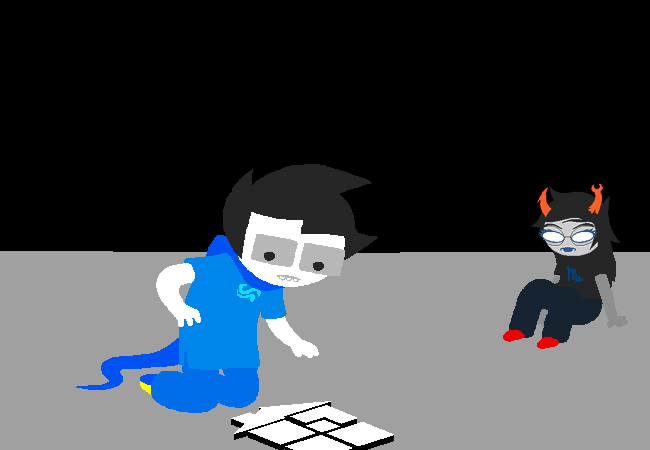 Vriska's fear that John will cause destruction on a meta-cosmic level reminds me of what alive Vriska says about John near the end of the Candy Epilogue: as the protagonist of Homestuck, he naturally falls into gaining powers with enormous potential that he'll never be able to muster unless someone else tells him what to do. I see John's character arc from this point onwards as a tale of struggling with canonicity and narrative relevance in a very different way from Vriska that's sort of hard to describe.
When John reaches into the juju, this happens:
Getting hurt by her sharp horn is the last interaction John ever has with ghost Vriska. Fittingly symbolic of her strong influence on his life.
and when he reaches into the juju again, THIS happens:
It was John's arm the whole time. Hence the myserty.
If you weren't aware of this already, this scene is a retcon in a very literal sense because when this update came out, Hussie went back through the entirety of Homestuck and updated various panels to have John's arm hidden in them. Many first-time readers from this point onwards have noticed arms throughout early pages*, which means that to archival readers this is the sequence where we finally learn where all those arms came from. Most fans seem to enjoy the new layer of meta the retcon powers bring, except for probably those who are the very most against it.
* Confession: I didn't notice a single hidden arm when I first read Homestuck, which was after the arm retcon but before the oil retcon.
I should note that although I noticed a decent amount of arms (probably about 30% of them) through the course of making my Homestuck post series, I didn't bother saying anything about them since I already knew they were retroactively added.
Still one of my favorite scenes in the early acts. The complex design of Jade's computer catches me by surprise whenever I reread.
John's arm finds its way not only into various points in Homestuck's canon, but also many debatably non-canon places like the in-universe Midnight Crew adventure and the 3D world inside Jade's lunchtop or however the hell that works. This is a jaw-dropping way to demonstrate the metafictional extent that John's powers now have—the sheer amount of potential that he's too much of a spacey nerd to realize on his own.
Here's a few more highlights:
I love this retroactive high-five so much, you don't even know.
Another debatable non-canon scene that now has John's arm in it.
This image is a weird one to analyze because in case you forgot, Gl'bgolyb is FUCKING HUGE and her mouth that swallowed a lusus many times the size of your average troll is just barely visible on the left. I can think of two explanations for why John's arm is visible in this panel: (1) his arm is way closer to the imaginary camera than Gl'bgolyb's tentacle is, making this an optical illusion, or (2) Gl'bgolyb's mouth area is way farther from the camera than the area where John's arm is, which is definitely the more likely explanation. You know, I don't think I've ever stopped to appreciate the usage of perspective to make Gl'bgolyb seem intimidating until now.
I like how John's arm becomes blurry when it enters the world of Dave's unplayable video games.
Obligatory "lol roxy x john".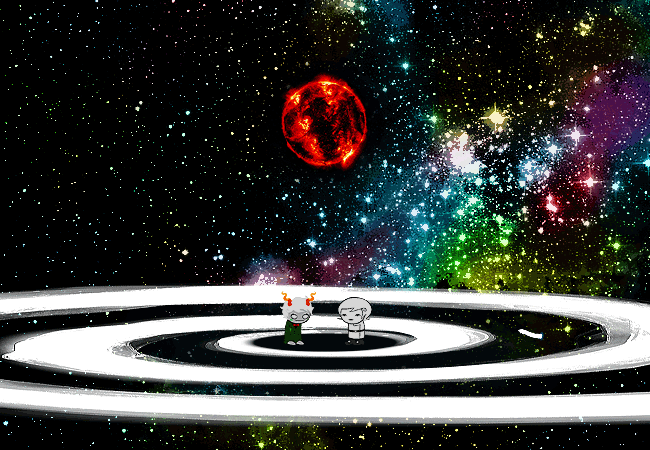 Second-last panel with John's arm retconned into it. It feels like only a week ago when I did my post covering this part.
I love how John's entrance into the pirate ship scene is the final panel he retcons his arm into. Really goes to how far Homestuck has come from the beginning until this point. The beginning of the pirate ship story arc already feels like a long time ago, which makes sense because from this point onwards Homestuck will never quite be the same.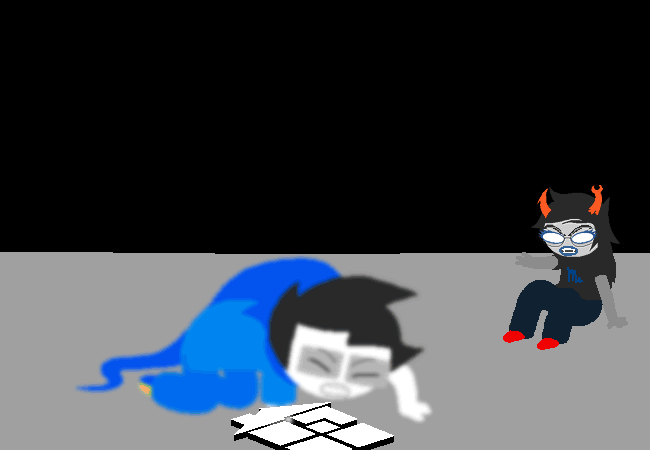 Vriska watches John (and his words) become extremely blurry until his retcon powers overwhelm him and he disappears, leaving the story on quite the cliffhanger…
MEENAH: dammit
… which is immediately trampled upon with a funny moment. Looks like Meenah was caught up in having cool and sassy friends one moment too long—for her, third time wasn't the charm after all.
The next page is Act 6 Intermission 5 Intermission 5, so I'm stopping here. See you next time as John goes on some retcon adventures and we hear once more from everyone's favorite cyborg mobster.