< Part 100 | Part 101 | Part 102 >
Pages 6015-6054
Act 6 Intermission 5, Part 3 of 5 (not to be confused with Mr. 305)
My Homestuck blog post series officially has a Pitbull reference now. I have no idea why I just did that.
The first thing we see when we check back in on the meteor crew is THIS horrifying panel. Terezi reveals that her eyes are regular seeing troll eyes once more, which is an image that feels INCREDIBLY wrong, and rightfully so. Her eyes are pulsing red as if she isn't used to not wearing her dragon hood, her mouth is in a weird frown, and there are heavy bags under her eyes that tell us what shape Terezi is in right now.
Karkat's facial expression tells us more than words ever could. Sometimes the guy just mirrors readers' reactions to story events SO WELL.
This panel, man. Terezi is surrounded by these horrible bottles of Faygo and clown horns, but she's still carrying a scalemate plush to remind us that she's the same Terezi Pyrope we've followed since Act 4.
Karkat demonstrates here that he was wise not to give a damn about the Beforan trolls. That's what I love about characters like him sometimes—they seem thick-headed and backwards on the outside, but are incredibly wise and thoughtful deep down. Most media that I've really found myself enjoying has a character or two exactly like that.
KARKAT: WHAT IS SHE, SOME SORT OF MAGIC FAIRY??
TEREZI: UM. Y3S?
TEREZI: TH4TS K1ND OF L1T3R4LLY WH4T SH3 1S
KARKAT: OH
KARKAT: ALRIGHT, I GUESS HER STORY CHECKS OUT THEN.
KARKAT: GOOD FOR HER.
KARKAT: BUT THIS DOESN'T SEEM LIKE YOU TEREZI. I MEAN, I DIDN'T THINK YOU EVEN WANTED YOUR EYESIGHT BACK?
KARKAT: I'VE NEVER MET ANYONE AS CHUFFED ABOUT HER OWN DISABILITY AS YOU. I WAS ALWAYS UNDER THE IMPRESSION YOU FELT LIKE IT WAS A BIG PART OF WHO YOU ARE?
TEREZI: 1T W4S!!!
TEREZI: TH3 MOM3NT SH3 H34L3D M3 1 KN3W 1 M4D3 4 T3RR1BL3 M1ST4K3
TEREZI: BUT 1 COULDNT T4K3 1T B4CK
TEREZI: 1 THOUGHT 4BOUT 1T
TEREZI: L1K3 JUST BL1ND1NG MYS3LF 4G41N 4ND PR3T3ND1NG 1T N3V3R H4PP3N3D
TEREZI: BUT
TEREZI: 3V3N TH3 W4Y 1T H4PP3N3D OR1G1N4LLY W4S SOM3TH1NG SP3C14L TO M3
TEREZI: 1 C4NT DUPL1C4T3 TH4T
TEREZI: 4ND 3V3N 1F 1 COULD 1T ST1LL WOULDNT B3 TH3 S4M3
TEREZI: 1 C4NT S33M TO FORG1V3 MYS3LF FOR B31NG SO STUP1D

This part is fascinating because it's one of the first times we really get to know how much Vriska means to Terezi—she was the one who blinded Terezi through a psychic double reacharound with Tavros and Terezi's lusus, and Terezi doesn't want to do anything that could dampen or replace that memory. It's fascinating especially to read after the epilogues because among the many characters replaced with new versions after the retcon, Terezi and Vriska are the only ones whose pre-retcon selves continue to play a major role in their character arcs. It's also interesting to think that Terezi and Vriska, both before and after the retcon, end up on two different sides of the story (the second time in a very literal sense), which separates the two on a tragically metafictional level.
TEREZI: 1 C4NT S33M TO FORG1V3 MYS3LF FOR B31NG SO STUP1D
TEREZI: FOR SOM3 R34SON 1 THOUGHT 1T W4S 4 GOOD 1D34 TO T4K3 TH3 ONLY COOL 4ND UN1QU3 TH1NG 4BOUT MYS3LF 4ND "F1X" 1T
TEREZI: WH4T W4S 1 TH1NK1NG?
KARKAT: WHOA WHOA
KARKAT: THE *ONLY* COOL THING ABOUT YOU?
KARKAT: TEREZI. I WANT TO BE UNDERSTANDING, BUT I CAN'T GET BEHIND SOME OF THE SHIT YOU'RE SAYING ABOUT YOURSELF HERE.
KARKAT: WHAT MADE YOU START UNRAVELING LIKE THIS?
TEREZI: 1 TH1NK 1T W4S WH3N W3 ST4RT3D M33T1NG OUR 4NC3STORS
TEREZI: 4ND 1 THOUGHT TH3Y W3R3 4LL COOL3R 4ND OLD3R 4ND MOR3 1NT3R3ST1NG TH4N US
TEREZI: 3V3N THOUGH TH3Y PROB4BLY W3R3NT?
TEREZI: TH3Y H4D 4 LOT OF PROBL3MS 4ND 1NS3CUR1T13S TOO
TEREZI: BUT 1 GU3SS TH3 K1ND TH4T OLD3R K1DS H4V3, 4ND WH3N YOUR3 YOUNG3R YOU DONT R34LLY R3COGN1Z3 TH3M 4S PROBL3MS
TEREZI: YOU LOOK 4T THOS3 TH1NGS 4S JUST P4RT OF WH4T 1TS L1K3 B31NG SOM3ON3 WHOS MOR3 1NT3R3ST1NG 4ND GROWN UP TH4N YOU
TEREZI: M4YB3 S1NC3 1M NOT 4S YOUNG 4NYMOR3 1 GU3SS 1 C4N S33 TH4T NOW
TEREZI: BUT 1 W4S STUP1DLY 4W3STRUCK BY SOM3 P3OPL3 WHO W3R3 NOT SO 1MPR3SS1V3 1N R3TROSP3CT 4ND 1 M4D3 4 DUMB M1ST4K3
Terezi is giving us some great insight to how younger people perceive older people. She's very much right that people tend to perceive their seniors as intimidatingly cool people who live a perfect life instead of thinking about how they might have horrible problems or insecurities too. The beta kids all perceived their guardians exactly that way, especially John with his father, who is the only one of the beta kids' human guardians who we didn't later get to know as an insecure teenager. Only as an adult in the epilogues does John wonder if his father had deep insecurities or doubts about himself that he stashed away in favor of presenting as a businessman who likes pranks and cake.
I got off topic here. I'm supposed to be analyzing Terezi here, not John. Let's continue.
KARKAT: WAIT. WE MET ALL THOSE PEOPLE LIKE…
KARKAT: KIND OF A LONG TIME AGO?
KARKAT: HOW LONG HAVE YOU BEEN HIDING THIS FROM EVERYONE?
TEREZI: 1 DONT KNOW
TEREZI: 4 Y34R OR SOM3TH1NG?
TEREZI: 4ND 1 W4SNT H1D1NG 1T
TEREZI: 1 JUST D1DNT T3LL 4NYBODY
KARKAT: YEAH! THAT'S WHAT HIDING IT MEANS.
TEREZI: BUT
TEREZI: YOU USU4LLY C4NT S33 MY 3Y3S 4NYW4Y!
TEREZI: C4US3 OF MY GL4SS3S?? DUH
KARKAT: I KNOW, BUT NOT TELLING ANYBODY THAT IS STILL BEING POINTLESSLY SECRETIVE!
KARKAT: YOU COULD HAVE SAID, HEY KARKAT, I FUCKED UP AND NOW I CAN SEE AGAIN. MAYBE WE CAN TALK ABOUT THIS SO I DON'T GO INTO A TRAGIC DOWNWARD SPIRAL AND MAKE YOU WORRY ABOUT ME FOR NO REASON!
TEREZI: 1M SORRY!
TEREZI: 1 SHOULD H4V3
TEREZI: BUT 1 W4S SO 4SH4M3D
Karkat trying to talk sense into Terezi instead of the other way around is truly a sight to behold. His presence is a great way to demonstrate Terezi's upsetting downward spiral, with him reminding her what it means to hide something and how counterproductive it is to keep these big secrets.
KARKAT: AND WHAT ABOUT THIS CLANDESTINE BLACKROM NONSENSE YOU'VE GOT GOING ON WITH GAMZEE?
TEREZI: WH4T?
KARKAT: HAVE YOU BEEN DATING HIM FOR JUST AS LONG?
KARKAT: WAS HE INVOLVED IN THAT DECISION??
KARKAT: LIKE, DID HE HELP TALK YOU INTO HEALING YOUR EYES OR SOMETHING?!
TEREZI: HOW D1D YOU KNOW W3 W3R3 D4T1NG!
TEREZI: D1D H3 T3LL YOU?
KARKAT: OH MY GOD. TEREZI, YOU ARE A FUCKING CATASTROPHE.
KARKAT: YOU USED TO BE LIKE, CUNNING? AND CONSIDERABLY MORE INTELLIGENT THAN ME, WHICH I HAVE NO PROBLEM ADMITTING.
KARKAT: BUT THIS IS RIDICULOUS. EVEN IF I DIDN'T FIGURE IT OUT MYSELF, WHICH I *DID* BECAUSE IT WAS *OBVIOUS*, YOU ARE UP HERE ON THE ROOF LYING UNCONSCIOUS IN A PILE OF HONK HORNS AND FAYGO BOTTLES.
KARKAT: I AM NOT A MASTER OF DEDUCTION, BUT UNLESS YOU WERE RECENTLY STOMPED ON BY SOME SORT OF GOLEM COMPOSED OF GARBAGE FROM A CIRCUS, IT SEEMS FAIR TO SAY YOU ARE OFFICIALLY DOWN WITH THE CLOWN.
Ouch, ouch, ouch, huge ouch. Terezi is just so unlike herself when she's surprised that Karkat knew she was hate-dating Gamzee. She should know that Karkat is a huge troll romance nerd who has no trouble making simple logical deductions in matters of the heart (or diamond, club, or spade).
TEREZI: UUUGH
TEREZI: OK
TEREZI: Y3S
TEREZI: 1TS TRU3 >:o[
KARKAT: WELL? WHAT DO YOU HAVE TO SAY ABOUT IT.
TEREZI: 1 COULDNT G3T UP TH3 N3RV3 TO T3LL YOU 4BOUT TH4T 31TH3R
TEREZI: 1N 4 W4Y, 1M 3V3N MOR3 D1SGUST3D W1TH MYS3LF FOR D4T1NG TH4T 4SSHOL3 TH4N 1 4M FOR H34L1NG MY 3Y3S
KARKAT: THEN WHY ARE YOU DOING IT!
TEREZI: 1 DONT KNOW!
TEREZI: 1 C4NT BR1NG MYS3LF TO STOP S331NG H1M
TEREZI: 3V3RY T1M3 1 TH1NK 1 C4NT STOM4CH TH3 S1GHT OF H1S UGLY F4C3 FOR 4NOTH3R S3COND
TEREZI: H3 PULLS M3 B4CK 1N
TEREZI: H3 1S JUST
TEREZI: SO
TEREZI: 4444WFUL
Oh my god, why is Gamzee so terrible???? At this point in the comic, nobody knows what his motivations could possibly be aside from his demon cult prophecies. His so-called "redemption arc" doesn't answer jack shit either; it's merely done to make fun of how fans try to justify characters' controversial actions through their tragic backstories.
This image is an interesting blend of Homestuck's older and newer art styles. It tells readers that this pep talk will soon be interrupted with Dave being a snarky motherfucker.
Here's more of Karkat being surprisingly quick-witted. Even though he thinks Gamzee's clown religion is idiotic bullshit, his senses still tell him that Gamzee is behind a lot of terrible stuff that has happened to his friends—stuff that directly affects them far more than Lord English's presence ever could.
KARKAT: THIS IS MOSTLY MY FAULT. I WASN'T VIGILANT ENOUGH WITH HIM, AND I LET OUR MOIRALLEGIANCE BREAK DOWN.
KARKAT: IF I KEPT A CLOSER EYE ON HIM, MAYBE HE WOULDN'T HAVE LURED YOU INTO HIS SPINNING TENT OF SHIT.
TEREZI: NO, YOU SHOULDNT F33L L1K3…
KARKAT: OR MAYBE IT'S KANAYA'S FAULT? SHE'S ALWAYS BEEN A REALLY GOOD AUSPISTICE. MAYBE SHE COULD HAVE PREVENTED THIS, IF SHE WASN'T SO PREOCCUPIED HERSELF.
KARKAT: NO WAIT! IT'S ACTUALLY MY FAULT AGAIN! IF I HAD BEEN ON THE BALL AND AUSPISTICIZED BETWEEN HER AND ROSE, SHE WOULD HAVE HAD THE TIME TO AUSPISTICIZE BETWEEN YOU AND GAMZEE!
KARKAT: DAMMIT, I ALWAYS SAY I KNOW SO MUCH ABOUT ROMANCE, YET I ROUTINELY UNDERESTIMATE ITS COMPLEXITY, SO I ONLY FIGURE OUT WHAT TO DO AFTER IT'S WAY TOO LATE!
KARKAT: GOD I'M SO STUPID STUPID STUPID STUPID
Karkat shows us his negative side once more with his tendency to blame everything bad on himself—this time, not the failure of his Sburb session or the looming danger of Jack Noir, but simply Terezi's downward spiral into being a full-blown Faygoholic. His obsession with romantic matters leads him to wish he had auspisticized between Rose and Kanaya, which is something nobody else in the comic has ever come close to thinking. That's the sort of person Karkat is.
TEREZI: BL4RG SHUT UP!
TEREZI: 1TS NO ON3S F4ULT BUT M1N3!
TEREZI: 1M TH3 ON3 WHO H4S TO D34L W1TH 1T
KARKAT: YEAH OK.
KARKAT: FOR WHAT IT'S WORTH, HE'LL PROBABLY JUST BREAK IT OFF AND LEAVE YOU ONCE WE GET TO THE NEW SESSION.
KARKAT: ALL HIS LOYALTIES AND PRIORITIES ARE TOTALLY WARPED NOW. I'M NOT SURE WHAT HE REALLY CARES ABOUT ANYMORE, BUT IT SURE ISN'T ANY OF US.
TEREZI: YOU TH1NK
TEREZI: H3 W1LL L34V3 M3?
KARKAT: YEAH. I DO.
TEREZI: *SOB!!!*
KARKAT: WHOA, WHAT??
KARKAT: ISN'T THAT WHAT YOU WANT?
TEREZI: NO!
TEREZI: 1D B3 D3V4ST4T3D 1F H3 JUST
TEREZI: SUDD3NLY D1TCH3D M3 L1K3 TH4T
KARKAT: OK, HELP ME OUT!
KARKAT: YOU'RE CONFUSING ME HERE.
TEREZI: 1D F33L P4TH3T1C!!!
TEREZI: 4ND 1 GU3SS
TEREZI: 4 S1CK 4ND T3RR1BL3 P4RT OF M3 DO3SNT W4NT H1M TO GO
TEREZI: BUT 1F H3 DO3S 1 W4NT 1T TO B3 B3C4US3 1 T3LL H1M 1TS OV3R!
KARKAT: WOW.
KARKAT: ALRIGHT, I GUESS THAT MAKES SENSE. SORRY.
KARKAT: I'M JUST TRYING TO BE SUPPORTIVE HERE.
KARKAT: BUT I'M NOT ALWAYS SURE WHAT THE RIGHT THING TO SAY IS!
KARKAT: I'M DOING MY FUCKING BEST. THIS IS COMPLICATED FOR ME TOO, YOU'RE BOTH MY FRIENDS.
Despite being well aware of their black relationship, Karkat doesn't quite despise Gamzee as much as Terezi does. She's saying here that she hates Gamzee so much that she wants herself to be the one who breaks it off, rather than being ditched in a way that makes her feel like letting Gamzee win.
TEREZI: 1 KNOW
TEREZI: 1 4PPR3C14T3 YOUR 1NT3NT1ONS K4RK4T
TEREZI: M4YB3
TEREZI: M4YB3 1T WOULD B3 B3TT3R 1F YOU W3R3NT S1TT1NG UP TH3R3 1N TH4T B4CKW4RDS CH41R WH1L3 YOU T4LK3D TO M3?
KARKAT: WHAT?
KARKAT: WHY??
DAVE: yeah dude you should probably ditch the chair
KARKAT: WHAT THE FUCK IS WRONG WITH MY CHAIR.
DAVE: or at least sit on it frontways
DAVE: or offer her another chair?
DAVE: i dunno its kind of a dumb affectation in this context
KARKAT: NO, LOOK. IT'S CASUAL AND RELAXED.
KARKAT: LIKE, IT VISUALLY CONVEYS THAT MY PRESENCE IN THE CONVERSATION IS HUMBLE AND NONTHREATENING, YET FRANK AND ATTENTIVE.
KARKAT: WHAT THE FUCK DO YOU WANT FROM ME?
DAVE: to sit on the goddamn floor
KARKAT: WHY SHOULD I SQUAT ON THE DIRTY FLOOR, WHAT DIFFERENCE DOES IT MAKE!
DAVE: so you can be on the same vertical plane with your friend while you exhibit compassion for her grody clown problem
TEREZI: D4V3 1TS F1N3
TEREZI: N3V3R M1ND 4BOUT TH3 CH41R, 1 DONT C4R3
TEREZI: 1T JUST STRUCK M3 4S 4 B1T D1STR4CT1NGLY S1LLY, TH4TS 4LL
KARKAT: OK, WOW, FINE!
KARKAT: FUCK THE CHAIR. PARDON ME FOR MAKING MYSELF COMFORTABLE DURING A SINCERE HEART TO HEART DISCUSSION WITH A DEAR FRIEND IN NEED!
KARKAT: BUT THE TIME HAS COME FOR ME TO CEASE STRADDLING THIS DEEPLY OFFENSIVE PIECE OF FURNITURE! AWAY WITH YE, FOUR LEGGED TEMPTRESS! DISTRACT US NO MORE WITH THE MOST BASIC AND UTILITARIAN FORM OF CREATURE COMFORT YOU SUPPLY!!!
DAVE: karkat just threw a tantrum about a chair
DAVE: i just won karkat tantrum bingo
Dave's presence switches the mood of the conversation to utter hilarity that needs no commentary, where Karkat somehow manages to throw a tantrum about a chair. Such is the nature of Homestuck: even the saddest scenes will have their absurdly silly moments mixed in.
And with this panel, the art style has fully gone back to how it was in the first few acts, which serves itself well for a humorous scene like this.
The worst part about Terezi's eyes being healed is without a doubt that she can't make snide remarks about how she can't see. She used to make such remarks all the time back in the trolls' arc.
KARKAT: SO THAT'S IT THEN
KARKAT: NO ADVICE AT ALL, SMARTALEC?
KARKAT: WHY DID I EVEN BRING YOU HERE FOR THIS INTERMISSION THEN.
DAVE: intermission?
KARKAT: INTERVENTION I MEAN. SORRY, I MISSPOKE.
Why are these intermission jokes so funny, I can't get over it. This one's even better executed than Meenah's snooty remark about intermissions a few pages ago.
DAVE: its not an intervention either
DAVE: my ghostly heads all beamin out of this crab for moral support yo
DAVE: i am in my homies corner even if he is a massive socialist
DAVE: terezi i think can probably figure this out
DAVE: she grew up alone and blind in a forest i think she will manage to bounce outta her juggalo phase
DAVE: but yeah terezi you should at least quit the fuckin soda
TEREZI: Y34H
TEREZI: OK
KARKAT: OK???
TEREZI: Y3S!
TEREZI: 1LL STOP
KARKAT: WHAT. JUST LIKE THAT?!
TEREZI: SUR3
TEREZI: 1TS R34LLY GROSS >X[
Karkat is right to be confused that Terezi is just suddenly convinced to cut off her Faygo addiction. What follows is not him being impressed, but rather being melodramatic even by Karkat standards.
Karkat's doubt that it would have been better not to kill Vriska probably comes off as rightful to first-time readers, but closed-minded to those rereading. Instead of considering the possibility of a timeline where Vriska doesn't die and the meteor crew is much happier, Karkat tries to console Terezi by reminding her that he despises the reality they live in too.
TEREZI: 1 KNOW 4LL TH4T
TEREZI: 1T DO3SNT STOP M3 FROM WOND3R1NG
KARKAT: IT'S SIMPLE. IF YOU HADN'T KILLED HER, YOU WOULD HAVE WITHERED AWAY IN A DOOMED TIMELINE.
TEREZI: Y34H! 4ND SOM3T1M3S 1 W1SH 1 H4D!
TEREZI: 4T TH1S PO1NT 1 TH1NK 1 WOULD R4TH3R B3 TH3 B3TT3R P3RSON WHO M4D3 TH3 R1GHT D3C1S1ON
TEREZI: 3V3N 1F 1T 4LSO M34NT B31NG TH3 ON3 TO F4D3 4W4Y FOR3V3R
KARKAT: WELL, *I* WOULDN'T WANT THAT!
KARKAT: DOES THAT FUCKING MATTER TO YOU?
KARKAT: DOES THAT FACTOR ANYWHERE INTO YOUR DREARY EXISTENTIAL EQUATION???
TEREZI: YOU PROB4BLY TH1NK 1M CR4ZY
TEREZI: JUST 4S CR4ZY 4S YOU TH1NK 1 4M FOR D4T1NG G4MZ33
TEREZI: BUT
TEREZI: 1 R34LLY M1SS H3R
KARKAT: NO
KARKAT: I DON'T THINK YOU'RE CRAZY FOR THAT.
Can we all stop to appreciate how sweet Karkat is being here??? He never liked Vriska back when the trolls were all alive, but he has no trouble understanding that Terezi cares about her a lot. He misses all his dead friends too, even the ones who caused nothing but trouble.
TEREZI: 4ND Y3T
TEREZI: 1F 1 3V3R S4W H3R 4G41N
TEREZI: TH3R3S NO W4Y 1 COULD T4LK TO H3R
TEREZI: SO P4RT OF M3 HOP3S 1 N3V3R-
TEREZI: OW!!!!!!!
And right when the dialogue is about to hit its emotional climax, THIS happens:
This scene's cutoff with a humorous moment tells us that this isn't the last we'll be hearing of Terezi's regrets about Vriska—far from it, in fact.
I LOVE the Problem Sleuth callback made of leprechaun romance symbols above Clover's head.
Next up is Act 6 Intermission 5 Intermission 3, again focusing on Caliborn. Unlike the first two intermission intermissions, this one serves more as a recap of what Aranea told us about Caliborn's session that is more digestible for those who prefer Homestuck's humorous side. First off, Hussie reminds Caliborn that he got two leprechauns when destroying the sixth planet because the seventh was sucked into a black hole, and that he's supposed to destroy the eighth planet last and is wasting time by hanging around there. Then Caliborn goes over his last few Felt members' abilities:
I love how Caliborn completely misunderstands Hussie's clues and thinks Crowbar is supposed to be boomerang themed. The only thing stopping me from being able to imagine an alternate reality where Hussie (the author) named the seventh Felt member "Boomerang" is that it doesn't sound anywhere near as cool as "Crowbar".
OK. LAST QUESTION.
WHY IS PURPLE HAT. CONSTANTLY DANCING IN MY PRESENCE?
Yeah.
I guess in retrospect, purple hat has always been pretty flirtatious, hasn't he?
WHAT?!
Maybe you should try to be open minded though.
Have you ever considered a
relationship with someone?
Maybe you will discover you have never truly experienced joy until you have been in
with a dancing elf.
— Caliborn has spiked his caltop on the ground in disgust. —
The conversation ends with a recap of leprechaun romance much snappier than what Aranea did. It says all you need to know about this complex romance system: it's a bunch of stupid nonsense inspired by Problem Sleuth and based on Lucky Charms cereal.
Act 6 Intermission 5 Intermission 3 is followed by a large-scale demonstration of what Caliborn just said: time shit always comes back around in one big circle, with an X marking the spot triumphantly noted by Vriska herself.
I love the way Vriska breaks the fourth wall by making fun of the comic's art style. Also, I have to wonder why Sollux doesn't want his vision healed. Is he starting to feel the same way about his blindness as Terezi felt about hers?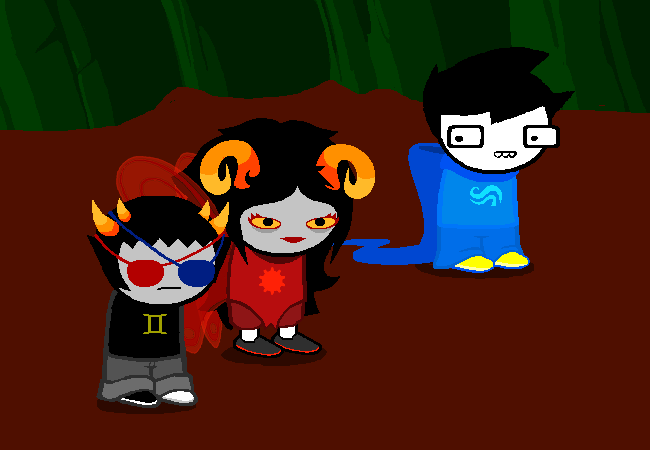 Please forgive me for the heinous crime I am about to commit. In this scene, I will go full "not a homosexual" mode and analyze this scene as if John is wondering if Aradia would make for a viable love interest. It's disgustingly heteronormative, I know it fucking is, and I really do mean it when I say most straight relationships in media are boring as hell, but John at this point in the comic is quite clearly romantically lonely and it's not unreasonable to assume he may be deliberately trying to get to know the one girl troll (emphasis on girl) in the scene who isn't a freaky ghost. This is one of the stupidest things I will ever do in these posts and I already know I'm going to regret it, but bear with me just this one time.
This image shows that John is rather disappointed with the sort of person Aradia is turning out to be: she's eternally smiling, while he's visibly weirded out and expected more reasonable things to come out of her mouth.
ARADIA: i dont necessarily share their point of view on the meaning of this endeavor though
ARADIA: they consider this to be a great clash between good and evil
ARADIA: but i prefer to look at the coming battle as a matter of housekeeping
ARADIA: in the end all loops must be tidied up
ARADIA: even his
JOHN: ok, but what about your friends!
JOHN: don't you care about them?
ARADIA: of course i do!
ARADIA: i love all my friends
JOHN: then why do you seem so…
JOHN: cheerful?
JOHN: when so many of them are getting zapped by lasers.
ARADIA: do i seem cheerful about that
JOHN: kinda!
ARADIA: i apologize if that is the way i am behaving
ARADIA: it is not true though
ARADIA: i think i look at death differently than most
ARADIA: and it is fair to say this attitude extends to death after death as well
ARADIA: i have learned to be at ease with the cessation of being in any form it takes
ARADIA: but i am not nor will i ever be the monsters handmaid
ARADIA: so please believe that i would never take joy from the destruction of any soul
ARADIA: however you must realize that it is only by the grace of the horrorterrors that so many have been allowed to continue existing for so long
ARADIA: they have persisted for ages beyond their time just as he has
ARADIA: as such it seems to me his rampage is just another kind of housekeeping
ARADIA: while he rounds the ring undoing the work of the gods we must prepare for his undoing as well
ARADIA: to ready the manor for the lords arrival so to speak 🙂
JOHN: …
JOHN: i'm sorry, maybe i spaced out through some of that.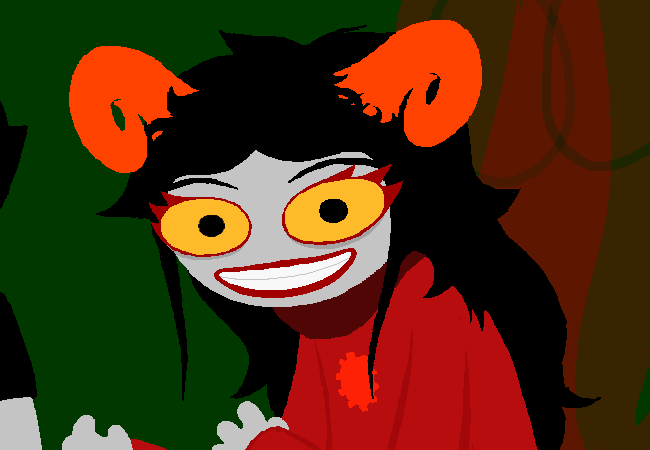 ARADIA: i think i mostly want to see what happens when this whole place breaks apart
Though this interaction did not go as John hoped, he did get a straight answer as to what her motives in this whole adventure are. Aradia now has a little character arc to fulfill, which is her getting to see what happens when this whole place breaks apart; she gets those wishes beautifully fulfilled in Act 7.
JOHN: oh my god, you are all so insane!
And John is humorously frustrated that Aradia turned out to be the way she is. His frustration with troll girls is part of his romance arc, which the epilogues handle in a way I'm really looking forward to covering.
2022 EDIT: Since writing this post, my project of writing posts about the epilogues has been cancelled, but I can't think of a good way to edit the passage above to account for that without trampling over my past self's words.
And so, John runs toward the rest of the party, leaving Aradia and Sollux behind.
As Sollux observes, it's rather impressive how thoroughly Aradia creeped John out—he eagerly runs away from her in favor of hearing a long-winded Serket story. It seems to me like John wants to never think about that embarrassing encounter with a troll girl who seemed nice on the surface again, which could possibly be more demonstration of what sort of person he is romantically.
… and with that, I think I'm done with saying stupid bullshit that has no business being said. Let's go back to analyzing Aranea's flowery exposition sequences.
ARANEA: Thank you for joining us, John.
ARANEA: Commodore Nepeta and Rear Admiral Feferi have 8oth 8een clamoring for one last tale, and I am not one to disappoint.
FEFERI: 38) NEPETA: :33
MEENAH: (clamoring)
MEENAH: (as in clams text it)
JOHN: ok. what's this one about?
JOHN: ogre sex, or salamander shipping, or something?
ARANEA: Nope! Although I would 8e happy to tell you all a8out those topics another time.
If you thought Calliope was the biggest in-story nerd about Homestuck's lore, then this passage should easily remind you that Aranea is even more of one. She's an expert on how cherubs, leprechauns, ogres, AND salamanders reproduce, which is four different goddamn species that aren't her own.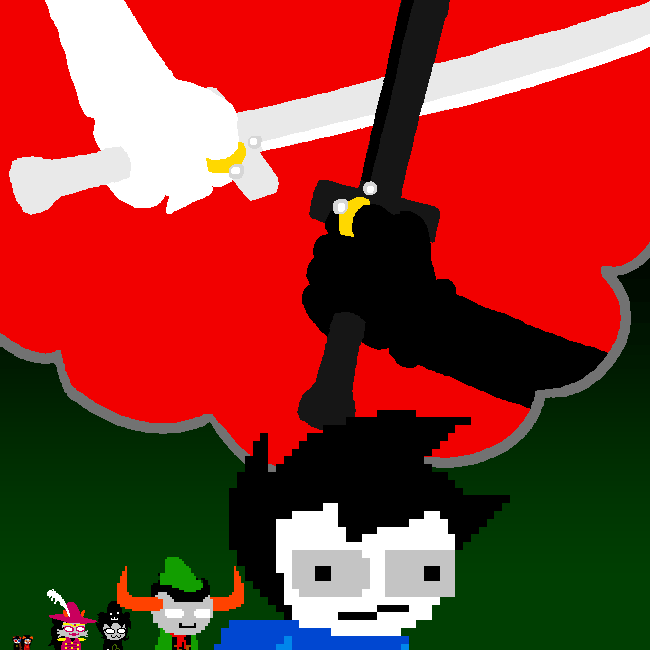 I love how absurdly tiny Sollux and Aradia look on the bottom left corner.
This bit suggests to me that Aranea's psychic abilities have further reach on humans than she had suggested in a much earlier conversation with Jake. She can somehow tell which rings John is thinking of and corrects him as if she's able to look inside his thought bubbles. This comes off to me as more of Aranea tampering with the fourth wall as villains in Homestuck love to do.
These rings are very subtly glowing with the colors of the life and void icons respectively.
She quickly clarifies that she's talking about the Ring of Life and the Ring of Void, two rings we have seen aplenty in the comic as she describes in her usual prose, but never had in-comic names until now. This is where we learn the ring that John found in a dream bubble an in-story year prior can bring people back to life, and that the alpha kids' black queen's ring stolen by the Condesce is said to be narratively intertwined with that ring.
Once again, OF COURSE Vriska has to interrupt right when Aranea is about to get into the meat of her stories. She quickly realizes what ring her dancestor is talking about and flips out like so: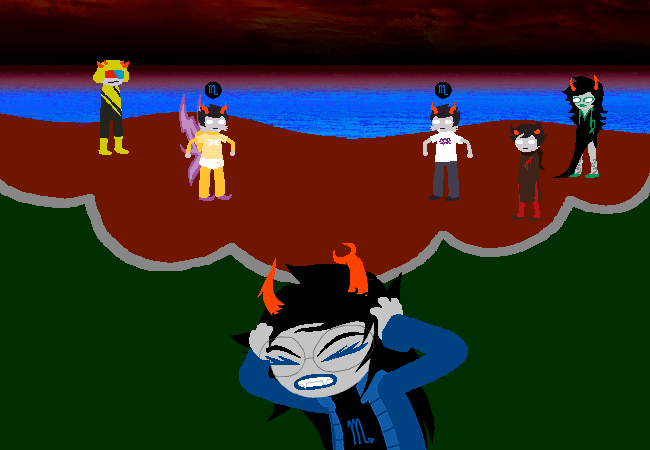 This silly double Cronus slam moment leads to a Vriska rant that's very interesting to read following the retcon.
VRISKA: The orange guy was real. He was surrounded 8y a 8unch of stupid fucking horses, and he tried to give me a ring so I knocked him out cold.
VRISKA: And then l8ter YOU found it.
TAVROS: nO i DIDN'T,
VRISKA: Yes you did! Don't lie to me.
VRISKA: You had the ring, and you and John were fighting over it 8ehind your 8acks like a couple of idiots for a while.
VRISKA: What, you think I didn't notice?!
TAVROS: yES, nO,
TAVROS: i DIDN'T THINK YOU DID,
VRISKA: Well I did! And I didn't care 8ecause I didn't think the ring did jack shit!
VRISKA: 8ut now that I know it does jack A WHOLE FUCKING LOT, I would like you to stop 8ehaving like a disingenuous, argument8tive ASSH8LE and T8LL ME WHERE IT IS.
TAVROS: i DON'T KNOW WHERE IT IS,
TAVROS: iT'S GONE,
VRISKA: What do you mean it's gone!
If you read between the lines of this Vriska rant, it's clear we're about to get her side of Terezi's regrets about murdering her. She, too, wants to be brought back to life but has no way of accessing the ring, which suggests her revival will happen in a very different way.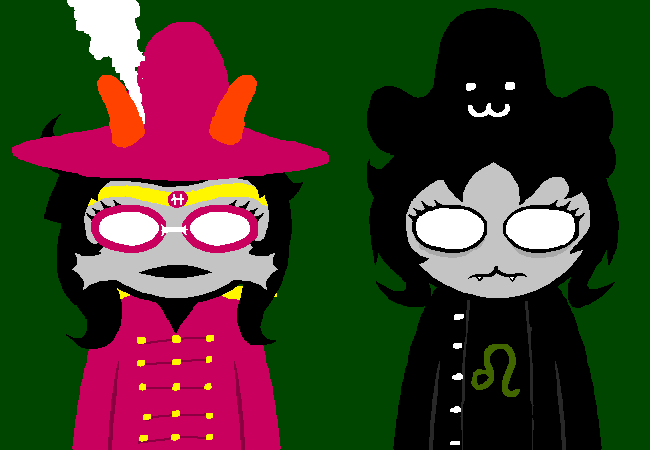 Characters glancing at each other in confusion always cracks me up.
TAVROS: i HAD IT, tHEN jOHN HAD IT,
TAVROS: aND i WANTED IT BACK, bUT HE WANTED IT ALSO, sO,
TAVROS: wE ARGUED WITH OUR HANDS OVER IT, uNTIL HE VANISHED,
TAVROS: aND i TRIED TO FIND IT ON THE GROUND, bECAUSE IT WAS PRECIOUS TO ME, fOR A WHILE,
VRISKA: Why was it precious to you?? Are you telling me you knew what it did!
TAVROS: nO, i DIDN'T, i JUST HAD,
TAVROS: sEPARATE REASONS FROM THAT, fOR WANTING IT,
VRISKA: Well whatever lame reason you wanted that ring, forget it. It's o8viously a much more important magical item than either of us gave it credit for.
VRISKA: As soon as we get the treasure out of this cave, you're going to lead us 8ack to wherever you lost it, and we're gonna look for it!
VRISKA: Is that understood, Poopmaster Nitram????????
TAVROS: nO, yES,
TAVROS: i MEAN, yES, i COMPREHEND THE LITERAL MEANING OF YOUR YELLING,
TAVROS: bUT, nO,
VRISKA: What do you mean no? That was an order!
TAVROS: i THINK YOUR MEAN SPIRITED ANGRINESS IS MAKING ME REMEMBER, tO WONDER WHY i KEEP WANTING TO HELP YOU AND LIKE YOU,
TAVROS: aND i THINK IT'S MAKING ME THINK, i DON'T REALLY CARE ANYMORE ABOUT FINDING THE RING, oR FINDING THIS TREASURE,
TAVROS: oR HELP YOU DO ARGUABLY EVIL THINGS TO GHOST FRIENDS, tO GET YOUR OBJECTIVES TO HAPPEN,
VRISKA: Tavros, what exactly are you trying to say?
TAVROS: i THINK, tHE BOTTOM LINE OF THAT, iS,
TAVROS: i DON'T WANT TO BE YOUR POOPMASTER ANYMORE,
TAVROS: sO i'M NOT GOING TO BE,
Holy FUCK. Here's where Tavros finally grows a spine for real and proudly defies Vriska. All it took for that to happen was him gaining Vriska's memories for a few moments as a sprite, and now he's just refusing to go along with Vriska's ghost battle plans in a way that is nothing short of awe-inspiring, especially knowing Tavros. We'll eventually see that he has a different plan to fight Lord English altogether in a triumphant moment that unfortunately takes place in the absolute mess of an act that is A6A6I5.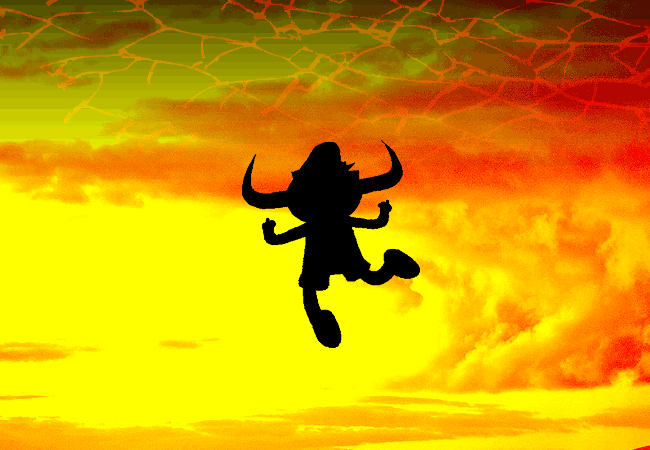 And then Tavros flies away flipping the bird at Vriska, which is just… holy SHIT.
TAVROS: fLY, pUPA,
TAVROS: fLYYYYY,
TAVROS: (heheHehE,)
TAVROS: (ehHHehehEheH, oH yEs,)
TAVROS: (heheHEHEHEhehEhEheh, so clEVEr,)
TAVROS: (how i refEreNCed, whaT wEre onCE, scoRNfUl remArKS dIreCtED at me, eheHahAHa!)
TAVROS: (hahAhehE, so sicK! sO sICk!!!!,)
VRISKA: WE CAN ALL HEAR YOU WH8SPERING FROM D8WN HERE SHIT F8R 8RAINS!!!!!!!!
This moment where Tavros loudly whispers his REFRANCE while laughing to himself again comes off as incredibly triumphant by his standards. His reversed reprise of Vriska's words is very well executed and has a sense of finality, especially because from this point onwards he never sees this version of Vriska EVER again.
SOLLUX: hey tavr0s, wait up, i think i'm c0ming with y0u.
VRISKA: What?? No, Sollux, w8!
SOLLUX: nah, i've pretty much had it t00.
SOLLUX: i can't believe i went al0ng with this f0r as l0ng as i did, s0 yeah.
SOLLUX: i'll be fucked tw0 ways fr0m perigees eve bef0re i let tavr0s upstage me in the backb0ne department.
SOLLUX: aradia, s0rry, i can't be a part 0f this anym0re, it's just making me feel dirty.
ARADIA: i understand sollux
SOLLUX: let's catch up again later, h0pefully when this is all 0ver.
ARADIA: yeah 😀
It makes sense for Sollux to leave the scene now because though it was fun to hear from him again, he really has no business tagging along on Vriska's fucked up pirate adventures. His and Tavros's departure from the scene serves to make what follows come across as more dramatic, with a smaller party aboard the ship consisting of trolls who mean BUSINESS (and Aradia).
SOLLUX: 0h, feferi and nepeta will be c0ming with me t00.
VRISKA: WHAT!
VRISKA: No they f8cking won't!!!!!!!!
SOLLUX: yes they will! they just t0ld me.
VRISKA: I d8dn't hear them say shit!
Same goes for Feferi and Nepeta's departure. Again, having them excuse themselves decreases the size of the party and heightens the tension for what will follow.
SOLLUX: they b0th gave me meaningful glances!
SOLLUX: like as if t0 say, aw yeah, let's b0unce.
FEFERI: 3;) NEPETA: ;33
VRISKA: YOU'RE BLIND, H8W COULD YOU SEE A "ME8NINGFUL GLANCE"????????
SOLLUX: instead 0f underestimating the perspicacity 0f the sens0ry impaired, why d0n't y0u bite me.
Sollux just gave Vriska the best burn possible. He doesn't seem to have an amplified non-visual sense like Terezi, but he probably still has some of his gold-blooded psychic powers as implied by the fact that Vriska brought him and Aradia as specialists. Vriska's a psychic too, so she should know that Sollux has his ways of getting around blindness.
VRISKA: No, they can't go! Commodore Nepeta and Rear Admiral Feferi are 8oth critical mem8ers of my crew!
VRISKA: This is mutiny!!!!!!!!
ARANEA: Vriska, I am on your side here. 8ut I feel I should point out that technically they 8oth outrank you.
VRISKA: Excuse me?!
VRISKA: No they don't! Come on, I just gave them titles that sounded cool!
VRISKA: How can you outrank a captain????????
ARANEA: 8y 8eing a commodore?
VRISKA: A commodore outranks a captain?!
MEENAH: yea fraid so
ARANEA: Yes, and a rear admiral outranks a commodore.
VRISKA: No, 8ut!
VRISKA: I thought a rear admiral was like…
VRISKA: Some sort of JOKE rank!
VRISKA: Who can take a rear admiral seriously? It might as well 8e a poopmaster!
MEENAH: um no serk its actually a real thing
MEENAH: god damn for a pirate you really know fuckall about nautical junk
MEENAH: pretty embarrassing tbh
I've said it before and I'll say it again: Vriska's lack of knowledge on pirate technicalities is hilarious as fuck. Instead of knowing common practices she has every reason to know, she just dishes out whichever rank names she thinks sound the coolest just like in her FLARP days.
SOLLUX: yeah, this stuff is all super interesting. j/k, l0sers.
SOLLUX: anyway, we're 0ut.
SOLLUX: LADIES.
This is one hell of a funny way to end Sollux, Nepeta, and Feferi's screen time in this sub-intermission. These versions of Nepeta and Feferi are never heard from again which is a bit weird, because we did get one speaking scene from the (probably) post-retcon versions of Eridan and Feferi in the epilogues.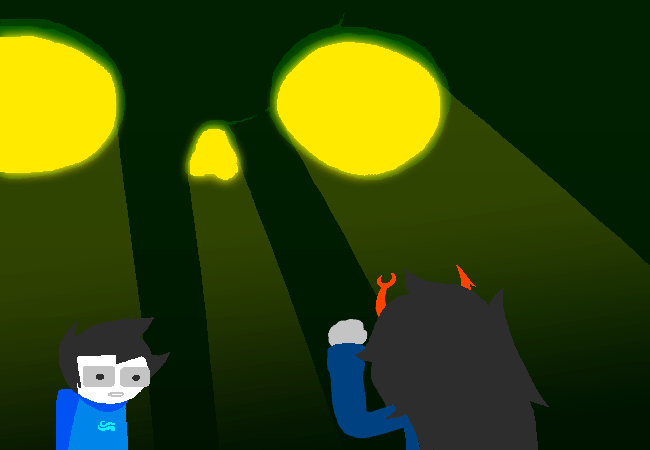 With all that out of the way, it's time for some serious Sadstuck right now. Are you ready?
When John explains that he currently has the Ring of Life, Vriska takes it as a perfect opportunity that he'd no doubt loyally follow as the loyal pushover human nerd he is, right???
JOHN: yeah…
JOHN: maybe.
Not after all. This line makes it clear that John doesn't trust Vriska the way he used to, and is incredibly disheartening for fans of their relationship.
VRISKA: May8e?
JOHN: i'll think about it.
VRISKA: You'll THINK a8out it??
JOHN: well, yeah.
JOHN: it sounds like an important item, so deciding what to do with it is kind of a big responsibility.
JOHN: it's supposed to bring ghosts back to life, but we don't know how it works.
JOHN: what if it only keeps you alive as long as you're wearing it?
JOHN: that would mean only one ghost could come back.
VRISKA: Right! All the 8etter reason to let me use it!
JOHN: but there are a lot of ghosts!
JOHN: i'm just not sure what to do yet.
VRISKA: W8. You're not ACTUALLY thinking of giving it to someone else, are you?
VRISKA: That's my ring! The orange guy gave it to ME!
JOHN: yeah, well frankly, i don't give a shit about the orange guy!
JOHN: the ring is mine for now, so i'm the one who has to figure out what to do with it.
And there we have it. The third time in the comic where John just flat-out decides he doesn't like Vriska anymore, which much like Tavros's departure has a sense of finality because he'll never see ghost Vriska again after he wakes up. It may also be that John sees the ring as a symbol of his romantic hopes and dreams that he'd rather not give away to a troll girl who he has incredibly mixed feelings about, which is ironic because the ring does end up as a symbol of his romantic failure when Calliope and Roxy get into that whole weird ambiguous relationship.
JOHN: speaking of waking up, it's probably time i got going too.
JOHN: i'm not trying to join the mutiny or anything, but i do have friends waiting for me out there.
VRISKA: John, w8!
VRISKA: I hope we're not parting on 8ad terms here.
VRISKA: You aren't holding all this treasure hunting shit against me like Tavros is, right?
VRISKA: We're still cool, right John?
JOHN: uh…
VRISKA: If you have to leave, I get that, 8ut I really want us to stay friends!
VRISKA: I always felt like we had a special 8ond, John. Like we're 8oth always in the position of having to take charge as leaders, even if we never asked for that responsi8ility.
VRISKA: And I don't wanna pressure you into anything, 8ut I would really appreci8 it if you'd at least think a8out me next time you take a nap with that ring on!
JOHN: it's fine. we can stay friends.
JOHN: i don't really like to make enemies with people, even if they're…
VRISKA: Even if they're what?
JOHN: umm.
This conversation reads a lot like a difficult breakup scene, with a "nice" character trying to break things off with a "mean" character. John can't spit out how he feels about Vriska because he still has a lot of conflicting feelings about her, but he's about to break their bond apart regardless.
Oh my god, look at Aradia's creepy smile in the background.
This image calls back to John ranting to Jade about how boring life on the battleship is and how horrible Davesprite is in a much less humorous light. This time around, the vaguely sexual hand gesture is used to show that John has trouble putting into words that he doesn't think Vriska is a good person anymore.
This pseudo-breakup speech is emotional to read the first time, because he's finally telling Vriska to her face that he thinks she's dangerous and arguably villainous. But it's amusing to reread this part because John willfully brings Vriska back in the retcon mission when Terezi makes it extra easy for him. This ultimately demonstrates that though he doesn't seem to trust Vriska anymore, he's still a huge pushover deep down and will follow Vriska's desires if someone else tells him to.
And with that, ghost Vriska's short window of potential resurrection has ended and her arc is permanently grounded in the world of the dead. Vriska's decision that she doesn't care about the ring anymore hints that her resurrection will happen in a very different way.
JOHN: …
VRISKA: ……..
VRISKA: WELL????????
JOHN: huh?
VRISKA: JOHN, I THOUGHT YOU WERE LEAVING.
JOHN: oh. right.
JOHN: i guess i'll just be…
VRISKA: WHAT ARE YOU A FUCKING IDIOT?! DON'T GO YET.
JOHN: wh…
JOHN: what?
VRISKA: Look, you made yourself perfectly clear. You think I'm a heartless monster, and you don't want to help me out.
VRISKA: Whatever!
VRISKA: 8ut are you SERIOUSLY going to check out of this dream like TWO MINUTES 8efore you see what the treasure is?!
VRISKA: Holy crap, dude. Where is your sense of curiosity????????
VRISKA: If I can manage to put up with you for a little longer, I think you can stand my morally 8ankrupt company long enough to find out what this thing is.
VRISKA: Why am I the only person in paradox space who actually THINKS!
JOHN: oh.
JOHN: sure.
JOHN: i guess i'll go a little further and check out the treasure.
JOHN: heh, you're right. it would be dumb not to.
VRISKA: Good.
Even though John has broken his trust with Vriska, he's still convinced to check out the treasure either because he still sees some amount of positive qualities in her, or because he's a huge goddamn pushover.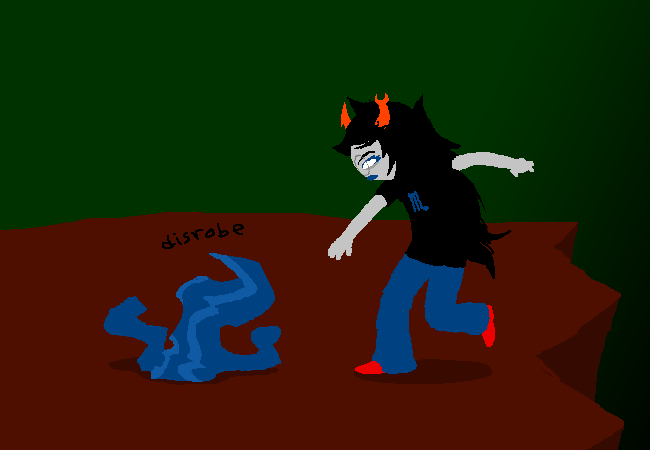 Vriska dumps her coat down to end the humorous pirate motifs and further switch this scene to a more dramatic mood, and starts a very memorable heroic speech with, yet again, a strong sense of finality.
It's quite obvious that Vriska's speech is addressed partly to the reader, who by this point undoubtedly has many conflicting views on her. She's telling the reader that we're soon about to find the truth about the juju and get a grand evaluation of Vriska's morality, or so she thinks at least (because Hussie will soon interrupt the story for a VBVS interlude).
Vriska's monologue about a fresh, peaceful universe is very on the nose after the epilogues, which take place in the exact universe she's talking about here. She's telling the reader that you can't deny the important role she is playing in giving this story a happy ending.
VRISKA: They were already a million sweeps past their prime, existing on 8orrowed time, luxuri8ting in a kind of 8izarre metaphysical longevity few others will ever enjoy.
VRISKA: Just a fresh 8atch of 88 the squid gods kept on ice for an ins8tia8le fisherman cause they were sick of 8eing hunted themselves.
VRISKA: Those ghosts were all that stood in the way of an end to this eternal holocaust, and sparing their souls 8n't different in my view from personally committing atrocities on a cosmic fucking scale.
It's also interesting to think about how a big theme in the epilogues is how Earth C isn't quite the utopia it seems like on the surface. It makes sense that topic isn't explored in Homestuck proper aside from scenes in the credits showing that John and Terezi aren't quite happy, because the epilogues are all about deconstructing happy endings and the very concept of an "epilogue".
VRISKA: I only ever wanted to do the right thing no matter how it made people judge me, and I don't need a magic ring to do that.
VRISKA: You don't have to 8e alive to make yourself relevant.
VRISKA: And you don't have to 8e a good person to 8e a hero.
VRISKA: You just have to know who you are and stay true to that.
VRISKA: So I'm going to keep fighting for people the only way I ever knew how.
Vriska ends her speech with some rather striking words about what it means to be a hero. This right here is Vriska at her finest: demonstrating her heroic qualities alongside her typical questionable morality in her own oddly inspirational way.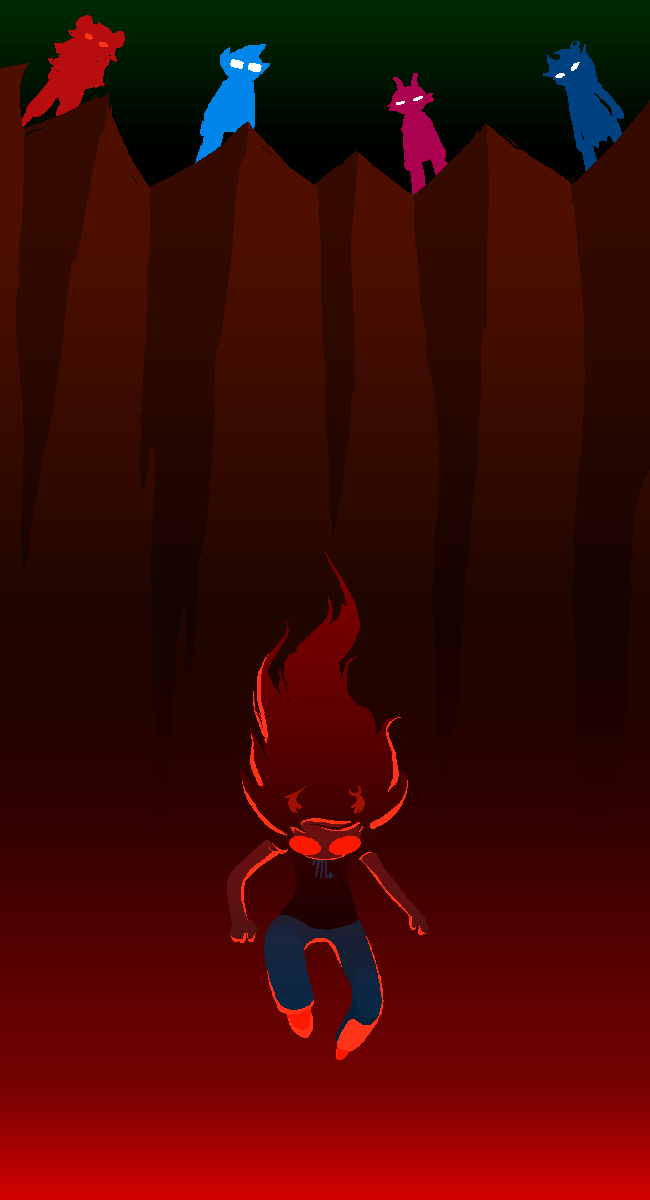 What a gorgeous panel.
VRISKA: 8y 8eing me.
This is a perfect point for me to end this post, because what follows is an absurd drunk Rose scene that totally turns the mood upside-down. Vriska's speech gives readers plenty of morality to chew on and provides a closure of sorts to ghost Vriska's arc. I don't mean her arc ends at this point, obviously it doesn't; I just mean it's closure for ghost Vriska being high and mighty.
See you next year as the story takes us on some wild interludes with a sweet little salamander, a nerdy boy's arm, and a beloved cyborg mobster haha oops that'll be in post 103 sorry