< Part 105 | Part 106 | Part 107 >
Pages 6300-6323, 6343-6375
Act 6 Act 6 Intermission 1, Part 2 of 5
Featuring the long-awaited return of the eggy looking thing.
I hope you enjoyed this brief mass influx of Homestuck posts. Classes are resuming online on Tuesday for me, which means that until late April or early May I'll probably be releasing posts at a rate no faster than weekly.
Returning to the three-way selection screen, I'm going to first select Dave's planet on the left, then Rose's planet on the right.
Dave's part of the selection screen features him exploring his childhood bedroom for the first time in three years, in a memorable scene that the author clearly had WAY too much fun writing.
DAVE: so weird being back here
DAVE: cant believe how long ago it feels since i lived in this place
DAVE: spent way too long wallowing in our own filth on that gnarly meteor thats for sure
DAVE: this doesnt even seem like my room anymore
DAVE: its like trespassing or something like im horning in on somebody elses life
DAVE: a life lived most sweetly though i will admit
God, these are my thoughts exactly as Dave examines his room. He's such a different person now from when the comic started, and Hussie knows this very well.
DAVE: ahahaha the fuckin toilets still there
DAVE: i remember when jade put that there that is perhaps like my favorite memory
DAVE: wish jade wasnt crazy just makes me remember how much i miss not crazy jade
DAVE: or less crazy jade
This monologue quickly turns into Sadstuck when Dave reflects on the version of Jade he used to be close with. After going three years without seeing each other, Dave and Jade resume their friendship on an awkward foot on both sides of the retcon which is pretty damn unfortunate.
DAVE: wait
DAVE: didnt karkat once say terezi ripped a troll toilet out of his house
DAVE: what is with girls and their universally constant tendency to rip out plumbing fixtures
DAVE: did i just accidentally crack another cosmic riddle or
DAVE: i gotta txt him and get confirmation on this asap
DAVE: actually nah
DAVE: i probably harangued the poor guy with enough of my bs the last few years
After all this time, Dave still has a very good understanding of patterns that haunt his reality, as is the case for all Strilondes each in their own way. Dave is best at catching the most humorous patterns and (much like Karkat) the most infuriatingly awful patterns.
DAVE: ill just keep shufflin thru memory lane making wistful observations out loud
DAVE: you know it kinda chaps my bulge that people rip on me for talking to myself
DAVE: its like the most perfectly natural thing to do
DAVE: why are people so up tight about keepin a lid on their monologues what a bunch of stuffy pricks
DAVE: ive always found the sound of my own voice to be mysteriously soothing
DAVE: haha talk about an embarrassing sentence to say in earshot of an actual person
DAVE: well maybe not the mayor
DAVE: you can always tell the mayor anything ❤
I find myself agreeing with Dave yet again in his monologue about monologues. I don't get why anyone wouldn't talk to themselves when examining a place that makes them feel nostalgic, or in pretty much any circumstance for that matter. I do it all the damn time too.
DAVE: hahaha this piece of shit is still here too
DAVE: didnt we use this thing like ONCE
DAVE: what a useless pile of trash in hindsight
DAVE: sometimes i think this game was designed by an idiot
DAVE: wasnt it called like
DAVE: the laserbeam intellivision or something
DAVE: id throw it in the lava but that would be a waste of melting
Here, Dave takes a moment to go back to the comic's roots in video game satire. You know when video games have an item that presents itself as a cool and useful upgrade and is necessary to get past a certain area, but after you've cleared that area you never use it again? That's a perfect description of the Intellibeam Laserstation (reading captchas that humans can't read sounds incredibly useful in theory), as Dave knows very well.
DAVE: oh yeah
DAVE: almost forgot about my ill beats from the past
DAVE: i wonder if theyre as ill as i remember
DAVE: ok i just pushed some buttons and verified they remain as ill as the day they were dropped
DAVE: ill have to send them to karkat he has always been an enthusiastic patron of my exceptional science
DAVE: i mean sure he says it sucks and maybe he even believes that on some pathetic sub intellectual plane of consciousness which gross philistines operate on their whole lives
DAVE: but whenever he gets a load of my hype
DAVE: i see him there
DAVE: tapping his foot ever so slightly
DAVE: i see him
Dave knows just as well as anyone that Karkat is an extremely transparent tsundere—so transparent that calling him a tsundere is almost an insult to the term. Karkat and Dave have the common trait of persistently denying things they find cool, but Dave is much faster to grow out of it.
DAVE: this poster…
DAVE: love this poster
DAVE: its like an old friend
DAVE: never even knew who these guys were or what their deal was
DAVE: never gave it much thought i guess
DAVE: doubt ill ever find out at this point
DAVE: oh well
DAVE: some things i guess were never meant to be figured out
DAVE: or benefit from any kind of elaboration
DAVE: not even years later
DAVE: just the way it is sometimes
DAVE: its like ive said before
DAVE: this poster is a hell of a mystery
DAVE: that i never even thought was a mystery
DAVE: and it would be pretty cool if somebody solved it
DAVE: but damn if thats ever gonna happen
DAVE: so thats a shame
Oh, the dramatic irony. I love how Dave makes this remark about something that actually is elaborated on years later, to put an interesting spin on Hussie's flavor of self-deprecation. I personally like to imagine Squarewave and Sawtooth were the lead duo in an in-universe TV show or something; maybe that's what Hussie had originally intended those two to be before he decided to reuse them as Dirk's rapping robot buddies. I can only imagine the look on Dave's face early in his time on Earth C when he found out those robots were real all along. He probably visibly cracked up, while Dirk showed just the slightest trace of a smile.
Oh man, THIS is a fun part. It's the long-awaited (under a very broad definition of "awaited") revisitation of Dave's interest in collecting dead things.
DAVE: aw hell its my old dead things collection
DAVE: what a stupid blast from the past
DAVE: i seriously cannot remember if i was sincere with this shit
DAVE: i was probably trying to flex my underdeveloped irony muscles
DAVE: like the shrimpiest kid at the hipster gym
DAVE: why does my childhood room have to be such a predictable museum of embarrassments
DAVE: i dont know
DAVE: some of these things are kind of cool actually
DAVE: like from a standpoint of objective reevaluation afforded by the sobering maturity that comes with being literally 100% grown up now
DAVE: dead things are actually pretty rad
DAVE: i feel like if i was legitmately into all this then more should have come of the interest
DAVE: like there could have been like
DAVE: entire CONVERSATIONS about it that never even took place
DAVE: hey rose youll never guess what im excited about and have loads of dialogue to spill over
DAVE: whats that dave
DAVE: ancient mollusks
DAVE: hmmmmmmmm said rose
DAVE: how many bananas do you think this paw clutched back when it was alive and attached to a monkey
DAVE: dave i really must say
DAVE: this conversation blows
DAVE: yeah sorry
DAVE: maybe i could have really developed this interest
DAVE: maybe i could have been something cool as a result
DAVE: like what even profession is this
DAVE: a dead shit ogler?
DAVE: no wait
DAVE: probably a paleontologist or something
DAVE: i could have been a paleontologist
DAVE: instead of what i became
DAVE: which was
DAVE: uh
DAVE: some pajama packing fuckface from the renaissance fair
DAVE: that would have been the dopeness!
For the first time in quite a while, Hussie is using Dave as a vessel to reflect on his own comic. He's taking full advantage of this opportunity to look back on the early acts and this won't be the last time Dave talks about his interest in paleontology. Dave talks about it a lot more in his post-retcon conversations with Roxy and Dirk, almost as a sort of running gag that the author clearly regretted letting go to waste in the early acts.
Given the circular shape of Dave's sunglasses, his ironic selfie phase must not have been very long before the kids started their Sburb adventure.
God, look at that huge boxy camera before the era of smartphones. Those were the days, weren't they?
The art style of these old selfies vaguely reminds me of Hussie's pre-MSPA comics, which I assume the author did to help these selfies feel even more like the past.
The climax of Dave's childhood reflection occurs when he looks at his old ironic selfies, which at first he hates but then he starts cracking up harder and harder.
God, Hussie must have had a lot of fun drawing these ironic selfies. They're so reminiscent of his older comics, which is always welcome.
I can certainly relate to cracking up at stuff you made when you were a kid.
Dave's dream analysis conversation with Rose was probably just one of many where he cracked jokes about Burger King.
DAVE: HAHAHAHAHAHAHAHA!!!
DAVE: WHY
DAVE: AHAHAHAHAHAHAHAHAHAHAHA
DAVE: (gasp)
DAVE: WHY CANT
DAVE: HAHAHAHAHAHAHAHAHAHAHAHAHAHAHAHAHA
DAVE: WHY CANT I STOP LAUGHING
DAVE: PFFFFAHAHAHAHAHAHAHAHAHAHAHAHAHAHAHAHAHAHA
Now THIS is a state we've never seen Dave in. He's wheezing with laughter at his old ironic selfies, and can you blame him??? I sure as hell can't. Just LOOK AT HIS FACE:
DAVE: YOU WIN!
DAVE: HAHAHAHAHAHAHA!
DAVE: YOU WIN YOUNG DAVE
DAVE: THESE SELFIES ARE COMEDY GOLD
DAVE: AAAAHAHAHAHAHAHAHAHAHAHAHAHAHAHAHA!!!!!
He's laughing and crying, at the same time, which is of course a perfect time for John to appear out of nowhere and ruin the fun.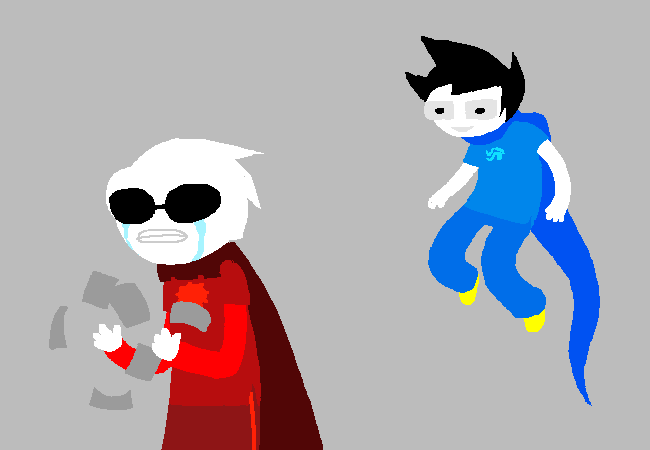 God dammit, Act 6 Act 6 Intermission 1 might as well be called the Act of Reunions Cut Short. I can somehow tell that Hussie didn't want to let any reunions or new meetups happen for more than a brief amount of time (or without corruption by the Condesce) before the retcon, except for one: John and Roxy. Their preservation from the pre-retcon timeline does a good job at making their relationship feel special, and makes their relationship's handling in post-canon material a unique kind of heartwrenching.
Ship diversions aside, this is a cool panel which is the first of many in Act 6 Act 6 to extend the panel's boundaries to include portions of Homestuck's website itself. It's a super cool thing to happen right now, but it definitely overstays its welcome after a certain point. Though maybe I'm a bit jaded because I had read everything after the Gigapause serially and can't see it the same way I see pre-Gigapause Homestuck.
While most characters so far think of Grimbark Jade as an annoying but lame villain, Dave is genuinely freaked out at her and goes full Strider denial mode with the "nerd musk" line. He already has a lot of trouble sorting out his feelings about Jade, but her being grimbark makes it way worse.
Jade snaps her fingers, taking herself and Dave to his alchemiter which would be a cute panel if Jade wasn't presently grimbark.
JADE: we have some work to do
DAVE: what work
JADE: youre going to need to upgrade your weapon
DAVE: what
DAVE: you mean the deringer
JADE: yes
DAVE: i thought it was like the best possible sword
DAVE: or at least the best possible broken sword
JADE: that may very well be the case
JADE: but it will be useless against lord english
JADE: wouldnt you prefer a weapon that is capable of inflicting damage against him?
DAVE: uh
DAVE: not really?
JADE: of course you would
JADE: this isnt even up for discussion
JADE: now give me the deringer
Oh man, here's where Dave revisits his whole reluctant hero arc in an INCREDIBLY interesting way. In her master plan, the Condesce has decided the only use left for Dave is for him to defeat Lord English as per common prophecy, and Jade is trying to convince him to do so the same clumsy way she tried to convince Roxy to make the matriorb.
JADE: we have all been traveling for three long years. what better way to celebrate our reunion than with a little alchemy? 🙂
DAVE: lots of ways
DAVE: we could have a jade goes back to normal party
DAVE: starring normal jade
JADE: HAR HAR
JADE: gimme the sword
DAVE: ok here
Much like Karkat, Dave's conversations with Grimbark Jade largely consist of him sarcastically stating the obvious instead of cooperating with her.
Jade tells Dave that the sword needs to be upgraded using a special ingredient, and Dave starts being intentionally difficult (much like Roxy) to hilarious effect:
JADE: remember this?
DAVE: no
JADE: dave are you lying to me?
DAVE: no!
DAVE: ive never seen that thing before
JADE: but i found it on your planet
JADE: it must have gotten here somehow
DAVE: i didnt take your lousy egg
JADE: its not an egg!
DAVE: yeah well these planets are crawling with brainless lizards maybe one of them thought it was an egg
DAVE: and then brought it here cause its warm here and tried to hatch it
Since Dave doesn't care one bit about defeating Lord English, he decides the best course of action is to go full Strider humor and pretend the cueball is an egg, which is way funnier than it has any right to be.
JADE: you really have a one track mind when it comes to certain things
DAVE: what things
DAVE: what are you talking about
JADE: davesprite was like that too… i just figured it was because he was part bird
JADE: but no, here you are going on about bird things too just like him :p
Even as an evil werewolf, Jade can't help herself from complaining about her boyfriend problems. She's secretly very bitter about Davesprite breaking up with her and just HAS to let it all out on regular Dave.
DAVE: come on dont compare me to him
DAVE: just cause i think its an eggy looking thing dont mean i think like a damn bird
"eggy looking thing"… now THAT'S a great callback right there.
JADE: mm hmm
JADE: and just because i have these pointy ears doesnt mean i wouldnt kill for some snausages right now!
DAVE: …………………
DAVE: do you actually want snausages
JADE: …………………
JADE: maybe ._.
DAVE: ok well snausages notwithstanding this is bullshit
DAVE: tell me how that thing doesnt look like an egg to you
DAVE: how is that not so obviously SUCH an egg???
JADE: its a cueball dave!
DAVE: i see
DAVE: so if im following
DAVE: then what youre trying to tell me is
DAVE: lord english has some sort of severe egg allergy that we are hoping to exploit
JADE: sigh
JADE: i see its still impossible to have a serious conversation with you, whether you are a sassy bird or not
JADE: i thought regular dave might have matured a little over three years but i guess i was wrong
DAVE: can we just make the eggsword already
Dave is being even more hilariously difficult than Roxy was about the matriorb, it's so good. Instead of accepting his task of defeating Lord English, he jokes that English has a severe egg allergy.
God, seeing the Sburb alchemy interface again is SUCH a refreshing throwback.
DAVE: oh no
DAVE: not the legendary piece of shit again
JADE: pardon?
DAVE: its the fuckin welsh sword again!
JADE: are you telling me you have seen this sword before dave
JADE: how is that possible?
DAVE: i dont know!
DAVE: because i have a shitty quest is how
JADE: …..
DAVE: didnt davesprite tell you anything
DAVE: i found this sword in a gold cave and broke it
DAVE: then davesprite took it to hephaestus who fixed it and upgraded it to the deringer
DAVE: and sent that to me and i broke it again
JADE: you sure seem to break swords a lot
Despite being told through the Condesce's semi-mind control that Dave is supposed to defeat Lord English, Jade doesn't know anything about Dave's sword quest, which is very amusing and fit for a comedic villain. It makes sense that Dave would still remember all this, because he was on top of things time traveling and manipulating the economy and ensuring stable time loops for three days instead of one during the beta session.
DAVE: i know!!!
DAVE: that has always been my thing for some reason
DAVE: now i guess it turns out my ultimate sword is really just a repaired downgrade of my previously ultimate sword mixed with a cueball?
DAVE: we just cycled right back to caledfwelsh like a bunch of tools
DAVE: that is the most stupid convoluted ass backward way to get a sword out of a stone i can even imagine
DAVE: i feel like somebody somewhere is having a good laugh over this i sure hope like the juggalo equivalent of fuckin loki or whoever the fuck is having a top notch riddlewank at my expense
JADE: 😐
Dave's rant about the circularity of his sword quest again shows that he knows more about all this sword stuff than Jade does but refuses to use it to kill Lord English—I would say "refuses to do anything useful with it", but the usefulness of killing Lord English is debatable at best.
DAVE: you know what really gets me is
DAVE: this shitty welsh sword presumably consisted of those ingredients all along which just makes me want to travel back in time to perform a mutually assisted suicide with myself
DAVE: me and other dave can take turns suffocating each other with our own DUMBASS capes
JADE: dave i admit this is a peculiar turn of events, but i think you are overreacting
DAVE: jade this is STUPID
DAVE: my quest is a STUPID PIECE OF GARBAGE QUEST for LAME SHITTY LOSER FUCKHEADS WHO SUCK BALLS WHILE CRAPPING THEIR PANTS
JADE: omg
JADE: youve really spent way too much time alone with karkat havent you
DAVE: …
DAVE: i need help 😦
Jade is right, Dave spending a lot of time with Karkat has made the two near indistinguishable at times when they were already rather similar people. Dave is literally ranting about a self/self masochistic fantasy which is exactly the sort of thing Karkat tends to fall back into during his rants.
You return to the character select screen upon having completed one of the above arcs. Oh yeah, that's right. You forgot you even came from this select screen. Some of these choosable paths start getting a little long, you think. Per the drill, you double check to make sure you've clicked on them all before proceeding.
On the other hand, if this is your first time seeing this page, then welcome to the p=008199 character select screen. It's like a triple scoop of ice cream piled generously atop your waffle cone of free will, making you a truly happy camper. You begin to wonder why this paragraph didn't come first. "Kind of burying the lede there," to quote your private observation verbatim.
Why am I only quoting the text below this select screen now instead of earlier? I don't know, you tell me. I do want to say, this text reads a little differently the first, second, third, and final time seeing the selection screen, in a way that's entirely inconsequential but amusing no less. The only option I haven't gone through is the glitchy rightmost one, so I'll go ahead and do that.
Oh god, this is so bright and colorful. When was the last time anything was this bright and colorful???
Rose stuffing her face into a velvet pillow is one of my favorite running gags in all of Homestuck.
You and me both, Rose. LOLAR looked wondrous and inviting when we first saw it, but now it looks grating and ugly, and the glitches don't help one bit.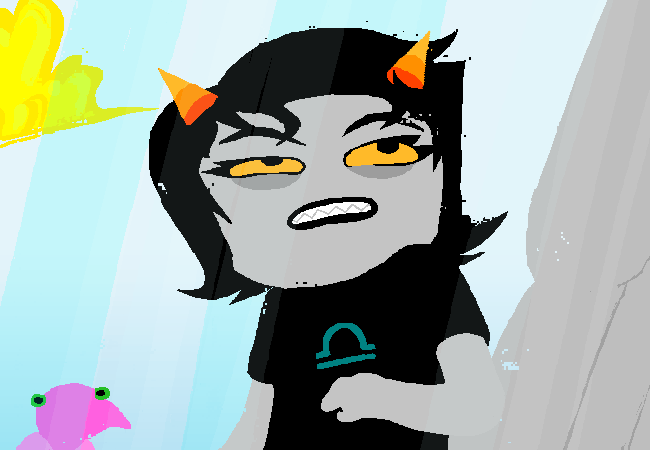 God, poor Terezi. She used to love the smell of absurd messes of bright colors more than anything, but it isn't the same seeing it with her physical eyes. Remember those pre-blindness flashbacks where Terezi's bedroom wasn't littered with chalk drawings? Mishmashes of bright colors are a lot nicer on Terezi's nose than they are on her perfect, functioning eyes.
Oh god, the bags under Rose's eyes. That's definitely something we haven't seen before. Good way to establish her supreme hangover.
ROSE: I take it you are still detoxing from your overdose of appalling harlequin nectar?
This amusing line is all we need to know that Rose is finally Rose again. Back-to-normal Rose is off to a very strong start.
TEREZI: HY333UUUUURGH
TEREZI: PL34S3 NO T4LK1NG
TEREZI: B3TW33N TH3 F4YGO SHOCK 4ND S3NSORY OV3RLO4D, 1 C4NNOT 3V3N D34L
ROSE: Do you need a turn with the pillow?
TEREZI: SHHHHHHH
TEREZI: 1 THOUGHT 1 GOT US3D TO S331NG 4G41N
TEREZI: 4T L34ST TH3 M3T3OR W4S 4LW4YS SO D4RK
TEREZI: H3R3 THOUGH
TEREZI: YOUR PL4N3T LOOKS L1K3…
TEREZI: SCR34M1NG
TEREZI: 4ND YOUR WORDS SOUND L1K3 THROBB1NG
Terezi's descriptions of her eyesight really bring the reader back to the days where she would always describe the appearances of things in terms of which delicious foods they smelled like. She retains this habit after being unblinded, except now she can only describe things in negative ways like screaming and throbbing.
ROSE: You should try not to consume so much sugar.
ROSE: It's really bad for you.
TER3Z1: L4LOND3
TEREZI: PL34S3 DO NOT GO TH3R3
TEREZI: DO3S 1T LOOK L1K3 1 W4NT 4DV1C3 FROM 4 GLUTTON FOR MYST3R1OUS HUM4N SOPOR1F1CS??
ROSE: Good point.
ROSE: We seriously have to curtail our dependence on these respective liquids.
ROSE: The situation has become embarrassing for everyone.
TEREZI: 1 KNOW
ROSE: Maybe you and I should form some sort of support group.
ROSE: Isn't that what people do?
TEREZI: WH4T?
ROSE: I'm doing my best to dredge the memory of my dead civilization for salient protocol.
ROSE: I think that's what we're supposed to do.
ROSE: Once, when humanity was still a thing, those like us with similar problems would band together, smoke cigarettes, and psychologically dismantle each other.
ROSE: But like, in a positive way.
TEREZI: TH4T SOUNDS HORR1BL3
My god, I missed the old Rose so much. Especially with all her humorous descriptions of human culture. The rest of the conversation on this page I don't have much to say about other than that it's funny so I'll describe it old-school style:
Rose talks with Terezi about rehabilitation and their respective seer powers and refers to Kanaya as her "girlfriend" when she momentarily brings up the negative turn their relationship has taken. She continues her tradition of being sweet with the ladies when Terezi expresses doubt over her powers, until she finally coins the legendary term "Rainbow Rumpus Rehab Town" for their impromptu support group which is Lalonde wordplay at its absolute finest.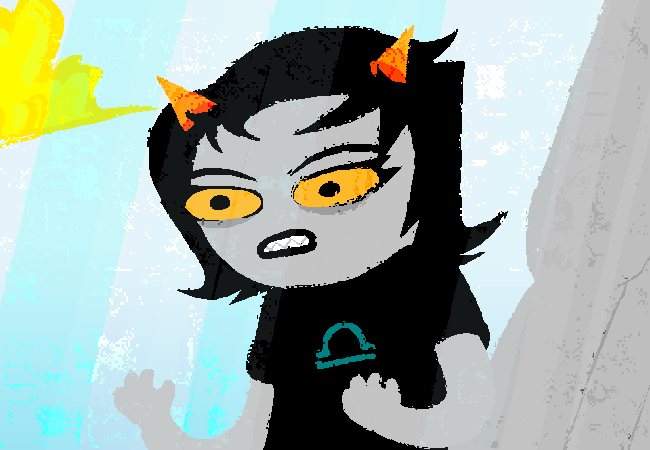 TEREZI: 4RGH NO, TH4T SOUNDS SO TOT4LLY 1RON1C!
TEREZI: TH3 L4ST TH1NG 1 N33D 1S 4NOTH3R HUM4N US1NG 1RONY 4T M3 1N 4N 4TT3MPT TO "H3LP"
TEREZI: STOP TRY1NG TO B3 P4LS W1TH M3 4LL OF 4 SUDD3N, 1TS W31RD1NG M3 OUT
TEREZI: W3 N3V3R T4LK3D 4BOUT OUR V4GU3LY S1M1L4R PROBL3MS B3FOR3
TEREZI: NOW YOU W4NT TO B3 S33R BUDD13S W1TH M3 B3C4US3 YOUR FR13ND STR4ND3D US ON YOUR H1D3OUS PL4N3T?
Terezi isn't having such a good time trying to be buddies with Rose though. She's just plain depressed as shit and doesn't feel anybody is good for her, which is notable because this version of Terezi eventually plays a giant part in saving everyone and helping them win the game which makes her post-retcon self feel severely inferior.
ROSE: Hey.
ROSE: My planet is nice.
ROSE: Well. In the shade at least.
TEREZI: WH4T SH4D3???
ROSE: …
TEREZI: TH3 WORST TH1NG 1SNT 3V3N HOW BR1GHT 1T 1S, OR HOW TH3 W1CK3D 3L1X1RS WR34K1NG H4VOC ON MY P4N
TEREZI: 1TS R3M3MB3R1NG TH4T 1 US3D TO TH1NK YOUR L4ND SM3LL3D SO D3L1C1OUS
TEREZI: BUT NOW 1T LOOKS SO N4STY TO M3
TEREZI: 4ND 1 C4NT S33 1T 4S 1 US3D TO S33 1T 3V3N 1F 1 TRY
TEREZI: MY S3NS3S 4R3 4LL CONFUS3D NOW
TEREZI: HOW COULD TH3 S4M3 C4NDY COLOR3D PL4C3 S33M SO 4TTR4CT1V3 WH3N 1M BL1ND 4ND SO GROSS WH3N 1M H34L3D?
TEREZI: 4ND WH4T 1S W1TH TH3S3 D1SGUST1NG BLOCKS OF G1BB3R1SH FLO4T1NG 4ROUND 3V3RYWH3R3?
Man, Terezi's reinterpretation of LOLAR after her eyes' healing is so goddamn depressing. I have to agree with her on what it's like to revisit that planet after so long. Rose didn't even spend a lot of time there after the planet's introduction in Act 4, which means we didn't get to know LOLAR as well as the other beta kids' planets and further makes the planet seem garish now.
The dialogue then starts to glitch out when Terezi realizes she finally needs her glasses for something. The rest of the conversation occurs in pictures:
… until the glitches get unbearably bad and John has to sweep them out with his wind powers.
I love how John is standing on a flat spot in Rose's wizard statue.
John and Rose's pre-retcon reunion lasts quite a bit longer than his and Dave's, but consists more of discussing the plot issues currently at hands. It's very refreshing to see them talk after so long; they're both so much happier than they were before. It's also nice to be able to say with no sarcasm that they're nothing more than good friends, rather than the ten millionth first male/female character ship or some other predictable horseshit.
TEREZI: 4H3M
JOHN: oh, hey terezi.
JOHN: nice to see you again.
TEREZI: 4G41N?
TEREZI: W3 N3V3R M3T BRO
JOHN: yes we did!
JOHN: briefly, on the stone henge planet.
JOHN: you all appeared out of nowhere, and we hung out for a little while.
JOHN: you threatened to cut my throat for some reason, and then laughed, which was weird.
JOHN: but then you said it was a joke. i didn't really get the joke, but i just kinda let it go.
JOHN: a whole bunch of things happened, but nobody remembers except me.
And here's where John reveals something interesting: he and the meteor crew had a short reunion on Jake's planet before they were all dispersed, but only John remembers it. It still feels weird after all this time for John to have remembered a fairly significant event that the reader didn't get to see, even after what is clearly meant to be the real mass reunion happened after the retcon.
TEREZI: H3H3
JOHN: what?
TEREZI: TH4TS 4 GOOD ON3
TEREZI: TH3 THROAT CUTT1NG JOK3 PAST M3 SA1D
TEREZI: H4H4H4H4, SO GOOD
TEREZI: D1D 1 ALSO SAY SOM3TH1NG ABOUT SM3LL1NG YOU D13?
JOHN: yeah.
TEREZI: Y3SSSSS
TEREZI: B33N S4V1NG TH4T ON3 FOR 4 WH1L3
TEREZI: GOOD TO KNOW P4ST M3 C4M3 THROUGH, 4S USU4L >:]
TEREZI: 1 TRUST MY COM3D1C T1M1NG W4S 3XC3LL3NT?
JOHN: man, you are such a weirdo.
JOHN: you're almost as crazy as…
TEREZI: WHO?
JOHN: let's not go there now.
TEREZI: GO WH3R3
JOHN: nowhere!
John comes close to name dropping Vriska, but he stops himself before Terezi can start thinking about her again. I can tell that in John's mind, he thinks he's 100% firmly decided for real this time that Vriska is an irredeemable monster who doesn't deserve relevance, which is funny because only about a day later he willingly follows Terezi's instructions to bring Vriska back to life and feels bad for punching her so hard. That's classic John right there.
JOHN: suffice to say, i think you and a few other trolls are total nutjobs, no offense.
JOHN: i still can't believe you and dave…
JOHN: uh.
JOHN: actually, let's not go there either.
I still find it somewhat surprising how weirded out John is that Dave and Terezi were a thing. It might be more about the fate their relationship suffered when Terezi started hate-dating Gamzee, but either way his reaction makes sense considering his recent frustration over the ways of troll girls.
Upon Rose's asking, John explains that he now has retcon powers that are in a whole different league from regular time travel, but he hasn't figured out how to control them and so far has simply been jumping around through random points in the story's canon. Rose demonstrates her longtime interest in knowing as much about things as she possibly can for a little bit until John brings up the alpha kids, leading to a somewhat emotional moment:
JOHN: what should i do when i find them?
ROSE: …
ROSE: That's a good question.
JOHN: heheh.
ROSE: First, I guess just tell them,
ROSE: We're here.
JOHN: alright.
ROSE: I don't know. We'll figure something out.
JOHN: if i see your mom, is there anything you want me to tell her?
ROSE: My mom?
JOHN: yes. i mean, your kid mom, obviously.
ROSE: I know.
ROSE: Uh,
ROSE: Wow.
ROSE: Tell her…
ROSE: Tell her I'm sorry for being such a shitty daughter?
ROSE: Wait, no.
ROSE: That wouldn't make any sense to her.
ROSE: This girl has no clue what a shitty daughter I was.
JOHN: 😐
ROSE: I don't know. Just tell her whatever you think I should say.
JOHN: rose, these are some really piss poor heart felt messages.
ROSE: I'm not exactly in top form here, John.
ROSE: And in any case, no one's ever accused me of being an awesome candidate for the Hallmark writing staff.
ROSE: Just…
ROSE: Promise you'll find her, ok?
JOHN: ok, i'll find her. i promise.
ROSE: Thanks.
Rose and Roxy's long-awaited reunion is addressed here in preparation for readers to have their hearts crushed a few sub-intermissions later. I can't even think of anything to say here, other than that Rose is still an absolute mess of childhood regrets and it really hurts. At least John lives up to his promise, which is pretty nice.
And then Grimbark Jade appears and John has to leave. Rose and Jade are briefly seen in the same panel, which is such a missed opportunity for them to say words to each other for the first time in just as long as her and John. Maybe Rose's lack of words to say to evil Jade is evidence that they weren't as close as any other pair of beta kids? Doesn't matter because Jade zaps away and follows John once more.
And with that, John's short reunion with Rose and Terezi ends on a surprisingly sad note. Rose thought of something to tell Roxy, but we'll never find out what it is. I'd talk about how John fills in for what Rose wanted to tell Roxy, but I'm so close to that scene that I think I'll save discussion for when I get to that part.
Rose then notices her velvet pillow is gone. Terezi's sense of smell may not be as sharp as it used to be, but it's still tuned exceptionally well to the presence of loathsome clowns. This ends Rose's section of the selection screen on a 2x cliffhanger combo.
See you next time as I tread ever so slightly closer to John's first conversation with Roxy.
>> Part 107: Marty McFly Refuses to Fight the Incredible Hulk