< Part 104 | Part 105 | Part 106 >
Pages 6278-6299, 6324-6342
Act 6 Act 6 Intermission 1, Part 1 of 5
I think this is somehow my first time ever naming a post after a Karkat line????

Also, yay for new Homestuck posts three days in a row.
I've been bored out of my mind the past few weeks and it probably shows with the ridiculous amount of content I've been outputting lately. Enjoy this post during this stream of rapid activity, which might continue even after the spring semester resumes due to staying at home all day.
Act 6 Act 6 Intermission 1 of Homestuck, or A6A6I1 for short, begins with a dramatic flash that does insanely cool things with Homestuck's website (which was preserved on the move away from Flash!!!!!). The flash uses a song called "Gold Pilot" which is a HUGE fan favorite among the comic's soundtrack (and honestly a little overrated in my opinion), in a way that interestingly matches with the song's original intent as a theme for Becquerel instead of the Psiioniic or however I'm supposed to spell it, and features Grimbark Jade piloting the trolls' meteor into a Reckoning portal so she can do cool plot stuff.
This cool plot stuff consists of Jade doing the following: first she uses her space powers to merge the beta kids' planets and Skaia with the alpha kids' planets and combine the session, then she enters the alpha kids' universe about to be destroyed by the Red Miles just for a moment so she can captchalogue Earth and save it from destruction. Once that's done, Jade goes back to the alpha session so we can…
… watch the flash horribly glitch out and cut short after only a minute or so. This is an absolutely brutal prank to readers, but the glitchy scenes are enough to indicate a few more plot things: GCat's creation was handled by Jane under the Condesce's servitude, and (didn't manage to screencap) Jade has found John and is currently in the process of beating him up. So much for that, I guess.
The cool Flash animation is unexpectedly cut short due a critical stardust clog. What a shame. Those exciting new gameplay features were looking real slick, too. You think it was pretty neat how the panels were sliding around like that. Oh well, you probably didn't miss all that much.
[S] Act 6 Act 6 Intermission 1 is a worthy introduction to the late Homestuck style of doing flashes, which unfortunately is almost certainly the only one that can be watched as originally intended following the death of Flash. I checked, [S] GAME OVER. is stuck as a YouTube video unless you go through however much bullshit is currently necessary to enable Flash and it'll probably make me way too sad to bother checking if the same holds for the other flashes like the one with Pipeorgankind and Vriskagram.
Nevertheless, on a hunch you navigate once again to your trusty bandcamp page*, and check the length of the song in question. Your fears are confirmed. It seems you missed four solid minutes of footage. You wonder if you'll ever find out what happened?
* NOTE: I changed the link from the now brutally ruined Homestuck Bandcamp website to the equivalent page on a wonderful fanmade website that helpfully documents Homestuck music and all information you could possibly need about it.
2021 EDIT: I really wish the website didn't go so overboard with content warnings, and it documents a lot of music that I'm not sure it really needs to, but it's still quite a handy resource.
This passage gave a lot of readers the idea that in the future, they'd eventually get to see the full version of the Gold Pilot flash which I'm not one bit surprised led to utter disappointment. I would talk about the equivalent events in the post-retcon timeline, but until I get to the retcon I am going to prohibit myself from ranting about Vriska unless I absolutely have to.
You decide to click on the planets above to try to make some sense of the situation.
This passage tells readers that in case it wasn't clear, above is a handy character select screen that'll give us our first look at what the Acts 1-5 cast are up to in this merged session. Only the beta kids' planets are clickable; let's start with Rose's planet on the left.
Oh… right. This is one of those pesterlogs that glitches out to the point of near unreadability, but has been decoded by fans. Rose can now actually talk like Rose again, but unless you're a savant in Homestuck trivia you'll probably barely make out a word of her explanation. Again, I can only say: so much for that. At least we now have a clear indication that Rose is back to normal.
Next up: Dave's planet on the top.
turntechGodhead [TG] began pestering carcinoGeneticist [CG]
Oh yeah, how could I have forgotten to mention? Pesterchum is back in action, which makes for a very cool throwback that shows how far these kids and trolls' friendships have come since the start of their meteor journey. Pesterlogs show up quite a few times in A6A6I1, but not once again until Terezi's message to Vriska near the end of A6A6I5.
TG: hey
CG: WHAT.
TG: i hope this isnt too dumb a question but
TG: do you have any idea how i got here
CG: GOT WHERE?
TG: lohac
CG: WHAT'S LOHAC??
TG: its my old planet
TG: you know with the lava and shit
TG: remember?
CG: …
TG: it has dumb crocodiles
TG: and a stock market
TG: or at least it used to have one
TG: dunno if they locked it down since that time i literally ransacked the entire economy
I find it interesting that Dave remembers the beta session planets' acronyms but Karkat doesn't. It sort of makes sense because Dave spent three whole days in his session instead of just one, and because of what Karkat says afterwards:
CG: IF YOU SAY SO!
CG: I HAVE MORE IMPORTANT THINGS TO WORRY ABOUT.
CG: LIKE TRYING TO REMEMBER HOW I GOT HERE.
TG: where are you
CG: I'M ON THE PLANET WITH THE VOLCANO.
CG: THAT WAS JADE'S PLANET, RIGHT?
TG: lofaf?
CG: I DON'T KNOW!
CG: I HAVE NO IDEA WHAT THE ACRONYMS FOR YOUR PLANETS ARE.
CG: IT'S BEEN THREE YEARS SINCE I LAST SAW THEM, AND EVEN THEN I WAS *BARELY* PAYING ATTENTION TO WHAT THEY WERE CALLED BECAUSE I WAS BUSY TROLLING YOU.
Karkat seems totally burnt out on anything Sburb-related, far more than Dave is. I should also say, distributing the meteor crew across different planets is a cool way to bring those lands back into the spotlight and might be partly an excuse for Hussie to return to the good old days of drawing cool-looking planet art.
TG: land of frost and frogs
CG: ARE YOU SURE? I DON'T SEE ANY FROST!
TG: yeah it melted
CG: WHAT ABOUT THE FROGS? DID THEY MELT TOO??
TG: no
TG: i mean i doubt it you probably just cant see any right now
TG: can you hear any ribbits
CG: MOTHERFUCKER, DID YOU JUST ASK ME IF I CAN HEAR ANY RIBBITS?
TG: yes
CG: THIS ISN'T JOKE-AROUND PALTIME, DAVE! WE ALL SEEM TO BE SUFFERING FROM SOME FORM OF AMNESIA.
CG: DON'T YOU THINK WE SHOULD TRY TO GET TO THE BOTTOM OF THAT?
TG: probably
Karkat, literal-minded as ever, is confused by the name of Jade's planet and has forgotten about basically all the events that happened in the beta kids' Sburb session. But he's quicker than he used to be to realize when it's time to talk about things that actually matter.
(God, this is so weird. It feels like I'm trying to commentate on Act 5 Act 2 all over again.)
TG: how long have you and kanaya been on lofaf
CG: HOW DO YOU KNOW I'M HERE WITH KANAYA?
TG: talkin to her rn
CG: OH
CG: ARE YOU WITH ANYONE ON LOHAM?
TG: lohac
CG: WHATEVER.
TG: and yeah im with the mayor
CG: YOU'RE WITH THE MAYOR?
TG: yes
CG: AND NOBODY ELSE??
TG: yeah
CG: WHY ARE YOU WITH THE MAYOR?
TG: dunno i just am
TG: not that i am complaining one bit the mayor as always rules categorically
TG: (fyi i just hi fived him for like the third time in a row to my recent recollection)
CG: YOU LUCKY SON OF A BITCH.
Dave talking to Karkat in Pesterchum/Trollian about how awesome the Mayor is has this weird feel of blending old and new that I'm not sure how to put into words. I can't really think of much else to say, other than that this pesterlog ends with the start of a new mystery arc:
TG: so whats the last thing you actually do remember
CG: I REMEMBER…
CG: JADE.
TG: right
TG: me too
TG: but she was like a fuckin werewolf or something
CG: YEAH.
CG: THAT WAS PRETTY FREAKY.
TG: wait
TG: then she zapped us to that stonehenge place
CG: OH YEAH!
CG: AND JOHN WAS THERE.
TG: yeah
TG: we all landed in some grass like a pile of fuckups
TG: and then
TG: damn
TG: then what happened
CG: I DON'T KNOW.
TG: what the hell happened to john
A lot of the mystery in the start of A6A6I1 surrounds John's sudden disappearance, which is worrying because he's the protagonist of Homestuck and might also serve to disconnect him from the rest of the cast because he's one of only two characters to survive the pre-retcon alpha session and join the post-retcon kids. I don't know, I just feel weird trying to say things about this pesterlog.
Next up is… another pesterlog! This time with Dave and Kanaya, a dynamic that I'm lowkey a pretty big fan of.
turntechGodhead [TG] began pestering grimAuxiliatrix [GA]
TG: so are you just as brain damaged as we are
GA: Whos We
TG: me and karkat
GA: Of Course Not
GA: But If Youre Referring To The Short Term Memory Loss We All Seem To Be Experiencing Yes Ive Got That Too
Kanaya starts this pesterlog off with a bit of her unique flavor of Human Sarcasm. It's a joke that I somehow didn't know existed for the longest time, probably due to not reading the pesterlog carefully enough. Honestly I forget about Kanaya a lot more than I probably should, perhaps partly because her role in the second half of the story focuses so much around her relationship with Rose.
TG: ok
TG: so you have no idea how you got to lofaf then
GA: How Do You Know Im On Lofaf
TG: im talking to karkat
GA: I Didnt Think Karkat Could Remember The Acronyms For Your Planets
TG: yeah but i dont think thats the memory loss issue thats just him being an idiot
TG: but lets not get into that
GA: Okay
Even though Karkat said to Dave on the last day of the meteor journey that he and Kanaya aren't as close as they used to be, the two share a special bond that's basically impossible to break, no matter what happens—they even end the credits as the only two Alternian-born trolls still on Earth C. Dave, too, is somewhat defensive of Karkat when he brings up his subpar intelligence in some areas.
TG: wheres rose
GA: Shes Apparently On Lolar
TG: oh
TG: what about terezi
GA: Shes With Rose
TG: do they remember what happened
GA: No
GA: But It Seems Theyve Both Surmised The Missing Events Since We Arrived
TG: what
TG: how
GA: Well They Are Seers After All
TG: friggin seers
TG: all makin us knights look bad
TG: and whatever you are
TG: what were you again
GA: Im A Sylph!!!
TG: what the dick is a sylph
GA: I Am On Record As Once Having Facetiously Likened It To A Magical Witch
Oh man, HERE'S a pretty interesting bit. I am almost certain Hussie wrote this last line of Kanaya's because the time she said a sylph was "Sort Of Like A Witch But More Magical" led many fans to assume sylph and witch are a passive/active pair of classes. That little passage I linked from Act 5 Act 2 was for a long time the only canonical hint at the meaning of the sylph class, which I'm almost certain was immediately put on the MSPA wiki back when Wikia was a slightly less terrible website than it is now. Fans' obsession with documenting mechanical information is quite obviously why Hussie took this moment here to rescind Kanaya's prior statement about sylphs.
TG: but witches are already magical arent they
TG: like by definition
TG: oh wait thats the joke i guess
After Kanaya's statement that a sylph isn't actually a more magical witch, Hussie then uses Dave to explain the joke Kanaya was making that went over most readers' heads.
TG: god damn this missing time shit is makin me feel dumb as hell
GA: If Its Any Reassurance You Seem Like The Same Old Dave To Me
TG: ok good
TG: so what do the seers think happened
GA: I Dont Know
GA: Rose Was Trying To Tell Me But She Ceased Being Comprehensible
TG: oh god
TG: is she still drunk
GA: No
GA: Its Just That Her Words Suddenly Became
GA: Why Dont You Just Talk To Her And See For Yourself
TG: ok
TG: wow youre right
TG: haha wtf
TG: man i cant even describe it
TG: its not just that her text is unreadable gibberish
TG: i mean it is
TG: but its more than that
TG: its like
TG: existentially inscrutable somehow
GA: I Know Right
TG: i think we may have a problem here
It's always fun when character selection screens give freedom as to which order to read things, because if you read this pesterlog before Rose's glitchy pesterlog, you don't yet know what Dave means by "existentially inscrutable" until you get to see that the glitches cross over the fourth wall and make Rose's explanation inscrutable to the reader as well. Dave is very quick to realize that they have a problem.
Finally, John's planet:
John Egbert has gone missing.
This short line is a very effective way to strike fear into readers. It's worrying enough that Dave and Karkat wonder what happened to John, but it's a whole new level of worrying when the narration itself says John has gone missing. It's a rare benefit of narration in the story becoming so infrequent.
Next up, the selection screen zooms into Derse and gives us a style similar to the early Act 6 selection screens:
This time, I'm going to go through the selection screen left to right. I'm too lazy to bother with fancy alternate ordering because I know this one isn't that long.
The top right corner of this image just vaguely looks like it could be John.

Jane's path shows her meeting Jake in his jail cell, her looking grim and him on the verge of tears. It cuts short after only three pages because the dialoglog is corrupted, which is good because I'm not looking forward to going through the many portions of Act 6 Act 6 that involve Jake being brutalized.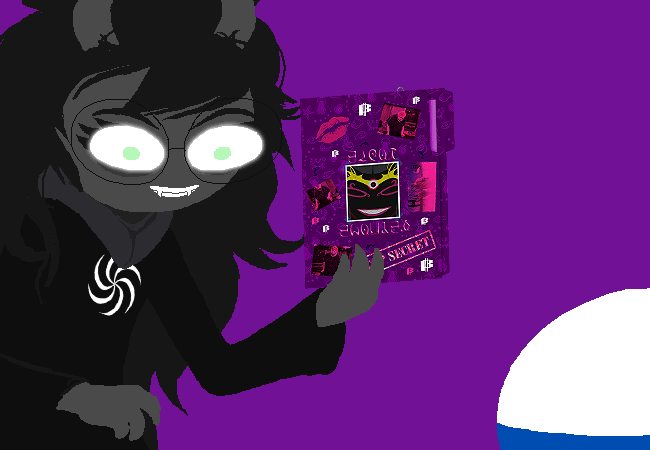 While Jane's section of the selection screen prepares the reader for horror, Jade's section prepares them for humor. Just check out these lines that open arguably the first proper conversation between a beta kid and an alpha kid:
I'm excited to analyze Roxy being cool and fun, and especially excited to analyze her first ever conversation with a certain character—you should already know who I'm talking about.
… And what do you know, the Derse selection screen is followed by more of Jade and Roxy.
JADE: excuse me but did you just "laugh your ass off" at me under your breath
ROXY: ummm
ROXY: yea
ROXY: maybe
JADE: 😐
JADE: i fail to see what is so amusing
ROXY: u do
ROXY: seriously?
JADE: …..
JADE: ok i guess the situation is a little funny because of this absurd folder
JADE: and the fact that i woofed at you probably didnt help either
JADE: but im not here to share a good laugh over the old ladys sense of design or her penchant for scrapbooking!
JADE: i am here to make sure that you do as youre told
[…]
JADE: my surname is harley not english
JADE: but you may refer to me as jade, or ma'am if you are feeling especially nervous and deferential
JADE: which as it turns out is the way you should be feeling about me, ALWAYS >:B
ROXY: LOL!!!
JADE: lol WHAT
ROXY: jade i am in no way buying that ur normally this pompous and tyrannical
ROXY: the shtick rly doesnt suit you its so obvious
ROXY: why you doin the batterhags tacky bidding anyway
ROXY: she got you under an xtra terrestrial fish spell or
Roxy might be the best possible person to make fun of Jade's attempt at being villainous and haughty. Grimbark Jade is a very comedic take on turning characters villainous, which heavily contrasts against Crockertier Jane. I'd talk more about the various ways Homestuck characters change when becoming villains, but I don't want to bother ranting about what post-canon material did to Dirk. I'll just talk more about Jade and Roxy instead.
Grimbark Jade's scenes are loaded to the brim with the Condesce's twisted sense of humor.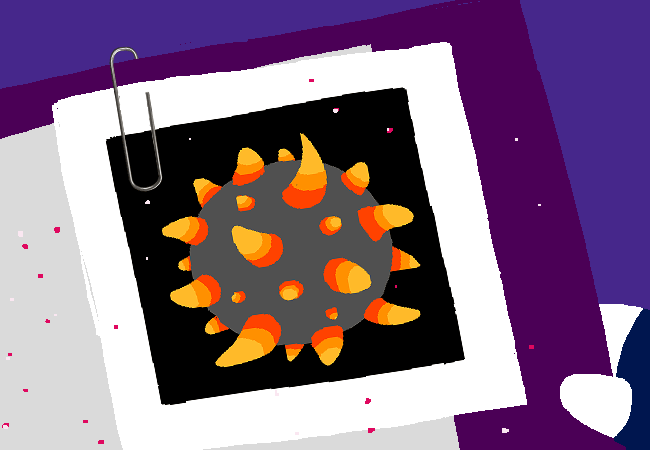 ROXY: ok i opened it
ROXY: hey look its the same shit as before
ROXY: im supposed to make this weird knobbly spike ball appear out of nothin
JADE: yes
ROXY: ok got it
ROXY: let me give it a shot then
ROXY: …
ROXY: welp still impossible
ROXY: what now maam??
JADE: it is not impossible
ROXY: is 2
JADE: you are the rogue of void
JADE: dont you know what that means?
ROXY: i dunno
ROXY: means i can turn invisible and stuff?
ROXY: like the blonde in that crappy superhero quartet
JADE: it means a lot more than that
JADE: your true powers are more impressive than those of anyone else in your crappy quartet
JADE: in fact i would say they are almost as cool as mine >:)
ROXY: not sure the ability to make weird spikeballs outta nothin is all that cool tbh
JADE: not just spikeballs!
JADE: imagine that your title is roughly synonymous with "one who steals nothing"
JADE: what do you think it means to be able to steal nothing?
ROXY: it means
ROXY: im like a shitty cat burglar who sucks at her job?
Here, Roxy is being difficult in a way I doubt isn't on purpose. She despises the Condesce the most of the alpha kids and won't let herself do even the slightest thing that would support the witch's schemes, so she's refusing to put the pieces together about her powers like Jade tries to explain.
JADE: WRONG
JADE: it means just the opposite
JADE: it means you can steal the essence of nothingness from something
JADE: you can rob nothingness from an idea if you put your mind to it
JADE: effectively allowing you to conjure virtually anything out of thin air
A lot of readers seem to think Roxy's item creation void powers are game breaking and allow her to make literally anything at will, which is also a sentiment people sometimes have about John's retcon powers (hehe epic ship). But in both cases, it's made obvious again and again that their powers are limited by what they can concentrate on and fully imagine. For Roxy, she needs a noble goal and knowledge of what she wants to do, and for John, well… he'll usually follow what others tell him.
ROXY: maybe it would help if i knew what the dang thing WAS
ROXY: how am i supposed to steal the nonexistence from a concept when the concept only exists in my mind as "ugly ball"
JADE: its called the matriorb
JADE: it is the key to resurrecting the troll race
JADE: once you create it the empress will hatch it on an uninhabited planet located beyond the reach of her cruel employer
JADE: there her people will have another chance to thrive without the ever looming threat of extinction that comes with his influence
JADE: so you see roxy, there is nothing noble about refusing to help
JADE: once an entire alien race went extinct because of a terrible monster, and you can help give them a second chance
JADE: dont you want that?
ROXY: um
ROXY: in theory sure i guess
ROXY: but ur basically asking me to bring a lot of people back to life so they can be slaves to that witch
ROXY: u want me to help make all these fresh new trolls but then just turn em over to her? like here you go have fun SNORKELBITCH MEGAHITLER
ROXY: i do not actually think i wanna do that??
Roxy here is saying basically what I said about the limitations of her powers. She's good at morally thinking ahead and, uh… as much as I love the epilogues, I think I'll need to stop myself from thinking about the xenophobia stuff that happens in them for the duration of this scene.
JADE: yes fair enough, but heres the other thing…
JADE: if you dont i am going to kill you
ROXY: oh noes
JADE: oh yesses!
JADE: a literal plurality of yesses
JADE: seeing as you are a god tier it is very likely you will come back to life
JADE: so i can just keep killing you over and over a different way each time
JADE: maybe i will disembowel you a few times
JADE: i will not even need to use my sharp doggy teeth!
JADE: i will just snap my fingers and your delicious guts will teleport outside your body
ROXY: ew!
JADE: no way more like yum
JADE: i will just keep on killing you again and again
JADE: until you finally get tired of dying and follow your orders
Grimbark Jade comes off as genuinely creepy when she threatens repeated murder and cannibalism, but it's not at all surprising knowing her that these turn out to just be empty threats we never see in action. Which is good, because who would ever want to see dear, sweet Roxy get killed over and over again? Nobody is who.
Upon Jade's orders, Roxy tries to make a matriorb but this happens instead: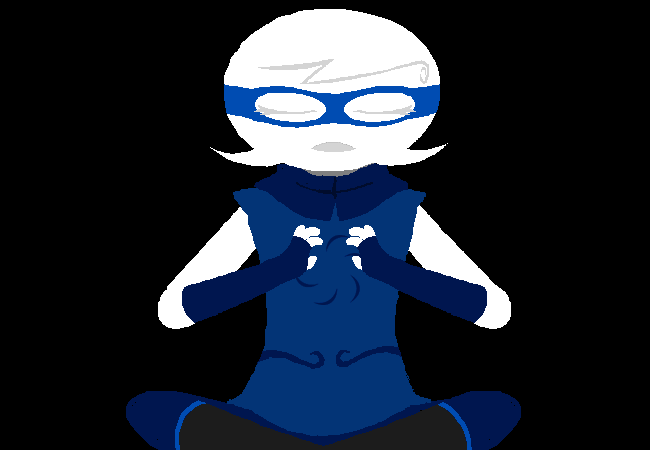 Now THIS is what I call a fun throwback. Jade reminds us what this little green cube is called:
ROXY: this is not a space egg
JADE: no, its not
ROXY: balls
ROXY: guess i effed up my void spell
ROXY: what is this thing
JADE: thats a perfectly generic object
ROXY: its perfectly generic?
JADE: yes
ROXY: dunno about that
ROXY: looks like a green cube to me
ROXY: with like
ROXY: slightly beveled corners
JADE: thats what a perfectly generic object is
ROXY: couldnt something theoretically be more generic than this
JADE: how
ROXY: um
ROXY: i dunno
JADE: exactly
ROXY:
Hussie is clearly proud of having come up with the perfectly generic object so long ago; I have to agree that he really captured the feel of something "perfectly generic".
JADE: if you want your powers to reach their full potential youre going to need to become more familiar with the fundamental building blocks of ideas and how they translate into more complicated thoughts and forms
JADE: then it becomes a simple matter of using your abilities to snatch those concepts from unreality
ROXY: sounds too hard
ROXY: better start killing me repeatedly and get it over with
JADE: we both know you dont think its too hard, you think it sounds like an interesting challenge
ROXY: dammit!
ROXY: (fucken jakes wily bitch ass grandma)
JADE: this is a very good start though
JADE: with a little practice im sure our empress will have her orb in no time
ROXY: well at least i know i can make a whole lot of these boring cubes if all else fails
ROXY: hey maybe ill build a sick fort outta them
ROXY: hehehe jade tell me that wouldnt be so baller
JADE: it would be fairly baller
ROXY: fyeah
JADE: keep trying for that orb though
JADE: i will return in a while to review your progress
JADE: and remember, dont get any funny ideas
ROXY: but p much all my ideas are funny
JADE: i mean dont try to escape!
JADE: even if you are invisible i will be able to track you down instantly
JADE: my sense of smell is very good
Jade reminds us she's a science nerd and immediately after reminds us in a rather creepy way that she's a real-life furry; meanwhile, Roxy brings up the idea of building a fort in a way that may make attentive readers consider that she may have something in common with John.
Speaking of John: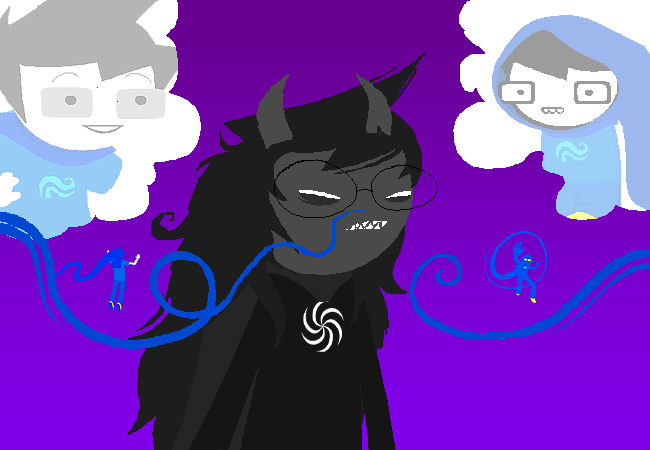 These pictures of John are all taken from Act 5 Act 2 and remind us what sorts of powers he has.
JADE: now if youll excuse me i have some business to attend to
ROXY: what business
JADE: i am still trying to locate my brother
JADE: but im having trouble picking up his scent
JADE: hes using his windy powers to obscure the trail and its giving me fits
ROXY: windy powers eh
ROXY: who is your bro?
JADE: woof!!!
JADE: i mean shoosh 😡
JADE: that is enough questions from you
JADE: now i believe you have a space egg to conjure
ROXY: (mumble mumble egg mumble shove it grumble)
JADE: what?
ROXY: (mumble mutter my fat ass)
JADE: farewell roxy
John's whereabouts are kind of a mystery arc, but as I said earlier, they may also be a way to disconnect him from the rest of the cast in preparation for the retcon. I don't know, maybe what I'm saying makes no sense, but whatever. Next up is yet another selection screen.
When I came up with the page numbers by which to divide A6A6I1, I didn't take character screens into account much. The page numbers I was originally going to cover in this post consisted of everything up to this selection screen, plus the leftmost option with LOHAC. However, I've decided that it'll be more fun to keep varying the select screen orders and start with LOFAF, the middle option.
Since the frost is all melted and the frogs are nowhere to be seen, we might as well just call Jade's planet "The Land".
Alright, this is some pretty fun art. It's been too long since we've gotten such looks at the beta kids' planets, rather than the alpha kids' desolate void session planets. Jade's house and volcano on LOFAF look the same as ever, except now I believe the vegetation is considerably more grown.
I miss the old Jade already.
Karkat is slow as ever on Sburb-related matters, unless it directly affects his friends like Jack Noir did. Also, Jade is continuing the tradition of following possibly cryptic flashes with verbal explanations, just grimbark this time instead of regular Jade.
JADE: i was in and out like a bandit
JADE: you know, i like to think i make a pretty good witch, especially since i turned wicked and all…
JADE: but maybe i would have made an even better thief!
JADE: what do you think jane? do you think i missed my true calling?
JANE: .
JADE: come to think of it, the new empire probably doesnt need anymore thieves
JADE: we already have the greatest thief of all running the show
JADE: she even managed to steal both of us away from all our pals, didnt she jane? 😉
Jade's cocky claims that she would have made a great thief might serve as foreshadowing of a different thief who puts a big stopper on the Condesce's plans and rudely steals other characters' roles in the process. Interesting in retrospect to look at pre-retcon dialogue that foreshadows Vriska's grand return, which after all these years I'm still not used to speaking of as an objective fact.
JADE: it wont be earth for much longer
JADE: it will be home to the new empire
JADE: i will deliver it to the universe we create
JADE: or i should say the one YOU create
JADE: if you are obedient and complete the tasks you are assigned, you may have a place in the empire among the subservient classes
KARKAT: BRRRRRR!
KARKAT: DID YOU FEEL THAT TOO KANAYA? A CHILL JUST RAN DOWN MY TORSO PILLAR DUE TO ALL THE *PURE EVIL* THAT BRAINWASHED JADE IS SAYING! I'M FUCKING PETRIFIED, SOMEBODY HELP ME CHANGE MY SMELLY PANTS!
KARKAT: LISTEN JADE. AND OTHER RANDOM EVIL GIRL, YOU LISTEN TOO. I DON'T CARE ABOUT YOUR STUPID LITTLE GLOBE OR YOUR OMINOUS ALLUSIONS TO NEW EMPIRES OR WHAT SORT OF PARIAHS WE CAN EXPECT TO BE IN YOUR BOGUS DREAM DYSTOPIA.
KARKAT: THERE IS ONLY ONE COURSE OF ACTION FROM YOU WHICH I WILL TOLERATE, AND THAT IS FEEDING ME A STEADY DIET OF FUCKING ANSWERS! NOT CAGEY, SMIRK-TORTURED INFO-MORSELS DELIVERED BETWEEN SHITTY VILLAIN CHUCKLES, I WANT AN UNINTERRUPTED SPATE OF HARD, UNEMBELLISHED DATA WHICH HAS ONLY ONE PURPOSE, AND THAT IS TO GET ME PERSONALLY UP TO SPEED ON LITERALLY EVERYTHING, RIGHT THIS BLOOD SHITTING SECOND!!!!!
JADE: karkat i had almost forgotten how much i missed our repartee
JADE: thank you for reminding me, that outburst was beautiful
JADE: if youre frustrated by the way im treating you look at it this way… im not asking you for passwords anymore am i?
Jade lets her old self slip yet again when reminiscing over her old arguments with Karkat. What sets her apart from John, however, is that her opinions on one-day characters from her life aren't preserved like a time capsule, which makes her a lot more free to be a jerk to Karkat.
KARKAT: HAHA! YOU THINK I CARE ABOUT PASSWORDS?
KARKAT: COMPARED TO THIS, THE PASSWORDS WERE A GODDAMN LAWNMEAL!!! WITH A CHECKERED TABLECLOTH AND EVERYTHING! FUN FOR ALL INVOLVED, ESPECIALLY THE MARCHBUGS SNEAKING THE CRUMBS AWAY!
KARKAT: I WOULD FUCKING KILL TO HAVE TO GIVE YOU PASSWORDS AGAIN, ESPECIALLY IF IT MEANT UNLOCKING REGULAR JADE FROM HER CORRUPTED EMPIRE SERVING BARKFIEND STATE!
KARKAT: *IS* THERE A PASSWORD LIKE THAT JADE? CAN I START GUESSING AT IT??
KARKAT: LET'S SEE, SINCE YOU APPEAR TO BE SOME SORT OF WILD CARNIVOROUS FURRY NOW, IT PROBABLY HAS SOMETHING TO DO WITH MEAT, DOESN'T IT?
KARKAT: SAUSAGES?
KARKAT: IT'S SAUSAGES ISN'T IT
KARKAT: AM I CLOSE? SOMETHING IN THE SAUSAGE DEPARTMENT.
KARKAT: SNOUT SAUSAGES?
KARKAT: GRUBWURST!
KARKAT: HOOF LOAF??
KARKAT: HAMSTEAK!!!
God, I love how Hussie managed to shoehorn a close mispronunciation of Homestuck's title into one of Karkat's rants. Makes sense because it's shortly after the canonization of another play on the comic's name (Homosuck) and not too long before the realization of its most common misspelling (Homestruck, when Jade is crushed by her house).
JADE: we all recently arrived in this brand new session… janes session actually
JADE: this is jane btw. say hi jane
JANE: .
JADE: lol
JADE: jane is actually my biological mother believe it or not
KARKAT: THIS STORY SUCKS SO FAR!
JADE: shh!
JADE: but her session was taken over by the woman who you might call our mutual great grandmother
I really can't explain why, but "the woman who you might call our mutual great grandmother" strikes me as a very recognizably Hussie phrase. He just has such a distinct style of prose that is necessary to writing characters like Rose or Dirk, but can show up in pretty much any character if he so desires.
KARKAT: YEAH! THE EMPRESS IS HERE! I THINK WE ALREADY MANAGED TO DEDUCE THAT!
JADE: karkat you are the one who demanded an "UNINTERRUPTED SPATE OF HARD, UNEMBELLISHED DATA"
JADE: ill thank you to not to yell at me for doing exactly what you requested
KARKAT: (KANAYA, DO YOU SEE WHAT I HAD TO DEAL WITH)
KANAYA: (You Do Realize I Spoke To Jade Plenty Of Times Myself)
KARKAT: (YOU DID?)
KARKAT: (OH YEAH)
KARKAT: (I GUESS I FORGOT ABOUT THAT)
… And here's more of Karkat demonstrating his spectacular skill in forgetting the obvious.
JADE: what you will need to do is ready the young frog for its journey to skaia
JADE: i will prepare skaia to receive it by deploying the battlefield from our old session
JADE: this will bring fertility to the void session and allow the frog to mature when he completes his journey
KARKAT: SO YOU WANT US TO MAKE ANOTHER FROG?
JADE: no!
JADE: i already made one actually
JADE: dont you remember??
KARKAT: UH
JADE: really your job is so easy
JADE: theres no more frog breeding involved at all
JADE: when the time is right, you just have to release the one thats already there
KARKAT: WHERE IS IT?
JADE: it fell into the forge
JADE: in the years since it has sunk all the way down to the planets core
JADE: but as it happens that is exactly where it should be!
JADE: my denizen is now guarding it
JADE: as im sure kanaya already knows it will not be released unless you travel there and formally request that she do so
KARKAT: OH YEAH?
KARKAT: IF IT'S THAT SIMPLE, THEN WHY DON'T YOU DO IT!
KARKAT: YOU CAN USE YOUR DOG TELEPORTATION OR WHATEVER.
JADE: i already did
JADE: echidna will not speak with me
KARKAT: HAHAHA!
KARKAT: WHY NOT?
KARKAT: COULD IT BE DUE TO THE FACT THAT YOU'RE A CRAPPY EVIL VERSION OF YOURSELF, AND THE MIGHTY ECHIDNA JUST POSSIBLY HAS TOO MUCH SELF RESPECT TO BOTHER DIGNIFYING THE FARCE YOU'VE BECOME?
JADE: it is not important why, and it changes nothing
After more of Jade expositing and Karkat forgetting basic facts, Jade mentions that Echidna won't speak to her and is interestingly undeterred when Karkat gives the obvious reason why. The author here has been doing a pretty good job combining Jade's bubbly personality with the way he typically writes villains, what with all their technical truths and handlings of retorts.
JADE: she said she would only speak with another hero of space
JADE: that would be kanaya
JADE: she also cryptically requested the presence of the knight who once helped her with breeding duties
JADE: karkat i gather that would be you
KARKAT: ME???
KARKAT: WHY WOULD SHE ASK TO SEE ME
KARKAT: ANOTHER SPACE PLAYER I COULD UNDERSTAND, BUT WHAT THE FUCK DO I HAVE TO DO WITH THIS?
JADE: i dont know karkat
JADE: that is your problem, not mine
JADE: maybe you should try feeling grateful she asked for you
KARKAT: GRATEFUL?!
JADE: youre getting the chance to set right what went so horribly wrong
JADE: to atone for your hasty first attempt at frog breeding which resulted in a terminal universe
JADE: if i were you i would feel pretty relieved to get a second chance, but thats just me :p
Jade tells Kanaya and Karkat the exact same stuff Vriska tells them after the retcon, which probably had to be repeated because those two scenes are so many pages apart. Karkat's reaction is similar both times, just exaggerated the second time in terms of his lack of feeling up to being a leader which is a weird thing I've never been a big fan of. I'll have to discuss Karkat's leadership arc when I get to the post-retcon pages which I'm no longer all that far from.
KARKAT: WOW…
KARKAT: WOW!!!!!!!
KARKAT: KANAYA, IT'S OFFICIAL. JADE HAS TURNED INTO SOME SORT OF GROSS NIGHTMARE BITCH!
KARKAT: AS THE BELEAGUERED AND LONG SUFFERING LEADER, ALBEIT *STILL* LEADER OF OUR PARTY, I MOTION THAT WE DON'T DO ANYTHING SHE SAYS, OR ANYTHING TO HELP THE EMPRESS EVEN IF IT OVERLAPS WITH OUR OWN INTERESTS, AND STOP LISTENING TO WERE-HARLEY UNTIL SHE SNAPS OUT OF HER BRUTAL IDIOT COMA!
KANAYA: I Second Your Motion
KARKAT: THE MOTION PASSES WITH AN OVERWHELMING MAJORITY OF VOTES AMONG PEOPLE IN THE IMMEDIATE VICINITY WHO AREN'T HORRIBLE!
Before the retcon, Karkat still thinks of himself as a leader; this lack of leadership trait was implanted in him after the retcon, perhaps as one of those story arcs that's purposely left unresolved until the epilogues to raise a point about resolving story arcs just like the tie-in to Caliborn's Masterpiece and John's relationship with Roxy (holy shit, I'm only 100-some pages away from their first conversation).
JADE: i would be careful about the slurs you bandy about, particularly those targeting my canine qualities which i am sensitive about and therefore find to be really really mean
JADE: you should be aware that i have already threatened to kill some people today so watch your step mister
KARKAT: GROAN
KARKAT: SORRY JADE, BUT YOU SOUND ABOUT AS THREATENING AS SOME MILD FLATULENCE I ONCE HAD
I love how Jade speaks rather poetically with more advanced vocabulary than she usually does, until she slips back into regular old Jade with the words "really really mean".
JADE: its true though i am very threatening
JADE: and this girl right here?
JADE: shes even worse
JADE: she hasnt even said a WORD… that is TERRIFYING!
JADE: jeez even im nervous
JADE: and kanaya dont think you are safe from our threats just because you happen to be a vampire
JADE: we have ways of handling the undead
KANAYA: Um
JADE: jane here?
JADE: she has the power to bring people back to life
JADE: although it is my understanding that this ability is limited to a one time only use per individual
Jade introduces Jane's power to bring people back to life (WHY DIDN'T SHE USE IT ON THE DEAD TROLLS AFTER THE RETCON), and when asked for a live demonstration, Crockertier Jane demonstrates firsthand that she's the scary villain to Jade's silly villain as per common villain duo tropes:
*takes a deep breath*
FUCK YOU JANE FUCK YOU JANE FUCK YOU JANE FUCK YOU JANE FUCK YOU JANE FUCK YOU JANE FUCK YOU JANE FUCK YOU JANE FUCK YOU JANE FUCK YOU JANE FUCK YOU JANE FUCK YOU JANE FUCK YOU JANE FUCK YOU JANE FUCK YOU JANE FUCK YOU JANE FUCK YOU JANE FUCK YOU JANE FUCK YOU JANE FUCK YOU JANE FUCK YOU JANE FUCK YOU JANE FUCK YOU JANE FUCK YOU JANE
If there's any effect of the retcon that I'm genuinely grateful for, it's that Karkat's demonstration death right here was undone.
At this point, the retcon to bring back Vriska was almost definitely planned as a thing that would happen. Though I wouldn't doubt that serial readers simply thought this moment would signify Karkat might not make it to the end of the story.
Before Jade can react to Jane's demonstration, she notices John and pounces on him in a callback to a scene with Nepeta and Equius (remember those characters???) in the trolls' arc, which is a weird callback that kind of exists I guess for efficiency's sake? Gratuitous callbacks will only become more common as Act 6 Act 6 progresses.
First time in a while Karkat is seen without his eyebrows.
Crockertier Jane revives Karkat and I must say, I can tell that properly writing two villainified Harleybert girls was too much for Hussie to handle so he resorted to simply making the Jane the scary one. I feel so goddamn bad for Jane fans—she only gets shafted more and more as the story progresses, and the epilogues… hoo boy.
After being relieved to see Karkat alive, John zaps away from Jade to continue their cat and mouse game.
EEEEEEGBEEEERRRRRRRRT!!!!!
Infuriated, Jade zaps away too and leaves the other three behind, with Karkat adorably hiding behind Kanaya in genuine fear. Next time we hear from Crockertier Jane, I'll be making a lot more comparisons with Jane in the epilogues. For now, I'm ending this post here.
See you next time as I go through the other two selection screen options, with Dave and Rose respectively reminiscing on their long-gone childhoods.