< Part 109 | Part 110 | Part 111 >
Pages 6475-6530
Act 6 Act 6 Act 2
Have I ever said before that I fucking love Caliborn?
I was lying (or at least, retroactively lying) when I said John and Roxy's first conversation would be my last post before 4/13 2020. Please enjoy this post about the second act of Homosuck before… whatever ends up happening for Homestuck's eleventh anniversary.
Right when Act 6 Act 6 Act 2 of Homestuck (or Act 2 of Homosuck) starts, you'll immediately notice that Caliborn is trimming the fat in his retelling of Homestuck—the fat being wasteful individualized introductions to useless klutzy bimbos. He cuts to the chase and introduces the next male character in line, as you can tell by his command "BE A DIFFERENT MALE."
THE LAST TIME THAT THINGS HAPPENED. THE MALE STORY HERO BLEW UP. SO FORTUNATELY. WE WON'T SEE HIM EVER AGAIN.
THAT MEANS WE NEED TO BE A NEW MALE TO LEAD THE STORY. HERE HE IS. WITH HIS DUMB BLACK GLASSES AND EVERYTHING.
HERE TO ONWARD. I WILL REFER TO THIS MALE AS. THE ALPHA MALE.
THE ALPHA MALE IS LESS BAD THAN THE ORIGINAL MALE. HE IS NOT AS ANNOYING. AND HAS NO TENDENCY TO RANDOMLY APPEAR AND BOTHER PEOPLE. HE ALSO LIKES COOL SWORDS. AND "IRONY" I GUESS. AND LIKE MYSELF. HE HAS CULTIVATED A TASTE FOR FINE ART. HENCE, HE WILL BE MY MALE OF CHOICE ON THIS ADVENTURE.
Unlike in Act 1 of Homosuck, Caliborn gives us a somewhat earnest introduction to his newly favored protagonist without diverting to his own journey through the god tiers. Much like Homestuck's first two acts, Act 1 of Homosuck ends with a deadly explosion and Act 2 opens the meat of the story.
BUT I WILL ADMIT. THERE IS ONE REASON ABOVE OTHERS. WHY I HAVE DECIDED TO FAVOR THE ALPHA MALE.
> HE HAS EXCEPTIONAL TASTE IN PUPPETS.
YESSSSSSSSSSS.
Homestuck's lineup of male lead characters works in Caliborn's favor as he reveals here, thanks to Lil' Cal's unnervingly strong presence in Dave's childhood. Could it be that the order of the beta kids' introductions was another thing Caliborn retroactively made his doing?
Unlike Hussie, Caliborn is more than kind enough to show us Dave with his gorgeous red eyes.
NORMALLY. HERE'S WHAT WOULD HAPPEN.
HE WOULD TALK INTO HIS GLASSES OR SOMETHING. LIKE A PITIFUL LOSER. IN DOING SO HE WOULD SUMMON BELOW HIS RECTANGLE. WHAT IS KNOWN AS. A PESTERLOG.
IT IS NEVER ADVISABLE TO OPEN A PESTERLOG. YOU SEE. THE BUTTON IS A TRAP. WHICH WHEN SPRUNG. RELEASES WORDS UPON WORDS. WHICH ONLY SERVE TO REMIND YOU. OF YOUR INTENSE DISLIKE FOR THE PEOPLE SAYING THE THINGS. AS WELL AS. HOW LITTLE REGARD THE AUTHOR HAS. FOR YOUR VALUABLE TIME.
AS SUCH. THERE WILL BE NO WORDS DESCRIBED IN MY TALE. ONLY ACTION!
At a glance, Caliborn appears to be simply complaining about pesterlogs just like he did in his very first speaking scene in the comic. But I think the meaning of his words lies a bit deeper here: he's acknowledging that since he's honing his craft on visual art, he won't let himself get sidetracked with learning how to write the cast of Homestuck. As such, he's decided to sacrifice dialogue writing skill in favor of his usual narration, which he likes better anyway.
Caliborn brings two bitches over to the scene (rounding out the Homosuck beta kids), then says the following as he brings two more:
THESE TWO DELECTABLE FLOOZIES WERE NOT SUPPOSED TO SHOW UP UNTIL A LOT LATER.
BUT LET'S BE HONEST. IT DOESN'T MATTER.
Yet again, Caliborn demonstrates his disregard for the story's mechanical rules when he brings over Jane and Roxy, who he loves imagining doing unspeakably lewd things like eating cake and holding hands. Tampering with the flow of Homestuck's story is exactly the sort of thing that throws Calliope into a screaming fit, which is no longer even the slightest concern to him.
After Caliborn starts up his abridged retelling of the usual process of how a Sburb session starts up, John zaps into the scene in the strangest demonstration of his ability to enter different canons so far. This is where things get REALLY fun.
John's intrusion into Caliborn's story needs no words, it's just plain hilarious.
Putting aside the presence of four loyal bitches, this is a rather faithful recreation of how Dave's session went down. Just without most of the bullshit, instead replaced with a completely different kind of bullshit.
Caliborn tries to hide John behind a curtain, but he follows regardless:
John is humorously angered by how inaccurate Caliborn's retelling is to the events of Homestuck, which makes sense considering how thoroughly he recapped the events of the entire comic when he first met Roxy. He probably views every single event that happened within canon as a sacred untouchable memory, even the sad ones like the death of his father. This may be why he's so set off by Caliborn's story, though it could also just be his tendency to get angered by the most pointless shit imaginable.
I like how the sun in this image is represented as a cherub spiral. Shows that Caliborn can't get cherubic imagery out of his head no matter how powerful he becomes.
YOU SUCCESSFULLY BE ON THE ROOF. AND PREPARE TO HUMAN KISS YOUR SORRY PLANET GOODBYE. THERE IS NOT A DRY EYE IN THE PARTY. EXCEPT FOR THE MALE'S. AS WELL AS THE PUPPET'S.
Caliborn views crying as one of those girly things that human bitches randomly do for no reason, and his decision to make only the girls cry as Dave's crew leaves Earth says a lot in retrospect about the real beta kids' lackluster reactions to the end of the world. Normally, the end of the world would be very much worthy of tears, but whenever this topic is brought up in the comic it's almost always in a jokey fashion, especially in Dave and Rose's numerous conversations about the absurdity of human civilization. Even John doesn't tend to think too much about the death of human civilization; if anything, nostalgia for his childhood being raised by a father who fed him too many cakes sometimes, and occasional mentions of the presumed deaths of his favorite movie stars.
When the alpha male and his crew enter the Medium, Caliborn says he doesn't remember what Dave's planet looked like. He uses this gap in knowledge as an opportunity to design things on his own, which is one of Hussie's many in-story digs at the concept of worldbuilding.
I remember the Ed Emberley drawing books!!! I had a phase where I was really into those books when I was about nine or ten years old.
With the help of Lil' Sebastian, Caliborn presents his rendition of the alpha male's planet in a fresh new art style:
I see the design of the Land of Someone's Handicrafts I Took, or LOSHIT for short, as an obtuse self-reflection on the evolution of Hussie's art style. Have a look at what Caliborn said about art styles on the prior page with the Ed Emberley book:
YOU SEE. WHEN CRAFTING A STRONG AND COMPELLING NARRATIVE. I THINK IT'S IMPORTANT FOR AN ACCOMPLISHED ARTIST. TO GIVE HIMSELF THE LATITUDE TO DO WHATEVER HE WANTS. AND TO FUCK AROUND AS MUCH AS CHERUBICALLY POSSIBLE. AND THE SIZE OF THAT LATITUDE SHOULD BE. LITERALLY AS BIG. AS THE WHOLE FUCKING STORY.
AS SUCH. USING KNOWLEDGE ACCRUED FROM MY TOMES OF ARTISAN KNOWLEDGE. I WILL CHANGE MY "ART STYLE". TO DEMONSTRATE MY VERSATILITY. AND MAKE YOU BE IMPRESSED.
This passage makes me think back to Hussie's slightly controversial art style experimentation early in Act 5 Act 2 (typically referred to as Hussnasty style), which he gave up on pretty quickly for understandable reasons. Homestuck has always been a story about experimenting with different styles, and with Caliborn's story arc this statement is more literal than ever.
HOWEVER. THE MANGAS ARE CLEARLY TOO ADVANCED FOR NOW. AFTER I LEVEL UP IN FINE ART. MAYBE. BUT NOT NOW.
SO FOR THE TIME BEING. AND TO GET MORE PRACTICE. ALL OF MY WORLD ASSETS. WILL BE RESPECTFULLY PLAGIARIZED FROM THE DISTINGUISHED MR. EMBERLY.
This switch to a collage-like art style is self-satire on Hussie's end, but in-universe it's a genuine way for Caliborn to experiment with different art and find out which style works best for him until he's skilled enough to take on drawing manga. Experimenting with different styles is a great idea when pursuing art; even if the style you try doesn't end up working out, at least you now have a better idea of which styles do work.
I'm getting way too much childhood nostalgia even THINKING about the Ed Emberley drawing books.
Caliborn cuts apart a portion of Emberley's book that gives instructions for how to draw a horse and mounts each member of Dave's crew on one, conveniently leaving the last for John.
ALL MEMBERS OF YOUR PARTY SIT ON THEIR MAJESTIC BEASTS OF BURDEN. AND PREPARE TO RIDE LIKE THE WIND.
IT GOES WITHOUT SAYING. THAT THE INCOMPLETE HORSES. MUST BE RESERVED FOR THE WOMEN.
The lineup of who gets to ride which horse is a perfect demonstration of how Caliborn sees the world. The alpha male gets the complete horse, Cal gets the nearly complete horse as his loyal second-in-command, and the bitches get horses first come, first serve because all girls are equally worthless in Caliborn's mind.
John has no choice but to follow his poorly drawn friends and ride the least complete horse, which makes sense because Caliborn considers him even more worthless than the bitches, not even good for sexual appeal.
"Shit biscuit" is the kind of thing John only says if he's having a severe mental breakdown.
This music is playing in my head right now.
Caliborn's attempt at worldbuilding is rather messy and packed, but you can see he's making an honest attempt at putting things in places that make sense. There's an airplane, a hot air balloon, and a super person in the sky; a windmill, lighthouse, and mountains on the hills; a whale and two ships in the sea; and a few cars on the ground. This is more earnest practice on Caliborn's end to perfect the art of worldbuilding disguised as petty satire.
Also, is that blue animal next to the water supposed to be a hedgehog? It might just be a porcupine, but if it's a hedgehog, then it sure isn't a very fast one. (I'm sorry, my jokes are fucking terrible.)
John crashes straight into bogus Roxy and her bogus horse, destroying them both. I like to think this scene is foreshadowing of Roxy's untimely death in the post-retcon timeline, just like how a good portion of Caliborn's manga drawings in Act 6 Act 6 Act 3 are foreshadowing of how things are different after the retcon. John and Roxy's fates in Homosuck are both similar to their fates in the post-retcon timeline now that I think of it: John is taken out of the picture by an explosion very early on, and Roxy is tragically killed in a later accident.
… Did I really never think of this parallel until now? I don't know, I think I might have in the past, but if I did then I sure don't remember it.
I like this panel's use of perspective.
Despite his hatred of everything about this nonsense story, John genuinely feels bad for killing the fake version of Roxy. This is an endearing moment that borders on romantic, especially with him holding her severed head in a way that almost feels like he's about to kiss it.
John stops squirming around with his new crush's fake severed head when he notices Caliborn is still going at it with his terrible comic. For whatever reason, John can see the commands put on screen, which probably gives him a slight suspicion as to who could possibly be the author of this story.
> THE ALPHA MALE IS ACCOSTED BY A PACK OF WILD FOES.
RAUCOUS MELEE IS IMMINENT.
THE MALE REACHES FOR HIS BLADE. BUT DISCOVERS. HE DOESN'T HAVE ONE!
IN HIS HASTE TO BEGIN HIS JOURNEY. HE FORGOT TO TAKE IT.
Caliborn is faced with a flaw of his hasty style of storytelling: he realizes that since he made the alpha male cut to the chase and immediately start the game, he didn't do most of the usual character introduction patterns like picking a strife specibus and fetch modus shenanigans and I forget what else. In-comic, Dave subverted the pattern of picking a specibus by revealing he had already allocated bladekind before the story started (which is a fitting demonstration of how his bro raised him), but regardless of whether Hussie remembered that detail, it's clear that Caliborn would rather skip to the action as quickly as possible. Since he's telling this story in such a simplified fashion, he has to come up with a simple magic solution for the issue that Dave doesn't have a sword.
John is crying at the utter beauty of this Jailbreak callback.
The magic solution to Dave's predicament is a clever (or at least Caliborn's peculiar flavor of "clever") reuse of prior material from Homestuck which doubles as a rare callback to Jailbreak, the very first MS Paint Adventure. Dave folds the real Dirk's pornographic drawings of the alpha kids into a handy sword, just like the Jailbreak guy and the alpha kids' Jack Noir have done before.
… Now that I think of it, I really hope I didn't miss any other callbacks to Hussie's old comics so far in Homosuck.
YOU DEAL A CRITICAL HIT TO THE HORRIBLE WITCH.
HOWEVER. AN ILL TIMED LEAP SUBSEQUENTLY CAUSES YOU TO SUFFER *MASSIVE DAMAGE*.
THE HORSE HAS BEEN SLAIN.
THE WOLF THING CONSUMES THE CARCASS. AFTER HIS MEAL. HE LEAVES FULL AND SATISFIED. NEVER TO RETURN.
It's an interesting choice for Hussie to extend the Jailbreak callbacks beyond just one page, and especially that he uses Caliborn of all characters to return to those roots. I suppose he just wanted to have some fun here, which makes enough sense.
The witch is also slain and drops additional pornographic drawings. John is still unamused; could it be that he's grossed out specifically by seeing Roxy sexualized?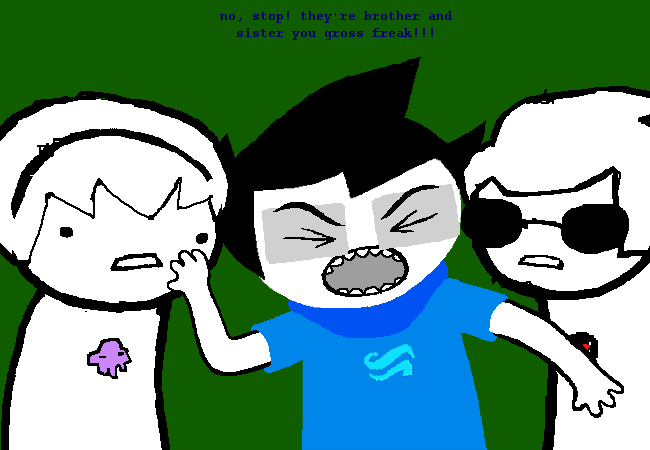 The climax of Caliborn's story features Dave getting rewarded for his battle victory with a smooch from one of his spicy bimbos. However, John interferes with the scene because he doesn't want to see his genetically related friends kiss no matter how fake they are. It's only characteristic of John for this part of the fake satirical story to send him into full flipout mode.
John has gone into all-caps angry rant mode, folks. As per common tradition, something pointless sets him off, he aggressively screams about it, and right when he's about to become legitimately threatening (in this case a few pages later), the tantrum is cut short.
> IT SEEMS THE ALPHA MALE HAS BEEN SLAIN.
THIS OBVIOUSLY WILL NOT DO.
SOME ADDITIONAL BACKUP MALES ARE DEPLOYED. DUE TO, LET'S SAY. TIME TRAVEL.
Technical matters like the various complicated ways to bring back a corpse hurt Caliborn's head to think about, so he just comes up with the simplest, safest possible reason for Dave to resurrect after his death at the hands of what must have been an invisible ghost.
> TIME TRAVEL KEEPS HAPPENING!
THE MALE IS BEING VERY RECKLESS WITH HIS LOOPS. WHAT A MESS!
I have a feeling Caliborn was inspired by his minions Eggs and Biscuits when he made this scene (which I never thought of until now, actually). His loyal leprechauns are his primary exposure to time shenanigans, and deep down in his tsundere cherubic soul he loves these little green guys like they're his savored children.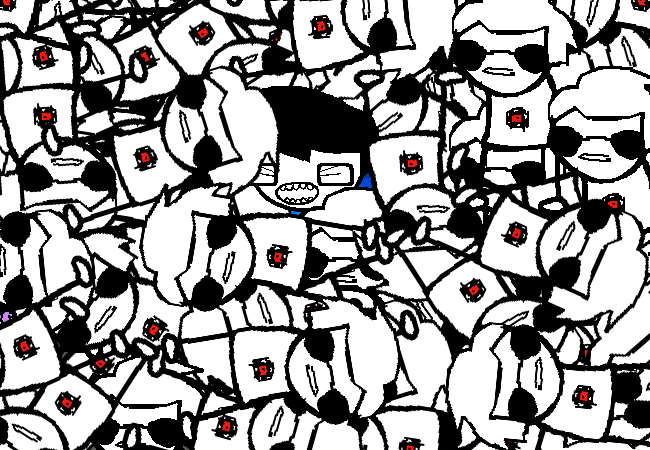 > THE DUDE PILE. DOESN'T STOP. FROM GETTING TALLER.
IT CAUSES EVERYONE TO COMPLETELY FORGET. ABOUT THE INCREASINGLY AGITATED BLUE MALE. ALTOGETHER.
Following a strategic Jailbreak reference with a strategic SBaHJ reference is a true power move right here. Don't underestimate Caliborn…
… but please, for the love of god, don't you DARE underestimate John. Just as Caliborn had sworn he would find out who the annoying voice in the MSPA command station is and kill him, John swears that he will find out who made this horrendous story and give him a rock-hard Egbertian beatup that would have no doubt made his father proud.
And so, the curtains close in on an aggravated John surrounded by fake copies of Dave, concluding the second act of Homosuck. John's last words in this act are comical the first time, but they read as genuinely threatening in retrospect after [S] GAME OVER.
> THANK YOU FOR SUBSCRIBING TO MY STORY.
BE SURE TO CLICK THROUGH THE FOLLOWING PAGES AS FAST AS YOU CAN. TO GET RIGHT BACK HERE. TO THE GOOD STUFF. BYE.
I'll try to, Caliborn. I promise. Actually, who am I kidding, I definitely won't, but the best thing I can do to pay tribute to this wonderful character is to recap Act 6 Act 6 Act 2.
---
Act 6 Act 6 Act 2 of Homestuck is the second act of Homosuck, and it's a very fun followup to the first one. Caliborn diverges his comic further from Homestuck than he did before, with a distinct mix of over-the-top sexism and earnest artistic experimentation. The real John's appearance in this act serves well to continue his rivalry arc with Caliborn, and take him out of the picture for the entirety of Act 6 Act 6 Intermission 2, the final act of pre-Gigapause Homestuck.
See you next time as I start Act 6 Act 6 Intermission 2, the final act of pre-Gigapause Homestuck. It won't be the same without John or Caliborn, but I'll try to get through it regardless. Now that I think of it, continuing this post series will probably be a therapeutic thing to focus on if modern Homestuck media continues to get worse. I love Homestuck, please remember that in case 4/13 causes me to enter a burnout with these posts again.