< Part 88 | Part 89 | Part 90 >
Act 6 Intermission 3, Part 4 of 6
Pages 5309-5397 (MSPA: 7209-7297)
I hope you like lengthy rants about Vriska.
July 2019 has been the most productive month for this post series in a very long time! School starts again in a few weeks and it'll probably slow down my posting speed just a tad. During fall semester I'll probably go back to releasing Homestuck posts every Friday morning.
Rufio, is that you???
After, what… another hour? Another hour of bumbling through the afterlife with very little to show for your efforts, you decide to pause the game again. You can only spend so long powering through the dead troll equivalent of an unpleasant high school reunion without making a trip to the load gaper, or fixing yourself a little snack from the hunger trunk.
Just like last time, Openbound Part 2 is followed by a pause page that was most useful for serial readers at the time. But this time, the pause page has a small teaser of what will come next: Rufioh standing next to Meenah, with wings that suggest he's a god tier. This teaser probably got readers excited for two things: meeting the homage character to Dante Basco, and Meenah finally finding someone useful for her army.
There's definitely someone else we should be checking in with right now. Someone we are all desperate for an update on. And that someone is…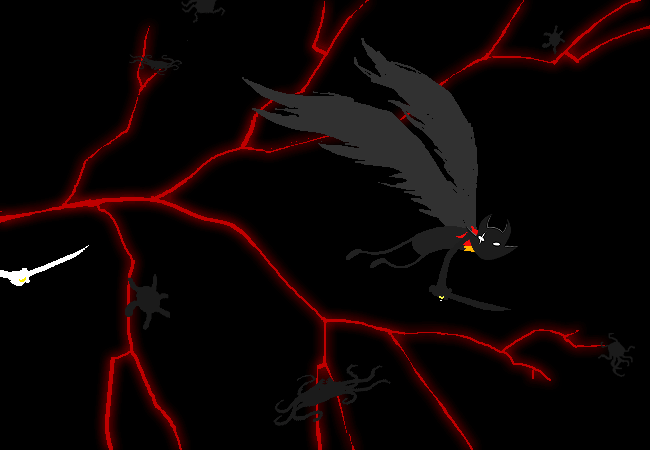 THIS GUY!
This is the guy who you are now being.
The sudden focus on the beta kids' Jack Noir is an interesting surprise. I can tell Hussie felt bad for neglecting this once mighty villain for so long and decided to remedy that. And my god, what a glorious remedy it is (at least according to my memory).
Continue reading