< Part 83 | Part 84 | Part 85 >
Act 6 Act 3, Part 10 of 11
Pages 5137-5237 (MSPA: 7037-7137)
But no coconut guns, sadly.
If there were any, you'd better believe they can fire in spurts.
Lucky coincidence: today is the first anniversary of Homestuck's migration from MSPA to homestuck.com!
I made this GIF myself, please appreciate it.
Why didn't I think of making my own GIFs for these posts sooner? There's plenty of non-[S] Flash pages I could have done that with.
Once again, last post ended with Calliope and this post starts with Caliborn. This selection screen gives us teasers of what he looks like. It leaves out just enough not to outright confirm that he is Lord English.
undyingUmbrage [uu] began jeering uranianUmbra [UU]
uu: HEY.
uu: I WOuLD LIKE TO PLAY A GAME.
uu: IT'S CALLED "BOND WITH AN IDIOT SISTER OVER SOME BuLLSHIT SHARED INTERESTS BEFORE SHE DIES FOREVER."
uu: DOES THAT SOuND FuN.
uu: HERE'S A GOOD PART OF THE STORY I THINK.
uu: YOu MuST KNOW THE ONE I MEAN.
uu: LET'S TALK ABOuT IT TOGETHER.
uu: SHARE SOME THEORIES.
uu: DO SOME FAN GIRLING.
uu: PRODuCE SOME.
uu: "FAN ART."
We got more than enough story told through Calliope speculating already, so it's only fair that now we get a big dump of Caliborn's speculation. Both cherubs' speculation is surprisingly reliable and accurate; you'll never fully understand how much those two have in common unless you dig deep into the stuff they say. Or if you have a realization that you were in denial about being a fan of something. I mean, purely hypothetically of course. It's not like I was ever in denial about liking something people like to trash on, haha what are you talking about!!!!!
(I was in denial about liking something people like to trash on. Let's not dwell on it, OK?)
Homestuck avoids face-to-face dialogue in all the best ways possible.
Dialogue conveyed through visuals in speech bubbles isn't done enough in Homestuck; that storytelling has an odd sort of charm to it. It showed up quite a bit in the Doc Scratch intermission with Jack Noir and the Droll and makes a return here when Caliborn takes the reins.
Act 6 Act 6 Intermission 5's fake selection screens bring back these silly speech and thought bubbles (example 1, example 2). It's one of those things I actually like about that clusterfuck of an act and I'm glad they made a return.
uu: LOOK AT THIS IDIOT WOMAN.
uu: NOT DOING WHAT THIS BRAVE AND INTELLIGENT MALE IS SAYING.
uu: YOu JuST KNOW HER FOOLISHNESS WILL BE PuNISHED.
uu: AND RIGHTLY SO.
As we see here, Caliborn's speculation is surprisingly reliable and accurate just like Calliope's is. Jane's thought bubbles show us that she is highly distracted by her feelings for Jake; too distracted to follow directions.
I think this act's pattern of making the alpha kids' crushes on each other mostly background noise has worked well. It feels quite a bit more like prior acts, considering the romance feelings the trolls harbor for the kids and for each other; those feelings weren't enunciated much, but did play a sizable role in the plot. The occasional romance moments through this act weren't common, and when they did happen they served as good gags or subtle moments of emotion. And I don't mean EMOTION, I just mean emotion.
uu: BOO. YEAH.
Oh fuck, this just happened. Its been too long since we last saw a character just straight up fucking die.
Let's talk about Jane's death. This panel, where we see her body on the ground covered in blood, is a crazy unsettling sight. Normally characters don't start dying until they start alchemizing new outfits. Everything about this panel is a great way to show how much the stakes have gone up. Derse's grounds are shaking and cracking apart, with one kid's alert dream self next to another's waking self's corpse. And with a bunny robot joining in no less.
This is a level of chaos the beta kids' session wouldn't have dared to touch at least until the omnipotent dog came into play. It makes sense that things go this bad in the alpha session so early, because Jack was broken free from the Queen's rules before the story started. I discuss that point more in this mini-post, under the header "THE FOREBODING DREAM".
… Oh my god why am I rambling so much. There really is no hope left for me.
It's easy to forget that the Dignitary is just as scary as Noir.
I'm going to regret writing all these paragraphs.
Then one of Derse's towers collapses, blocking off the transportalizer and ruining hope further. Another thing that we haven't seen happen much prior.
This genuinely sad death is interrupted with a funny moment: Caliborn bangs on the screen, complaining about the viewport's sudden blackout. We can tell he's super invested in the kids' story, just in a twisted-up way, because he is happy when the story starts actually being good and upset when the good part suddenly is cut short.
Calliope probably didn't know about the kids dying aside from the blackout, because she is a goody two shoes and doesn't spoil herself on anything about her favorite characters. She might have outright stated that before, I can't remember. But I'm too lazy to check if she did.
No longer able to view the alpha kids' story, Caliborn takes matters into his own hands. His art needs no commentary; just sit down and appreciate it.
uu: WILL YOu GET A MAMMOTH LOAD OF THIS CLuELESS DuMBFuCK.
uu: HE ACTuALLY "CARES" ABOuT STuFF. AND LIKE. WEIRDLY uRINATES THROuGH HIS EYE HOLES. WHAT A JOKE.
Urinating through eye holes sounds like something a troll would have said in the early acts. As far as Caliborn is concerned, crying and peeing are the same thing.
uu: I REALLY HATE HIM.
uu: WHY ALL THE BITCHES.
uu: FLuSH OVER THIS MuMBLING. SOCIALLY STuNTED IMBECILE. I WILL NEVER KNOW.
uu: TALK ABOuT THICK HEADED.
CALIBORN IS SMART!!!!!
I firmly believe that if you see any bit of Caliborn in yourself, then you have won the game of Homestuck and are allowed to call yourself a TRUE fan of it. Caliborn secretly has a strong understanding of the alpha kids' story and what all sucks about it.
uu: HIS SKuLL.
uu: IS ALMOST AS THICK AS MINE.
uu: t~mut
Dirk's splinters (this includes his robots) have a tendency to bail people out of bad situations in the nick of time; this is the first time we see Lil' Seb do that and it's shocking as ever. Sebastian is normally just a little mischievous bunny, but here we're about to see how tough he really is. Dirk's splinters all have overarching themes and patterns which tend to haunt the "main" Dirk.
It's a fact of life that Dirk gets incredibly carried away with his projects. All of his creations have a bit more to them than meets the eye; many of his robots are secretly INCREDIBLY good fighters. This is a good thing here because the little guy ends up saving Jake's life.
This bit is accompanied by a tiny "THIS IS STUPID". A nicely executed callback that's nothing more than a hidden funny moment. Small text like this indicates that the callback isn't meant to be taken seriously.
Jake's island is on fire now! This is such a cool panel I don't know what to say. I like how although the alpha kids don't have meteors approaching their homes, other factors abound create something just as threatening.
During his flight, Jake encounters a dragon in the sky. But it might not be immediately clear to readers who this dragon is …
… so a callback to a memorable troll flash makes it clear. We can now tell that this dragon is an echo of Redglare's lusus, Pyralspite.
The "glaresplode" makes the dragon's identity even clearer. This dragon and the dragon from ancient troll times have something in common: they both let out a blinding glare that impacts the plot in a convoluted way.
Lil' Seb sinks in the ocean, to resurface millennia later as Caliborn's little helper. I don't know if that thing did anything specific to help Caliborn succeed in his session, but I wouldn't doubt that he proved to be of use.
As Jake falls down towards the remains of his old house, the skulltop makes a return and should now be more familiar than ever. Good way to both hint that Caliborn is Lord English and demonstrate that Jake learned some very wise tips from old Jade. Carrying less than five computers at any given moment is a very inadvisable thing to do and I'm glad Jake learned the same.
uu: LOOK AT THIS.
uu: FuCKING SHAMELESS.
uu: EITHER HE IS LIKE.
uu: MY PERSONAL ONE MAN FANDOM.
uu: KIND OF LIKE. A HYPOTHETICAL SuRROGATE FOR ALL MY POTENTIAL ADMIRERS.
uu: OR.
uu: HE IS A WORTHLESS HACK.
uu: HE MAKES NO BONES ABOuT GANKING MY LOOK.
uu: IT'S PATHETIC.
uu: YOu DON'T JuST GO AND JACK A MAN'S SWAGGER.
uu: THAT'S THE CARDINAL FuCKING RuLE OF BROS. RIGHT?
uu: PROBABLY SOME DAY.
uu: I'LL TEACH HIM A LESSON FOR THAT.
THE FORESHADOWING.
I continue to be amazed at much the events of Caliborn's Masterpiece are foreshadowed; evidence that Hussie planned out those events for a long time. There always seems to be some hints out there that I hadn't caught prior and this is one of them. This page in the Masterpiece echoes the passage shown above.
It's always the same goddamn stock image.
Caliborn's drawing of Jake jacking his swagger actually almost looks like a real person.
If Caliborn was a better artist, his drawing would clearly resemble Lord English. And that would be no good, spoiling twists like that! You have to feed readers breadcrumbs instead. If you spoil too much, they will urinate from their eyes.
Caliborn poking at Roxy is exactly what one would expect. Hussie is well aware that Roxy is everyone's #1 waifu. There's no reason for me to pretend I don't think she's super fucking cute, it's a fact of life.
uu: CHECK OuT THIS TOP SHELF HO.
uu: DON'T YOu LIKE HER THE MOST?
uu: YOu *WISH*. THAT YOu COuLD BE SO EASY ON THE EYES.
uu: IT'S TOO BAD YOu WILL DIE HIDEOuS!
uu: AND YET YOu WILL LEAVE BEHIND. A TRuLY BREATH TAKING CORPSE.
uu: BuT I THINK.
uu: THIS DELuXE BITCH HAS GOTTEN A BIT CARRIED AWAY HERE.
uu: ALL THINKING SHE CAN. DO HEROIC STuFF. AND "SAVE LIVES". uGH.
uu: BuT THE ROXY HuMAN HAS MISCALCuLATED.
Top shelf ho? Deluxe bitch?
Caliborn represents the most galaxy brained* Homestuck fans. They love the comic so much that they try to pretend they hate it! He thinks the girl characters are attractive and is physically incapable of hiding that.
Here's a tangent on Caliborn in general, not necessarily just him thinking Roxy is hot. When I say Caliborn is the best character, I no longer just mean that he's absolutely hilarious. This character helped me realize stuff about myself that I never knew prior; the same revelations that made me write this mini-post. To put in terms of memes:
broke: "Calliope made me rethink my life and realize important things about myself"
woke: "Caliborn made me rethink my life and realize important things about myself"
I don't mean to demean anyone that identifies with Calliope or finds her story arc to be enthralling. That's perfectly fine and I'm glad that finding a character to connect with improved their lives! I just really want to hammer in that Caliborn doesn't just represent people who hate Homestuck, but represents people who love Homestuck so much that they hate it.
* 2/13/2021 EDIT: This had previously said "wokest" but I had used the word completely wrong, akin to the broke/woke meme which I happened to reference very shortly later. As such, I've decided to replace the word with one from a different meme that hopefully conveys the same idea.
(Also, you have no idea how painful it is to force myself not to edit in a tangent about my relationship with a certain horse show. No, not Bojack Horseman. The other horse show.)
uu: THIS RIDICuLOuS FEMALE HAS FAILED TO TAKE INTO CONSIDERATION.
uu: THAT.
uu: YOu CAN'T…………
uu: ESCAPE.
uu: THE MIIIIIIIIIIILES!
uu: AAAAAAAAAAAH HAA HAA HAA HEE HEE.
uu: "YOu CAN'T ESCAPE THE MILES" IS TOTALLY GOING TO BECOME A THING, CAL!
uu: THERE'S NOTHING YOu CAN DO ABOuT IT. BECAuSE YOu'LL BE DEAD!
uu: HOOOOOOOOOOO HOO HOO HOO HAA HAA!
I find it slightly adorable that Caliborn tries so hard to force a running gag, namely "you can't escape the miles". He complains about phrases and patterns people say over and over, but won't shut up about having come up with that mildly catchy phrase; it seems like he's genuinely proud of devising it. Just because Caliborn is a representation of Homestuck's very most devoted fans doesn't mean he isn't still naive about some things.
uu: HAA HAA HEE HEE HAA HOO WAIT. FuCK.
uu: FuCKING TERMINAL. WHY DOES THIS HAPPEN WITH THIS BITCH AGAIN?
uu: YOu SAID SOMETHING ABOuT THAT ONCE I THINK. BuT IT WAS BORING.
uu: GOD DAMN IT. JuST SHOW ME THE MONEY SHOT YOu PIECE OF SHIT!
This is another passage with multiple implications. Caliborn does pay some amount of attention to his sister's stories and isn't bad at gathering implications from them. But he could not care less about the classpect system.
On this topic, here's something recent I want to talk about. In the countdown to 4/13, you may have heard of someone named "vfromhomestuck", or "V" for short. V is a mysterious individual who played a part in the Hiveswap Friendsim and wrote one of its most polarizing installments, and even did an AMA of sorts on Curious Cat a few days ago. Though most of the answers to questions were vague or non-answers, V did express a strong lack of interest in the classpect system, which I found funny. It was just one of many times where V questioned the typical thoughts and mindsets of Homestuck fans. I've complained before about how Hussie's cronies are at times the "face of Homestuck" which feels infuriatingly fake, but this time I am genuinely interested in what content V has to offer.
Side note: My favorite parts of the AMA were the parts where V questioned readers' suspicions that the parts of Homestuck they didn't like were ghostwritten. I'll quote those directly:
(1) I don't know why you guys are so obsessed with the idea that Andrew could never make anything that sucks
(2) Why is the answer to "there's something in Homestuck I didn't like" always "a ludicrous conspiracy made it this way"
I think these answers raise an important point about the pedestal readers put Hussie on. Homestuck tends to attract, or maybe create, readers who think their opinions are objectively true and everyone who disagrees is a dumbass. I don't know why things turned out like that, and while it's usually hilarious to see fans act this way, V's response to those questions puts things in a whole new light.
Roxy's screen shuts off, but we see the outcome of that event anyway; Caliborn says that Roxy was obviously going to die, because you can't…
…
…
…
…
…
… reasonably expect someone to survive the super deadly red shit under such conditions as this. Thank god he's smart.
Roxy's corpse in the middle of her room is just as upsetting to see as Jane's. The girl everyone loves is now dead on the floor. Here is Caliborn's reconstruction of that scene:
You can just barely tell from Caliborn's rendition of Roxy that he thinks she is attractive.
uu: OK.
uu: SAY WHAT YOu WILL.
uu: ABOuT THE BITCHES.
uu: AND THE BRAIN DAMAGED JACKASS IN SHORTS.
uu: BuT. THE DIRK HuMAN IS A PRETTY COOL GuY.
uu: HE GETS THINGS DONE.
uu: AND ISN'T AFRAID TO FuCK SOME SHIT uP.
uu: LIKE. HE ACTuALLY LISTENS.
uu: TO STuFF THAT'S IMPORTANT FOR A DuDE TO GET OFF HIS CHEST.
uu: YOu KNOW. HE *GETS* EXACTLY THAT WHICH THE BITCHES CAN NEVER uNDERSTAND.
uu: I GuESS WHAT I MEAN IS. HE REALLY KNOWS WHAT IT MEANS.
uu: TO TRuLY BE A BRO.
Ah, here is Caliborn praising Dirk. The Homestuck fans Caliborn represents follow many patterns. One of those patterns goes as follows: those people despise many of the comic's characters, but always seem to have a certain character they love everything about. Well, two characters they love everything about, because if you don't love Caliborn then you don't love Homestuck. Dirk is the character Caliborn loves everything about.
If there's a character other than Caliborn that I "love everything about", it would be John. I maintain that throughout the comic, he is a great character with great development.
uu: OH FuCK.
uu: WAS I JuST "FAN GIRLING" TOO HARD THERE?
uu: GIVE ME A FuCKING BREAK.
uu: I AM NEW TO THIS.
uu: GuSHING OVER THIS POINTLESS CLAPTRAP.
uu: I AM REACHING OuT TO YOu CAL.
uu: WE HAVE TO SAVOR.
uu: THESE PRECIOuS FEW MOMENTS WE HAVE LEFT TOGETHER!
uu: HEE HEE.
After realizing that he is fanboying over Dirk (boys are just as capable of obsessing over media as girls are), Caliborn backtracks and claims it's just to make fun of his sister more. I've said before that Caliborn being a "fan in denial" can also represent fans of media other than Homestuck, especially those who claim that said media has only one good character.
Debris falls on Dirk and Caliborn claims that he'd still love to watch Dirk die. Fan in denial, anyone?
You know the pattern now. Dirk's screen shuts down, he is knocked out, and Caliborn draws his interpretation this scene. Note that he extrapolates Roxy's death from Jane's death and Dirk's knocking out from Jake's knocking out. Caliborn's speculation seems to be derived from his misogynistic distinction between male and female characters and it works in his favor; his drawings are let's say interesting, but accurate, renditions of what happened to Roxy and Dirk.
Also note that the Prospit dreamers' drawings are on a white background and the Derse dreamers' on a black background with the phrase "ARTIST'S RENDITION". I never realized that until now!
Meanwhile in the waking world, Dirk is also knocked unconscious.
uu: I TOLD HIM!
uu: WHAT DID I TELL HIM???????????
uu: THERE CAN ONLY BE ONE!
uu: THERE CAN ONLY.
uu: EVER.
uu: **********EVER.***********
uu: BE ONE.
Here's where Caliborn shoves in our faces another mildly catchy phrase he came up with, because "you can't escape the miles" wasn't enough. Does "there can only be one" actually count as a running gag (or a failed attempt at one) in any capacity? It sounds like one and that's good enough for me.
And with that, Lil' Cal sinks into the ocean. I would say "good riddance", but this is not good riddance at all. The puppet is harmless and empty; if the puppet hadn't later fallen into Caliborn's hands it would have stayed that way.
Dirk is knocked out, Squarewave and Sawtooth are confused, and Caliborn accompanies the scene with increasingly drawn-out "HAA. HAA. HEE. HEE. HOO. HOO"s. You can tell what Caliborn's laugh (and also the time he referred to his sister as "Cal") is supposed to hint at if you think back to the laugh Lil' Cal made when he was a sprite.
Caliborn draws Dirk knocked out again, this time still visible through the terminal.
I think I just had a revelation!!!!!!!!! Please hold with me:
I never was quite sure whether only waking Dirk could be seen through the cherubs' waking viewport, or if dreaming Dirk also could be seen. I think I know what to take from this scene.
The cherubs can only directly view waking Dirk. They can view dreaming Dirk if another kid is near him, as was the case with Jane and Jake. But since Jane's screen shut off before Dirk's did, Caliborn doesn't get to see dreaming Dirk get knocked out, only waking Dirk.
With the selection screen finished, the next order of business is the alpha kids' lights on Jane's planet. All except Jake's (which was already turned off to correspond with his dream self's death) shut off, but Dirk's is still faintly glowing.
With both waking and dream Dirk knocked out, something really strange happens. Dream Dirk himself dreams, leading to the first ever dream self's dream self.
And that dream self's dream self comes into being through Brain Ghost Dirk, somehow? This mechanic is never really explained, but it provides a convenient way for dream dream Dirk to enter a scene that isn't the middle of nowhere.
Brain Ghost Dirk is played for laughs more than anything; his mechanics make absolutely no sense and he would rather screw with Jake's head than explain those mechanics. Dream rules in Homestuck never made much sense, but the brain ghost cranks it into a whole new level.
DIRK: What just happened?
TEREZI: B34TS M3
DIRK: Ok you really need to step off, troll girl.
TEREZI: NO TH1S 1S F1N3
TEREZI: 3V3RYTH1NGS F1N3
DIRK: Holy shit you are loud when you're not whispering.
TEREZI: *SN1111111F*
DIRK: Does this mean you can see me now?
TEREZI: NO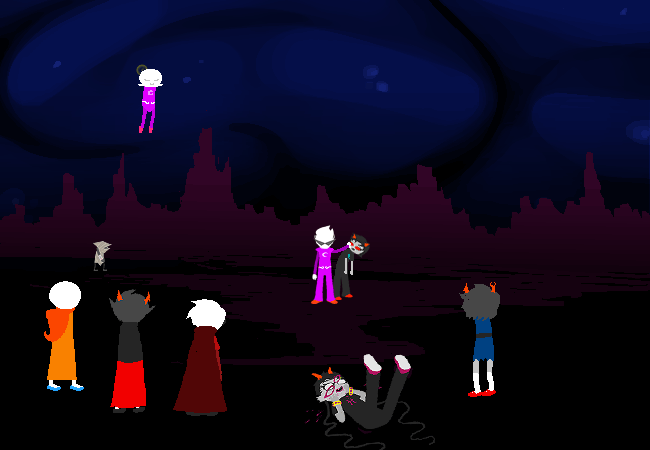 TEREZI: BUT TH3Y C4N
Oh my god this panel. Two members of each of the two groups of kids, all standing together. This page seems like setup for some crazy mega conversation between all those characters, right? Such a conversation would be absolute hilarity!!!!
This is one of the best panels in all of Homestuck.
DIRK: Alright.
DIRK: Uh.
DIRK: Hey everyone.
DIRK: So…
DIRK: Here's the thing.
DIRK: I have to go.
DIRK: Like, right now.
DIRK: All of my friends are either dead, or lying on the ground unconscious, including me.
DIRK: So I have to try to wake up and fix everything.
And it is absolute hilarity, but in a way different way from what one might expect. We got a giant log of hilarity between all of those characters not long ago, so this time it makes sense that everyone just stands there confused while Dirk gives everyone vague words. It's arguably even more hilarious than the giant log.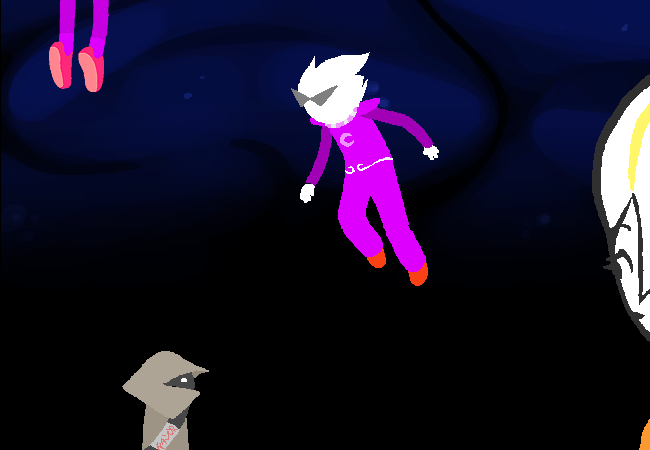 DIRK: Sorry I can't hang around your bubble and shoot the breeze for a while.
DIRK: It's not like I don't want to.
DIRK: I guess I have to be this huge fucking wet blanket as usual because there's stuff that needs doin'.
The regular Dirk handles this situation way differently from how his splinters would. All the other Dirks would be complete smartasses here, but the real Dirk shows that he actually wants the best for everyone and isn't anywhere near as malicious as one would think from his other selves. Dirk's clutch is that he creates a lot of malicious or just plain strange beings, due to having such a vivid mind.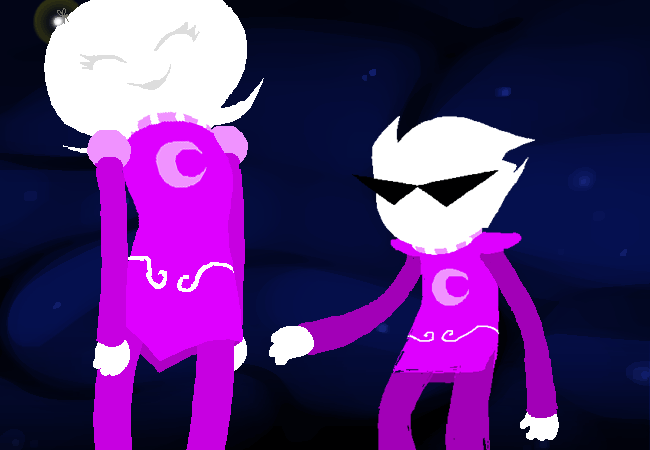 DIRK: Also I'm just gonna steal her if you don't mind.
DIRK: She needs to come home.
This brief moment of holding hands is awkward and vaguely heartwarming. Dirk wants the best for Roxy but struggles with conveying it in the right way.
DIRK: Tell the aquatic punk girl my idiot bro is sorry for beating the shit out of her.
DIRK: Ha ha, who am I kidding.
DIRK: She stone cold does not give a fuck.
Does the real Dirk know of Brain Ghost Dirk? If so, is it directly or indirectly? I think this whole scene is the only time something like that is even slightly hinted at; I'm almost certain Dirk doesn't reference his brain ghost self anywhere else. Brain Ghost Dirk was witness to Meenah's cold beating and that's a likely reason why Dirk knows Jake beat her up. Dirk may be a psychoanalyst on par with Rose, but I can't see him just being able to figure out something like that.
2021 EDIT: On second thought, maybe through watching Jake's fights with his brobot, Dirk has become familiar with Jake's style of fisticuffs and can tell he was the one who beat up Meenah.
DIRK: So, yeah.
DIRK: See you later.
This was such a "Dirk" scene I don't even know what to say. The stock flying animation shows up yet again for no particular reason. Probably because Hussie isn't good at showing characters flying other than through this animation.
When Dave makes a confused or disgruntled face, you know he just got CRAZY shocked. This face speaks so much more than any measly words could.
Teen Bro was probably the last thing Dave expected to see in this bubble. He's gone long enough without being raised by Dirk that seeing the guy again doing anything that even slightly reminds him of his guardian absolutely throws him off.
Switching scenes, Calliope takes off her shoes and her feet might catch readers' eyes, especially if they think back to Lord English. Her feet are followed by something much more surprising: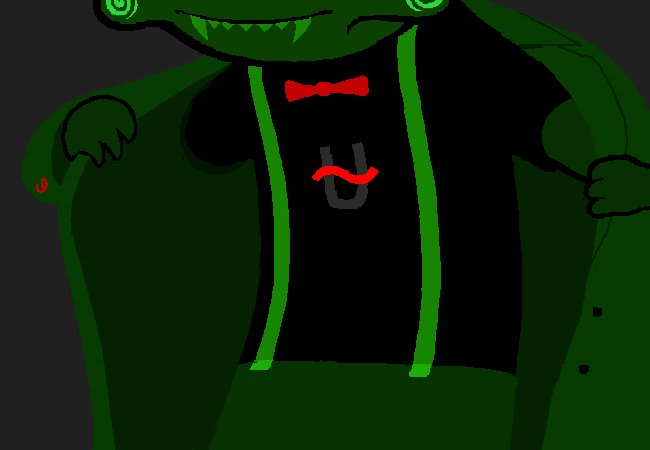 Calliope revealing Caliborn's shirt underneath her jacket is a crazy image to see. It's a good way to visually demonstrate that the cherub siblings share a body without showing us Caliborn in full.
And then she goes to sleep. Subtle teaser for Caliborn's grand reveal.
Switching back to Dirk, it's time for him to exploit game mechanics as is typical of the Strilondes, which is a term for the human Derse dreamers that I somehow haven't used in this blog until now.
You know the time in Openbound where Karkat's dream phantom asked Dave to touch him?
Knowing this scene, my guess is that Dave would be able to touch Karkat just fine.
I guess it's not like the episode of Regular Show where ghosts can pass through real objects, but not through each other.
Dirk knows his way around the Furthest Ring plenty already, through all the times he's kept an eye on Roxy sleepwalking through those bubbles. As a dream self's dream self who is through some mysterious means connected to Brain Ghost Dirk, he must test out the bubble first before he can take Roxy. He sees if it's possible for him to leave the bubble; it looks like he can't leave it.
So instead, he does the next best thing: throwing dream Roxy out of the bubble. Now that's a cool thing we haven't seen done before!

This is one of very few times in Act 6 where WV is a character other than "everyone's mayor friend". That's pretty sad.
With that, WV loses his firefly friend. Only one more year till they can reunite, right? Or two more years? It's kind of ambiguous how long into the meteor journey this scene takes place, unless I'm missing something.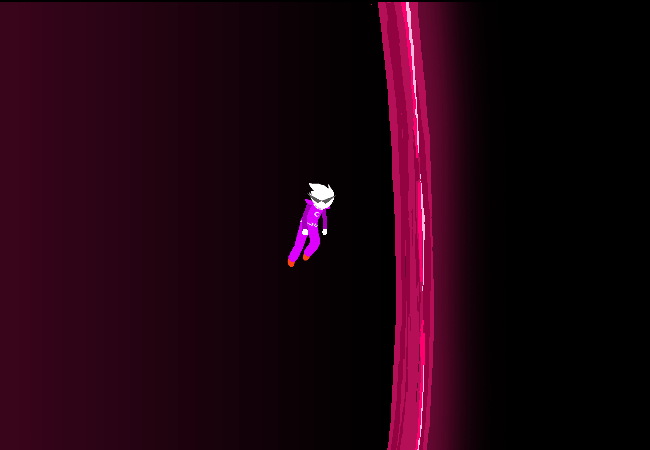 Aranea wakes Dirk up with her mind powers, subtly intervening in the alpha kids' story in a way that may just slightly remind readers of Vriska. Unlike all the stuff Vriska did to the beta kids' session to make her feel self-important, this moment with Aranea waking Dirk is brief and wholly benevolent. However, I can only wonder if readers at the time found this to be a hint that Aranea and Vriska have more in common than one might first think. Aranea certainly didn't do anything villainous just now, but I have a hunch that she wanted to take a short moment to involve herself in the kids' story, which might just show a bit of Vriska in her.
…
In some weird twisted way, I actually kind of miss writing long paragraphs about Vriska. I've been avoiding it as much as possible in my rewritten old posts and that's probably for the best. I just couldn't resist analyzing this little moment given that Aranea brings it up again after she full-out hijacks the alpha session.
After Dirk wakes, the fun really begins with the Unite Synchronization flashes and all that. As such, I am stopping here. See you next time for one of the most kickass act finales of all time.