< Part 88 | Part 89 | Part 90 >
Act 6 Intermission 3, Part 4 of 6
Pages 5309-5397 (MSPA: 7209-7297)
I hope you like lengthy rants about Vriska.
July 2019 has been the most productive month for this post series in a very long time! School starts again in a few weeks and it'll probably slow down my posting speed just a tad. During fall semester I'll probably go back to releasing Homestuck posts every Friday morning.
Rufio, is that you???
After, what… another hour? Another hour of bumbling through the afterlife with very little to show for your efforts, you decide to pause the game again. You can only spend so long powering through the dead troll equivalent of an unpleasant high school reunion without making a trip to the load gaper, or fixing yourself a little snack from the hunger trunk.
Just like last time, Openbound Part 2 is followed by a pause page that was most useful for serial readers at the time. But this time, the pause page has a small teaser of what will come next: Rufioh standing next to Meenah, with wings that suggest he's a god tier. This teaser probably got readers excited for two things: meeting the homage character to Dante Basco, and Meenah finally finding someone useful for her army.
There's definitely someone else we should be checking in with right now. Someone we are all desperate for an update on. And that someone is…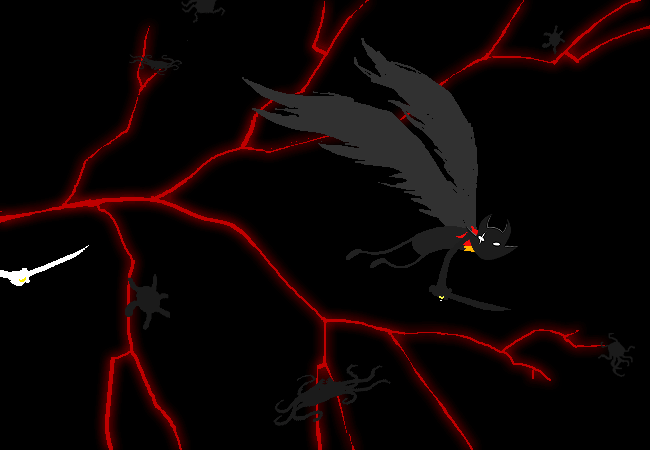 THIS GUY!
This is the guy who you are now being.
The sudden focus on the beta kids' Jack Noir is an interesting surprise. I can tell Hussie felt bad for neglecting this once mighty villain for so long and decided to remedy that. And my god, what a glorious remedy it is (at least according to my memory).
The feisty mailwoman is still chasing you. Unbelievable. She hardly seems to care at all that something is causing reality to shatter around you. For a moment, you thought you and she might be able to reach an uneasy truce. To stand together if only for a moment and assess the ominous cracks spreading through the void. Maybe even take some time to get to know each other a little, and try to bury the hatchet? You are so tired of running.
But no. She is as furious as ever. What did you even do? Just a couple of routine murders, which was TWO YEARS AGO already. The ring hath no fury, you swear. She is never going to stop. Her delivery is justice, and as you know all too well, nothing stops the mail.
You need to find somewhere to hide and rest for a while.
The narration here surprisingly makes us feel bad for Jack. His role as an unstoppable dog monster has been usurped by the mighty Prospitian Monarch, vengeful as ever after two years. With his role usurped, it's only natural that Noir wants to take a rest after witnessing the Furthest Ring's calamity.
Jack enters a dream bubble. One word: nostalgia.
PM in the background is just as scary as Jack was back then.
Remember all the carapacian soldiers Jack killed so long ago? Skaia's bruise by the fiery remains of Prospit? Can you believe all that was before he even became a dog??? You can see that this guy is reflecting on his mass destruction from so long ago.
Remember Grimdark Rose? What a goddamn joke. She never even blew up a single universe.
PM again looks just as scary as Jack once did.
Remember when John explored a Skaian castle, searching for his father and avoiding Jack? Now it's Jack's turn to explore a memory of a Skaian castle, searching for a place to hide and avoiding the Monarch.
Poor Jade, shafted again and again throughout Act 6. And in the epilogues.
Remember when Jack zoomed around the Medium, destroying everything he touched except Jade??? Yeah, those were fun times. Jack probably forgot Jade existed until he looked at the memory of the space symbol just now.
The moment you see the Genesis Frog's severed hand, you'll remember that all this chaotic destruction we just revisited was only the first half of Jack's crimes.
This is a gorgeous image that successfully blends at least three different art styles.
The second half started the moment the Droll killed Jade, and it's so much worse than the first half. Jack killed the Droll, went to Earth, killed most of the exiles, went to the trolls' session, destroyed fourteen planets, and finally destroyed the entire human universe.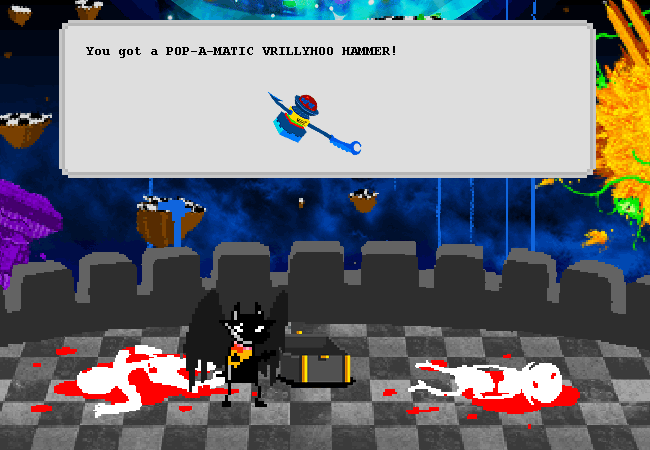 In the chest, Jack finds John's Pop-a-matic Vrillyhoo Hammer! That's a bit of a red flag that this is all memories, because John didn't make that thing until after he came back from a neutral death.
Get ready for John to take out his fury at Davesprite on someone else with the same wings…
Turns out John's corpse wasn't just an empty memory; it was a vessel for John's dream phantom to appear and START KICKING ASS.
It's been too long since the last SWEET CATCH. This one has fancy effects and everything!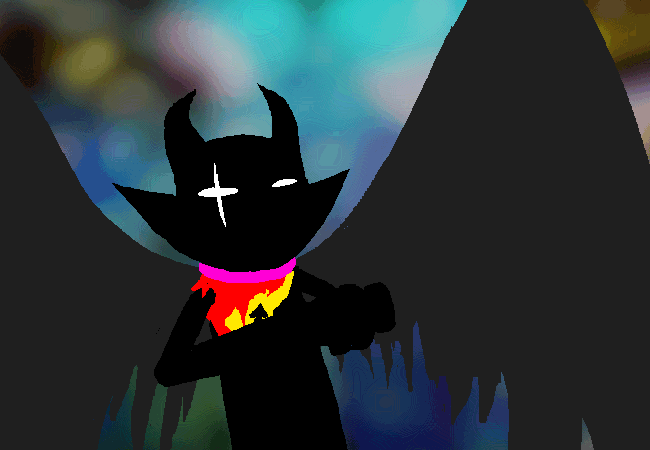 John's fury at Davesprite is taken out at the best person possible. He wanted to beat up the guy who mocked his father, but ended up waking in a dream bubble to beat up the guy who killed his father!
We thought so long ago that Vriska in a mind vision was the only person who could put up a fight against Jack. And we thought wrong.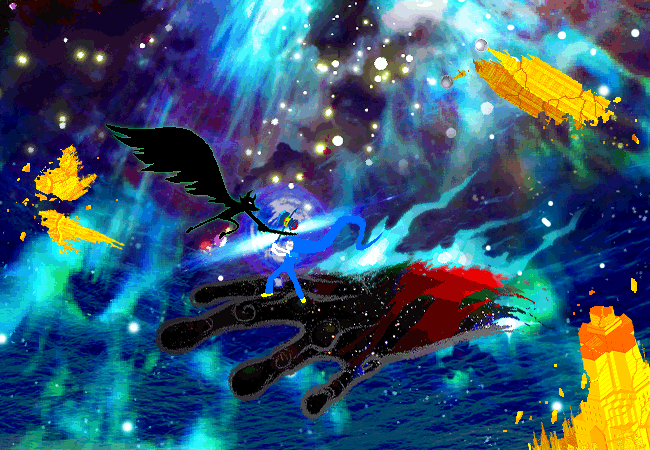 Did Jack just lose his sword? He's never seen without that thing!
Now THIS is how you do a sequence of pure visuals. No one says a word, and no one has any reason to. It's kind of cool seeing it all as a drawn-out sequence instead of a flash. Though flashes understandably get all the attention, there's quite a few purely visual scenes like this that are just as good. I'm especially looking forward to going through the split-screen part where the alpha kids ascend to god tier.
Jack's tentacles didn't stop being a thing or anything.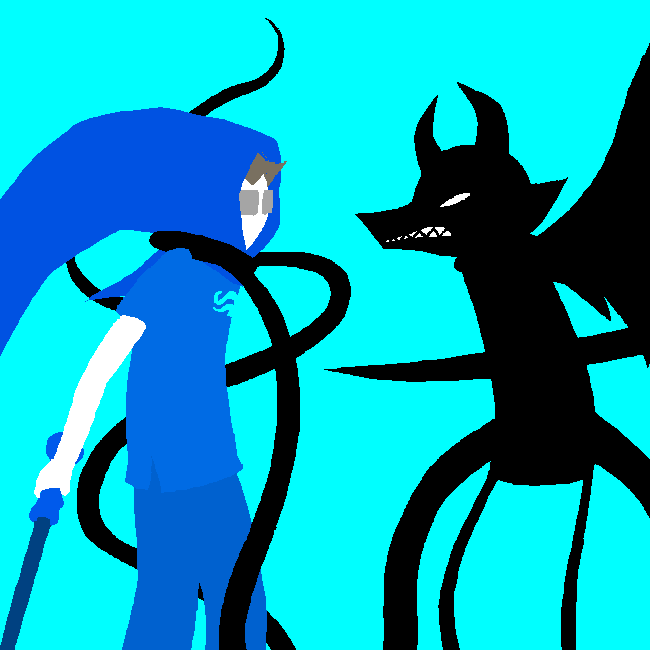 Suddenly, Jack reminds us that he's still a scary first guardian and has John in a headlock. For the first time in quite a while, he looks intimidating and ready to stab John.
Fortunately, John has sweet new powers as a god tier that Jack has never dealt with before, plus a cool Vrillyhoo hammer. He has the upper hand once more and is ready to beat Jack on the head.
… or is he? What is Rose doing here?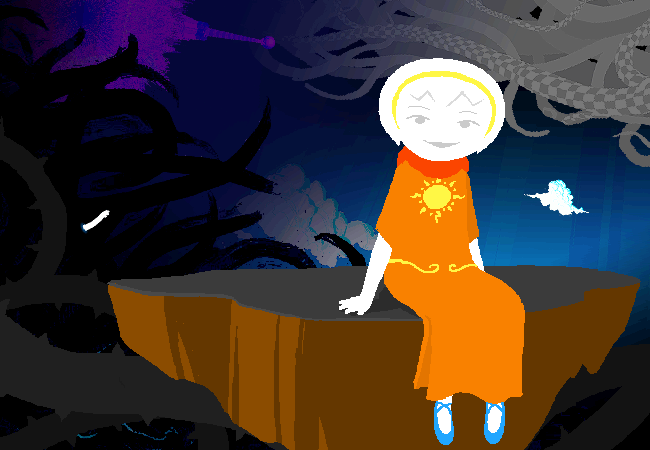 Rose moving her eyebrows up and down is funnier it has any right to be.
Rose takes full advantage of her newfound teenage flirtiness and does her coy eyebrow thing in front of John and Jack.
Love the scribble renditions of angry John and flirty Rose.
Just like any iteration of Jack, Bec Noir doesn't think his murders through and is confused to see people he killed turn up alive.
distaction
I don't know about you, but if I see someone I haven't seen in years show up out of nowhere, wink, and disappear, I would stand in awe for at least ten minutes.
Luckily, John is not that type, or at least not when he has a murderous dog to beat up.
I love how Vriska's dice options now show John's interests rather than hers.
John doesn't have ALLLLLLLL the luck like Vriska does, so his dice merely roll "RIDICULOUS HAT".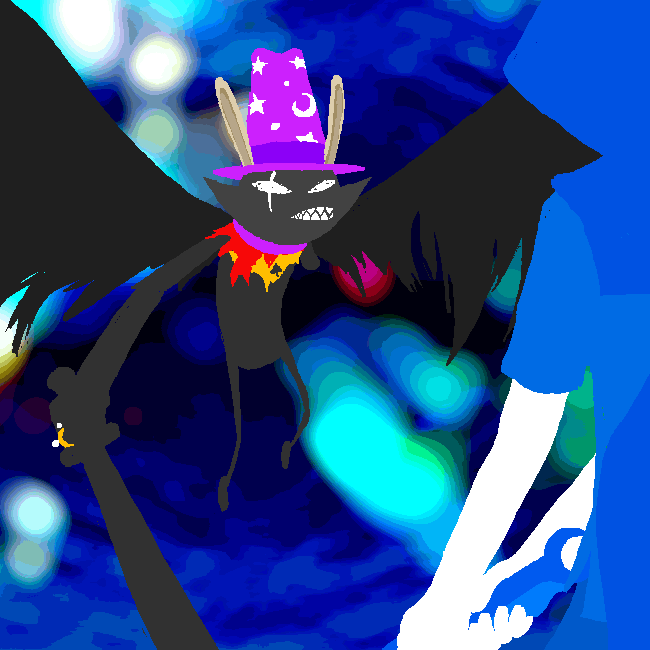 The Droll would kill for a hat like this.
This is the funniest throwback we've seen in a long time. John says "hehe…", appropriately enough.
2021 EDIT: I should also note that this angered reaction to the ridiculous hat is very in-character for Jack Noir. Being forced to wear ridiculous clothes is what caused his whole rampage in the first place.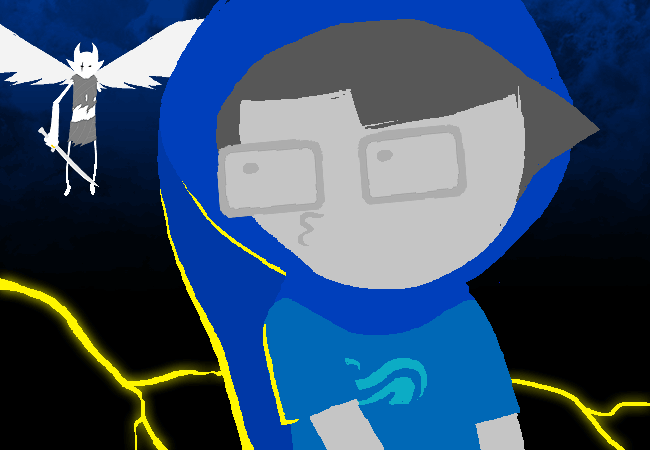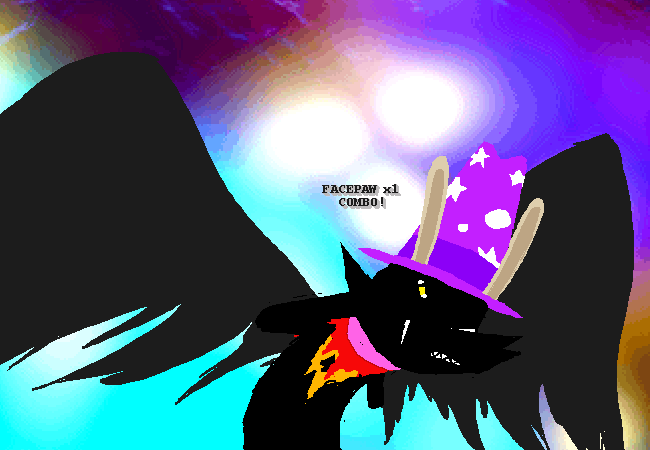 With Noir distracted by his Bunny Sassacre Fedora, the Monarch catches up with him once more, leading to a FACEPAW x1 COMBO!
Jack flies away, PM flies away, and the curtains close in on…
… no wait, the curtains don't close in on anything. Tempting as it may be to end things here, we still have a lot left in this act.
And so, we zoom back in to the dream bubble to find John watching in confusion as the Bunny Sassacre Fedora falls.
John explores memories of Skaia until the scenery starts changing. What could this be?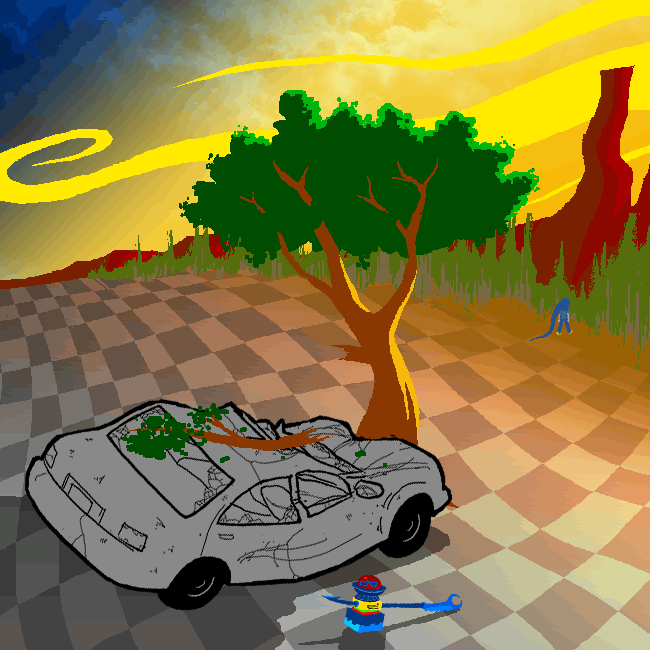 The memory of his dad's spare car is a nice touch. Kind of fun to reflect on the trilogy of Dad's cars and the fates they all meet. The first was driven by a father; the second flown by a young man with a loyal mayor in search for his father; the third flown by a somewhat less young man with a loyal troll, to be found by his alternate self who became a father.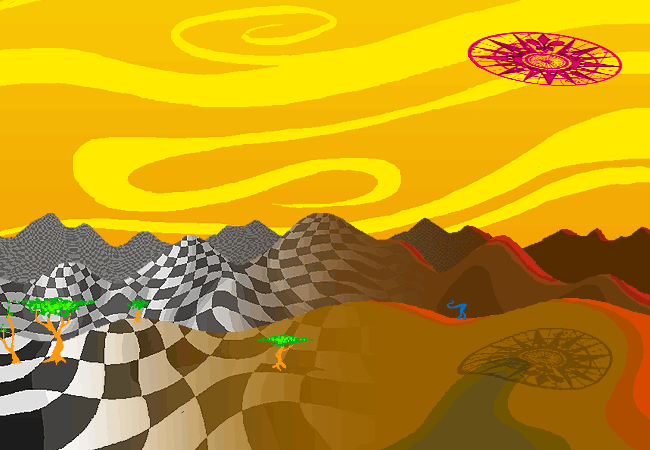 The ever-shifting scenery in dream bubbles never gets old.
I can't go on too long reflecting on John's steamy troll/human sloppy makeouts though. What follows is a series of short flashes where John walks through an empty desert filled with horses, calling back to the memorable Death of the Author sequence that ended Act 6 Intermission 2.
But the horses don't lead us to Hussie's self-insert this time. Instead, he encounters Tavros of all people sleeping in the ground? I guess this is supposed to be a confusing surprise.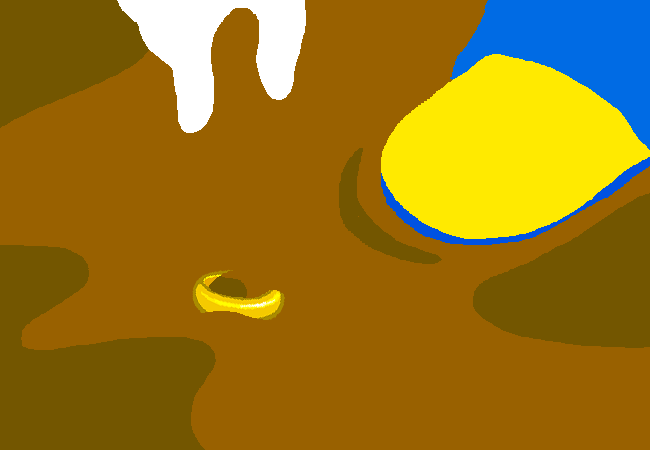 TAVROS: i SAW IT FIRST,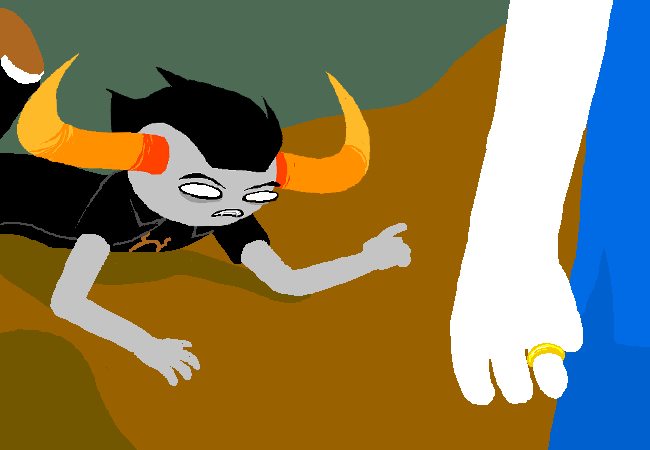 JOHN: huh?
TAVROS: gIVE IT TO ME,
JOHN: what… the ring?
TAVROS: yES, iT'S MINE,
JOHN: who are you?
TAVROS: i'M, yOUR WORST BAD DREAM, iF YOU DON'T RETURN MY TREASURE,
TAVROS: i FOUND IT, sNUGGLED IN THE SAND, bEING PRETTY AND GOLD AND BY ITSELF, aND i WANT IT BACK,
JOHN: so you found it here, like exactly where i just found it… but then instead of picking it up, you fell asleep?
TAVROS: wHEN YOU PUT IT THAT WAY, i SOUND STUPID,
TAVROS: bUT, yES,
Tavros is being weird and confusing. Well, even more so than usual. Apparently he wants to use this ring to propose to Vriska, who is now his girlfriend again? Yeah, I have no idea why that could be.
VRISKA: TAAAAAAAAVR…….. Oh!
VRISKA: Hi John.
VRISKA: Tavros, I didn't know you were hanging out with John. You should have come told me.
TAVROS: bUT, i JUST WOKE UP FROM THE SAND PILE, aND FOUND HIM HERE,
TAVROS: i HAD LITERALLY NO TIME TO GO TELL YOU, bECAUSE OF AN ARGUMENT,
VRISKA: What? What were you arguing a8out?
TAVROS: uHHH,
VRISKA: W8…….. what do you mean woke up? Why were you asleep?
TAVROS: uHHH,
VRISKA: Dammit, Tavros. You can't 8e slacking off like that.
VRISKA: I told you, we aren't fucking around anymore. This is serious 8usiness.
JOHN: hey…
JOHN: excuse me, but
JOHN: are you…
JOHN: vriska?
To this day, I find it kind of incredible that John immediately recognizes Vriska despite having never seen her face. Their testy dynamic is truly something else.
VRISKA: Yeah!
VRISKA: Oh, sorry. I really should have introduced myself. I guess I forgot I technically never met this version of you.
JOHN: uh. that's alright. nice to meet you.
JOHN: wait…
JOHN: are you a ghost too?
VRISKA: Yep.
JOHN: so… you're dead?
VRISKA: Yes, John. That's what 8eing a ghost means.
JOHN: ok, i'm still confused though…
JOHN: sorry if i sound dumb, but dream bubbles are still kind of baffling to me.
JOHN: you're, uh… "REALLY" dead?
JOHN: as in, the real you? i mean… dang, what the hell am i even trying to ask here…
VRISKA: No, I get what you're asking.
VRISKA: Yes, the real me. The actual, legit, fully authentic alpha timeline Vriska. Dead. Gone. Fuckin' toast.
It's also kind of incredible that only now did John learn Vriska died. When Jade showed him all the trolls gathered on the meteor through first guardian powers, John could immediately tell which were Karkat and Terezi, but not which was Vriska. I am sure he would have immediately identified Vriska if she was there. Though he does know some trolls were killed before they could meet up with Dave and Rose, as the airheaded optimist he is he didn't stop to think Vriska may have died until she says it to his face.
JOHN: oh.
JOHN: so when i meet up with everyone on your troll meteor in a year, that means…
JOHN: you'll be…
VRISKA: A corpse!!!!!!!!
VRISKA: That's assuming my 8ody was sufficiently preserved during the trip.
VRISKA: Which, now that I think a8out it, I guess it was? It must have 8een, 8ecause otherwise that unspeaka8le prototyping atrocity couldn't have happened.
VRISKA: That piece of shit clown. I still have no idea what the deal with that was! He's completely lost his mind. Anyway, that's neither here nor there.
This bit is rather ironic in retrospect. After the retcon, Vriska was the one who preserved all the dead bodies while Gamzee was closely monitored at all times and then stuffed into a refrigerator. Kind of goes to show that the retcon was clumsily handled in a lot of ways and mostly done because Hussie wrote himself into a corner.
VRISKA: Honestly, I'm surprised you hadn't already heard I was dead, one way or another. It's kind of old news?
VRISKA: Then again, these things are all relative. So who knows.
JOHN: …
VRISKA: Are you ok? You seem sad.
JOHN: well,
JOHN: yeah.
JOHN: it's always sad to hear a friend died. even if you find out about it from their ghost.
VRISKA: I guess so.
JOHN: also, i had kind of thought that when we all arrived at the new session, that…
JOHN: we were going to like… hang out. or something.
Remember when John talked to Jade about the trolls on his fourteenth birthday? He looked forward to seeing Karkat again but didn't seem to care much for Vriska and didn't even refer to her by name. But now it's clear that either he changed his mind about Vriska or was in denial about anything positive he felt about her. Normally I'd say he was in denial knowing John, but since this is Vriska we're talking about it could easily be a mix of both.
VRISKA: Oh yeah! That's right. We were.
VRISKA: 8ut then I got sta88ed through the 8ack. Which to 8e fair, was for the good of the party, so the meteor could make the trip in the first place, and keep this whole crazy sequence of events intact.
It goes without saying that this line reads differently in retrospect after Vriska was retconned back to life. But what maybe doesn't go without saying is that I find the whole "third option" motif in the retcon arc to be terrifyingly foolproof. I can't think of a single dilemma someone went through in the comic that couldn't have been resolved through retcon powers giving a third option. Say what you will about the retcon and what it meant for a good chunk of Act 6, but I find a lot of merit in the third option motif.
VRISKA: A lot has happened since I died. John, did you know the little rendezvous we planned sort of already happened? I mean, in a way.
JOHN: what? it did?
VRISKA: Yes. With your ghost.
JOHN: huh??
VRISKA: I mean, the ghost of one of your altern8te selves, who died along the way doing some stupid thing.
VRISKA: Actually, he and I d8ted for a little while.
Vriska x Doomed John is the second ship in this act (barring the Beforan trolls) that's canonized and sunk in the same line. But the outcome is much more tragic this time, as we see shortly.
TAVROS: wHOA, hOLD ON,
TAVROS: wHAT'S THIS, aBOUT DATING WHO?
VRISKA: Groan. Here we go.
TAVROS: wHY DIDN'T YOU TELL ME, aBOUT THAT,
VRISKA: Tavros, I have led a rich and complic8ted life and death. I can hardly 8e expected to tell you a8out every little thing that I've 8een through.
VRISKA: 8esides, you should have already known this a8out me.
TAVROS: wHY,
VRISKA: 8ecause we shared a sprite 8ody once!!!!!!!! We 8riefly had access to all each others memories and feelings.
VRISKA: So if you didn't take the chance to dig that out of my memory, you only have yourself to 8lame.
TAVROS: nO, bUT, tHAT HARDLY LASTED ANY TIME AT ALL,
TAVROS: aND THERE WERE A LOT, oF OVERWHELMING EXPERIENCES ALL HAPPENING AT ONCE,
TAVROS: hOW COULD i TRY TO REMEMBER ALL YOUR MEMORIES BEFORE WE EXPLODED,
VRISKA: Well, all I can say is, I managed! I took the opportunity to remem8er pretty much all YOUR memories.
VRISKA: I was in and out like a 8andit, and now all your life experiences are mine.
TAVROS: tHAT'S NOT FAIR,
TAVROS: bECAUSE, yOU'RE SMARTER THAN ME, aND MORE CUNNING,
VRISKA: Them's the 8r8ks!!!!!!!!
It's sometimes speculated that Tavros and Vriska gaining each others' memories caused their personalities to gradually invert, with Tavros becoming a mighty leader and Vriska becoming, uh, (Vriska). It's a fun theory, but I don't think this passage supports it very well. But to be fair, this stretch of pages was probably long before the retcon arc was even conceived.
JOHN: wait, i'm with tavros here, i think we should back this up a bit.
JOHN: so, my alternate reality ghost dated you?
VRISKA: Yes.
JOHN: that…
JOHN: but…
VRISKA: What?
JOHN: vriska, this is a very bizarre and unsettling fact to me!
VRISKA: Why?
JOHN: because…
JOHN: man, i don't know, it just is!
JOHN: you say we dated for a while, but like, i don't even get to remember doing that?
JOHN: i think that's mostly what's weird about it.
Note that John said "i don't even get to remember doing that", not just "i don't even remember doing that". Those two words, "get to", leak out that John still has lots of unresolved feelings regarding Vriska despite what he may have said to Jade back then.
VRISKA: Hey, we apparently don't get to remem8er the results of a lot of choices we didn't actually make!
VRISKA: Again, see: the 8r8ks.
JOHN: well…
JOHN: can you at least tell me what happened there? like, how did that go?
VRISKA: It was fine. For a while.
VRISKA: It didn't really work out.
JOHN: oh.
VRISKA: We crossed paths every now and then after that.
VRISKA: Things stayed pretty friendly 8etween us.
VRISKA: Until he died.
JOHN: what??
JOHN: what do you mean he died?
VRISKA: He was murdered.
JOHN: you mean… his GHOST died?
VRISKA: Yes.
JOHN: as in, he just doesn't exist at all anymore? like DEAD dead?
VRISKA: Yes! Dead dead. For good.
And here's the tragic outcome of the subplot with doomed John and Vriska. John's ghost was double killed as we saw in [S] Caliborn: Enter, a flash Vriska is recapping as we speak.
JOHN: i don't… how does that even…
JOHN: who killed him???
JOHN: was it jack?
VRISKA: Jack? Are you kidding? No, John.
VRISKA: Jack is 8arely in the picture as a threat anymore. He's just more old news.
JOHN: he is not old news though!
JOHN: he's still as strong and menacing as ever.
JOHN: i just had an awesome battle with him in this very dream bubble!
VRISKA: You did?
JOHN: yeah. i found him skulking around a memory of my dead dad, and i got pissed off, so i really let him have it.
JOHN: oh, i even used the cool hammer you helped me make. remember that?
VRISKA: Oh yeah!
VRISKA: Those were good times, when I helped you 8e gr8. ::::)
JOHN: yes.
JOHN: the last time i faced him was kind of embarrassing. i let him get the drop on me, and he just stabbed me right away.
JOHN: but this time i think i held my own pretty well. i even got in one good hit against him!
JOHN: i gave him a solid bop on the head, and the dice roll made him wear a silly hat.
VRISKA: That's awesome!!!!!!!!
VRISKA: One time in an altern8te reality, I came pretty close to killing him apparently.
JOHN: oh really?
VRISKA: You 8et. Too 8ad that was in a timeline that didn't really count. 8ut it's always reassuring to know you can put up a good fight against a strong adversary if you ever needed to. Now I guess you know you can too.
John and Vriska's bonding is legitimately heartwarming, probably more than ever before. It makes it easy to forget the more negative things John has said about or to Vriska at various points.
JOHN: whatever jack's doing out here in dream bubble land, he seems to have his hands full with her on his tail.
JOHN: but as you can see, he is FAR from out of the picture.
VRISKA: Ok, that may 8e, 8ut it sure wasn't Jack who killed a whole shitload of ghosts out here, including one of yours.
VRISKA: I really dou8t Jack can even kill ghosts. In fact, I don't think anyone can except for this guy.
JOHN: what guy?
VRISKA: Lord English.
JOHN: who??
VRISKA: Wow, John. Really?
VRISKA: Wow.
VRISKA: Time to get a clue!
It's kind of crazy that John has been so out of the loop on the story's plot lately—certainly more than the meteor crew and dream bubble inhabitants are. It's an unfortunate side effect of the comic's protagonist being sent to Hussiespace of all places. A fortunate(?) side effect of John's shafting is that it gives more reason for him to interact with Vriska, who gets him up to speed on recent plot events.
VRISKA: Hasn't it ever occurred to you to wonder who the ultim8 8ad guy of this adventure was going to 8e?
JOHN: ultimate bad guy?
JOHN: you mean like the last boss?
VRISKA: Man, even that way of putting it is a little too pedestrian.
VRISKA: I mean, I already 8eat a last 8oss! The 8lack king was the officially sanctioned last 8oss of our session, and I killed him. This is different.
Vriska says that she killed the black king, which is technically true but the way she phrases it shows that she hasn't quite gotten over her self-importance despite all her character development.
VRISKA: There's always someone stronger w8ing to 8e revealed. Jack showed up shortly after that, and he was MUCH stronger.
VRISKA: Eventually the curtains get pulled 8ack, and you find out who was 8ehind every terri8le thing that happened all along. Someone who is invaria8ly stronger than all other adversaries 8y a wide margin. The supreme villain!
VRISKA: To 8e honest, I was always kind of w8ing for that guy to show up, whoever he was. For the other shoe to drop, you know? There's always a 8ig 8ad 8ehind everything. A true gamer sees stuff like this coming a mile away.
JOHN: ok. if you say so.
JOHN: i always kind of thought jack was evil and strong enough to be our main antagonist. but if you say there is someone even stronger and more evil, then… wow.
VRISKA: Yes, I'll admit, I was fooled 8y Jack 8riefly.
VRISKA: For a little while, I thought he was the supreme menace, and I would have to face him in a final showdown.
VRISKA: 8ut it turned out that was just a 8it of standard misdirection. He was just another step up in a typical pattern of escal8tion involving increasingly "insurmounta8le" threats, which legendary heroes like us have to overcome to achieve total victory over everything.
VRISKA: Also, let's face it. I don't think Jack is all that evil, so much as he's just a murderous asshole. Trust me, I know the type.
VRISKA: 8ut English, that guy is as evil as they come. He's the real deal!!!!!!!!
Wait, let me correct myself. Vriska hasn't even come close to getting over her self-importance. All Vriska ever wants to do is deal the final blow on the final boss, and she gets incredibly deluded by these fantasies. First with the black king, then with Jack Noir, and now with Lord English. John knows this trait of Vriska's far better than she does. In Act 5 Act 2, John claimed that Vriska's plan to create and defeat Bec Noir was how villains have their downfalls; in the Candy Epilogue, John disagrees with Rose's claim that Vriska successfully defeated Lord English because it feels so wrong to him.
The only way Vriska can get over those fantasies of defeating the ultimate villain is by becoming (Vriska). First dead Vriska Serket is usurped by alive Vriska Serket, then alive Vriska Serket is usurped by Vriska Lalonde. Vriska Lalonde has the exact same ambitious mindset as all the other Vriskas we've known; she's extremely excited to join the troll rebellion and face off against the final boss, who to her knowledge is Jane. Meanwhile at the end of Candy, (Vriska) has moved past wanting to face a final boss and simply wants to get in touch with Terezi.
(I think I have a bit of a problem with writing essays about Vriska.)
TAVROS: oKAY, cAN i JUST SAY SOMETHING,
TAVROS: i STILL DON'T KNOW WHY YOU'RE SO SURE, hE'S THE FINAL VILLAIN,
TAVROS: bECAUSE, yOU YOURSELF SAID, tHERE'S ALWAYS SOMEONE STRONGER, rIGHT,
TAVROS: sO, i'M PERCEIVING A CONTRADICTION ABOUT YOUR FACTS,
VRISKA: Tavros, come on. We've already talked a8out this ad nauseum.
VRISKA: He's the 8ig 8ad!!!!!!!! It's so o8vious. I mean, MAY8E there's someone stronger out there in paradox space? Who knows.
VRISKA: 8ut whoever that is has nothing to fucking do with this massive extended multiverse-spanning campaign!!!!!!!!
VRISKA: English was the guy who stacked the whole deck against us from the start, rigging shit to go haywire, wiping out our race, 8lowing up universes, exterimin8ting ghosts, slaughtering dark gods, and shattering reality itself. Pretty sure we reached the top floor, 8uddy!
TAVROS: oKAY, bUT ALL i'M SAYING IS, wHAT IF,
TAVROS: tHERE'S SOMEONE EVEN WORSE THAN THAT, dUE TO SPECULATION,
VRISKA: Un8elieva8le.
VRISKA: John, just ignore him. He tends to 8e contrary just for the sake of 8eing contrary. It's just what he does these days.
VRISKA: He seems to think it's how you show confidence and assertiveness. The key to high self esteem is apparently just saying "nuh uh!" all the time.
Tavros questions Vriska's insistence that Lord English is the final boss and claims there's probably someone even stronger behind English; Vriska dismisses Tavros as being contrarian just for the sake of it. Though Homestuck never shows us a bigger villain behind Lord English, you probably know that this foreshadowing comes true in the epilogues, and that the villain behind Lord English turns out to be Dirk Strider (or god tier Calliope, depending how you look at things).* Regardless of what I think of Dirk's villainous turn, I am extremely glad this foreshadowing came true because it would be absolute bullshit if it didn't. I can only say here that as of this page, Vriska obviously still hasn't gotten over her villain defeat mindset.
* Before you call me a buffoon, tell me which of the two brutally destroyed Meat Jade's hope for a character arc???? Jade deserves better than this.
TAVROS: nO, tHAT'S NOT TRUE,
VRISKA: See?
VRISKA: This was apparently the 8ig lesson he learned from sharing a 8rain with me for a few minutes. In order to feel good a8out yourself, just 8e a constant pain in the ass!!!!!!!!
TAVROS: nO, tHAT'S NOT WHAT i LEARNED,
JOHN: haha.
JOHN: i see what you mean.
TAVROS: nO,
TAVROS: nO,
TAVROS: nO, oKAY, i REALIZE ALL i'M SAYING IS NO, WHICH IS JUST HELPING MAKE YOU LOOK AS RIGHT AS POSSIBLE ABOUT MAKING FUN OF ME,
TAVROS: bUT i LEARNED IN YOUR BRAIN THAT YOU AREN'T ALWAYS RIGHT ABOUT EVERYTHING,
TAVROS: yOU WERE WRONG ABOUT LOTS OF THINGS,
TAVROS: yOU WERE WRONG ABOUT RUFIO!
TAVROS: rUFIO WAS REAL ALL ALONG, }:D
VRISKA: Alright, granted, there did in fact exist a person 8y that name.
VRISKA: You aren't spelling it right, though.
TAVROS: hOW DO YOU KNOW HOW i'M SPELLING IT, wHEN i'M JUST TALKING, iNSTEAD OF USING LETTERS,
VRISKA: 8ecause that's how you spelled it when we used to chat online, dum8ass!!!!!!!! You weren't using enough letters.
TAVROS: sO,
VRISKA: And in any case, he doesn't actually represent your self esteem. He's just some dude.
TAVROS: bUT, hE MAKES ME FEEL BETTER ABOUT MYSELF wHEN i THINK OF HIM, sO THE REALITY IS EFFECTIVELY EQUIVALENT TO MY FRAUDULENT CHILDHOOD SUPERSTITION,
I'm not sure if gaining Tavros's memories caused ghost Vriska to gradually change as a person, but gaining Vriska's memories definitely caused Tavros to change in the best possible way. He's laying his contrarianism a bit thick right now, but it's an extremely positive change that he now realizes Vriska isn't always right. He demonstrates this new mindset by talking about Rufioh, which is a rather silly example but a good start.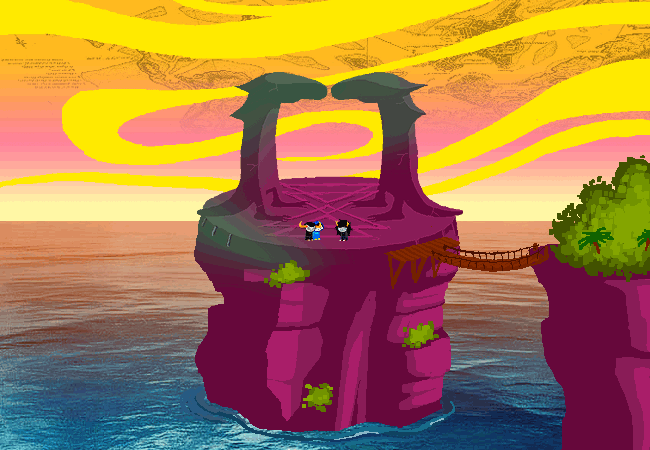 JOHN: i take it you were pretty good friends back on your planet?
VRISKA: You could say that.
VRISKA: There's a pretty loaded history 8etween us. It's pro8a8ly 8est not to get into it.
VRISKA: None of that matters anymore anyway, it was so long ago. You know how it is.
JOHN: um. sure?
VRISKA: Issues 8etween people seem like such a 8ig deal when they're happening. 8ut then you die, and time just goes on, and on…….. then on some more.
VRISKA: If enough time passes, shit that used to 8e a 8ig deal kind of stops mattering.
A year into the battleship journey, John talked to Jade about how all the stuff they went through with the trolls seemed like a much bigger deal back then than it really was. Vriska is talking about the exact same thing here, but now John isn't quite sure if he agrees. Maybe John's opinion on events of the past correlates to his opinion on Vriska.
VRISKA: Ok, full disclosure. I used to do a lot of terri8le things to Tavros.
VRISKA: Once I launched him off a cliff and paralyzed him. And if that wasn't 8ad enough, I spent sweeps mocking him for the disa8ility I caused! Haha.
VRISKA: Oh yeah. Then I killed him.
JOHN: oh, right. i remember you said you killed someone that you cared about. i guess this is him?
VRISKA: Mm hm.
VRISKA: 8ut like I said, that's suuuuuuuuch old news now, it might as well not have even happened.
VRISKA: Tavros doesn't give a shit a8out that stuff anymore.
TAVROS: hEY, wAIT, mAYBE YOU SHOULDN'T, SPEAK FOR ME?
TAVROS: i STILL KIND OF THINK THAT STUFF WAS ALL PRETTY MEAN, eVEN THOUGH IT WAS FOREVER AGO,
TAVROS: iT'S JUST, i HAVE CHOSEN TO BE THE BIGGER MAN, aND NOT HOLD IT AGAINST LIKING YOU,
VRISKA: Hahahaha! John, can you 8elieve this guy?
VRISKA: This is the kind of shit I have to deal with all the time.
TAVROS: oH GOD,
TAVROS: nO, tIME OUT, i'M FLAGGING THIS, vRISKA, aS TERRIBLE BEHAVIOR,
VRISKA: Tavros, the 8igger man is only ACTUALLY the 8igger man if he doesn't refer to himself as the 8igger man. That's kind of the point?
VRISKA: Unless the intent is to produce some form of socially awkward comic relief, which let's face it, is what you're all a8out.
VRISKA: 8ut that's what I like a8out you.
TAVROS: yES, }:)
JOHN: hmm, i feel like… maybe we got sidetracked there?
John seems a bit uncomfortable hearing Vriska talk about her romance with Tavros. This either demonstrates that he's squeamish about romance in general or that he still has unresolved feelings for Vriska.
JOHN: maybe you should tell me more about this english guy.
JOHN: frankly, it seems like i'm usually one of the last people to learn about stuff like this, and it's starting to make me feel like a bit of a tool.
This line reminds me of when Vriska complained about lack of narrative relevance the last time we heard from her. I'm a bit surprised this line doesn't lead Vriska to bond with John about that.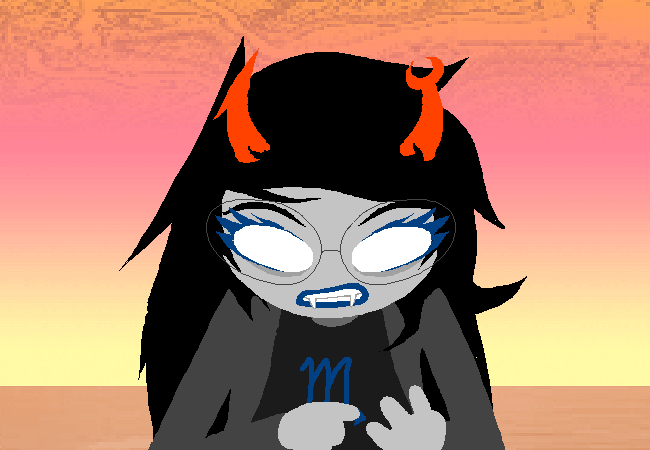 VRISKA: He's just some huge overpowered green freak. A time traveling monster, supposedly invinci8le.
VRISKA: Who he is, what he is, where he came from, none of that really matters.
VRISKA: What matters is how we're going to defeat him.
It's only fitting that Vriska doesn't care one bit about who Lord English is or what his motives are. She just sees big tough green guy and decides to kill big tough green guy. Later in the comic we get a very interesting sequence where Dave argues that Lord English barely did anything to our heroes and there's no reason to care about him, which cements that English is sort of a deconstruction of the concept of final bosses. (Man, all this villain talk is making me thirsty for a continuation to the epilogues.)
VRISKA: That's what Tavros and I have 8een working on here for some time now.
JOHN: working on what?
VRISKA: Treasure hunting!
JOHN: oh yeah?
JOHN: what treasure?
VRISKA: Yes. Ok, I should explain.
VRISKA: There's sort of a plan in motion to 8eat English. It's a three pronged approach.
Three pronged, you say? This plan to fight Lord English has Meenah written all over it. Makes sense because Meenah doesn't want to fight English out of self-importance, but simply out of Alternian fighting spirit.
VRISKA: A num8er of people out here in the furthest ring are working on different prongs of the strategy independently.
VRISKA: The first is a quest to find the lost ghost of some alien girl. She's said to 8e one of the keys to defeating him in some way.
VRISKA: Other people are allegedly out there working on that right now. If you ask me, it sounds like a really 8oring approach to defeating him. Who knows if it's even true.
I have to agree with Vriska here. The lost cherub plan is a massive red herring that's brought up a few times and then forgotten until we meet the real lost cherub, who already knows damn well what she's doing.
TAVROS: (gIVe it tO me,)
JOHN: (stop that!)
JOHN: (keep your hands to yourself.)
Unfortunately, John and Tavros aren't listening because they're busy fighting over the ring. Both seem to be mysteriously drawn to it even though we have no idea what it does.
VRISKA: The second is a quest to raise an army of ghosts to challenge him directly in some kind of huge 8attle royale, I guess.
VRISKA: From what I understand, some yahoo out there is 8usy rounding people up. I really have no idea how that's going. I usually just hear stuff through the grapevine.
VRISKA: That approach doesn't really interest me either. Gonna file it under "8oring" as well. Seems a little heavy handed, not to mention too slow.
I can see why Vriska isn't a fan of this approach either. A glory hound like her wouldn't be one for teamwork. It's the same reason why after the retcon, alive Vriska went by herself to kill Lord English instead of joining any of the fighting teams.
TAVROS: (gIve Me thE riNG,)
JOHN: (no!)
TAVROS: (yes, yOu ASs,)
JOHN: (dude, you suck at whispering!)
TAVROS: (you sAiD you'D GIve it to me,)
JOHN: (i changed my mind!)
John and Tavros still aren't listening. Helps make Vriska's self-important lecture on Lord English harder to take seriously.
VRISKA: The third prong is what Tavros and I are 8usy with. The aforementioned treasure hunt.
VRISKA: The legend says there's some mystical ancient treasure hidden somewhere out here in the furthest ring.
VRISKA: I'm assuming it's some kind of weapon. It's said that if you use it, or like, activ8te it in some way, he can 8e defeated forever.
VRISKA: The nature of the treasure is pretty vague, actually. 8ut the first rule of treasure hunting, which I'm admittedly just making up now, is that it doesn't fucking matter what the treasure is.
A one-use weapon that you can activate right in front of English? A mysterious treasure whose hunt is just like your childhood pirate fantasies?? Now THAT is right up Vriska's alley. I'd go so far as to say Vriska is the only character in the comic who would focus on this part of the plan. It's so straightforward and simple, such obvious glory bait. Exactly the sort of thing (Vriska) wouldn't concern herself with. Vriska and (Vriska) are two very different identities, held by different versions of Vriska at different parts of the comic.
TAVROS: (wE had a deAl,)
JOHN: (quit it!)
TAVROS: (why Are you sUcH a liar,)
JOHN: (shut up. i'm keeping it.)
TAVROS: (thiS is noT cOOl,)
TAVROS: (you're PrevenTing joYful human sTYled matrimonY frOM happEning,)
JOHN: (yeah right. like she would even say yes.)
JOHN: (i don't even think she's really your girlfriend. i think you made that up!)
TAVROS: (wow, no, wOw,)
TAVROS: (you wEnt thERE,)
Seems like John wants to keep the ring just as badly as Tavros does. This is starting to hint that John has been feeling romantically lonely, especially after Jade broke up with Davesprite.
TAVROS: (unhAnd the treasurE,)
TAVROS: (it's prEcious to Me, jUst liKe, My beautiful GIRLFRIEND,)
JOHN: (you are so full of shit!)
TAVROS: (we're in LOVE toGetHEr, aSSHole,)
JOHN: (there's no way you're getting this ring.)
TAVROS: (fUCk, YoU,)
I think it's clear at this point that John may have suspected himself to be aromantic before, but clearly turned out not to be. As I said two posts ago, I greatly appreciate the way Homestuck handles identity questioning, probably more than the way it handles queer orientations and identities in the first place. I particularly think Roxy's gender detransition in the Candy Epilogue was handled very tastefully, which is rather impressive.
VRISKA: Not that I'd have it any other way. This just sounds like the 8est plan to me. Why 8other messing around with an army of ghostly dipshits, or some shy magic alien when you can go str8 for the ultim8 weapon?
VRISKA: Hell, may8e I'll just walk right up to him, one-shot the guy and end it all right there.
VRISKA: That's how a real pro goes a8out 8usiness. You take any shortcut you find.
After Act 7 came out, these lines must have been an absolute pain to reread. Why would the story end with alive Vriska doing exactly that, without any subversion??? The epilogues redeemed my Vriska salt in the stupidest but most brilliant way possible: she's hit by a fragment of spacetime right before the chest opens and sent hurling into a black hole, then lands on Earth C and winds up having a heart-to-heart with her clone that I love every word of.
JOHN: (i am going to wish as super hard as i can that i wake up with this ring.)
JOHN: (it's probably magic, so i bet it makes my wish come true!)
TAVROS: (i doubT that From happeNing,)
JOHN: (if i wish hard enough, that will make it slightly less impossible!)
TAVROS: (oh, you bastARD, you arE gOOd,)
JOHN: (i think some day i will use it to propose to *MY* girlfriend. what do you think about THAT, wise guy?)
This is the second time in this act that John mentions his nonexistent girlfriend. The Roxy foreshadowing is obvious, as is the implication that John is probably just as romantically oriented as his friends but never got the opportunity to start a relationship with anyone. I think this romantic isolation for the first sixteen years of his life instead of just the first thirteen made him so weird when it comes to romance. Same goes for Jade in the epilogues, regrettably enough.
TAVROS: (noOO!!!)
TAVROS: (gIMme,)
JOHN: (this is pathetic.)
JOHN: (stop grabbing at me! we're missing what she's saying!)
JOHN: (she's going to think we're idiots, won't you STOP?)
VRISKA: Are you fuckers even listening to me???????? God DAMN it.
JOHN: yes!
VRISKA: No you're not. You're squa88ling with Tavros and his loud shitty whispering a8out some 8ullshit.
VRISKA: Come on, guys. Am I really 8eing that 8oring?
VRISKA: I'm really starting to understand how my ancestor must have felt sometimes. No8ody ever respects an important explan8tion!!!!!!!!
As the story progresses, it only becomes more obvious that Vriska and Aranea aren't as different as one may think. Aranea's self-importance is much better hidden than Vriska's at this point, but it's certainly visible.
I've seen a lot of meme edits with this image. Not surprising—Vriska holding a blank map is just asking to be memed.
Upon Vriska's command, Tavros gets out all the treasure maps and Vriska explains some interesting stuff. First she shows us a blank map, which demonstrates how horribly stupid navigating the Furthest Ring normally is. I suppose we are to assume that Vriska's Sburb planet, the Land of Maps and Treasure, had magical maps of the planet abound? As in maps that automatically update whenever circumstances change. That is the best explanation I can think why these maps show pure void.
VRISKA: The guy who's 8een fucking shit up is the 8ig 8ad himself!
VRISKA: Every time he destroys another dream 8u88le, he does a little more damage to the furthest ring, inexplica8ly shattering the essence of all-encompassing nothingness.
VRISKA: As the cracks spread across the void, new points of reference show up on our maps!
VRISKA: Then we look at the angles and intersections and all the shapes formed 8y the cracks, and compare them to our notes from the various riddles and clues we've discovered a8out the path to the treasure.
Or rather, they showed pure void until Lord English came along. Vriska's been putting a lot of work into the treasure hunt mission, which kind of redeems her self-importance because she's actually doing something. It's only fitting that after alive Vriska steals the chest standing right in front of her, she is brutally taken out of the spotlight in the epilogues because she didn't even do anything to deserve being the one to kill Lord English.
VRISKA: It's actually a little like how in old times on Alternia, pir8s used to navig8 8y shapes the stars made. Constell8tions used to have a lot of significance in our culture, not just guiding explorers on their journeys to physical destin8tions, 8ut guiding them on the choices they made in life, pertaining to f8 and all that. Not that humans would really understand anything like that.
The way Vriska describes astrology and horoscopes, it really does sound kind of alien. I love jokes like this where trolls think they're more different from humans than they really are.
VRISKA: I actually find the situ8tion to 8e pretty funny. This guy's ego must 8e astronomical. Classic case of unchecked hu8ris paving the way for his own downfall.
VRISKA: I didn't even need to 8uild a we8 to trap him. He just went ahead and started 8uilding his own.
VRISKA: Talk a8out a lucky 8r8k!!!!!!!!
Though Vriska is every bit as self-important as she was when she was alive, she did seem to learn a lesson or two from being killed. She can now recognize cases where hubris leads to downfall and accurately describes Lord English's situation that way.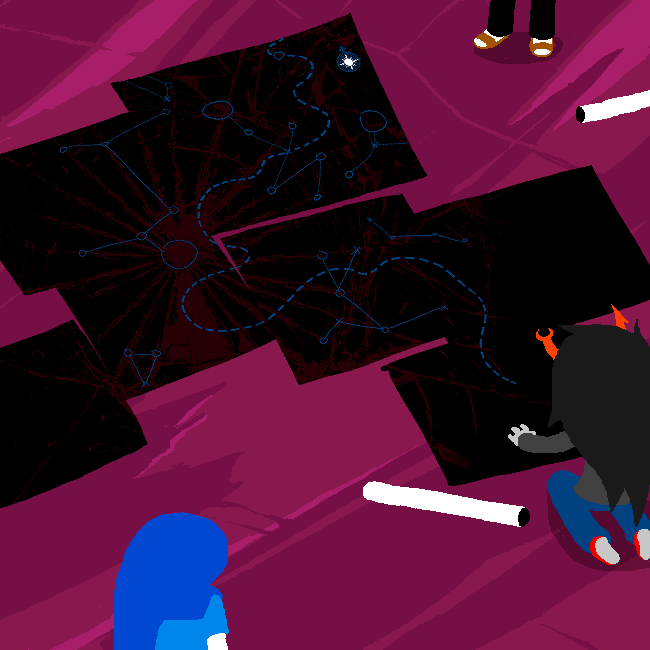 JOHN: that is pretty neat.
JOHN: so does that mean you know where the treasure is now?
VRISKA: No, 8ecause the map isn't complete yet!
VRISKA: Needs more cracks so we can plot the rest of the course. All we're a8le to do now is head in the right general direction.
VRISKA: So ironically in order to prevent reality from 8eing destroyed, we need to w8 for it to 8e damaged further. In fact, we're 8etter off encouraging it!
JOHN: encouraging it?
JOHN: what, you mean like, making him mad so he breaks more… uh…
JOHN: nothingness?
VRISKA: Yes, 8ut it has to 8e strategic. We have to somehow lead him in the direction of the places we want him to damage.
VRISKA: Specifically, the places where the route dead-ends. Wherever we need new points of reference to keep going.
Vriska's morality starts to get a bit questionable here. She's started to encourage destruction for what she sees as the greater good (Lord English's defeat). At the end of the comic, the Furthest Ring is completely destroyed and I'd argue it's partly Vriska's fault things turn out that way. Because of the Furthest Ring's annihilation, I think that though the intended purpose of Tavros's ghost army was to fight Lord English, the true purpose it ended up serving was to gather as many troll ghosts as possible in one place so that they could survive the destruction and end up on Earth C. I can only assume the ghosts are competent fighters this time around when they join Karkat and Meenah's army—lots of powerful god tier trolls and quite a few with high strength attributes. Or at least, I sure hope they are.
JOHN: so that means you have to piss him off i guess.
VRISKA: Not really. He's already pissed off. I think he's just permanently that way?
VRISKA: It's more a8out getting his attention. Using the right 88! Like going fishing.
VRISKA: 8ut to do that, you gotta know what he really wants. Like what motiv8tes him. I mean, 8esides indiscrimin8tely killing dead children and huge tentacle monsters.
JOHN: i am guessing you have an idea what that might be?
VRISKA: Sure. The rumor is he's trying to find that dead alien girl I mentioned, and kill her ghost for good.
Here Vriska tries her best to guess what Lord English's motives are, which is of course rather difficult. Vriska's speculation is making me think of English as a bit of a tragic figure who's trapped himself in a shameful existence doing nothing but destroying everything now that he's achieved his ultimate power form. Caliborn was so much cooler, why did it have to come down to this.
VRISKA: If he catches on to the fact that some of us are looking for her too, and thinks we're hot on her trail, he'll pro8a8ly start following us around and wreaking havoc wherever we go.
VRISKA: We just have to make sure we're in the right place when he tries to kill us. Oh, also try not to actually die again while we're at it. Haha.
JOHN: so the bait is really you.
VRISKA: Sort of! It's actually more the 8ogus idea that we'll lead him to the cheru8, 8ecause we're looking for her too. Which we're o8viously not.
VRISKA: There's some manipul8tion involved.
Vriska is taking advantage of the part of the plan she sees as boring and using it as a distraction against Lord English. It's kind of clever, but unfortunately Lord English isn't very smart and probably doesn't think that far ahead. It's an admirable idea though.
JOHN: well…
JOHN: cool!
JOHN: that was actually a very interesting story, vriska.
JOHN: you're a pretty good story teller!
VRISKA: You think so?
TAVROS: oH, yES, i THINK SO TOO,
TAVROS: sHE'S GOTTEN MUCH BETTER AT STORIES, aS A RECREATIONAL LONG TERM DEATH HOBBY,
JOHN: oh yeah?
TAVROS: sURE, wE'VE BOTH LOOKED AT LESSONS FROM OUR ANCESTORS, tO IMPROVE OUR SOULS,
TAVROS: hER ANCESTRAL AWAKENING HAS TO DO WITH UNDERSTANDING HER DESTINY, tO TELL LONG STORIES TO PEOPLE, aND MAKE THEM LISTEN TO ALL THE WORDS IRREGARDLESS OF THEIR INTEREST, bY ANY MEANS NECESSARY,
TAVROS: tHE ART OF SAYING OPTIMAL TALES BY MY UNDERSTANDING, iS TO CHARGE THROUGH ALL CONCEIVABLE DETAILS AND EXCESSIVE MINUTIA, uNTIL THEY ARE EXHAUSTED COMPLETELY, mUCH LIKE IT IS A SPIRITUAL PRACTICE, aND EXTRANEOUS INFORMATION IS TREATED LIKE THE RELIGIOUS WORDS YOU SAY OVER AND OVER AGAIN UNTIL BRAIN PEACE HAPPENS,
The first John/Vriska scene in Act 6 wraps up on a reasonably positive note. John compliments Vriska's story and Tavros pokes a bit of fun at her.
JOHN: that's… one way of looking at it.
JOHN: i don't know about excessive minutia or brain peace, but i was hanging on every word!
VRISKA: Aw, you guys. You're making me 8lush.
JOHN: i wish i could hang out with you longer and maybe even help you with your treasure hunt.
JOHN: but i just know i'm gonna be waking up soon.
JOHN: darn. who even knows how long it will be before we meet again in another bubble?
TAVROS: yEAH, wELL,
TAVROS: tHEM'S THE BREAKS, aHA, aHA,
TAVROS: (soOn, iT wilL be MIne,)
VRISKA: Don't mind him, John. He's just 8eing weird and tooly again.
VRISKA: It was nice to see you and catch up like this. If we don't meet in another dream soon, don't worry.
VRISKA: I have a feeling we'll 8e crossing paths again 8efore this is all over!
This scene ends with Vriska telling us this won't be the last time she and John meet, which is basically a "see you next time" sort of deal. Readers probably expected John and Vriska's next meeting to be much testier than this one, and they were unsurprisingly right.
Speaking of "see you next time" sort of deals, the next page after this is Openbound Part 3, so I'm concluding this post here. See you next time as we meet the last three Beforan trolls, who have a backstory considerably more anime than the rest. I wonder how different that part will read now that I have actually seen some amount of anime? (I still haven't seen very much anime, don't be misled.)