< Part 90 | Part 91 | Part 92 >
Act 6 Intermission 3, Part 6 of 6
Pages 5399-5437 (MSPA: 7499-7537)
Featuring the best psycheout in all of Homestuck.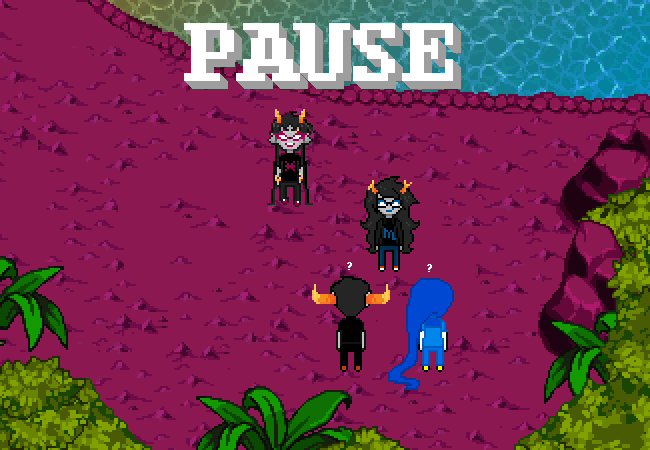 If only John and Vriska knew how much their friends nearby miss them…
You reach the end of the game to find an intriguing convergence of outrageous personalities. You are just dying to see what these heavyweights of badittude have to say to each other, but somehow you discover within yourself the superhuman restraint to hit pause.
When I got to the end of Openbound Part 3 in the last post, I already knew that the walkaround ended right before Meenah could talk to Vriska, John, and Tavros but I was still a bit disappointed to remember it cut off right there. But upon further consideration, I think it's fair to cut things off here and resume this arc with something other than a walkaround because we've been overdosed with walkaround content this whole intermission. You probably know that Homestuck doesn't have any more full walkaround games after Openbound. I'll discuss this point at the end of this post, where I recap Act 6 Intermission 3.
There is a whole world of fucking around going on with the meteor crew during the second year of their voyage, and it would be a criminal act of negligence to end this intermission without at least having a peek at their tomfoolery. A weaker person would just want to see what happens with Meenah and Vriska right away. Thank goodness you are a player with a strong sense of responsibility and discipline.
Every scene on the meteor so far in Act 6 has been hilarious, so I'm totally down for checking out what those characters are up to even though we've already seen plenty of it in this intermission so far.
Continue reading