< Part 90 | Part 91 | Part 92 >
Act 6 Intermission 3, Part 6 of 6
Pages 5399-5437 (MSPA: 7499-7537)
Featuring the best psycheout in all of Homestuck.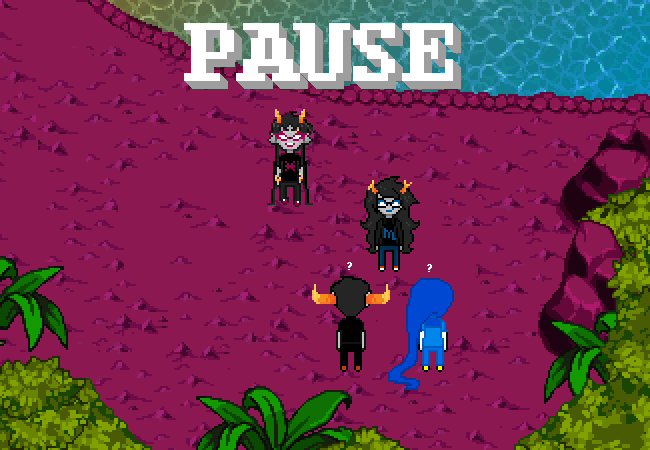 If only John and Vriska knew how much their friends nearby miss them…
You reach the end of the game to find an intriguing convergence of outrageous personalities. You are just dying to see what these heavyweights of badittude have to say to each other, but somehow you discover within yourself the superhuman restraint to hit pause.
When I got to the end of Openbound Part 3 in the last post, I already knew that the walkaround ended right before Meenah could talk to Vriska, John, and Tavros but I was still a bit disappointed to remember it cut off right there. But upon further consideration, I think it's fair to cut things off here and resume this arc with something other than a walkaround because we've been overdosed with walkaround content this whole intermission. You probably know that Homestuck doesn't have any more full walkaround games after Openbound. I'll discuss this point at the end of this post, where I recap Act 6 Intermission 3.
There is a whole world of fucking around going on with the meteor crew during the second year of their voyage, and it would be a criminal act of negligence to end this intermission without at least having a peek at their tomfoolery. A weaker person would just want to see what happens with Meenah and Vriska right away. Thank goodness you are a player with a strong sense of responsibility and discipline.
Every scene on the meteor so far in Act 6 has been hilarious, so I'm totally down for checking out what those characters are up to even though we've already seen plenty of it in this intermission so far.
Seems like this image is supposed to give a time scale for the meteor crew's portion of Act 6 Act 3. The meteor crew first met Aranea and Meenah a year into the journey, and shortly after that Dave witnessed Lord English's dream bubble explosion. Openbound Part 1 takes place a year into the meteor crew's journey; Part 2 also probably a year, given what Terezi had to say about her upsettingly radical ancestor. Part 3 takes place two years into the journey, less than a day before Rose and Kanaya's date. I was always pretty confused about that whole timescale, not knowing that the image above clarifies everything.
Dave Strider is not a homosexual, as we all know. (BLATANT LIES)
I fucking love this panel so much, everything about it is perfect. The scribbled out rap notes. Karkat riding a giant penis into the sunset. His usual screaming expression while riding the penis. Lord English drawn with the same body form as Sweet Bro and Hella Jeff.
Obama's raps are unfortunately nothing more than Dave's silly fantasies. (ALSO BLATANT LIES)
DAVE: (just dropped that shit like a bad phone connection)
DAVE: (i put gravity in charge of its downward direction)
DAVE: (unfettered descents what it considers perfection)
DAVE: (shit thinks of the ground and it gets an erection)
DAVE: (best hope its carpet bound in its downward spiral)
DAVE: (cause linoleums frowned on, met with an eyeroll)
DAVE: (landin on grass is just the course that its par for)
DAVE: (but hardwood fuckin floors what its woods gettin hard for)
DAVE: (guess i should mention stead a motherfuckin hardons)
DAVE: (how my motherfuckin french could use a presidential pardon)
DAVE: (KICK IT BARACK)
DAVE: (heres where obamas rap solo comes in)
DAVE: (no but how dope would that be!)
DAVE: (oh fuck me that would own)
Dave's obsession with Obama continues to be one of my favorite things about Homestuck. Given that Obama supposedly dated Dirk at one point, we can safely say Dave's "Obama the rapper" theory ended up just as true as his "Obama's secret session of Sburb" theory.
ROSE: SLUUUUUUUUUURRRRP.
Oh mother fuck.
Oh mother FUCK.
Both Lalondes have a habit of dressing up way too fancy when going out with their love interests. It's kind of funny going back to these pages after seeing what Roxy was like in the Candy Epilogue.
DAVE: dammit
DAVE: rose dont drink so loud its messing up my raps
DAVE: i can actually hear your sips through my headphones
ROSE: Yea well,,
ROSE: I can her your rasps through your whipsers.
ROSE: *Whipspers…
ROSE: *Whip..
ROSE: ……
ROSE: Zers.
ROSE: 😉
ROSE: HIC!!!
DAVE: oh my god
DAVE: you are so fucking hammered
DAVE: how strong did you even make that stuff
What the fuck…
Rose is way more incoherent and prone to speech slip-ups now than Roxy ever was.
Dave asks Rose why she hasn't made any apple juice, and Rose goes on a drunk lecture about apples which I'm guessing was first written in Hussie's usual prose, then smeared all over with typos to make it unreadable. I can tell because I just now took the time to rid Rose's speech of typos. See for yourself:
DAVE: and where the FUCK is my applejuice rose
DAVE: gotta say
DAVE: you really let me down on the aj front
ROSE: I tried!!
ROSE: I tried making it…
ROSE: Is was HARD, Dave.
ROSE: (Sluuurp.)
DAVE: bullshit it was hard
DAVE: whats so hard about applejuice its like
DAVE: the most basic goddamn juice
DAVE: like the square one of juice
ROSE: Yes, that's the POINT!
ROSE: Apples are startlingly difficult to reproduce.
ROSE: We take for granted our ability to take idealized instances of even quite complicated objects and conjure them from the void.
ROSE: But complexity implies a heavily recombinative nature. So many things are synthesized from a series of much simpler ideas.
ROSE: To those entities capable of conceptualization and abstraction, an apple is as close to being a notionally irreducible object as it gets.
ROSE: Tell me, hotshot, what ideas would you combine to make an apple?
DAVE: uh
ROSE: Exactly.
ROSE: This is why apples are such indivisible symbols, when it comes to the field of ideas and their reductionistic essence from the perspective of humans in particular.
ROSE: Both from a standpoint of cultural and mythological significance, and from a practical one a swell, if you happen to find yourself actually trying to engineer one.
ROSE: Why do you think Adam and Eve were punished for biting into one?
ROSE: They attempted to penetrate an indivisible unit, of fundamental knowledge. To consume the interior of a thought which cannot be reduced any further.
ROSE: This knowledge was forbidden, so humanity was forever banished to live in sin, and has strived ever since to redeem itself from the hubris of this intellectual folly.
ROSE: Or what about the tale of Isaac Newton under the tree? He was BONKED on the head by an apple.
ROSE: Not really an apple though, an atomic idea. An elemental unit of inspiration itself, it clocked him right on the noggin.
ROSE: And this indivisible notion colliding with his awareness, much like a high speed particle fired to create a nuclear chain reaction, jarred from the void a more profound understanding of the intrinsic nature of nothingness. That is, gravitation.
ROSE: Of course, these stories are actually bullshit. They didn't happen in reality. But the fact that they are bullshit makes them more interesting.
ROSE: Men have crafted many stories that are bullshit out of symbols risen from the abyss of consciousness without necessarily knowing what the fuck they were doing or saying, as they floundered around for some truth.
ROSE: But in spite of themselves, they would for however briefly cross through a ray of light regardless. Because of the symbols. Dave, the symbols hold all the power.
With the typos cleared out, Rose's speech about apples reminds me of Detective Pony. And you know I get super excited whenever anything reminds me of Detective Pony. In case it wasn't clear, I am telling you to read the typo-free version of Rose's apple speech quoted right above.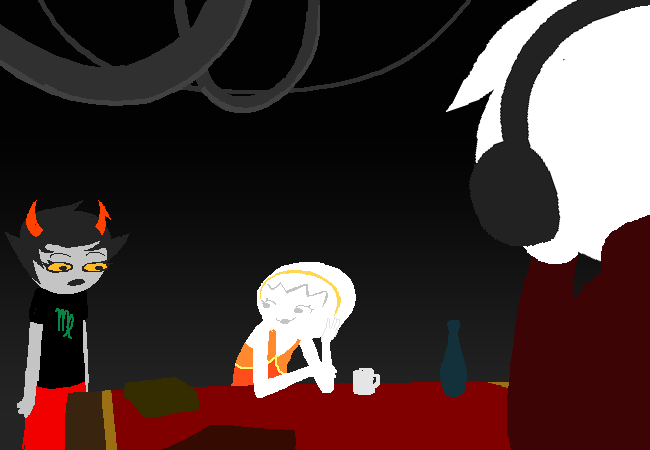 Kanaya somehow looks way fancier simply with her long undershirt taken off.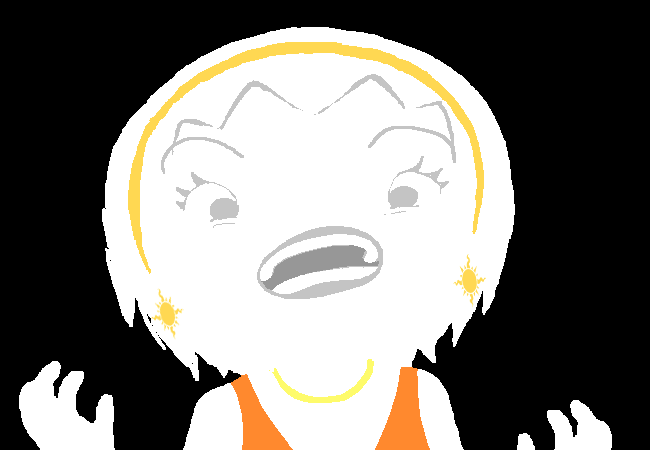 Terrifying panel.
After some nonsense where Rose denies she's going on a date, Kanaya arrives and Rose realizes she "forgod" about their date!!!!!!!!!!!!!
And then the date begins. Rose and Kanaya walk down a dark hallway, Gamzee honking in the background. I said at one point in this blog that I like to think this whole scene is a parody of lesbian fanfictions, which was really just something I read somewhere and thought "oh hey that makes sense".
Upon rereading this scene, I feel Rose is a severely exaggerated fanfic parody while Kanaya is her usual self, a little confused at this whole situation but truly in love with her idealized version of Rose.* So I guess this is a parody of lesbian fanfics.
Rose asks Kanaya to keep a secret and tells about Terezi and Gamzee's black relationship.
* Just like John was in love with an idealized version of Roxy in the epilogues.
ROSE: I learned somethin earlier today.
ROSE: It was trobuling.
ROSE: Something about,
ROSE: Teresi.
ROSE: Aand,
ROSE: …
KANAYA: And What
ROSE: And Gamshee.
KANAYA: !!!
ROSE: See…
ROSE: I bumped into him earliar.
KANAYA: You Did
KANAYA: Where??
ROSE: No no please, pleeasse don't get angry, and. ..
ROSE: Go on another vengeful clown hunting espedition, I…
ROSE: This is the point, this is was troubling me abou this.
ROSE: I don't want anyone to fight!
KANAYA: Actually
KANAYA: Theres No Need To Worry About That
KANAYA: I Think Im Done Trying To Kill Him
ROSE: You are?
KANAYA: Yeah
KANAYA: He Has Achieved Victory Through The Gambit Of Cowards Default
KANAYA: Dont Get Me Wrong He Is Still Utterly Awful
KANAYA: But Sometimes You Just Have To Let A Thing Go
KANAYA: You Know
At this point, I think Kanaya has succeeded in learning how to let go. Well… mostly succeeded. Her insistence not to put stock and trust in people who may seem fishy (literally or otherwise) is rivaled by her love for the girl who wrote the mind-blowing poetic Sburb walkthrough so long ago.
ROSE: Yeahhh,
KANAYA: What Were You Saying About Terezi And Gamzee
ROSE: Righ, well apparenly they..
ROSE: Are.
ROSE: An item?
ROSE: Blackways, I mean.
KANAYA: What
ROSE: The y'are spades dating. In theh shadowns… nobody knows. But me. An now,
ROSE: You.
KANAYA: Are You Serious
ROSE: Yesh!!
ROSE: And it's been troubling me, the more I thing about it.
ROSE: All lot.
KANAYA: Why
ROSE: Because it presends a prickly prolitical sishuation.
ROSE: Terezi's relationship with Karkant is already somewhat tenuous, with their… well from, what I've gathered, about their hishtory.
ROSE: And Dave! His involovment makes in even more complicated, and,
ROSE: I think, with Karkat being moirails to Gamzee, if he finds out Gamzee iss spades with Tetreezi, then…
ROSE: Correct me if I'm wrong but isin't that whole arrangemen getting into territory of social taboob?
ROSE: * Tabob. Escuse me.
KANAYA: That Could Be Very Awkward Yes
Kanaya is trying to politely tell Rose that she doesn't quite understand the deal with troll romance as well as she thinks, by saying the romantic situation "could be very awkward" rather than agreeing with her that it's social taboo.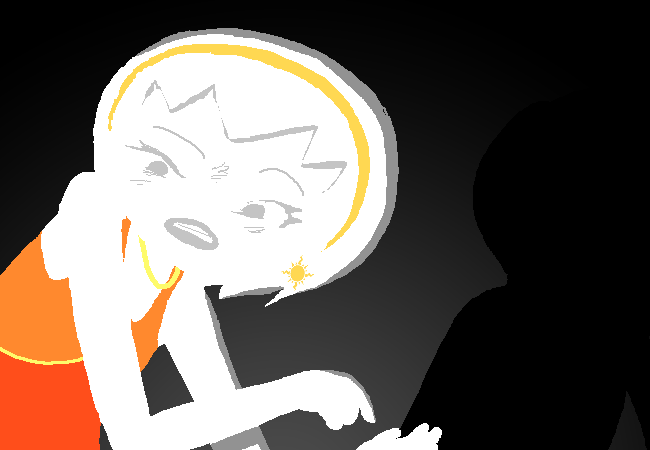 ROSE: Right!!
ROSE: I don't no if it's my ser powers or what, but, HIC, I can see it unfolting all too clearly.
ROSE: Karkast finds out about it and flies inno a rage. It ruins hish moirlallegelleninance… I mean his moiraHIC!.. It ruins his diamonds with Gamzee, who thefore becomes less stable.
ROSE: And he villifies Trepezi as well, and who knows how she reacs. Or what happens with Dave for that matter.
ROSE: Would Dave actually be aright wich Terezi dating a psychotic clown on th side, even if its is a releationship centered around only enmity? I kinof doubt it.
ROSE: He could side with Korkat on the matter.. Not even tos peak of where your alignment is on the subjech of Gamzeen.
ROSE: Which is, what I fear. I'm afraid that,
ROSE: This could create a schisasm in our group, that we could all be torn apart.
ROSE: And I don't wand that!!!!!
ROSE: I want us all to stay friends, and jus be… peaceful togehter. 😦
Rose is starting to show shades of Roxy, with severe concern for her friends' relationships and desire to keep them all happy. What she fears is a major falling out where most of her friends refuse to talk to each other. But what actually happens is a… *shudder* buddy system. As in one where pairs of people are bound together and barely talk to anyone else and it sucks and is upsetting.
Rose talks about how unhealthy she thinks it is for Terezi to hate-date Gamzee. Kanaya explains auspisticism as a way to mediate between a chaotic black relationship. Rose reacts as follows:
ROSE: Yes…
ROSE: .
ROSE: hic.
ROSE: .
ROSE: YES…..
ROSE: KANAYA THAT IS EXAGLY WHAT I NEED TO DO!!!
KANAYA: Oh No
KANAYA: Really
ROSE: Absoulutely.
ROSE: I haf never been so shure.. about, anything.
ROSE: Well maybe, almost anaything.. :), but yes.
KANAYA: I Dont Think I Would Advise It
KANAYA: Its Extremely Difficult And Can Often Feel Like A Thankless Undertaking
KANAYA: In Truth It Is Probably The Most Challenging Quadrant To Master
KANAYA: Trust Me
ROSE: I believe you.
ROSE: But I wants to know.
ROSE: Can you teach me?
KANAYA: I
KANAYA: …
ROSE: There's so mouch I just don't understand.
ROSE: About your romanse, but,
ROSE: I'm soi curious.
ROSE: I try to understand the concept of either contentatious or plastonic relationships as something that…
ROSE: Can be parshed through the emotions assoliated with romance but,,
ROSE: It still doesn't realay compute to me.
KANAYA: I Really
KANAYA: Dont Know If I Would Be A Good Teacher
KANAYA: Of Auspisticism
KANAYA: I Honestly Was Not Very Good At It Myself
Kanaya isn't particularly enthusiastic about helping Rose auspisticize between Terezi and Gamzee. She's lost the hubris she once had as the master mediator between rivalrous trolls due to catastrophic outcomes involving her friends, especially Vriska who she used to have a huge crush on.
ROSE: Tha's fine..
ROSE: Forget aushpipshit…
ROSE: Auspishtishimish..
ROSE: Good damn.
ROSE: Forget specificulty that right now,.
ROSE: I want…
ROSE: You to teach me evvverrreeything!
KANAYA: Everything
ROSE: Yez.
KANAYA: That Is
KANAYA: A Lot Of Things
ROSE: I want you… to,
ROSE: Teash me ALL the quadrans.
And yet, Kanaya's love for Rose is strong as ever and she complies just like she did with Vriska so long ago.
ROSE: I want you toot,
ROSE: Tell me about your spabes,
ROSE: Your didamounds,
ROSE: I wank you to,
ROSE: Share wish me yur clumbs…
ROSE: And your hearst.
ROSE: I want..
ROSE: Yuouo….
Beneath all the drunken misspellings, you can't argue that these are some heartfelt words from Rose. Shortly followed by…
Trivia time!
This whole sequence of pages, ending in the big kiss, was posted on October 25, 2012. The second anniversary of Alterniabound and the first anniversary of Cascade. I THINK it was intentional?
THE KISS.
A stunning image, just like Jake and Dirk's severed head's kiss not long ago. Rose is all the way into it. Just look at her closed eyes and hands running through Kanaya's smooth hair. Kanaya is into it too and no doubt thinks Rose is very beautiful in her dress, but she's using her arms to keep Rose's balance and prevent her from—
This SBaHJ reference is so perfectly executed, I love it.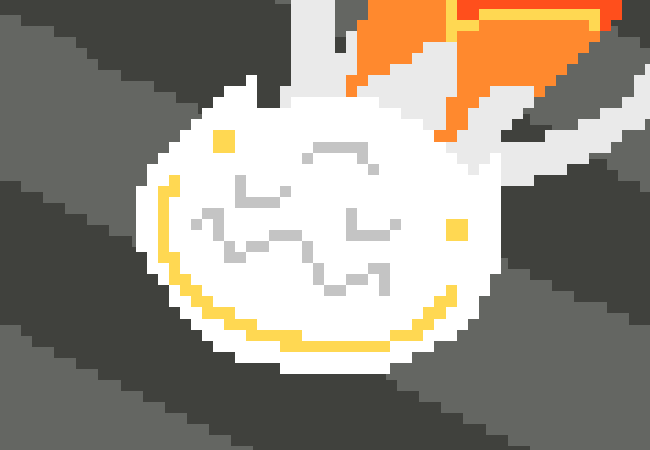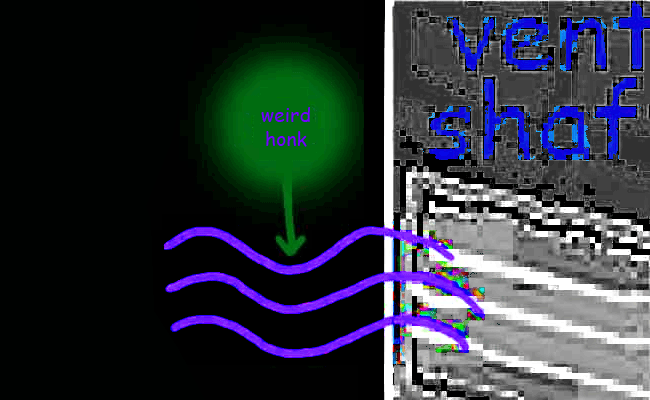 HOLY SHIT I FORGOT ABOUT THIS
—executing what is arguably the best SBaHJ reference in all of Homestuck. This is fucking incredible mood whiplash, as is the narration that follows:
And with the smitten Seer's inebriated descent down a flight of escalation zigzags through the dark subway-like belly of the meteor, and with teen xenolove mingling with weird honks wafting from the ventshafts to fill the fetid laboratory air with equal parts mirth and gaiety, we are ready to bid adieu to this vignette of hyperimportant fucking around on the pitch-perfect note of a single textbook deployment of the rare yet highly embarrassing DRUNK HAPPEN xROSE COMBOBOB.
And once again we find ourselves poised to attempt to exit this intermission prematurely, while forgetting to address exactly no loose ends whatsoever. You turn the page to find a pair of green curtains that won't close, and are fooled completely by them, as usual.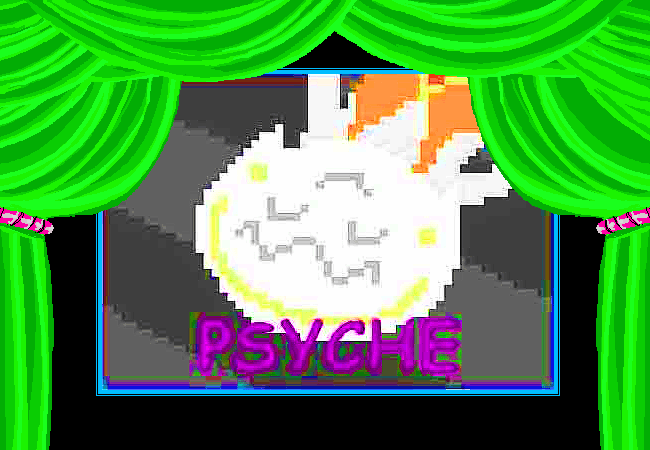 And there you have it. Literally the worst psycheout in Homestuck to date, hands down.
But seriously, we still need to see what Meenah and Vriska have to say to each other. Proceed to the next page to find out how these twin titans of in-your-face delinquency react to each other's unique brands of reckless antihero chutzpah.
The worst psycheout in all of Homestuck is immediately followed by the BEST psycheout in all of Homestuck.
This loading screen starts off fast but then becomes extremely slow, then fast again, then even slower as it crawls up to 100%. When it reaches 100%, we're treated to this:
[in dialoglog, masked by a "spoiler warning"]
You spend no less than 90 seconds staring at this fucking GIF image before you realize the actual Flash animation is on the next page.
I fell for this psycheout so hard the first (or second?) time I read Homestuck. I'm pretty sure I've fallen for it at least twice and it made me so mad every time. Still cracks me up to this day.
MINISTRIFE is the actual Meenah vs. Vriska flash animation and my god is it fun. It cracked me up the first and/or second time I read Homestuck. It's still pretty good but not the same knowing the twist that it turns out to be the exact opposite of what its title implies.
MEENAH: H-EY YOU! serket lookin girl
MEENAH: wanna join my army
VRISKA: Oh, I see. It's the Peixes wanna8e. So you're the one raising this army. That's hilarious.
VRISKA: Sorry, I can't join your dum8 army. I'm 8usy pursuing a much more intelligent strategy.
MEENAH: who da fuck you callin a wannabe?? lousy pants wearin smart mouth aranea ripoff
MEENAH: now get in my army fore i poke you up beeyotch
VRISKA: Not gonna happen!!!!!!!! I am however looking for a large num8er of recruits to follow me on my treasure hunting expedition.
MEENAH: wut
VRISKA: I need an enormous mo8 of ghosts following me around to get that asshole's attention, so he can wreck more empty space and help me find the treasure! You want in?
MEENAH: that makes no fuckin sense at all
MEENAH: anemoneway i dont recall giving anyone clearance for a whalenormous treasure hunt
MEENAH: as the rightful heiress that sorta noise has to go through me yo!!!
VRISKA: Haha! Wow, I had no idea the Peixes twin was such a riot! At least, I HOPE you were trying to 8e funny with that remark.
Meenah and Vriska's first ever meeting does not disappoint. The ambitious-minded thieves immediately show a humorous rivalry between combat and treasure hunting and they resolve to fight over it.
Vriska changes into her god tier outfit, Meenah changes into hers and cycles through various other fashion styles, and then Vriska rolls her dice and changes into her pirate outfit which looks pretty sick if I say so myself.
And then Meenah and Vriska start bringing in more and more troll ghosts from their respective groups. Here's a highlight amidst the silly nonsense:
ARADIABOT 1: lets annihilate them
ARADIABOT 2: yes lets. i am in the m00d t0 ruin s0meb0dy
VRISKA: Right on! I knew I could count on you crazy metal 8roads for some mayhem.
SOLLUX: hey aradia, uh… y0ur rob0 clones l0ok like they're ab0ut to flip the fuck 0ut. they're making me nervous, eheheh. can you try talking s0me sense into them?
ARADIA: sorry sollux my robotic duplicates have always been free agents totally exempt from my influence and better judgement
ARADIA: equius do you think you can calm them down?
EQUIUS: D –> They are pernickety devices
EQUIUS: D –> Often sweat seeps into their circuitry and causes them to behave more erratically
EQUIUS: D –> Which unfortunately only causes me to sweat even more profusely, I am afraid
ARADIA: equius weve never talked about it but im not sure how comfortable i am with you um… courting such a great plurality of my mechanical doubles
EQUIUS: D –> On a scale of 1 to 100, how depraved would you say you find my behavior?
EQUIUS: D –> (please be 100, please be 100…)
ARADIA: i never should have kissed you that time it was such a mistake 😦
EQUIUS: D –> (I NEED A TOWEL)
EQUIUS: D –> (A NEW ONE I MEAN)
Equius is living the DREAM right now. How lucky do you have to be to get to spend the afterlife tending to and managing thousands of loyal robotic clones of a girl you're fetishistically obsessed with? Not even to speak of how lucky you need to be for many different versions of yourself to get treated to such luxurious servitude.
Kurloz seems to be not only a mysteriously talented matchmaker, but also a talented costume designer. So many hidden depths from this Beforan clown…
MITUNA: HA7H 4NYW0NG 533N MY H4ML37
KURLOZ: :o)
MITUNA: 000H WH04 N1C3 C057UM3 8UDDY
KURLOZ: :o)
CRONUS: (be quiet. by saying anything youre really making a horrible impression on people we should be trying to impress here.)
MITUNA: 1M 50RRY
CRONUS: (ill forgivwe you, but this is the last time i evwer do. im at my vwits end with you.)
MITUNA: 1M 50RRY PL3453 PL3453 F04G1V3 M3 4G4IN
Most of the Beforan trolls seem to be treating this fight as a costume party, but Cronus is treating it as an opportunity to hit on new faces. Assuming this version of Cronus didn't go god tier, he might have gotten the idea of making a fake god tier outfit with a codpiece from Gamzee.
I like how there is only one version of Gamzee in this whole crowd, alive and wearing his ridiculous fake god tier suit.
What is Gamzee even thinking about? He's probably too busy being satisfied with his new attire.
After a heap of hilarity and trolls freaking out over meeting their dancestors, we suddenly run into a miserable ghost of Rufioh permanently stuck in a robotic horse body. By taking a long, hard look at this version of Rufioh, I am only now realizing how simultaneously hilarious and horrifying it must be for a troll to be trotting around in a mechanical horse body.
After a Karkat ghost is grouchy as ever running through this crowd, the scene gets bigger still:
Ministrife is nothing if not true to its title.
Now this is quite a sight. Numerous versions of all twenty-four Beforan and Alternian trolls, all gathered in one place and each saying at least one line. This flash is the first and only time that ever happens.
TAVROS: (none of Them, can uNderstAnd,)
bot!ARADIA: destr0y
RUFIOH: haha, yo 1 th1nk 1 hear my young ancestor wh1sper1ng from all the way over here… about someth1ng prec1ous… sh*t 1s crazy!
TAVROS: (tHe beAUTY, of my PrEcious,)
HORUSS: 8=D < It reminds me of when I was similarly sm*tten, and searched everywhere for the perfect snout ring for you, to FORTIFY our commitment. Do you remember, Rufioh?
RUFIOH: whoa, yeah! heh, those were the days…
RUFIOH: (hey doll, m1nd 1f we talk a b1t? 1 ma1nly want to look d1stracted… so the guy w1th the ponyta1l leaves me alone… you d1g?)
ARADIABOT: death t0 all
RUFIOH: ahaha… d*mn. so much l1ke the real th1ng 1t's… freaky }:o
ARADIABOT: like what real thing
RUFIOH: uh… you know, l1ke…
ARADIABOT: if y0u say like alive aradia i will make y0u BEG f0r a h0rse b0dy
RUFIOH: no no, l1ke someone else!!! d*mn… uncanny…
ARADIABOT: 0h 0k
RUFIOH: hey, you're pretty cool babe… want to… like… if you aren't doing anything…
EQUIUS: D –> E%cuse me, what is going on over here
RUFIOH: (man… not another zahhak! haha, this is f***in crazy…)
ARADIABOT: this guy with the m0hawk was flirting with me and i was being fully receptive to his advances
RUFIOH: whoa you were?
Ministrife takes a moment to revisit Rufioh and Horuss's romantic drama by having Rufioh just as desperate to get away from his relationship as Cronus is to have any relationship. The robotic Aradias' aggressive demeanor gives me strong Damara vibes.
EQUIUS: D –> I see. Aradiabot #100502, why must you devastate my pump biscuit so?
NEPETA: :33 < *the pouncellor astutely pawbserves the exchange and updates her shipping grid with startling developments of the heart!*
EQUIUS: D –> Nepeta, stop!
NEPETA: :33 < no!
EQUIUS: D –> Yes
NEPETA: :33 < no
EQUIUS: D –> Yes
NEPETA: :33 < no
GAMZEE: HONK
some!TEREZI: MOR3!!! MOR3 1 S4Y!!! 4444H4H4H4H4H4H4H4H4!!!!!!!
Nepeta still exists! Remember her? An eccentric but friendly roleplayer who copes with her loneliness by shipping her friends, with a moirail obsessed as ever with Aradia. This whole flash is a pretty great brief return to spotlight for many of the trolls killed in Act 5, and they all are the same as ever when we just got done meeting their exaggerated ancestors.
And here's the troll crowd at its fullest. Numerous ghosts of 23 different trolls plus a coy as ever Gamzee. Most of these outfits are regular, dream, or god tier, but there's some more humorous outfits and some that reference fandom memes. Just take a look for yourself in case you forgot all the wacky outfits troll ghosts are wearing in Ministrife.
Vriska and Meenah are both annoyed with this absurd crowd. Aranea tries to intervene.
ARANEA: Listen to me, 8oth of you! This duel is incredi8ly pointless! Surely there is a way for you 8oth to pursue your o8jectives without conflict.
ARANEA: In any case, I don't have time to moderate your ridiculous fight. I have a cheru8 to find!!!!!!!!
VRISKA: I couldn't agree more! Making him think we're all looking for the cheru8 is a very important part of the plan! I guess gr8 minds think alike.
ARANEA: No, 8ut I REALLY AM looking for her!
VRISKA: All the 8etter then. That'll really help sell the ruse.
ARANEA: It's not a ruse!!!!!!!!
Holy shit, I feel bad for Aranea. She's still trying to keep up the image that she's concerned with a mysterious and boring cherubquest even though she's obviously more excited about the other two parts of the plan.
Meenah and Vriska fight anyway to see whose plan wins. This stunning image transitions us to…
… Calliope's trollsona self-insert fanfiction???
I LOVE how Calliope's self-insert fic of all things is used as a transition device, doubling as a way to show what sort of stories our fandom satire cherub girl likes to write: existing scenes from the comic, but with Callie Ohpeee intervening so that she plays a role in the story's plot. The premises of Calliope's self-insert fics are all adorably amateurish and simplistic.
I love how the "S" in "BITCHES" written partly over the side of the book.
Now that his sister is dead, Caliborn has free reign to scribble over her fanfiction and tear it apart.
This funny little cherub moment shows us another self-insert fic, which transitions us to what John is up to. Sometimes you have to appreciate just how many different things can be used as transition devices in Homestuck.
John wakes up and it turns out he has the ring now.
The curtains finally close in for real on a Skaian cloud showing the mysterious ring in John's hand. A great wham shot to end this intermission on.
---
Time to recap Act 6 Intermission 3!
The main highlight of this act is the Openbound games, which to many readers are one of the worst parts of Homestuck. I liked Openbound Part 1 a lot; Parts 2 and 3 are fine on their own but the whole concept of troll walkaround games gets really grating near the end, which I assume is why a lot of people hate Openbound.
As I said before, Homestuck doesn't have any more proper walkaround games after Openbound. Going through those games, I'm totally fine that there aren't any more because these walkarounds did get tiring near the end. There was, however, one point in time where I badly wanted Homestuck to have another walkaround game. When Act 7 was announced to be only two pages, I thought for sure that it must be a huge walkaround because that was the only way I could imagine so many plot points could even come CLOSE to being resolved. Then I was kind of salty that Act 7 turned out to be a single flash. But what can I say, the epilogues were an EXTREMELY satisfying follow-up to Homestuck that made plot point resolution itself into a plot point so arguably it was all worth the frustration of Homestuck's non-ending.
Homestuck may have been done with walkaround games after Openbound, but its expanded universe sure wasn't. Imagine me ranting about how much it sucks that over the years Hiveswap has gone through such opaque development hell and unfulfilled promises. Now imagine me saying I'm going back on topic now to recap the rest of Act 6 Intermission 3.
Aside from the Openbound games, Act 6 Intermission 3 is largely an act of nostalgia, with plenty of scenes revisiting prior parts of Acts 1-5 in new styles. These scenes are a lot of fun, especially John's dream bubble fight against Jack Noir, but mix those with the Openbound games and you get an act whose pacing is all over the place. The strange pacing makes it hard for me to judge Act 6 Intermission 3 as a whole, I'm afraid to say. In the acts that follow, I'll be sure to see for myself if the end of Act 6 Act 3 really is a turning point in Homestuck's enjoyability.
The next standard act after this is Act 6 Act 5, which isn't a very well-liked part of Homestuck. Act 6 Act 4 is a single flash which I remember having kickass music, and Act 6 Intermission 4 is a short stretch of pages focused on Caliborn which I remember being an absolute laugh riot. My next post will cover both those acts, which will probably be a lot of fun. In the next post after that I'll start Act 6 Act 5.
See you next time as Caliborn meets the two most important characters in Homestuck.