< Part 91 | Part 92 | Part 93 >
Act 6 Act 4 + Act 6 Intermission 4
Pages 5438-5511 (MSPA: 7338-7411)
The whole Caliborn/Hussie arc is a lot more metafictional than I remembered.
I always forget how good of a song Even in Death is, holy shit.
Time to begin Act 6 Act 4 of Homestuck! Unlike Act 6's prior sub-acts, this one consists of a single flash. I think most people agree that it's a good change of page for the alpha kids' Medium exploration to be condensed into one flash, rather than another few hundred pages of dilly-dallying and romance drama. As with the trolls' arc, we don't really need to see the alpha kids' usual game progression (or in this case, lack thereof) all over again. A montage showing us a few scenes of the alpha kids exploring their planets and their Jack Noir counting his days in jail is all that is needed.
Viewed from a different perspective, this planet probably looks like the Xbox logo.
The bluish canyon in this image is a small part of the big purple X.
Three new planets are introduced in this flash. First off is Jake's planet, the Land of Mounds and Xenon. Better known as the Land of Hills and Stone Henges, or the Land of Stonehenges and a Big Purple X. The big X is an odd addition but it looks pretty cool, forming a pair of 360-degree canyons that intersect twice. Maybe the X is useful for planet navigation or something, who knows.
Jake's planet is dark and desolate much like Jane's, but not as lifeless. It has lots of mossy vegetation and civilization remnants based on real-world structures, most notably a bunch of red replications of the Stonehenge which matches with his last name. On a related note, you might already know that the planet acronym LOMAX is the same as the title character's surname from Weekend at Bernie's, one of Jake's favorite movies. Fitting because Bernie Lomax is a corpse through most of the movie and the alpha kids' planets are themed upon dead things.
Taking a closer look inside the planet, we find that the alpha kids' session has skeletal underlings rather than your usual enemies. The enemies don't look very easy to kill and get grist from, which doesn't help the alpha session's matters one bit. The dead aesthetic is pretty cool though.
The alpha kids did get enough grist, presumably through Jane's Grist Gutter or whatever it's called, to alchemize some cool clothes and weapons. Jake is carrying a pair of golden guns while wearing a sexy adventurer outfit, plus a Sweet Bro tattoo to match Dirk's Hella Jeff tattoo. Probably the most humorous way possible to demonstrate that they are together now.
Meanwhile on Prospit, the alpha kids' Jack Noir is tallying his days in prison. Do you know how CRAZY it is for there to be a Sburb session whose Jack Noir doesn't do anything? Not even managing Derse paperwork under the queen's command, there's a different agent handling that.
The lights on these pyramids are colored like Jane and Roxy's text. I should keep an eye out for more light colorings like this!
Roxy's planet, the Land of Pyramids and Neon, is a fun one. A desolate pyramid world on the surface, but with gorgeous neon light radiating from the pyramids and throughout the sky. On the outside it looks almost as lively as some of the beta kids' and trolls' planets, which makes sense because Roxy's always been the fan favorite alpha kid.
I like how Jane is casually walking around wearing a fake mustache now.
We see Roxy and Jane exploring LOPAN together and their fashion choices are interesting to me. Roxy's wearing a skimpy purple dress plus some tight black covers on her arms and legs, while Jane has opted for an arguably more masculine outfit. I normally find denoting characters as "masculine" and "feminine" to be meaningless at best and sexist at worst, but the contrast between Roxy's and Jane's outfits is very obvious. (Just so you know, I'm taking a more "just for fun" approach than usual analyzing this flash.)
The alpha kids may not have alchemized as much sick gear as the betas, but they do make good use of what they have. I bet Roxy's appearifier gun has more free reign now that they're in a void session where there's no way for the kids to accomplish anything useful until the beta kids arrive. Same reason their sprites have nothing predestined to prototype in them so Gamzee fills them all with troll corpses.
Dirk is so anime here it's unreal.
After another shot of Jack tallying days in prison, the new planets are rounded off with the Land of Tombs and Krypton which is easily the wildest of the bunch. It's a great planet-establishing shot to see Dirk jump out of a building dressed in full anime gear plus a gas mask. Unlike the other three planets, Dirk's planet isn't a free world of exploration but a complex maze of tombs loaded with toxic gas where getting to the surface is but a daydream. Kind of a good metaphor for Dirk's character, especially with all his splinter selves.
I barely know anything about anime boys, regrettably enough.
Dirk and Jake exploring tombs together is quite the sight. Dirk looks like the ultimate breathtaking handsome anime swordsman, posing just like his pre-scratch self always did. And Jake looks like the anime swordsman's dorky anime boyfriend, who is not quite as stereotypically anime but is most certainly anime by association. Dorky anime girls are a HUGE archetype so I'm going to assume dorky anime boys are as well. Please correct me if I'm wrong.
(This is extremely off-topic, but I'm normally more a fan of the stuck-up smart girl archetype than the dorky girl archetype. Just saying in case you thought otherwise.)
Yodelbooger in all his glory.
These shots of Dirk and Jake are followed by a statue depicting Yaldabaoth, who is Dirk's denizen. Aside from looking cool, I think this image is shown to prepare readers for learning about Caliborn's denizen, who is also Yaldabaoth. We'll learn about this denizen quite a bit in Act 6's next few sub-acts.
153 tally marks. Very easy to do the math.
On Jane's 16th birthday, the tip of Jack's Prospit spire breaks off and he stares longingly through the window of his jail cell. This is the second time in rather short succession we get to see a version of Jack Noir from a more pitiable perspective.
The flash ends with a zoom out to Skaia, showing the alpha kids' rather barren Incipisphere in full view. The planets are rendered in the same style as in several flashes focusing on the beta kids, which is rather nostalgic.
This zoom-out is followed by curtains, which is unexpected but also relieving, because I can't imagine how boring it would be to read these scenes with long-winded dialogue. Some content is just better presented without text. This is not meant as an insult, it's just a fact.
END OF ACT 6 ACT 4.
The curtains close in on the alpha kids' void session in full view. Act 6 Act 4 was a very short act and I like it that way. It's just one flash montage and that's really all it needs to be. A very fitting celebration for Act 6's first anniversary on 11/11. On to Act 6 Intermission 4!
---
You are now Caliborn.
(this image cracked me up so hard)
It's only natural that an oddball act is followed by an oddball intermission. Unlike Act 6's prior intermissions focusing on the cast of the first five acts, Act 6 Intermission 4 is focused on Caliborn. This image above shows Caliborn leaving behind a trail of his sister's book pages to wipe off his blood, and tells us this intermission is going to be loads and loads of fun.
As Caliborn walks, the narration has such gems as:
You love having a dead sister. Having a dead sister is an experience you would highly recommend to everybody.
and:
It's hard being a cherub and growing up with lots of weird magical rules that nobody understands and have no discernible origin or purpose.
It's hard being a cherub and growing up with lots of weird magical rules that nobody understands and have no discernible origin or purpose, and nobody understands.
Caliborn's narration is so absurdist and filled with self-deprecating callbacks, I love it.
God, I love Caliborn so fucking much.
You peer at your former prison through the scope on your MACHINE GUN. You aren't really supposed to hold the gun by the magazine like that, but whatever.
There's the CRUXTRUDER. It was the only device available to be deployed. You're pretty sure there were supposed to be more devices that went with it. But you guess your game session is a little different?
You were also under the impression there were supposed to be gates directly above your home. But you don't see any. Maybe if you look higher…
I find it interesting that Caliborn knows these basic facts about Sburb—facts you'd know only if you've read Homestuck and cared enough about it to properly digest it—and isn't embarrassed that he knows those facts. It shows that he doesn't quite represent generic Homestuck haters, but rather fans of the comic who are tsundere about it and/or don't care about details like troll castes or classpects.
(I am so happy "tsundere" is part of my everyday vocabulary now. Having "tsundere" in your vocabulary is an experience I would highly recommend to everybody.)
Caliborn also observes the clouded Skaia and Prospit. His narration says:
You guess Jack Noir could still be up there too. You'll have to catch up with him later for a debriefing. He has been very useful. You may need his service again some time.
It's rather genre savvy of Caliborn to keep his Jack Noir handy. You'd think someone with such a twisted up mind would just walk aimlessly destroying everything in his path, but this guy knows what's useful and works well under such minimalist conditions.
Now that you think about it, you believe your entire planet may have been sucked into the Medium, not just the cruddy statues. The landscape is very similar, minus the bright red glow from the supergiant. Add one more item to the list of things you don't understand. You thought you were going to be sent to a cool new planet, unique to you and your adventure. Some sort of amazing new magical place you could conquer, not the same old barren ball of shit you grew up on. At least that is what Calliope had you believing. You think she was probably a liar, or just really stupid. Or both, times infinity.
Caliborn isn't immune to perusing and taking thoughts from annoying Homestuck fans, which is to say Calliope. He can understand his sister's theories just fine, as long as it's something he can bring himself to care about.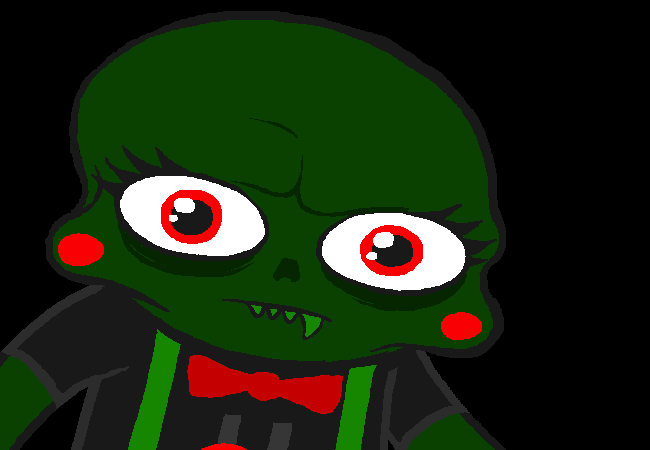 Today is your first predomination day, and as with all zero preceding it, something feels…
Something feels
Er.
What
What are you looking at?
Caliborn gets a callback to the comic's poetic title screen sequence, kind of like the one Karkat got at the start of the trolls' arc but way more ridiculous and nonsensical.
You have a feeling it's going to be a long walk.
Just as John had a feeling it's going to be a long day and Karkat had a feeling it's going to be a long night, Caliborn has a feeling it's going to be a long walk. I can't say I really understand Hussie's book commentary claims that Eridan was a prototype for Caliborn. Karkat is by far the troll most like Caliborn.
Caliborn gets a message from Roxy and realizes he has his sister's computer in his sylladex.
Oh, right. It's your sister's computer, still stored in your shared sylladex. You never understood what a kid chained to her bedroom needed with a portable computer. It made you mad how stupid that was.
If you're a really attentive reader, you'll recognize this as Gamzee's husktop. Kind of an amusing hint that Gamzee was the one who raised the cherubs. Being the wise clown uncle he is, he surely thought it a courtesy to pass his computer down to his cherub kids just like Rose did with Jaspersprite.
Caliborn walks away, ignoring Roxy's message. We get to read her message and it's very endearing and rambly.
TG: so yeah we all finally entered our game
TG: i think i was being the worst kind of turd 4 opposing the idea so long
TG: guess i thought i was being noble
TG: like sacrificing something that was important and we all wanted anyways just so i could fuck with the witch and her plans
TG: but i dunno what i was thinking
TG: cause this shit here is p great i have got to say
TG: now we are all of the sudden in this crazy place full of pretty green hills and a black empty sky
TG: i never actually seen anything like plants growin or a country side
TG: its so peaceful and quiet here
TG: i mean the racket my loudmouth pals are makin notwithstanding
TG: we are just chilling at jakes old broken house on a mountain figuring what to do
TG: lol this all happened so fuckin fast!
TG: i cant believe were all together like this suddenly
TG: just
TG: hangin out
TG: in actual person
TG: in our moon jammies
TG: this is better than i ever thought it would be in the silliest and stupidest way
Roxy's monologue is a great way to show readers what happened right after the alpha kids entered the game. She's just so happy getting to meet all her friends in person and regrets opposing it for so long. I guess Roxy just never knew how great it feels to meet all your friends in person until now.
As Caliborn walks away further, Roxy humorously recaps the events of the Unite Synchronization flashes. It's mostly stuff we already knew, but then we get this little bit:
TG: and then we get to jakes place and shit everywhere is on fire and hes asleep there so dirk splashes him with a bucket of ocean and tells me and jane to hide??
TG: so we do and jake wakes up and starts arguing with dirks gross head from the fucking future and climbs up on this stone wall for some reason and just starts making out with the head while the volcano explodes???
TG: jane and i are like what the absolute FUCK while dirks just there with his bucket all like 'yup'
TG: then we ollied out of that popsicle stand so now here we are
TG: wow
TG: that story is a goddamn mess
TG: what did i even just say
As Roxy points out, most of what happens in those two flashes makes no sense out of context and I love it. She accurately describes it all as "machiavellian/heroic XTREME STRIDER BULLSHIT".
This image is SO FUCKING FUNNY.
Continuing the running gag of renaming animals to the opposite gender, Roxy immediately thinks of the firefly sitting on her head as a boy and names him first Doctor Blinkbottom then Twinkly Herbert.
This image is even funnier than the last one. Sometimes pictures say more than words ever could.
TG: not even ten stinkin mins into our magic bestfriendquest and theyre already jacking up the drama
TG: need to flag down the dramambulance
TG: haul these fuckers away
TG: wow they are really being so absurd
TG: maybe its just cause im not tipsy atm but this shit is like hells of amateur hour to me r now
TG: maybe if i wasnt as sober as a nun gettin slapped by a librarian i wouldnt even notice?
Not even ten stinking minutes into their magic bestfriendquest and Roxy has already proven herself to be the only party member who's both sane and competent.
TG: fa reals tho may i just say
TG: dying is a hell of a way to sober up quick
TG: got 2 remember that trick
TG: so hey wake up soon!!
TG: i will try again later
TG: must deal w some shit now
TG: urgh
TG: i think
TG: i could use a drink
tipsyGnostalgic [TG] ceased pestering undyingUmbrage [uu]
And that's a great note to end the alpha session's starting moments on. What a beautiful sequence.
Caliborn then looks at the blinking light and notices…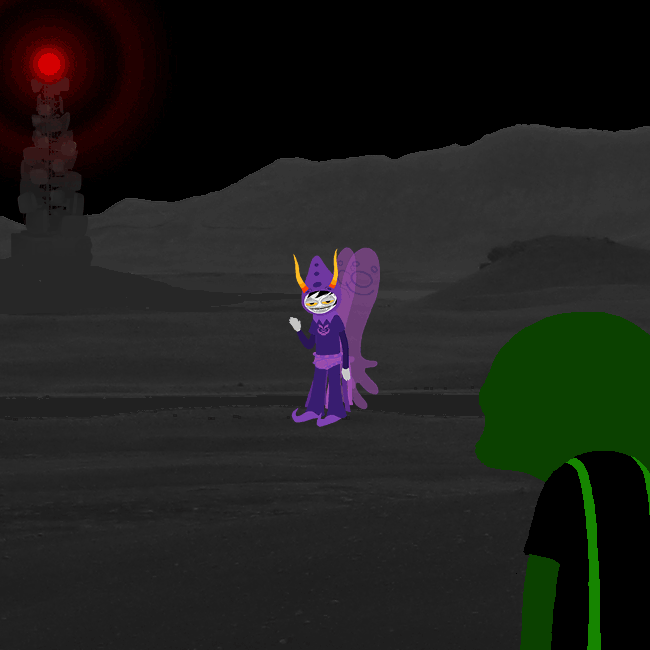 The bottom part of Gamzee's wings is shaped a bit like John's harlequin doll. Very fitting for the plot-armored troll.
GAMZEE????
What the actual fuck is this guy doing here?!
Unlike last time we saw Gamzee out of nowhere, he has wings on his fake god tier suit—the same wings we saw him with in Ministrife. And this time, we don't have any visual clues on how he got here like Aradia's time travel music boxes. Even today we don't know how Gamzee entered Caliborn's session. The most likely explanation is that when B2 Jack Noir's head exploded, the black hole took Gamzee inside the fridge (plus the crowbar) to Earth in the distant future.
We get a short interactive page calling back to last time Gamzee appeared out of nowhere. Caliborn and Gamzee stare each other down, then this happens:
I'm…
I'm speechless.
Caliborn is truly a character like no other. It's not enough that he kills the first living being he encounters. No, he brutally guns Gamzee down for four consecutive flashes until both his wings fall off and he rests on the ground, dead.
Caliborn probably knows that you aren't really supposed to kill the first living being you encounter in your game, and figures that shooting Gamzee once will probably be useless. So he fires at Gamzee for five minutes until he's confident that the clown is extra, unambiguously 100% dead. A good demonstration of his rule-bending tendencies.
As Caliborn walks toward the command station, the narration starts to blatantly lie about his thoughts and feelings. The narrator claims he deeply regrets killing Gamzee; Caliborn quickly figures out what's going on.
I love how Caliborn types slowly and meticulously while Hussie types quickly like a normal person would.
No way!
Then who would describe what you're thinking and feeling?
NOBODY.
I CAN THINK MY OWN THOUGHTS JUST FINE.
THEY ARE LESS STUPID AND CONDESCENDING. THAN THE THOUGHTS YOU TELL MY BRAIN TO HAVE.
But your thoughts are shitty!
You should be grateful to have someone to spice them up for you.
NO. WHAT'S SHITTY. IS YOU.
AND WHAT'S ALSO SHITTY IS THIS SHITTY PIECE OF SHIT MACHINE YOU LIVE INSIDE.
I don't live inside this thing, you idiot.
This is just sort of like a radio tower. It receives and transmits signals.
That's kind of obvious?
IT'S NOT OBVIOUS. IT'S DUMB AND CONFUSING.
I DEMAND TO KNOW WHAT'S GOING ON.
TELL ME.
Gamzee could have told you a lot of stuff.
WHO??
I can't believe you shot him like that. What's the matter with you?
He was literally the first living being you ever met in your whole life, and you gun him down without a single word?
You've got some problems.
OH. THE CLOWN.
HE WAS DREADFUL AND PURPLE AND NEEDED TO BE EXTERMINATED QUICKLY.
He was a huge fan of yours and was really looking forward to meeting you.
He wanted to help you with your quest.
THIS IS MY PLANET. NO ONE ELSE CAN LIVE HERE. I DON'T NEED HELP.
Yet you want me to tell you what's going on?
YES. TELL ME IMMEDIATELY.
Nah.
Turns out Caliborn doesn't necessarily kill everything in his path; he's just weirdly prejudicial against clowns. What is even bad about clowns? I mean, aside from killing half their friends and causing abominable misfortune across paradox space. Clown prejudice is just one of many hurdles Caliborn must learn to overcome.
AUGH.
What?
I'M GETTING FRUSTRATED. BOTH BY YOU. AND THIS FUCKING KEYBOARD.
What's the matter with it?
IT'S MAKING IT IMPOSSIBLE TO TYPE MY QUIRK.
No it's not.
YES. THE CAPS LOCK KEY APPEARS TO BE PERMANENTLY DEPRESSED.
HOW DO I MAKE IT NOT LIKE THAT.
It's locked.
You need a key to unlock it.
You need keys to unlock a whole bunch of features on this tower.
WHERE IS THE KEY.
How should I know???
BECAUSE YOU ARE AN INFURIATING FONT OF KNOWLEDGE ABOUT MANY THINGS. INCLUDING MY OWN BRAIN BEHAVIORS.
Why should I tell you everything?
Find your own fucking keys. It's your quest, remember?
NO, BUT TYPING LIKE THIS IS BAD.
IT'S REALLY THROWING ME OFF.
I don't understand the problem.
I CAN'T MAKE MY U'S LITTLE.
No, I got that. But caps lock should make it easier.
You do realize when caps lock is on, you can hold down shift to make letters lower case, right?
WHAT.
NO.
I DON'T USE CAPS LOCK. I THOUGHT IT WAS SUPPOSED TO BE LIKE A TRAINING KEY FOR RETARDS.
A training key?
MAYBE ALSO FOR GIRLS. FOR WHEN THEY GET HYSTERICAL AND MAKE THEIR LETTERS SHOUT.
Ok, got it. Really great theories there.
So… how do you usually type then?
JUST. NEVER MIND.
Hang on. Are you saying you hold down shift with one hand, while hunting and pecking for all the letters with the other?
And whenever you type a 'u' you just let go of shift??
I SAID NEVER MIND.
Wow.
Caliborn is such a treasure. He gets by life without understanding severely basic tasks, which again reminds me of Karkat.
OK LOOK.
I CAN ACKNOWLEDGE THAT THE METHOD YOU PROPOSED IS A LOT MORE EFFICIENT AND SENSIBLE.
I JUST HAVE MY OWN STYLE.
THAT I'M COMFORTABLE WITH.
AND ALSO.
I JUST NEVER THOUGHT OF THAT.
How old were you again?
FUCK YOU.
OK, THE THING IS.
DON'T TELL ANYBODY I SAID THIS.
BUT.
I'VE ALWAYS HAD A LOT OF TROUBLE.
AT.
LEARNING STUFF.
Yeah.
I know.
Caliborn is an inspirational figure and no one can tell me otherwise. His brain works in strange ways, but that doesn't stop him from becoming a mighty proud artist. As he ascends through the tiers of artistry, he tells readers they can accomplish anything if they put their mind to it, no matter what they think their talents may be. His evolution and improvement as an artist is a surprisingly realistic depiction of what it's like to take on a form of art you're wholly unfamiliar with and become good at it through perseverance.
Caliborn looks very determined as he figures out an easier way to type.
FUCK IT.
I'LL JUST TYPE IN ALL BIG LETTERS. EVEN THE U'S. WHO CARES.
Aw, looks like someone just took his first big step toward growing up!
ACTUALLY, TYPING THIS WAY IS A LOT EASIER. LOOKS LIKE I WIN THIS ROUND ASSHOLE.
Win what? I was the one advocating the use of caps lock in the first place, doofus.
Part of becoming an artist is discovering better ways to do things and perhaps sacrificing techniques you thought were vital. Caliborn discovers it's way easier to type without lowercase U's and doesn't feel unnatural typing that way like trolls do, or his sister who likes to pretend she's a troll.
You may be destined for bigger things, but you're still an atrocious, stupid child.
And you may have won the "game" with your sister, but that doesn't mean it was the best thing for your development as a person.
You had her dream self killed, which is not an opportunity your species typically gets. So she died prematurely, instead of allowing the conflict within you to settle itself naturally.
In short, you forced your predomination to happen a little too early, and now you're stuck.
STUCK?
Yes. Your personality is stuck in some sort of cantankerous prepubescent limbo. You are going to be a stunted, miserable tool forever.
WELL, HOW LONG WAS I EVEN SUPPOSED TO WAIT. FOR THAT TWEE BITCH TO GET OUT OF MY SKULL.
It's kind of sad. You don't really know anything about your own species, do you?
AND I GUESS YOU DO?
Uh, yeah?
Pretty much everything.
TELL ME THEN.
No.
GOD. DAMN IT.
Premature predomation is another hamper Caliborn eventually gets past: he becomes a big tough skull monster through amalgamation with a muscular sprite and an unbelievably strong clown, plus a horde of other powers to approximate what adult cherubs are supposed to look like. It's too bad that Lord English's pride falls apart after he kills Hussie and travels through the Furthest Ring, but Caliborn's glory years shall never be forgotten.
(Between the debate surrounding Calliope and Caliborn's age and maturity and their questioned capacity for human romance, most people agree it's for the best Roxy and Calliope's relationship was left ambiguous.)
I like how you'll only notice Gamzee isn't quite dead if you look closely.
THIS DIALOGUE IS GIVING ME A HEADACHE.
BETWEEN YOUR PASSIVE AGGRESSIVE OBSTINACY.
AND YOUR BIZARRE MOTIVATIONAL DIATRIBES.
AND THE FACT.
THAT I'M HAVING A HARD TIME TELLING OUR TEXT APART?
What?
You are?
KIND OF.
Well, here's a hint. You're the one typing in capital letters.
You're also the one typing in surly, brief, stilted sounding phrases.
NO, BUT THE COLORS ARE TOO SIMILAR.
I KNOW THAT SOME LETTERS ARE BIG. AND SOME ARE SMALL. HOW DUMB DO YOU THINK I AM.
I JUST HAVE AN EASIER TIME THINKING IN COLORS.
What does that even mean, "thinking in colors?"
I TOLD YOU. MY BRAIN WORKS DIFFERENTLY, SO SHUT UP.
Thinking in colors is likely something Caliborn has in common with his sister. When Calliope sent him old pesterlogs back when she was still alive, Caliborn probably felt horribly spited and pandered to because he knows he reads things far more easily when they're formatted with bright colors.
Hussie explains that to change his text color, Caliborn needs to solve a puzzle and connect the right wires together. Then we get this passage discussing Gamzee:
What you really need is a guide.
A mentor, of sorts.
Too bad you shot that clown.
STOP TOUTING THE WISDOM OF THAT IMBECILE WITH THE DISTURBING UNDERPANTS.
THE ONLY THING HE HAS TAUGHT ME. IS HOW TO RECEIVE HUNDREDS OF BULLETS THROUGH THE TORSO. IN THE LEAST DIGNIFIED MANNER POSSIBLE.
AND ALSO. A CRASH COURSE IN DYING A PAINFUL DEATH. HOPEFULLY.
Sorry to disappoint you.
He's not dead.
WHAT.
What did you expect? He's clearly a god tier.
BULLSHIT.
Haven't you ever seen a god tier before?
You do know what that is, right?
YES, I KNOW WHAT THAT IS.
Then you know he's immortal, and can only die under very specific circumstances.
Guess there's no point in trying to kill him!
BUT HIS WINGS FELL OFF!
I SAW THEM FALL OFF.
Hmm.
Yeah. I guess they did.
So?
SO. I THINK. HE'S PROBABLY FAKING.
Oh please. Paranoid much??
Why would anyone go to that kind of trouble? What would be the point?
He would have to be such a jackass to do that.
I DON'T KNOW WHY HE'S FAKING.
I JUST KNOW THOSE WINGS WERE BOGUS PIECES OF SHIT. THAT WERE LIKE. STRAPPED ON.
WHICH MEANS. HE IS A FRAUD.
Caliborn doesn't care about the why. He only cares about the what, which allows him to cut to the chase and figure out the rules. As such, he doesn't have any trouble processing the idea that Gamzee made a fake god tier outfit.
Bloody Gamzee is extremely disturbing, whether it's text or visual.
If you don't believe me, just see for yourself.
HUH?
You made the rookie mistake of turning your back on the body.
OH MY GOD.
HOW CAN HE POSSIBLY STILL BE ALIVE???
See? Fit as a fiddle. Barely a scratch on him!
Just please don't shoot him again, ok?
Turning your back on the body is one thing Caliborn never quite learned not to do. Hussie goes on to explain Gamzee's strange immortality:
Say it with me.
"You can't keep down the clown."
NO, I WON'T SAY THAT.
SAY IT!
"You can't…"
GO FUCK YOURSELF. JUST TELL ME WHAT IT MEANS.
It means crazy clowns just won't die for some reason. In adventures such as yours, they tend to linger long past their welcome.
They linger and linger and linger, and just when you think you're totally fed up with their bullshit and you can't take another second of it, they just linger some more.
And you never know what they're up to, and they're always scheming in the shadows, and it's quite possible that whatever master plan they're hatching just doesn't make the slightest bit of sense at all.
But it doesn't matter. It doesn't matter how stupid the clown's schemes are, or how sick of him everybody is.
He just. Won't. Die.
THIS IS. HONESTLY? THE WORST SALES PITCH FOR A MENTOR. THAT I HAVE EVER READ.
Granted!
But come on. Just let it slide this one time? Please?
Just no more shooting. You can slap him around if you want. That's fine. But shooting is off limits.
WHY.
Because you can't kill him! He's the most important character in…
IN WHAT.
Well, ok. Maybe not the MOST important.
But he's still really important!
What Hussie is trying to tell us is that Gamzee's clown immortality is the concept of "plot armor" taken as literally as possible. Gamzee is now the ultimate farcical plot device, used as the standard fallback character to fulfill plot points in Caliborn's quest and to show his gradual character development.
Gamzee hands Caliborn a Skaianet power hub to help him out with connecting wires, but Caliborn shoots him again. I wonder where Gamzee got the hub? Maybe he looted it from Roxy's house during the alpha session, just like Vriska did with the fenestrated walls after the retcon.
You mother fucker.
HE LOOKED AT ME FUNNY.
Yeah.
Want to know why?
BECAUSE HE'S A FUCKING CLOWN.
DO NOT TYPE IN BIG LETTERS. IT CONFUSES ME.
Sometimes it's easy to forget the typical mannerisms of regular, normal clowns that don't involve assembling bogus god tier outfits or selling jars of troll blood as they were magic potions. One day, Caliborn will be down with the clown too. It'll just take a bit of warming up.
Why do you have to be like this?
Why can't you just be down with the clown?
I DON'T KNOW.
I LIKE SHOOTING HIM.
HE JUST HAS THIS. PERFECTLY SHOOTABLE TORSO.
HEY. WHAT THE FUCK IS THIS HORRENDOUS MUSIC.
What. You don't like it?
IT IS WITHOUT A DOUBT. CAUSING ME MORE PAIN. THAN WHATEVER THIS UNKILLABLE CLOWN IS FEELING RIGHT NOW.
Well, whenever you shoot the clown, I play the elevator music.
OH FUCK. NO!
That's the deal.
Either shoot the clown and face the music, or put on your fucking big boy suspenders and stop trying to murder him.
I love that Hussie immediately realizes he can bribe Caliborn not to shoot Gamzee by torturing him with elevator music. This guy is susceptible to the most ridiculous weaknesses, I swear.
With the hub plugged in, all the monitors now have power. One is unlocked already; the rest need to be unlocked with keys. The unlocked screen shows a picture of dream Calliope's corpse, and Caliborn says he's been wanting to change his text color to that of his sister's blood. All he has to do is pick a color with his mouse.
Please don't tell me Gamzee is sexually aroused by any of this.
Unfortunately, the mouse is quite possibly the least convenient type of mouse anyone could ever use. It's a trackball mouse welded to the counter, and because the monitor is so high Caliborn has to weirdly twist his body to be able to use it.
I CANNOT BELIEVE THIS.
WHAT SORT OF ASSHOLE. WOULD SET UP A WIRELESS MOUSE.
AND THEN WELD IT TO THE COUNTER.
That's a hell of a question.
OHHH.
OHHHHHHHHHHHHH.
I AM SO. SO. PISSED OFF AT THIS.
WHO IS RESPONSIBLE FOR THIS NIGHTMARE.
I dunno.
Someone who thought it would be funny watching you struggle with a shitty trackball mouse welded to a counter?
I DEMAND TO KNOW.
WAS IT YOU.
IT WAS YOU. WASN'T IT.
Maybe.
"Maybe" is the correct answer. Obviously Hussie is the author of Homestuck, but in-universe we have no way of knowing who built the command tower and it doesn't make much sense for it to be Hussie's self-insert.
MARK MY WORDS. WHOEVER YOU ARE.
SOME DAY I WILL TRACK YOU DOWN. AND KILL YOU.
You already did.
LIAR.
It's true. It already happened in like the quasi-future.
UH. WHAT.
For someone who's supposed to be a Lord of Time, you really kind of suck at thinking 4th dimensionally.
Let alone 5th dimensionally.
You've got a long way to go, kid.
QUIET. YOUR NONSENSE IS DISTRACTING.
I can't think of a single thing Caliborn says he will do in the future that turns out just to be bluffing. This guy is amazingly true to his words—as Hussie says, we already know that Lord English did indeed track him down and kill him.
OK. THERE.
WAIT.
THIS COLOR IS ALL WRONG. IT'S TOO MUDDY.
Yeah. The environment is pretty grim up there.
Skaia doesn't provide very good lighting when it's all clouded over like that.
Just bump up the brightness on the display.
The image above was first seen before Calliope was revealed not to be a troll and it's beautifully misleading. The blood looks like a muddy shade of green not unlike the colors of troll blood…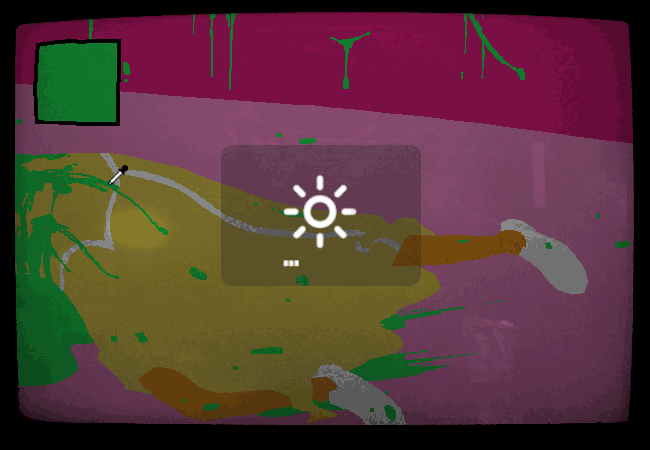 … but when the image is brightened, we get to see Calliope's true blood color. It's a very bright shade of green, the exact same color Lord English spoke in.
OK. HOW'S THIS.
That looks better.
Wait, let me check.
Ok, yeah. #2ed73a. That's correct.
WHAT.
That's the hex code for the color.
WHAT THE FUCK ARE YOU TALKING ABOUT.
It's the numerical representation of the color in hexadecimal format.
OK. SO??
So I was just double checking to make sure it was right.
AND.
It was right.
THIS IS A PARTICULARLY AGGRAVATING TANGENT. TO AN ALREADY GHASTLY CONVERSATION.
I'M DEFINITELY GOING TO FIGURE OUT WHO YOU ARE. AND HOW TO KILL YOU.
Despite all his character development, Lord English later ends up killing Hussie the exact same way he had tried to kill Gamzee. Maybe seeing the sarcastic command station guy being pompous as ever reminded him of simpler times? Or maybe he just lost his usual personality beyond being a huge brute after becoming Lord English.
Next up, Gamzee gives Caliborn another gift.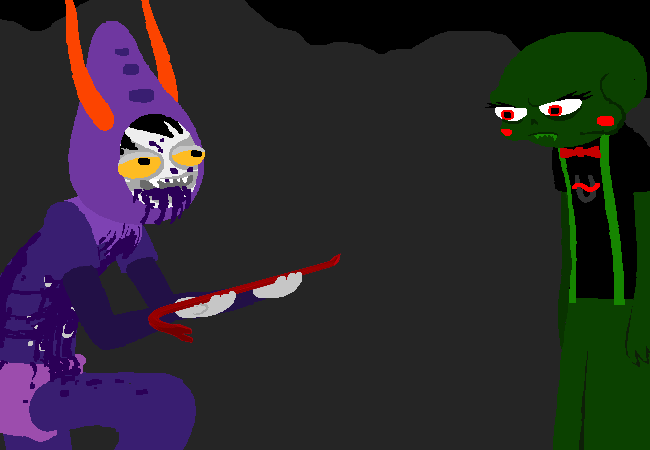 WHAT IS THAT.
What does it look like?
It's a magic crowbar.
WHY IS HE GIVING IT TO ME.
I'm not sure.
I THOUGHT YOU KNEW EVERYTHING.
I know a lot of things. But I don't always understand his motivation for doing the stupid things he does.
WHY NOT.
I just don't.
Like one time? He sold a girl some potions. I have no idea why he did that.
POTIONS?
Yes potions.
He also threw some corpses into a sprite to revive them, and fused their identities to create a disturbing freak of nature.
I'm still not really sure why he did that. Probably just to fuck with everybody.
WHAT CORPSES.
It doesn't matter what corpses. Just some corpses, ok?
The point is, he probably didn't even have any reason for doing it. He was just being weird and capricious.
But that doesn't mean it didn't end up serving an important purpose anyway.
After the fused corpse sprite exploded, both of their ghosts got fed up and decided to start working together.
And now they're doing some important stuff in the afterlife. But I kind of doubt this clown had any idea that would happen.
Or maybe he did? Who really knows with clowns.
Here's a funny bit where Hussie speculates on Gamzee's motives. I love how even the author can't come up with a logical explanation for why Gamzee did anything he did. Gamzee's plot armor comes in two forms: armor that prevents him from dying (which is what plot armor usually means), and armor that prevents anyone from figuring out his motives (which is a definition I made up just now).
HOLY FUCK. WHO CARES ABOUT THIS.
WHAT ABOUT THE CROWBAR.
What about it?
YOU SAID IT WAS IMPORTANT.
It is important.
But I don't know if HE knows that.
I BET THAT CROWBAR IS A USELESS PIECE OF GARBAGE. I WILL NOT ACCEPT IT.
Maybe he heard you bitching about the wireless mouse being welded to the counter, and he's giving you something to pry it off with?
Here's a case where Hussie can easily guess Gamzee's motives. It's surprisingly sweet of him to keep doing Caliborn favors. But Caliborn has a much better idea:
Callback to Doc Scratch beating up Spades Slick.
Gamzee is resilient because he's useful to the plot; Slick because he's an enormous fan favorite.
Hey! Stop that.
What did I say??
YOU SAID SHOOTING THE CLOWN WAS OFF LIMITS.
BUT I AM STILL PERMITTED TO SMACK HIM AROUND.
I'M JUST FOLLOWING THE RULES.
That's true.
Ok. I'll allow this.
YESSSSS!
Caliborn continues to demonstrate his mindset of bending rules by taking whatever way he can to beat up Gamzee. He immediately saw the crowbar not as a tool to pry things, but as a foolproof way to break anything. That's exactly the role the crowbar plays, and has already played, in the plot of Homestuck. It's also what Caliborn uses to beat up his denizen and destroy his clock to gain unconditional immortality.
Related to the topic of crowbars, many members of the Felt don't technically have magic powers but rather own objects with time powers that match their names, like Die's doll or Quarters' coins. But Crowbar subverts even that because his role in the story is not as the guy who pries things open or as the guy who uses his crowbar to break jujus—rather, he's an intelligent leader who makes a perfect rival to Spades Slick.
On the next page, Hussie changes his mind and plays the elevator music extra loud. This humorous moment shows Hussie isn't a force of paradox space like what Caliborn is used to.
This page was slightly edited to match Homestuck's move to homestuck.com.
The old version had a bottom bar with Hussie's self-insert in a dream bubble.
And how does Caliborn respond to Hussie's change of mind? He uses the crowbar to mess up Homestuck's website. This moment is so fucking good, it needs no explanation. Note that one of the pieces of candy corn from the website's top bar passes through the fourth wall and lands on Caliborn's counter. I never noticed that detail until today.
Thank you.
Now what exactly would you like to know?
EVERYTHING.
Everything is a lot.
Care to narrow it down a little?
OBVIOUSLY NOT THE BORING IRRELEVANT THINGS.
DEFINITELY NOT THINGS LIKE. WHO KISSES PEOPLE. WITH THEIR UNPLEASANT NONSKELETAL SMOOSHY LIPS.
JUST ALL THE THINGS THAT I NEED TO KNOW TO WIN THIS GAME.
That's not how adventures work though.
You don't just make some omniscient narrator inside a computer tell you everything all at once.
There's like this whole process to it. You reveal certain things at the right time, depending on whether the hero has met certain requirements and is ready to learn those things.
What you learn and what I tell you is more up to you than it is to me.
WHO CARES.
I DON'T WANT YOUR EXCUSES.
Aren't you excited about your adventure? About being unchained for the first time ever, and getting to explore this mysterious place, and meeting people and solving puzzles that will lead to the realization of who you were meant to be, and how you fit into this epic?
NO.
SO FAR. THE ADVENTURE IS BORING, AND FRUSTRATING, AND CONSISTS OF AN IDIOT IN A COMPUTER, AND A CLOWN WHO WON'T DIE.
I WANT TO KNOW WHEN I GET TO START FUCKING SHIT UP.
You'll definitely get to do that later.
WHEN.
Not long from now.
LIKE. IN A COUPLE HOURS. OR.
That's up to you. There are puzzles to solve all over your planet. Your mentor can help.
The sooner you do that, the sooner the fun will begin.
Hussie's self-insert is the best game guide character in Homestuck. Instead of being gleefully tight-lipped like sprites or space players, he explains through narrative tropes why he can't just tell the player everything he wants.
YOU REALLY AREN'T TELLING ME ANYTHING.
WE HAD A DEAL. I PUT THE CROWBAR DOWN. NOW TELL ME THINGS.
Why don't we narrow the scope of the Q&A then?
Try asking very specific questions, and I'll decide if it would be appropriate to answer at this time.
YEAH. GOOD IDEA.
THEN MY FIRST QUESTION IS.
WHAT IS THE PLACE.
The Medium. You are in your game session.
I KNOW THAT.
WHAT'S THIS PLANET, I MEAN.
It was called Earth.
EARTH. THAT'S IT?
Yes.
Weren't all the Statues of Liberty a dead giveaway?
If you see one or more shitty old Statues of Liberty on any post-apocalyptic wasteland planet, that automatically means it was Earth all along, as a rule.
Then when you realize that, you're supposed to have a mental breakdown.
I AM UNFAMILIAR WITH THIS RULE. AND SKEPTICAL OF ITS VERACITY.
I like how Hussie has to say as explicitly and unambiguously as possible that the cherubs grew up on Earth, not just to Caliborn but also to readers. He jabs at readers for not getting it before by talking about the trope where characters see a rusty Statue of Liberty, realize their desolate planet was Earth all along, and promptly freak out.
OK. WHY IS THIS MY PLANET IN THE GAME THOUGH.
Cause your kernelsprite turned into a black hole and sucked it into your session?
NO I MEAN. I THOUGHT I WAS SUPPOSED TO HAVE A COOL AND SPECIAL PLACE.
LIKE A LAND OF SOMETHING AND SOMETHING.
You do.
You just have to unlock it.
That is when your real quest will begin.
HOW DO I DO THAT.
You know. Finding keys. Solving problems.
All the potential for extraordinary achievements in your quest must be unlocked first.
We've been over this.
WHERE DO I FIND THE KEYS.
I don't know.
LIES.
Why would I know that? You think I'm like an encyclopedia on key locations??
I got better things to think about than where all your stupid keys are.
Find them yourself. Better hop to it!
All this talk about finding keys and solving puzzles brings me back to Problem Sleuth. When Hussie says he has better things to think about than locations of keys, he's probably referencing how much Homestuck grew in scope from his prior comics and is now far more than just a tale of puzzle solving.
NO. MORE QUESTIONS FIRST.
WHAT AM I ULTIMATELY STRIVING TO UNLOCK.
TO MAKE MY REAL LAND APPEAR.
IS IT SOME SORT OF GIANT, FANCY KEYHOLE.
No. More like a big door.
A DOOR TO WHAT.
TREASURE?
Kind of.
What Caliborn ultimately needs to unlock is a big door, which again reminds me of Problem Sleuth.
If there's any treasure in there, it would be guarded by your denizen.
WHAT'S THAT.
A powerful monster that rules your planet, asleep in the core.
He appeared there the moment Earth got sucked into your session.
WHAT KIND OF MONSTER.
IS IT A DEADLY, CHALLENGING MONSTER?
Yes.
He is the deadliest, most challenging denizen of all.
He very rarely appears in game sessions, and is usually designated for the most naturally gifted warriors.
His name is Yaldabaoth.
Now this is a surprise reveal right there. Before this page, we had reason to believe which denizen a player gets is only a matter of their aspect. But now we know there's an exception for the strongest fighters of all. It makes sense in retrospect because Yaldabaoth is the only known denizen whose name isn't Greek, and because we know Dirk to be an insanely tough fighter. It's too bad his denizen doesn't play a role in the story other than reminding us Dirk is naturally tough.
Hussie explains more about Caliborn's denizen quest and The Choice and what do you know, I actually don't remember the order in which this all happens. I think Caliborn met with his denizen once to unlock his timed planet destruction mission, then again to kill him and reap the spoils? Or something like that. Aranea's going to helpfully explain all this in not too long.
SO WHAT'S SO TERRIBLE ABOUT THIS SESSION. ASIDE FROM THE FIRST STAGE BEING INSANELY BORING.
It's called a dead session.
SO.
So, there are three kinds of fucked up sessions, and yours is the worst.
There's a null session, which is pretty much a normal session that's doomed to failure.
Everything works correctly. The sprites are prototyped, the battlefield can evolve, the Forge is present, Skaia can gestate a new universe… theoretically.
But events conspire such that this never happens. Basically the players are doomed to fail.
Then there's a void session, which is the same as a null session, but without even having the potential for success.
Nothing is prototyped. The battlefield doesn't evolve. There's no Forge. It is completely inert.
It has no chance of bearing fruit, at least not without some sort of miraculous external intervention. Like a deus ex machina.
And then there's a dead session, which is a void session but worse. It's started by a single player. The kernelsprite collapses into a black hole, sucking the planet into it, and eventually the sun and entire solar system. There is no hope of creating a universe in such a session under any circumstance, not even with outside help. Victory and defeat in a dead session are dictated by totally different terms.
One way of looking at it is, if you're fortunate enough to even get your quest started, it will be like playing the game on the extreme difficulty setting.
Hope you're up for that!
OF COURSE I AM.
LET ME ASK YOU.
IF YOU WERE THE MOST DEADLY DENIZEN OF ALL.
WOULD YOU WANT TO MESS WITH…
Candy corn is a surprisingly good stand-in for sharp teeth, both in Problem Sleuth and Homestuck.
*THIS*???
Caliborn is more than ready to play Sburb in extra hard mode. I just love that he doesn't fear a single thing so far in this adventure.
Note the use of Gamzee's old typing quirk, to make extra sure we feel bad for him.
Oh great.
Now he's vomiting blood.
Are you satisfied?
You made this dear, sweet, pseudo-innocent juggalo vomit liter after thick, glutinous liter of nasty purple blood.
Hussie's lines about Gamzee make us feel surprisingly bad for him, except for a small lapse of humor when he says he's "pseudo-innocent" which is, well, the truth.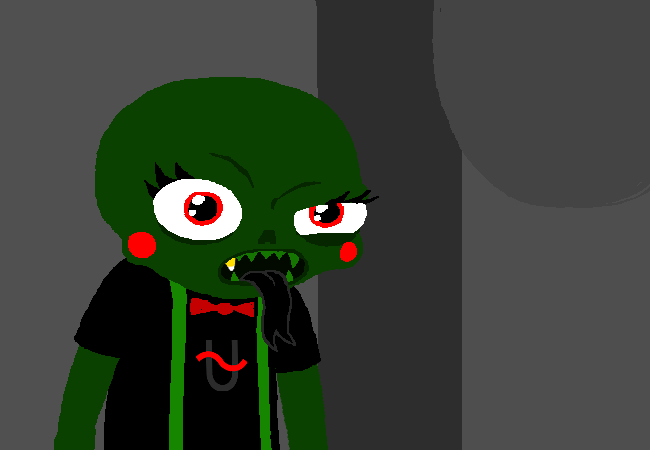 An exact retrace of the one time Calliope stuck out her tongue.
UUUGH.
I'm debating whether I should play the elevator music again.
Would that be funny? I'm not sure.
Kind of borderline, really.
And to top things off, Gamzee's in such bad shape that Hussie doesn't even want to play elevator music. I think I agree that it's a borderline case.
Gamzee pukes up some keys and even Hussie is confused:
KEYS?
What?
HE PUKED UP SOME KEYS.
That's weird.
What kind of keys?
JUST SOME REGULAR LOOKING KEYS.
WITH SOME KIND OF CLOWNY KEY RING.
Hmm.
Do you think they might work on this tower?
WHY THE FUCK ARE YOU ASKING ME?
HOW COULD THIS BE SOMETHING YOU DON'T KNOW.
Don't be that way. I'm just thinking out loud here.
SO YOU HAD NO IDEA THAT THIS WRETCHED FOOL SWALLOWED SOME KEYS.
INTENDING TO LATER REGURGITATE THEM IN FRONT OF ME. PROBABLY AS ANOTHER "PRESENT".
He's kind of like a loyal pet, isn't he?
Dragging ridiculous stuff into the house as gifts for his master.
Barfing up disgusting things on the carpet and beaming with pride over his generous offering.
Isn't that what you want from a devoted minion/mentor?
DID YOU. OR DID YOU NOT. KNOW HE HAD THESE KEYS.
Nope.
I'm just as surprised as you.
I DON'T BELIEVE YOU.
Hey, I told you.
I have no idea what that clown gets up to in his spare time.
I'm not even really sure how he got here, to be honest.
Maybe he stowed away in a shitty Liberty?
Or maybe he was just hiding in one of the ventshafts on your meteor when you entered? He had YEARS of practice to master that move, now that I think about it.
Gamzee's motives are so bizarre that one must cherish these rare moments when someone so much as speculates as to what they might be.
Upon Hussie's suggestion, Caliborn tries using keys on various slots and this comes up:
AH. YES. IT'S THIS BUMBLING TWIT.
WHERE IS HE.
He is in his game session, exploring his land.
HIS LAND LOOKS COOLER THAN MINE.
It is cooler.
THAT FUCKER. I AM SO GOING TO MESS WITH HIM. NOW THAT I CAN SEE HIM.
HEY.
WHY CAN I SEE HIM NOW? THEIR GAME WAS BLACKED OUT. LAST I LOOKED.
You were looking through a standard chat client viewport.
This tower's signal bypasses the field of void permeating the session.
As long as you find the right tower, the right monitor, and have the right key, you should be able to see anything in existence from this planet.
Caliborn is jealous of anyone whose situation sucks less than his no matter how stupid he thinks they are, which I guess means he has something in common with Eridan? I don't know, just throwing it out there.
He then tries another key:
IT'S THE DIRK HUMAN.
HE IS SOMEWHAT TOLERABLE. I MEAN. AS A STRONG AND COMPETENT MALE.
What. So you're down with the Dirk?
NO. ALL I'M SAYING IS. THE DEATH I WISH ON HIM DOESN'T HAVE TO BE ESPECIALLY PAINFUL.
IT COULD BE LIKE. GOING TO SLEEP. WITH MAYBE ONLY A SHORT SCREAM.
I think you want to be bros with him.
SHUT YOUR MOUTH.
I WILL TRY ANOTHER KEY.
FAN.
IN.
DENIAL.
Caliborn is just as loud and hammy about the character he likes as he is about characters he dislikes. He tries to downplay it by saying his favorite character is slightly less putrid than the others, but it's so obvious he sees Dirk the same way Calliope sees all of the alpha kids. This is exactly what happens when you like a work of media and are embarrassed about it, which is definitely not something that's ever happened to me oh my god don't give me that look.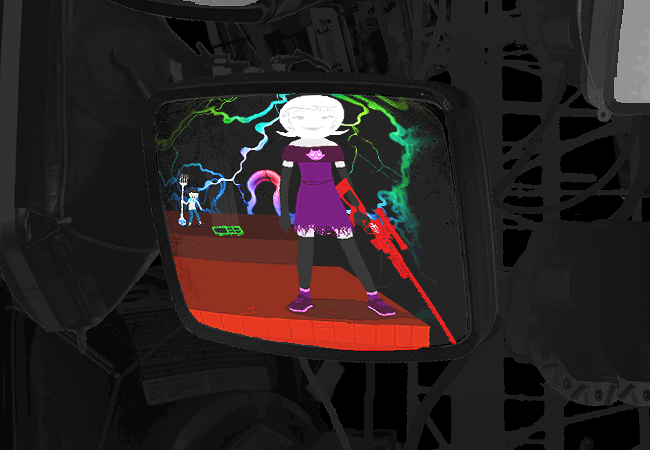 OH HO.
AND HERE IT WOULD SEEM THAT WE HAVE.
AN EXEMPLARY PAIR OF SAUCY BITCHES.
DO YOU THINK…
What?
NO. NEVER MIND.
IT WAS A FRIVOLOUS QUESTION.
Think what?
I WAS JUST WONDERING.
DO YOU THINK IT'S LIKELY.
IF I PEEK AT THEM FOR A WHILE.
THEY WILL BEGIN TO. MAYBE.
What?
STROKE EACH OTHER'S HAIR.
Ok, I'm leaving.
OR MAYBE.
WHAT'S THE WORD I'M THINKING OF.
YOU DO IT WITH ANOTHER LIVING TORSO THAT'S NEAR YOU. I MEAN, A TORSO YOU HAVEN'T KILLED YET.
WHEN ONE DARES TO ALLOW THE SEDUCTIVE SERPENT OF DEBAUCHERY TO SLITHER INTO ONE'S SARSWAPAGUS.
What the fuck?
I THINK IT'S CALLED.
"SNUGGLING"?
Bye.
Caliborn's sexy lesbian fantasies are so hilariously unfiltered I can't even take him seriously. Being hammy about characters you find attractive is another thing fans in denial are prone to do.
WAIT!
WHERE ARE YOU GOING.
I think you've got a handle on this.
You're warming up to the clown, or at least you stopped shooting him every thirty seconds.
So it seems like you're ready to accept him as your mentor and begin taking this quest seriously.
I FIND HIM MODERATELY LESS REPELLENT.
AND HE HAS PROVEN HIMSELF USEFUL. I GUESS.
I WILL ACCEPT THE RESILIENT BARD AS MY SERVANT.
Cool.
My work here is done then.
Try out some more keys. Then go exploring and look for more.
You'll get the hang of it.
— The narrative prompt has been locked. —
And just like that, Hussie's done guiding Caliborn for now. He did all he needed and would rather not sit through a word of Caliborn imagining Jane and Roxy making out.
Boy am I glad Gamzee's wounds heal later. I can hardly stand to look at him so bloody.
Caliborn smiles broadly as he tries one last keyhole and feasts his eyes upon this:
In Act 6 Act 4 we never quite got to see the alpha kids' Jack in full view. This image is quite a wham shot: we see his leg chained to his jail cell just like Caliborn once was, with a golden tooth also like Caliborn.
END OF ACT 6 INTERMISSION 4
And that's the image Act 6 Intermission 4's curtains close in on. A surprise shot that foreshadows through cherub parallels that B2 Jack Noir won't be harmless for much longer.
Act recap time, why not. Well, the little there is to recap anyway.
Act 6 Act 4 is just one flash montage of the alpha kids' Sburb session, which works better than it has any right to.
Act 6 Intermission 4 is probably the most intermission-like of the Act 6 intermissions. It's a short interlude between the beta and alpha kids' storylines that focuses entirely on Caliborn. It's an odd one out among the Act 6 intermissions that again works better than it has any right to.
See you next time in Act 6 Act 5 as Jane finally confesses her longtime crush on Dirk.