< Part 95 | Part 96 | Part 97 >
Act 6 Act 5, Part 4 of 6
Pages 5669-5712 (MSPA: 7669-7712)
Next post is the trickster arc. I am so fucking sorry in advance.
But who knows? Maybe it isn't that bad. I'll see for myself.
October 1, 2019 is the day I will migrate my entire blog to a custom web domain! Currently figuring out the details of how I will do that. (NOTE: The custom web domain is where you are right now. Before that date, I ran this blog on Blogger.)
Also, there will be no Homestuck post next week because I have two big school assignments due a week from now.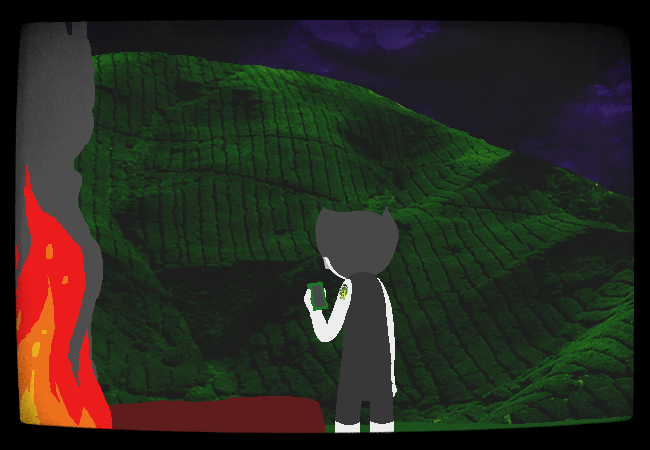 Jake answers Caliborn, who wants to have an earnest gentlemanly conversation with him.
uu: FEMALES ARE NOT BIOLOGICALLY EQUIPPED TO BEHAVE REASONABLY. AS PROVEN BEYOND A SHADOW OF A DOUBT. BY EMPIRICAL ASSERTION.
uu: THEY ARE VERY SHRILL AND INSANE AND DON'T MAKE ANY SENSE. THEIR EMOTIONS ARE OUT OF CONTROL AND THEIR FEELINGS NEVER SHUT UP.
uu: AND WORST OF ALL. GIRLS ARE VERY TRENCHANT TOWARD BOYS WHO WOULD KINDLY INFORM THEM OF THE WAY REALITY FUCKING WORKS.
uu: TALK ABOUT UNGRATEFUL. NO. THERE IS NOTHING WORTHWHILE TO BE GAINED. FROM CHATTING UP THE BITCHES.
uu: AS SUCH. IT IS MY SOLEMN BOYPLEDGE. THAT I WILL NEVER BOTHER SPEAKING WITH YOUR FOUL HUMAN STRUMPETS AGAIN.
Caliborn's sexism never fails to crack me up. It's just so much funnier than it has any reason to be.
Jake goes on a walk through the Land of Hills and Stone Henges as he talks to Caliborn, which gives us some nice scenery.
uu: THROUGH CAREFUL OBSERVATION OF YOUR PARTY. I HAVE DETERMINED THEY ARE BOTH USELESS. AND HOLDING YOU ALL BACK.
uu: ON THE OTHER HAND. BOTH OF YOUR MALE PLAYERS ARE PRETTY GOOD. THE OTHER GUY, AND HIS RED FLOATING MALE GHOST? THEY'RE SO STRONG. IT'S SO GREAT.
uu: I REALLY RESPECT THAT.
GT: Yeah. Dirk is a pretty tough cookie alright…
uu: YOU'RE NOT AS STRONG. BUT WHATEVER. YOU'RE ALRIGHT ANYWAY.
uu: LET'S FACE IT. COMPARED TO THE FECKLESS HOES. YOU'RE IN A CLASS OF YOUR OWN.
GT: But i thought you hated me!
GT: At least thats how i remember it when we last talked.
GT: Which was admittedly a while ago.
GT: Ive never been accused of having a photographic memory but i dont recall you typing in green either.
GT: Are you ripping me off bro??
uu: NO YOU FUCKING MORON.
uu: IF I STOOPED TO YOUR LEVEL. AND DECIDED TO JACK *ANY* PORTION OF YOUR SWAGGER.
uu: DON'T YOU THINK. YOU'D NEED TO EARN MY RESPECT FIRST???
Foreshadowing, am I right??? For some reason, I never realized until writing these blog posts how much the events of Caliborn's Masterpiece had been foreshadowed.
Continue reading