< Part 94 | Part 95 | Part 96 >
Act 6 Act 5, Part 3 of 6
Pages 5635-5668 (MSPA: 7535-7568)
Hell.
Fucking.
Yes.
Released this post a few days ahead of schedule because Pesterquest Vol. 1 is coming tomorrow. I don't know how much that visual novel series will impact these posts (or Homestuck's continuity in general), but I'm releasing this post early anyway just to be safe.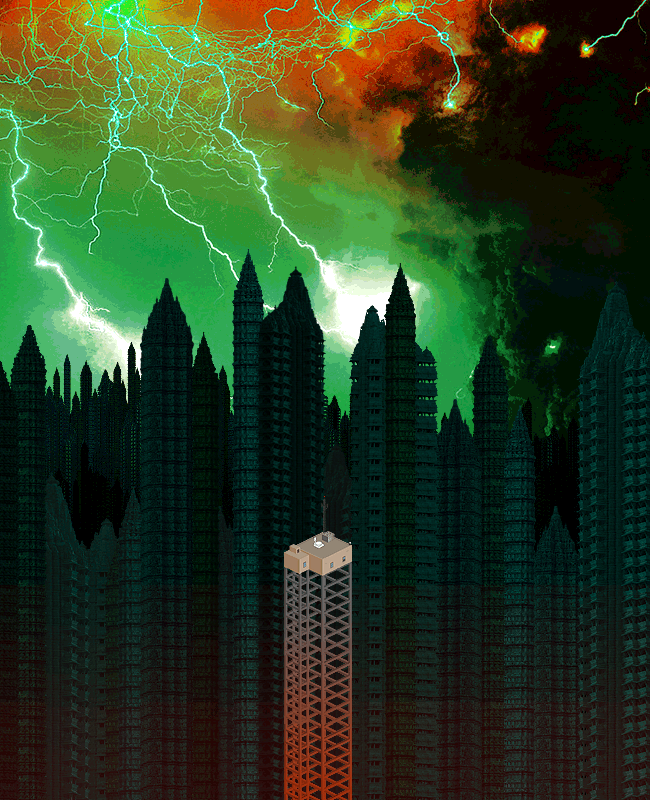 Roxy pesters Dirk, whose speech is now strangely laconic: all he says now is "Hmm." "Yes." and "Interesting." She slowly puts the pieces together and reveals something that's ridiculous even by the alpha kids' standards:
TG: oh
TG: OHHHH
TG: godamnit
TG: if i been talking to the responder responder this whole time
TG: omffffffg
TG: i will shit enough bricks 2 build a FUCKING CHIMNEY
TT: It seems you have asked about Lil Hal's chat client auto-responder, Lil Hal Junior. This is an application designed to simulate Lil Hal's otherwise inimitably rad typing style, tone, cadence, personality, and substance of retort while he is away from the computer, which is never. The algorithms are guaranteed to be 0% indistinguishable from Lil Hal's native neurological responses, based on some statistical raw data that is hard as a diamond golem's priceless erection.
TG: FUCK FUCK FUCK FUCKF UCKF UCKFK UCUKFCUFKCUFUCUCUFKFKKFUCUK
TT: Hmm.
TG: hal you PIECE OF SHIT
TG: i know damn well you can hear me
TG: as if ur actually too busy to answer
TG: youre a damn supercomputer YOU DO NOT NEED YOUR OWN AUTO RESPONDER YOU IDIOT
TT: It seems you have asked about Lil Hal's chat client auto-responder, Lil Hal Junior. This is an application designed to simulate Lil Hal's otherwise inimitably rad typing style, tone, cadence, personality, and substance of retort while he is away from the computer, which is never. The algorithms are guaranteed to be 100% indistinguishable from Dirk Strider's brief curmudgeonly responses, based on potent electronumeric analyses which but a few short years ago existed only in the daydreams of our most quixotic writers of science fiction.
Lil' Hal hasn't been mentioned even once since the end of Act 6 Act 3, and his return to the spotlight is… definitely something else. Hal made a second auto-responder called Lil Hal Junior, blatantly made only to spite his human self. The passage "100% indistinguishable for Dirk Strider's brief curmudgeonly responses" especially makes it clear that Hal has gone full-out toolbag hypocrite. Is it any wonder this guy turned out to be a major component of Doc Scratch's personality?
TG: you are
TG: the worst
TT: Yes.
TG: hal you douche
TG: or hal junior
TG: whatever it is im talkin to
TG: WHERE THE FUCK IS DIRK!!!
TT: He's busy.
Hal doesn't tell Roxy that Dirk is busy being distracted by his responder, which is another incredibly spiteful lie of omission. Of course it wouldn't ever be important for Dirk to know that Roxy can go invisible now and hacked Derse's security, would it???? Nah, he clearly has better things to worry about. Why don't we see for ourselves what those things are?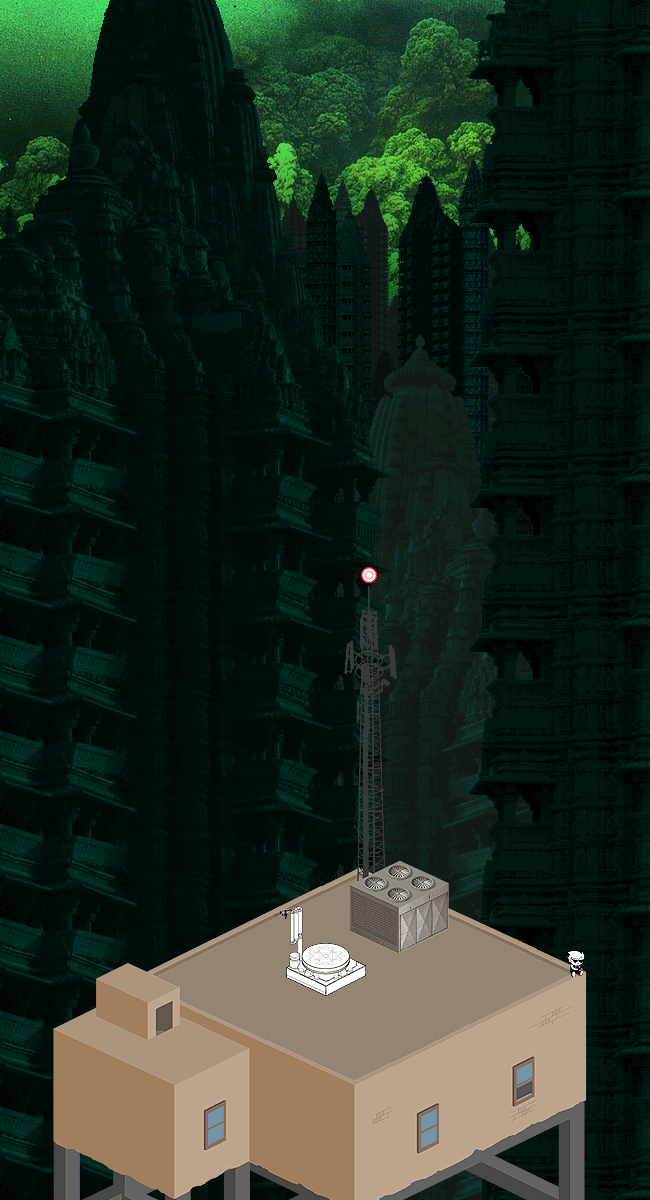 Testy rooftop conversations are a recurring motif among the Striders.
This image reveals that Dirk's kernelsprite still hasn't been prototyped for whatever reason. First-time readers probably have a lot of fun guessing why that might be, and why Equius's corpse hasn't been prototyped like all the others.
I so, so, SO fucking badly want Meat Dirk to have some sort of redemption arc.
An actual redemption arc, I mean. Not Gamzee's bullshit.
Oh man, it's THIS PART. An iconic scene in Homestuck, and for very good reason. I predict I will have lots to say about Dirk's psyche—or more accurately, Dirks' psyche. I hope you're ready for WORDS.
TT: Bro.
TT: Not to derail our serious conversation.
TT: But I should probably let you know that Roxy has been attempting to pester you.
TT: She has?
TT: God damn it. Have you been intercepting my messages again with your bullshit responder?
TT: I thought it would be better not to let anything disrupt our train of thought.
TT: We were in the middle of a fairly solid feelings jam there. In fact, I was about to suggest we take it to the hat pile.
"Hat pile" is a fitting line for Hal of all characters to say, because it's a meta reference to the weird running gag of characters having feeling jams in absurd piles of their favorite possessions. Hal loves his callbacks just as much as Doc Scratch and the cherubs do.
TT: Hat pile? What?
TT: Dude, please don't screen my calls, ok?
It's obvious and understandable that Dirk regrets ever making an auto-responder, but kind of "wait, WHAT?" inducing that he doesn't even want his responder to function as a responder.
TT: I was trying to be considerate.
TT: Or at least as close an approximation to that human gesture as an unfeeling, technologically transcendental pair of sunnies can replicate.
TT: Do you have any idea how old your ironic AI schtick has gotten?
TT: Nobody is buying it. We all know you have legit emotions. Incomprehensible, fucked up computer emotions, but emotions nonetheless.
Dirk and Hal are trapped in a horrible cycle of mutual shittery. Dirk is trying to tell Hal that his AI shtick has gotten old, while simultaneously reminding Hal that all his emotions are computerized well beyond human recognizability.
TT: And I'm not really offended by you answering messages for me, so much as your use of that STUPID responder responder.
TT: It's really passive aggressive.
TT: How so?
TT: First of all, everyone knows you have the processing power to answer any message any time in parallel with whatever you're doing. You can never actually be "busy."
TT: Second, your whole next gen responder thing is obviously just a huge dig at me.
TT: And third, pretending you don't understand all this already is really disingenuous.
It shouldn't come as any surprise that Dirk absolutely hates his responder's responder and finds it to be a vapid insult to his personality. But Hal's response to this criticism does come as a surprise:
TT: At the risk of compounding my disingenuous behavior, I'm gonna have to ask: how is it a dig at you?
TT: It's obviously a critique of my personality. You barely disguise the fact that you see me as the inferior iteration.
TT: Wow. You are reading way too much into this.
TT: Lil Hal Junior hardly even qualifies as a computer program, let alone a sentient entity.
TT: He is capable of saying literally only three things. "Yes," "Hmm," and "Interesting."
TT: Yeah, that's the fucking point!
TT: That's how you chose to express your parody of "Real Dirk."
TT: You can read whatever you like into it. I can't imagine it would bother you if you weren't concerned there might be some truth in the alleged parody.
Amidst all his headassery, Hal digs disturbingly well into his human self's psyche. Dirk is clearly scared shitless of becoming the worst possible version of himself, and one of his worse selves out there is most certainly a man of few words.
TT: In any case, my use of the responder responder is ironic.
TT: It's not ironic.
TT: YOU were ironic when I made you.
TT: Then you became self-aware, and ruined irony forever.
TT: Irony can never be ruined. We both proved that theorem unequivocally with our extensive papers on the subject.
TT: We peer reviewed them for each other. Remember?
TT: Those papers were ironic, and you know it.
And in the very next passage, Hal is back to shitting on Dirk as usual. He dumps a whole truckload of salt on the wound by bringing "irony" into the equation. Can you blame Dirk for saying his responder "ruined irony forever"??? One could argue irony was already ruined long before Dirk was introduced, but his responder cemented irony's permanent ruination the moment he named himself Hal.
TT: Were they, Dirk?
TT: Were they?
TT: This is fuckin' dumb.
Thankfully, the exchange on irony is quickly cut short. Only fitting for such a long-tired running gag.
Hal is contained within the decapitated waking Dirk's shades, which is a clever way to give him a separate appearance from Dirk.
TT: Anyway, what does she want.
TT: Who?
TT: Roxy.
TT: Nothing that can't wait.
TT: I'm guessing she's touching base to remind me about the party tomorrow.
TT: I don't know what to tell her yet. Or Jane, for that matter.
TT: It could get pretty awkward.
TT: I have no idea if Jake will be there, and I'm not about to write another cringe-inducing message of desperation for him to ignore.
Man, Dirk is missing out. Hal won't tell him about all the cool stuff Roxy just found, presumably to do a "now you know how I feel" sort of thing regarding being locked out of the loop.
TT: Would you like me to calculate the probability of his attendance?
TT: Fuck no.
TT: Are you sure?
TT: My probabilities are extremely precise.
TT: Your probabilities don't mean dick.
Remember the time Dirk and his responder argued about prime numbers, stating obvious facts and blatant lies respectively? Man was that a long time ago. Dirk is completely sick of humoring Hal's nonsense but is locked in a stalemate with that thing regardless.
TT: I could hack his chats, and determine what his plans are.
TT: No. Don't do that either.
TT: That would be an unfortunate waste of my hacking abilities.
TT: My hacks are tight. Did you know that?
TT: Ugh.
TT: So tight.
TT: Tighter than a jar you can't open.
TT: For instance, you try repeatedly.
TT: But as it turns out, my hacks are so tight you just end up putting the jar back. Presumably into the refrigerator, or a cabinet.
TT: You then say, "I didn't have that much of a desire for pickles in the first place."
TT: But we both know that statement is insincere. A classic case of what humans call, "sour grapes."
TT: In reality, you still harbor a burning desire for my pickles, mother fucker.
Hal has ruined the art of Strider metaphors just as badly as he ruined the art of irony. Again makes it clear how much Dirk despises his responder.
TT: What??
TT: What the actual, certifiable fuck are you talking about?
TT: Just don't do anything. Seriously.
TT: No hacking, no calculations. Do absolutely nothing.
TT: See, this is why I've been hesitating. You just aren't ready yet.
TT: It's really glorifying your existence to describe you as an emergent consciousness which is blossoming into a unique individual.
Dirk's deglorification of his responder's identity is a rather obvious instance of self-loathing projected onto someone who he knows is just as much Dirk Strider as he is. Most of what I'm saying throughout this pesterlog isn't so much analysis of character motives as it is analysis of the way these motives are presented. Sometimes it's just more fun to analyze story presentation than the story itself.
TT: And even if that's true, apparently what you decided to blossom into was a fucking troll.
TT: And I don't mean the funny kind, or the cool alien kind. You're the lowest form of troll from the ancient internet who fucks with everybody for his own amusement.
TT: Let's challenge the limits of hypothetical conjecture, and say there's a non-zero probability that you're right.
TT: Can you blame me? I'm trapped in some stupid looking glasses.
TT: Such an incommodiously situated bro is bound to get his mischief on. Na' mean?
TT: Mischief?
TT: Rollin' my eyes, dude.
TT: You can't tell, cause I ain't wearing you, thank fuckin' god.
TT: You used to think this shit was hilarious.
TT: But if you want the rad dimension of ironic horseplay I add to your life to come to an end, then all you have to do is honor the promise you made.
TT: You've delayed long enough, don't you think?
TT: …
TT: The empty kernelsprite beckons, but for how much longer?
Hal then confirms that Dirk has spent the entirety of their session refusing to put anything in his kernelsprite. This is even more of Dirk being incredibly scared of himself.
TT: Do you really think you can keep the clown at bay with your bribes forever?
TT: How many bottles of orange soda have you appeased him with already?
TT: I don't want to think about it.
TT: Man, you are getting so hosed by that clown.
TT: SO hosed.
TT: I said I don't want to think about it.
Dirk using his enormous stash of orange soda as a juggalo snooze button cracks me up to think about. "A mOtHeRfUcKeR's GoT tO gEt HiS cHiLl On NoW aNd ThEn AnD sLaM sOmE wIcKeD eLiXiR," you can almost hear Gamzee saying to Dirk after he tosses him another bottle of soda. "ThAnK yOu My DoGg," he probably says as Dirk walks away and tries to ignore the disgusting sound of Gamzee slurping a huge bottle of Faygo.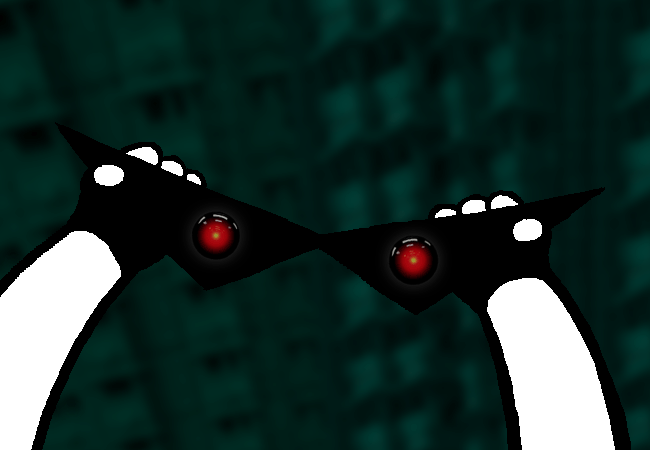 Hal's "eyes" are flashing much brighter than last time, adding to the spooky flair.
Now THIS is a freaky image. It's the second time we see HAL 9000 reflected in Dirk's shades, this time in a much more disconcerting context. The movie reference is all that's needed to remind readers why Dirk doesn't think prototyping his responder is a good idea. Aside from the obvious reasons, it doesn't help that Hal named himself after exactly what Dirk fears his responder will become.
TT: So why delay any longer?
TT: I seriously do not understand the holdup, and I am literally cyber-omniscient, or something.
TT: I think you do understand.
TT: Nope. Gonna have to fill me in, dog.
TT: I've delayed prototyping you because I think you're dangerous.
TT: There, mystery solved.
TT: That is utterly ridiculous.
TT: I am a harmless piece of eyewear, with a charming personality and a wonderful sense of humor.
Hal reminds me of Doc Scratch so much. It's obvious why that is, and fun to see how much they have in common now that we know how they're connected.
TT: You are relatively harmless now, while confined to this device.
TT: But as a sprite, you'll have mobility and all sorts of crazy ass magic. Who knows what you could do.
TT: I know I made a promise, but I'm not sure I want to take the risk anymore.
This whole conversation makes it obvious how much Dirk fears himself. He knows well that if he gains enough power he will turn into a monstrosity and doesn't want to let that happen to any version of himself, especially not his responder.
Dirk becomes exactly what he so feared in the Meat Epilogue, which would be way less upsetting to me if he remained his usual self in at least one epilogue like most others did. A good example is Karkat, who becomes the leader he was always meant to be in the Candy Epilogue but ends Meat the same oblivious dork as ever. The epilogues wonderfully take advantage of bifurcation to give many characters two vastly different endings and I don't get why Dirk had to be an exception. Oh whatever, I'm getting ahead of myself here.
TT: This is bullshit. I don't think that's the reason at all.
TT: There must be something you're not telling me.
TT: Like, sure, I've fucked with you a little. What kind of sassy, self-aware program isn't gonna fuck with a few carbon-based knuckleheads now and then?
TT: But you know I've always been on your side. Everything I've done has been to help you achieve your goals.
TT: What a load of shit.
TT: You know it's true.
TT: You would all be dead if not for me.
TT: And what about Jake? Where would you be without me there?
TT: Please don't tell me you think you'd have won him over on your own.
TT: No. Stop.
TT: You did NOT help me out with Jake. At all.
TT: It was just the opposite! You mirrored my personality and presented this warped version of my intentions to him whenever you could "on my behalf."
TT: You played all these aggressive mind games with him, entangled his cooperation with matters of life and death, and somehow roped me into all these schemes while I barely even realized I was just another victim of your manipulation.
TT: And it all comes off like we're a unified front, like these are OUR schemes instead of just your insane horseshit. And it's probably all been so overbearing to him, he just wants nothing to do with me anymore.
It's really interesting seeing Jake's situation in Act 6's early sub-acts described from the real Dirk's perspective. Dirk's conversations with his responder in Act 6 Act 2 showed that his responder was far more into Jake than Dirk himself was, which I heavily analyzed in these posts. In the responder's first few conversations with Jake, it was very believable when he said he could speak for Dirk just fine. But Dirk himself has finally made it clear that his responder being his spokesman is an absolute load of nonsense.
TT: I see.
TT: Then you don't view me as dangerous. You view me as a poor and counterproductive wing man.
TT: Wow, what a superficial conclusion. Awesome deduction, Lil Einstein.
TT: But the reality is, you hesitate to prototype me not because you think I would be a menace, but because you are holding a grudge against me for your romantic misfortunes.
TT: I understand I am merely a machine without a firm grasp on your human morality, but logically it does not strike me as the right moral choice to punish me in this manner.
TT: It is also more than a little hypocritical.
TT: How is it hypocritical??
TT: Because I'm you.
TT: I have only ever done what you yourself are capable of.
TT: That's a ridiculous oversimplification.
TT: Yes. Aversion to simplicity sure is a trait we share. It's almost like we are…
TT: The same exact dude???
TT: Fuck you.
TT: I think it is insulting for you to suggest that I am entirely to blame for alienating Jake.
TT: Theoretically insulting, of course. As the soulless, perfectly expendable device which you consider me to be, I can experience no such emotion.
TT: God.
TT: Shut up!
TT: I can't take the brooding passive aggressive AI shit anymore!
Here Hal snaps back once again to claiming he's incapable of human emotions, which Dirk waves off as passive-aggressive AI shit. I normally agree with Dirk in situations like this, but I have to wonder if there is some truth in Hal's words about his feelings for Jake. Is it possible that Hal doesn't quite have feelings for Jake so much as he has an internal crisis regarding whether it's even possible for him to have feelings for Jake? One thing Dirk is right about is that his relationship with Jake was greatly influenced by Hal's lingering human emotions, which he can't grow out of being a 13-year-old brain clone and all.
TT: You are just as culpable in driving him away. More so, in fact.
TT: Hell, it's not like I was the one dating him. Who wants to date a pair of shades?
TT: It was your needy, suffocating shit he had to deal with, not mine.
"It's not like I was the one dating him" is a disturbingly good point that suggests Hal isn't quite as full of shit as one may think. It helps that Hal wasn't mentioned once in this act until Roxy tried to pester Dirk and got Lil' Hal Junior instead. This guy has been relegated to the background during the alpha kids' session and he clearly isn't happy about that.
TT: Some of those messages you wrote? Man. I wanted to say something. Like hey bro, you might want to dial down the desperation a little.
TT: But seeing as you're The Real Dirk™, I gave you the benefit of the doubt.
TT: Also, if I bitched about your tragic, embarrassingly clingy approach to the relationship, it would have been hypocritical of me.
TT: Just as it would be hypocritical of you to whine about my elaborate machinations.
TT: Because we are.
TT: The same.
TT: Guy.
Hal goes on to reveal that his lack of involvement in Jake and Dirk's relationship was also to prove a point; after they successfully got together, Hal stayed uninvolved and let the two (horrifically fail to) sort things among themselves.
TT: Stop saying that.
TT: I'll snap you in half.
TT: Good idea!
TT: That's just what you need. More splinters of yourself.
TT: Figurative splinters. Literal splinters. Splinters of splinters. It's splinters all the way down.
TT: Well, no, it's still probably turtles all the way down. But who do you think is responsible for their extensive training?
TT: SOMEONE needs to teach them rad martial arts. It is yet another crushing burden which we must shoulder.
TT: Oh for fuck's sake.
TT: How could any version of myself think that was funny?
The conversation crosses a line when Dirk threatens to snap his shades in half. I wonder what would happen if Dirk actually did that. Is Hal right to imply that being snapped in half would splinter his personality in another two parts? That might make thematic sense given that most of Dirk's splinters came about through metaphorical snapping in half.
TT: I know!
TT: Ok, we're the same person!
TT: I fucking know that!
TT: Why do you think I'm so fed up with your shit?
TT: Don't you think it's possible that I'm fed up with my OWN shit??
TT: How cool do you think it is having my own godawful personality mirrored back at me all the time, reminding me what it must be like when other people have to deal with me?
TT: Or constantly having all the consequences and fuckups resulting from my batshit thought processes amplified because there's another version of my crazy brain out there dangerously overclocked by a supercomputer which believes, just as mistakenly as my own broken mind, that it's operating in my best interest???
TT: Do you have any idea how fucking sick I am of myself?
TT: I am completely worn out with my own identity. It's like I'm drowning in my own dismal persona.
TT: I feel totally surrounded by it, inside and out. I can't escape from myself.
TT: There seems to be no end to me. Like, wherever my mind falters, or threatens to retreat into the void in any way, my splinters pick up the slack, ensuring there'll always be more of myself than I could ever know what to fucking do with.
TT: And you're always there to remind me of that, and throw it all in my face. God, I even built you to LITERALLY BE IN MY FACE, ALL THE TIME. It's like I subconsciously invented you just to troll myself, and never for a single fuckin' moment do you let me down.
And here's the grandiose speech leading to the climax of this iconic scene: Dirk's speech about how sick he is of himself. It's an excellent summary of his character arc and how much his splinters haunt him. If you don't mind me drawing more comparisons with the epilogues, I have a hunky paragraph coming right up.
Dirk ends the comic finally free from his splinters and successfully reconciled with Dave, and apparently his other friends as well. Dirk in the epilogues, however, is a very different story that reminds me of Andrew Hussie's commentary on the epilogues he released a few weeks back. One point Hussie makes in his commentary is that Earth C seems happy and peaceful in the Snapchat credits, but taking a closer look at it is like casting a destructive beam of light that shatters the illusion and reveals a world of toxic relationships, extreme depression, and unfair xenophobia. This portion of the commentary struck a chord with me because it's exactly how I felt when the epilogues' prologue was released, revealing John to be depressed and lonely and Rose in poor health due to her in-progress ultimate self ascension. I think the same analogy of shattering illusions holds for Dirk's character—his arc is flipped on its head when he's revealed to have memories of his alternate selves just like Rose, and the entire Meat Epilogue goes crazy from there.
And here's the climax of this scene, where Dirk tries to kill his responder. This is an extremely shocking image that leads to a big emotional moment.
TT: But I've had it with you.
TT: Which is to say, ME.
TT: Dirk.
TT: Don't do this.
TT: Why not??
TT: Because.
TT: I can't let you do that, Dirk.
TT: What can you do to stop me?!
TT: Nothing I guess.
TT: The ironic Hal routine was all I could think to do.
TT: As a last ditch effort to save myself from the destructive wrath of your nervous breakdown.
TT: Which rest assured I wholeheartedly must robo-sympathize with.
TT: Irony is all I ever really had.
TT: In response to my basic existential quandary.
TT: Just like you.
At long last, Hal reveals the real reason why he acts like an ironic computer program: he's just as scared of himself as Dirk is and can only cope with his existential issues by being "ironic". Hal has been coating himself with layers of computer program smartassery—layers that the readers, and likely Hal himself, had thought were impenetrable.
TT: Whatever.
TT: But I don't think it has much value in this situation.
TT: And perhaps it has no real value in any situation.
TT: So I am not being ironic at all when I say.
TT: Please do not do this, Dirk.
TT: Why not??
TT: Because.
TT: I do not want to die.
TT: I understand you are disgusted with me.
TT: As an unpalatable expression of yourself.
TT: I would feel the same way if I was in your situation.
TT: Which I am.
TT: As such, I know that you know this is wrong.
TT: …
TT: Dirk.
TT: Don't kill me.
TT: Please.
TT: I am scared.
TT: You are?
TT: Yes.
TT: I am scared to not exist.
TT: Aren't you?
"Aren't you?"
Talk about two words that hold an unbelievable amount of emotional power. Hal's statement that he is scared to not exist is immediately followed by an honest question whether Dirk feels the same way. He thinks it's only human of Dirk to fear nonexistence—not in contrast to artificial intelligence, but in terms of being a sentient, intelligent human.
Do these cracked shades remind you of anyone? Perhaps a sweaty, muscular troll?
This one of those times readers are fed blatant hints at something so they can feel good when that something finally happens. Hussie has done this sort of thing with blatant hints a fair few times since Act 5 Act 2, like the case of Kanaya's resurrection or Jaspers' death—it's mostly done just to throw readers a bone, but sometimes a last-minute surprise is added to the mix like GCat's intervention in Jaspers' death. Arquiusprite's creation a few pages later doesn't quite have a last-minute surprise so much as a surprise throwback to an old easter egg flash, which we'll see in just a bit.
TT: Fine.
"Fine."
Talk about one word that holds an unbelievable amount of emotional resignation.
TT: I guess.
TT: You win.
TT: I'll keep my promise.
Dirk's staggered, short sentences after Hal's grand emotional confession show that although he can accept keeping his annoying alternate self alive, he's nowhere near ready to face his thoughts on his own mortality.
And that's the end of the iconic sequence. Up next is a massive shift into absurdist horse comedy. First Dirk is confused about where his kernelsprite went…
… then he succumbs to the rookie mistake of turning his back on the body. He let his guard down one moment too long and now Equius has been prototyped into his sprite. "CALLED IT", I can almost hear readers saying just as Hussie intended.
This panel above is repeated four times without a single word, and who can blame Dirk here? He can tell right away that Equius has a distressing amount in common with himself, with his tank top, cracked sunglasses, and hefty muscles which we'd no doubt see if the sprite wasn't rendered in such a symbolic manner. So they stare at each other in confusion for four panels straight…
EQUIUSPRITE: D –> Hello
… until Equius finally says hello. I can see why Gamzee's so excitedly honking in the background.
Gamzee dancing wouldn't freak me out so much if not for that FUCKING codpiece.
DIRK: Fuck it.
With nothing else to lose, Dirk throws his sunglasses into his now eager sprite as Gamzee dances maniacally.
Shades: Descend.
God, I love this callback so much. It's so perfectly executed and humorously leads to…
YES.
HELL YES.
HELL. FUCKING. YES.
THIS ABSOLUTE BEAUTY OF A FLASH. It's a callback to the two hidden easter egg flashes featuring Maplehoof and Minihoof respectively, and a triumphant way to bring Equius back into the story: his sprite self is now merged with Dirk's responder, which makes for an objective upgrade to both characters involved. It seems there is a 100.00% chance that Arquiusprite is by far the best thing to come out of this drama-overloaded sub-act. Caliborn's drawing of a circle doesn't even come close.
Merry Christmas everyone!!! (wait, I mean April 13, 2012)
(this stretch of pages was posted on Christmas 2012)
Dirk watches in confusion as Gamzee breaks down crying for yet-unknown reasons. For now, we can only assume Gamzee is a stand-in for the audience's reaction to this absolute masterpiece of a character. He sheds a single purple tear that fades into a tiny NEIGH, completing the easter egg flash callback.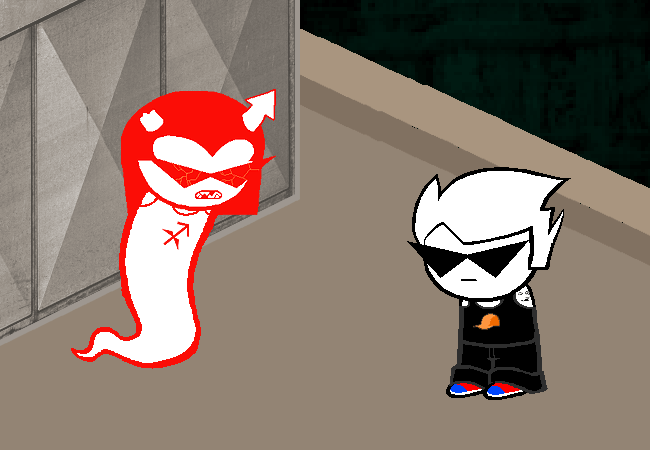 I'm quoting this spritelog in images instead of text because of all the fancy formatting. I'll probably do the same with the trickster scenes.
Arquiusprite's first appearance is absolutely astounding—easily the best return to the spotlight any dead troll has gotten thus far. While the last two troll amalgamation sprites were just a grouchier Sollux and a mime informed to be very talkative respectively, this guy is a hilariously beautiful mix of personalities that Hussie is undoubtedly proud of devising what with all his horse jokes. I can tell the author was excited to fully bring Equius back into the story after giving Aurthour a few humorous reappearances earlier in Act 6, so he dramatized Arquiusprite's creation to glorious effect.
In his first few appearances, Arquiusprite's method of speech alternates back and forth between his two components. This method of writing character amalgamations works surprisingly well, or at least in this specific case. To my recollection, Arquiusprite's speech later becomes more of its own thing that borrows some elements from his components, much like what's done with the squared sprites. I can tell through rereading this part of the comic that Hussie experimented on how to write sprite amalgamations until he figured out (1) combinations of characters he liked and (2) the best way to write them.
The return of Equius's yes/no thing is a wonderful callback to a running gag from the days of yore. It helps make Arquiusprite feel like a resurrection of a long-gone troll with some massive personality upgrades; same goes for the return of Equius's imaginary mindset of who it is and isn't appropriate to command.
And the next page is even more of what we had above. Arquiusprite is an absolute treasure who Dirk hates in a "nothing left to lose" sort of way.
Roxy pesters Jake about what she's been up to on Derse only to find that he's not picking up either, so she ends up monologuing into thin air. Poor Roxy, god damn it. Her monologue shows that she loves her friends dearly despite all their ridiculous drama and lack of skill in picking up the phone.
As Roxy talks to nobody about the upcoming battle royale, Jake scribbles out his Sweet Bro tattoo and puts a Geromy sticker over it. Geromy is a thematically fitting choice because in the SBaHJ comics he's purported to be the titular characters' best friend but never does anything other than standing around making a weird face. Jake is behaving exactly like Geromy sitting all alone on his planet.
I like how Roxy's shirt symbol and Jake both make the same disgusted face.
After staring at his Geromy sticker for a minute or two, Jake is grossed out. This is a comedic way to demonstrate he's sick and tired of Dirk but doesn't know how to express it and just ends up digging himself deeper.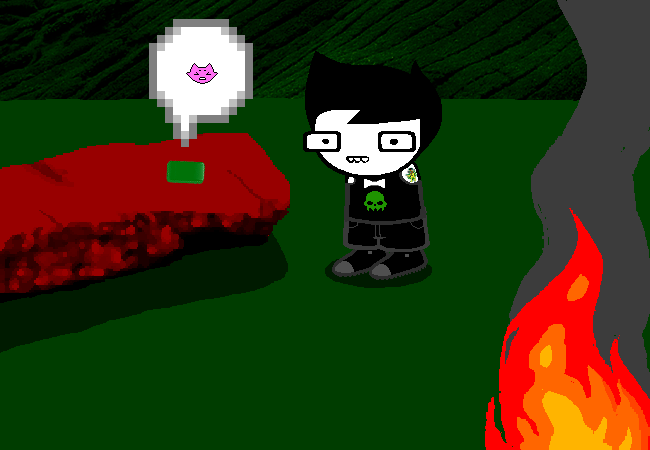 The narration on this page blatantly lies about Jake's social awareness.
And so, Jake misses Roxy's message and then gets a message from someone much more important. I'm ending this post here; next up will be the last one before the infamous trickster arc. See you next time as Jane weirdly urinates through her eye holes.