< Part 10 | Part 11 | Part 12.1 >
Pages 952-1051 (MSPA: 2852-2951)
Act 3, Part 3 of 5
Right now my priority for this blog is my main Homestuck post series I started in 2015 where I'm currently on Act 6 Act 5; this post is a bit of a divergence from the plan I've laid out. I finished my newest post a few days ahead of schedule, so I decided to do a rewritten post to release on Friday instead. I mostly did it as a bit of a breather from the absurd romance drama I sped through.
Who's this guy?
At the curb of Act 3's halfway point, it's time for us to meet Spades Slick's lookalike.
Spades Slick?
Got a nice ring to it.
But you know your own name. And that damn well ain't your name.
Jack Noir's naming is done a bit differently from other characters. He doesn't have a naming box; rather, he's meta-aware of Hussie's fingers typing his name. The book commentary here is worth reading:
Jack at this stage is the villain. Villains in Homestuck tend to be meta-villains. That is, they exist much closer to the surface of the story's meta-bubble, and often interact with the way it's told. For instance, Jack Noir is the original owner of the 4th wall. (See next page.) As a universal bureaucratic game construct, he can keep tabs on everything going on in the session, including just outside the story.
Though Jack Noir is a meta-villain, there are limits to this, possibly tied to his personality. It could be the scope of his ambition never includes messing with the story itself. His desire for power lies entirely within fictional parameters. Later, there are much more flagrant meta-villains, in Doc Scratch and Lord English. They live on the surface of the meta-bubble, and at times badly puncture it. All iterations of Lord English in total basically represent the ultimate meta-villain. Though it takes a very long time for this to become apparent, and for it to be revealed exactly what this means.
I think it's fair to assume this villain foreshadowing and easing in was intentional. Act 3 is filled to the brim with hints at the trolls' backstory, the alpha kids, and (much more subtly) the cherubs. Jack Noir's higher degree of meta awareness than the beta kids is a subtle but useful way to ease readers into the times villains start taking over the narration. On the topic of characters taking over narration, if you somehow haven't read Detective Pony *****PLEASE DO SO IMMEDIATELY*****, then come back here.
Hussie enters Jack's name and rank, leading us to his short introduction page.
You are ARCHAGENT JACK NOIR. You oversee various affairs of a DARK KINGDOM. Presently you are determining how to deal with this prisoner, who has been a thorn in your side since he was apprehended.
Funny that I just got done analyzing the portion of the comic where the alpha kids' Draconian Dignitary reveals he successfully imprisoned Dad Crocker by giving him a nice, cozy cell where he can communicate with Dersites about ties and shaving and start crazy fashion trends. Noir, on the other hand, isn't good at the social side of things. Like it or not, what he's best at is managing paperwork (and destroying everything he touches if given the power to).
You view the affairs of the kingdom through a series of FENESTRATED WALLS. You have three walls, nearly enough to form a CUBICLE OF VIGILANCE, which is a full and proper enclosure for an agent of your stature.
However, much to your utter contempt, your FOURTH WALL was stolen some time ago.
What a cheeky pun. I don't think I need to go over the timeline and story behind the various physical fourth walls in Homestuck, though I will say it's probably for the best Jack's fourth wall was stolen. Though Hussie's book commentary states that Jack probably isn't villainous enough to want to mess with the story itself, his desire to destroy everything BLEW THE HELL UP after the Droll killed Jade which was some time after he gained the ability to destroy everything. Who knows if he'd have taken the chance to mess with the fourth wall if it wasn't stolen?
After we establish that Jack absolutely hates dressing like a clown, he introduces us to Hearts Boxcars' lookalike, the Hegemonic Brute. The Brute brings something heavy to keep Dad enclosed in prison and holy shit is this guy strong.
This guy can never catch a break, can he?
But right after the Black Queen (gender-neutrally referred to as the Glorious Monarch) reminds Jack to wear his clown hat, we learn that Dad Egbert is even stronger than the Brute. That's the only role HB ever plays in the story: he gets his ass handed to him to show how tough other characters are.
Meanwhile in his father's room, John finds some unopened birthday presents his dad was going to give him. First off is the one on the right:
It's a control deck that lets John customize his fetch modus! He now has way more captchalogue cards, which is… cool? I forgot the fetch modus game mechanic stuff even existed and it's kind of weird going through it at such an on-and-off pace. Let's pretend I am enthusiastically cheering John on for switching to a simple array modus, then confused that he settles on a queue-stack-array blend modus.
Though I won't lie, the queue-stack-array modus looks sick. It's a visual upgrade to the original that's high on the weaponizability scale.
You have a staunch policy of always saving the biggest present for last.
ALWAYS.
Now that's something I can relate to right there. Let's see what the leftmost present is!
Could this birthday get any better? You don't think so.
John's victory dances are so cute. He's incredibly happy to get a fresh pack of delicious Fruit Gushers.
You thought wrong.
He's even more delighted to get a fancy suit for his birthday, which is surprising but makes sense in a heartwarming way: it shows John and his father have a common interest in dressing like businessmen. Deep down, John has a lot more in common with his father than one may think, which is shown in full in the Candy Epilogue: similar fashion tastes, the exact same romantic tastes, and most of all, extreme immutable pride for his son. Remembering how proud he always was of young Harry Anderson is the one thing that finally snaps John out of his internal loop that everything is fake, because he can't accept anything that would put his son's realness at odds.
John inspects the box of Fruit Gushers and notices something amiss:
THE HEINOUS BATTERWITCH HAS HER GNARLED CLAWS IN EVERYTHING.
What do Gushers have to do with baked goods anyway??
How does this make sense???
Why????


WHYYYYYYYYYYYYYYYYY???????????
If you didn't know, Hussie's book commentary explains that he didn't know Fruit Gushers were made by Betty Crocker until a reader suggested John to inspect the Gushers box.
Suffice to say, the author doesn't have an easy time processing this. John promptly has a mental breakdown in a flash with dramatic music, as if this was some kind of terrifying revelation that uproots everything he thought he knew and now he can never see the world the same way ever again.
As with FACEPALM x2 COMBO, I knew about this running gag before I read Homestuck.
Except John quickly realizes this is a completely stupid thing to freak out about. The beta kids' universe was merely the Condesce's test run after all.
Another flash originally scored by Bill Bolin. Though I like Mutiny more as a song, An Unbreakable Union fits much better with the flash.
Up next is Jade's true guardian strife, [S] Jade: Retrieve package. It's unlike anything we've ever seen before! This page shows us that her dog Becquerel has magic teleportation powers and overall ungodly strength, with occasional glimpses at the Green Sun and various other locations in the comic. All this crazy plot stuff planned in retrospect and showed way ahead of time is truly something to behold.
Jade and Bec are moving in this image; Grandpa is still as ever because he's dead.
The strife flash ends with a cheerful victory sequence as if nothing unusual ever happened. Just a happy girl hugging her wonderful dog, her taxidermied grandpa by her side as ever. Jade in the early acts is a normal human being with normal human values.
Jade: Retrieve package was filled to the brim with hints at events and plot points that were probably fully planned by this point. Jade's narcolepsy, on the other hand? I am almost certain the truth behind it was a retroactive decision on the author's part, as are most things involving that one character's self-importance. Later that character's self-importance becomes a cosmically retroactive decision, because after the retcon she took over Gamzee's plot role in the alpha session with only a few differences.
Though Bec is a mystical dog, he does take proper care of Jade and takes her to bed when needed. It looks like he even tucked her blankets, truly in the spirit of dog loyalty.
Oh, you're back home. The well-stocked bar and the vantage from the window tells you this is your MOM'S room. Or at least what you thought was her room.
You decide not to be especially melodramatic about this revelation.
If you're rereading knowing who Roxy is, you'll know that Rose had already unknowingly passed by her mother's real room. She's already showing signs of being considerably more wrapped up in her supposedly noble goals than the other beta kids are, and not taking time to progress through the kids' usual narrative.
Just a few seconds later, the meteor strikes the Skaianet lab and Rose needs to get out of there. It's important she brings the cat with her, because I'm at least 80% certain a whole bunch of vital time loops would be broken if she didn't.
Suddenly you are feeling very businessmanlike for some reason.
You just punched a shitload of cards in anticipation of making a whole lot of cool stuff. This time you didn't foolishly destroy any items. You just looked at the codes for some objects you rounded up, and punched them on blank cards.
As the alpha kids' Dignitary can attest, it seems that Homestuck characters automatically feel businessmanlike the moment the put on a fancy suit. Feeling businessmanlike puts you at far less risk for stupidly decimating your sylladex.
Next up, Jade dreams and THAT'S where things get fun. Jade has a dreambot that echoes everything she does in her sleep. For the next few pages we get some neat dual storytelling, with the dreaming world on top and the real world on the bottom.
> Jade: Obliquely foreshadow future through interpretive dance
Your silly dance foreshadows nothing and is essentially meaningless.
But it sure is a lot of fun.
"Foreshadows" and "nothing" are two words that should never be put side-by-side in any context even remotely related to Homestuck. Everything in the entire story is interconnected in one way or another; sometimes the connections are of debatable intentionality, but that's the fun of analyzing media. In this case, the interpretive dance is the last thing Jade's dreambot does before it explodes.
Still not sure why characters in Homestuck always sleep with this of all poses…
You climb into bed and try to get comfortable. But some sort of invisible force is pressing down on you, a strange feeling of cold heavy metal.
This happens every time you try to get into bed! No wonder you can never get any sleep.
This funny little moment has a bit more to it than meets the eye. It strongly suggests that Jade and her dream self are two different consciousnesses who share a small amount of memories. This difference is also demonstrated in pesterlogs which we don't yet know were typed by dream Jade.
I always thought it was a little weird that dream Jade was so different from waking Jade when we didn't see much other difference between players and their dream selves. But looking back now, I think I have a good explanation for why that is. I think the dream self's memories diverge from the player's memories the moment the dream self consciously wakes up for the first time. For most players, the dream self's awakening occurs shortly before or during the game, but for space players the dream self has usually been awake since childhood. Maybe dream Jade and waking Jade have the same memories and knowledge from the first few years of their lives, but have had many years since then to diverge and are now effectively two different people. I wouldn't be surprised if the same held for Kanaya and Calliope's dream selves, who we don't see as much in action because they don't have dreambots. As I said in a post from years ago, this is also why it makes sense that Jadesprite is even less like regular Jade, because she spent eons in dream bubbles getting to know a bunch of ghosts implied to be the Beforan trolls.
> Jade: Realize you can fly!
There is not much to realize.
Of course you can fly.
I imagine the reader who suggested this command thought it would be funny if Jade suddenly realized she could fly, but it turns out Hussie had already planned that to be true. It's not just that Jade already knew, it's that Hussie already knew. Or at least I assume he did. I think I have a good grasp of Hussie's motives when writing early Homestuck, if only because I've read Homestuck so many times.
Jade then taunts us with a mystery package—she already knows what's inside. I don't remember exactly how this package time travel arc plays out, other than that it involves the exiles following instructions written by dream Jade. I think the package is mirrored between its dream projection and its real-world self? Kind of stupid to use the word "self" to refer to an inanimate object, but that's Homestuck for you. I'm probably wrong about all this.
All of John's clown scribbles are in Rose, Dave, and Jade's text colors.
This leads us to a birthday flashback with a huge surprise shot: John seems to have had clown scribbles on his walls months before the story started, which we had never seen before. This will lead us to enormous dramatic irony when John comes in his room and finds all his posters defaced, which he thinks was the imps' doing.
This image also confirms Rose, Dave, and Jade's birthdays which is a good bonus.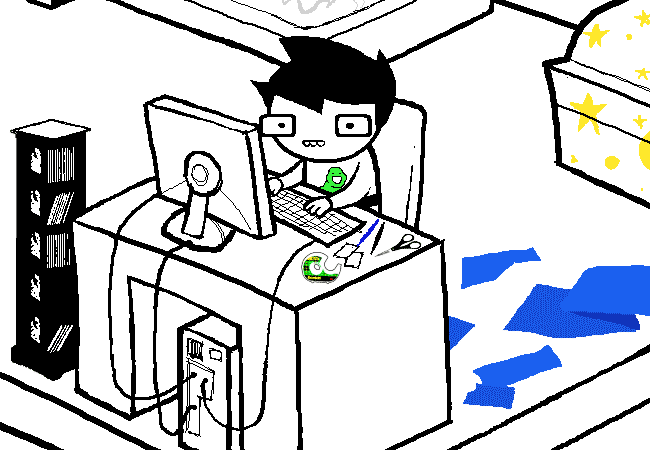 — ghostyTrickster [GT] began pestering gardenGnostic [GG] — 
GT: hey, happy birthday jade! 
GG: yay thank you john!!!!! 😀 
GT: whew ok, i got your present in the mail JUST on time. 
GT: plus i sent rose's and dave's too. 
GT: why do your guys'es birthdays got to be all bunched together like that??? you are running me ragged! 
GG: heheh i know but it is nice of you to think of us all like that! 
GT: i can't wait for you to see what i got you. i don't want to spoil it or anything but hopefully it will help you solve those problems you've been having lately. 
GT: MYSTERIOUS WINK 😉 
GG: im sure it is great, i cant wait either!!!!! 
GG: it might take a while to get here from there but it will be worth the wait! 
GT: oh man. 
GT: i am such an idiot, i forgot about how long it takes you to get stuff. 
GT: ARGH. 
GG: john thats ok really! im sure will get to me exactly when it needs to and it will be a nice surprise when it does!
Jade is awful at lying, which is fine because John is gullible as all hell. She speaks in her usual cryptic tone and cleverly hides that John's gift is going to be sent back in time. It's crazy how easy it is to forget about all the time loops in Homestuck's early acts.
GT: ok well i hope so.
GG: <3……
GG: uhhhh hold on
GG: ok im back sorry
GG: i had to tell someone to go away!
GT: oh god.
GT: the trolls again?
GG: yup 😮
GT: they have been such a pain in the ass lately.
GT: it seems like there are so many.
GT: there are either like fifty of these retards or it's one guy with a lot of alt accounts.
GG: ive never had any sort of feeling about them or what they want which is kind of weird!!!
Jade's last line here implies she never learned anything about the trolls in her dreams. I'm guessing Skaia's refusal to show her anything troll-related was to make sure she didn't believe anything the trolls told her about the day they fuck everything up; we see in later acts that Skaian clouds can show any scene from anything.
GG: but it seems to me like they are probably all different people and not one guy
GG: i have counted twelve
GT: what do they want with us!!!
GG: some people just like to needle others for some reason john
GG: it is like a game i guess. they are like pranksters!!
GT: oh hell no, shittiest pranksters ever.
GG: but i think they are mostly harmless
GG: every so often they manage to get through my block filter and hassle me. its been going on for years! actually some of them are kind of funny i think hehe
GT: oh wow, what? years??
GT: ok, well i am sick of them.
GT: i've been thinking of changing my pesterchum handle to throw them off the trail.
GT: so…
GT: i guess i'm gonna do that.
There are so many mystery seeds planted in this conversation, which seems simpler now than what it later turns out to be. We don't know that Terezi led John to come up with the chumhandle "ectoBiologist", or that the troll who just hassled Jade was talking about something important to the plot.
… Wait, hold that thought. I think the time Karkat trolled past Jade about her dreambot was really just fulfilling a stable time loop, wasn't it? God damn, thinking about all this plot stuff is kind of giving me a headache. The exact opposite kind of headache I get when I spend a long time analyzing a relationship drama section. Meat and candy, I'm telling you. The dichotomy is off the charts.
Every time you reenter your room, you shudder at the recent handiwork of some mischievous imps. You just can't turn your back on them for a second!
Rotten imps. Those posters were like children to you.
Wonderful use of dramatic irony. We just got done learning that these posters were defaced the whole time.
At long last, you have returned to your bedroom with a stable power supply and internet connection.
VODKA MUTINI purrs at your side.
You SUPPOSE you will call it Mutie for short.
Vodka Mutini is a great name. I don't think it's any question that Rose is the best out of the beta and alpha kids at naming animals.
Rose pesters John in a sequence I love EVERYTHING about. The psychoanalysis portion where Rose reveals to us the story behind Dad's supposed interest in clowns is brilliant in every way and is one of the best things to come out of Rose's character.
TT: That's quite a totem collection.
TT: What are you planning?
EB: oh whoa hi!
EB: oh…
EB: gonna make some stuff.
EB: are you ok? hasn't your house been on fire for like…
EB: five hours now?
TT: No, that was the nearby forest, which up until quite recently would have been best described as "on fire".
TT: But you may be excited to learn that just as recently, my house finally notched that achievement.
EB: wow, congrats i guess?
Rose in the early acts is an absolute treasure. Thought I'd point that out before I get into the meat (loaded word, dammit) of this conversation.
TT: I'm going to start putting this grist to use too.
TT: Let's be sparing with the frivolous knickknack breeding and focus on getting you up to the gate, ok?
EB: yeah, ok i hear you, but…
EB: i think we'll have plenty. i've been killing imps all over the house and now its lousy with gushers.
TT: Gushers?
EB: i mean grist.
EB: serves them right for ruining my posters. the bastards.
TT: Which posters?
EB: don't you see? my sweet movie posters. look at them, they're fucking ruined.
TT: John.
EB: ??????
TT: Are you suggesting that imps are responsible for defacing your movie posters?
EB: uh, YEAH?
TT: Your posters have looked like that ever since I first saw your room.
TT: The moment we started playing this game.
TT: I thought you had defaced them ironically to mock your father's interests.
It's so funny to me that Rose initially thought John defaced his posters to mock his father's interests. While her initial analysis is as absurd as all the nonsense she thinks about her mother, all it takes for Rose to bring out her true psychoanalysis skills is for John to disprove her first hypothesis.
I love this panel so much. John looks like an angry businessman slamming his keyboard, perhaps frustrated that his bills didn't arrive on time and exerting all his anger on an innocent coworker.
EB: VERY FUNNY ROSE HAHAHAHAHAHAHAHAHAHAHAHA 
EB: NICE JOKE 
EB: GREAT JOKE THERE ROSE 
EB: TOP OF THE LINE PRANK 
EB: HE HE 
EB: HA HA HA HA HA 
TT: This is good. 
TT: Laughter is probably the best way to avoid being especially melodramatic about the revelation. 
EB: yes 
EB: YES 
EB: LET'S KEEP THIS JOKE GOING 
EB: BECAUSE IT IS SUCH A GOOD ONE 
EB: HA HA HA HA 
EB: OH MY 
EB: HA HA HA HA HA HA 
EB: HA HA HA HA HA HA HA HA HA HA HA HA HA HA HA HA HA HA 
John's sarcastic laughter is all it takes for Rose to put the pieces together and figure out the story behind John's clown scribbles.
Now we check out what WV is up to. He's in a bit of a predicament right now: he's stuck on top of his command station and doesn't have enough cables to climb all the way down. The exile arc is probably where reader commands shined the most in Homestuck: WV first declines a command to use his mayor sash as cable, then declines a command to appearify the frog temple.
Instead of following any suggested commands, WV notices someone else carrying a cable down—perhaps someone who knew that he needed help and that he didn't want to sacrifice his mayoral sash. This surprising moment of friendship is a really cool way to add a third exile to the mix.
First explicit confirmation WV is male.
WV tries to appearify the cable but ends up appearifying John's birthday package to Jade because the machine was set back a few hundred years. The package contains a letter to WV from Jade, which confuses him just as much as it probably confused readers. How could dream Jade know nothing about the trolls but be perfectly familiar with the exiles? We'll find out soon enough.
WV then appearifies the cable and successfully climbs down, which transitions us a sneak peek at our third exile, the Aimless Renegade. This sneak peek shows him as an aloof but probably friendly exile, who seems to be a bit of a weirdo given that he's wrapped in caution tape. I find it entirely unsurprising AR is such a fan favorite.
It's time to go through John and Rose's psychoanalysis session. Are you ready?
EB: ok, while i make some stuff here can you keep an eye out for imps?
EB: just keep the safe or tub handy or something.
EB: it'll serve them right for trashing my posters.
TT: I keep telling you the posters were always like that.
EB: AND I KEEP TELLING YOU HA HA VERY FUNNY
TT: Here, look.
TT: http://tinyurl.com/O413nanna
TT: http://tinyurl.com/O413weirdo
EB: yeah, i saw those, but… 
EB: they didn't look like that before. you must have changed them. 
TT: Even if I had the motive for such a bizarre and pointless deception, where would I find the time? 
TT: I don't even have Photoshop.
Funny that Rose mentions not having enough time to edit these images when she somehow managed to write an enormous wall of text in Jaspers' mausoleum while her forest was burning down. Though maybe it makes sense she wouldn't have the time to edit her images of John, since she doesn't seem to be much of a visual artist.
EB: then why didn't you TELL me they were there???
TT: I had no reason to think you were not aware of them.
TT: I thought they were strange, certainly, but was not struck by any particular impulse to discuss them.
EB: ok, it still doesn't make sense though.
EB: implying that i drew them a while ago and then forgot and couldn't see them and now suddenly see them.
EB: that's stupid, what would that even mean.
Here we're about to see what sets Rose apart from the other beta kids. She can read between the lines and notice cosmic connections that fly over her friends' heads. Sometimes it's for the best her friends don't care about those connections, but here cosmic connections are going to spark something HUGE in John's mind.
The book commentary on this page rightfully pokes fun at John/Rose shippers. How boring can you even get???
TT: It looks like you were in your father's room recently.
EB: yeah.
TT: And how did it make you feel to discover what was in there?
EB: oh no, i just realized!
EB: you are going to psycho-therapify me.
EB: well don't bother!
TT: Maybe I am just being a friend?
EB: maybe…
EB: /EYES SUSPSICIOSLY
Though John likes to poke at Rose for acting like a stereotypical psychologist, he obviously doesn't mean bad by it and finds her analysis fascinating and a lot to take in. Terezi likes psychoanalyzing John too, in a slightly more flirty way. (And eventually way more than just "slightly".)
EB: anyway i guess you saw what's in there, it's boring and there's not much to even see.
TT: That doesn't matter.
TT: What matters is how seeing it affected you.
TT: I think it clearly has in some way.
EB: well…
EB: i don't know, at first i was nervous to go in and find more of his weird clowns, because of course they are stupid and i hate them a lot.
EB: but then when i didn't see any, it was weird.
EB: i felt weirdly, like… disappointed almost.
TT: Is it fair to say this changed your perception of your father?
EB: yeah, i guess.
TT: Is it such a stretch to conclude it changed your perception of other things as well?
EB: uh no, maybe not.
EB: but what are you getting at?
EB: it sounds like you're saying i'm crazy!
TT: I don't like to use the word "crazy".
EB: oh god.
EB: see?? this is therapy bullshit!
TT: That was a joke.
Even though she said it in a deliberately stereotypical way, Rose is right about the word "crazy". In the field of psychology, it's a meaningless catch-all word that's only useful if you want to dismiss people who you know are right.
TT: But anyway, whether it means you are crazy or not, consider this theory:
TT: Your presumably longstanding tendency for scrawling this imagery is really your subconsious trying to express something disturbing within you.
TT: Possibly something from your past, which you have blocked out.
TT: And since you have supressed it, your conscious self cannot acknowledge the drawings, therefore they have been invisible until now.
Before explaining Dad Egbert's motives, Rose starts up a new mystery arc: what disturbing thing caused John to subconsiously draw clowns all over his posters? We'll know what it is later in this post, but the story behind how it got there is saved for near the end of Act 5. I wonder if Hussie had already planned by this point to reveal Gamzee was behind the clown doll? It's likely he at least planned for Gamzee to be an oddball among the trolls, knowing his chumhandle. He's the only one whose motifs aren't related to his zodiac sign (juggalos instead), and he had nothing even remotely resembling plot relevance until he turned evil and then was revealed to have dealt massive damage to the Black King.
EB: why now?
TT: Perhaps because you have seen evidence that conflicts with the worldview your subconscious has constructed to obfuscate the truth.
TT: That your dad is not necessarily the clown-loving maniac you thought he was.
TT: All along, this negative attribute buried in your psyche may have been projected on to him, and subsequently reviled, as a sort of defense mechanism.
EB: but this is absurd, my dad LOVES these shitty clowns.
EB: he's got all these statues and paintings EVERYWHERE.
TT: Is it unthinkable that over the years it was he who believed you were the one with a passion for clowns? Because of the all the strange drawings in your room?
TT: A father then embraces a son's hobby to establish a stronger bond.
And there's the reveal of why John's father pretended to like clowns. It's both a demonstration of Rose's analytical strengths and a step in a huge chain of events that leads to the human universe's destruction. Rose's analysis of John's father is easy to trust because she immediately offers a blatantly false alternative explanation:
TT: Or wages a campaign of passive-aggresive mockery of your interests.
TT: Either is plausible. I don't know your dad that well.
It's too bad Rose thinks her mother is passive-aggressive. If she opened her mind to alternative analyses like she just did with John's father, she'd know the truth about her mother before she's tragically murdered.
EB: i dunno.
EB: not sure about all this.
EB: but i think we need to stop and acknowledge the bunny sassacre fedora i just made.
TT: It's awesome.
EB: yeah.
This heavy plot revelation is immediately followed by John being an absolute dork. The bunny sassacre fedora is one of the best things to come out of Homestuck, and I'm glad Rose agrees.
Then we see Rose's progress on building up John's house. It kind of looks ridiculous with so many tall chimneys; Rose says she'll soon come up with a better strategy.
[S] Jade: Dream up extra arms and play advanced bass solo is another flash that was originally scored by Bill Bolin, and the only such flash where I think the old version is FAR superior. The old version has an EPIC drop and then another EPIC drop; the new version adds a scene where Jade presses keys on her bass to achieve a similar effect but it just isn't the same.
The flash starts with dream Jade playing on her newly expanded bass. She somehow grew three extra arms and is smiling as she plays like it's no big deal, which is an extreme case of early installment weirdness. Though all kinds of weird nonsense has happened in Homestuck characters' dreams, this is the only time someone EVER undergoes such an unexplained bodily mutation. It doesn't really matter though; this scene puts a smile on my face either way.
Jade's dreambot plays the bass in the real world, which helps her plants grow. I think the whole motif of playing instruments to grow plants is a Zelda reference? Kind of weird because Homestuck doesn't directly borrow much from iconic video games. I don't know, it's cute either way.
Just like with Jade's relaxing bassline, we're treated to a zoom-out even more surprising than the last one. At first it seems like Jade simply dreams in a pink and golden projection of the real world…
… but THEN pieces of the plot come together as the zoom-out reveals a golden planet called Prospit. Though it's surprising to find Jade's dreams take place on whole different planet, the puzzle REALLY comes together at the next zoom-out:
There we have it. A flash that starts as a silly advanced bass solo, but ends up revealing that Jade's dreams take place within the world of Sburb. I can only imagine how crazy this reveal was for serial readers back then. I don't think many people expected Jade's dream world to have been connected to WV's drawings and Nannasprite's exposition the whole time.
> Jade: Change wardrobifier to cycle thru STAR HEART HORSESHOE
Ok, good idea.
You leave the MOON in the cycle though cause you like it.
Here's a reader-suggested command that Hussie liked and followed through with. I applaud whichever reader suggested to bring this Problem Sleuth reference to the table; it's a great fit with Jade's dream wardrobifier.
Note that four of the wardrobifier options are turned on in the image above: moon, star, heart, and horseshoe. All four of those are among the nine leprechaun romance symbols. I would assume that all the options on the dream wardrobifier are the leprechaun romance symbols, but there's a tenth one unaccounted for (the topmost is a randomizer). In the spirit of MSPA, I'm going to assume the tenth one is a pumpkin. Let's be real, what else would it be?
Jade explores the golden city and sees someone who looks familiar. Who could it possibly be??? (it's PM)
I love the way this scene provides our very first hint at the exiles' backstory as Prospitians and Dersites. It's a bit of early installment weirdness, since next time we see PM in the past she's wearing a slightly different outfit.
Meanwhile, Jade's dreambot randomly floats around her island, echoing all of dream Jade's moves. This serves as a convenient transition to the exile arc. We see PM right as that transition finishes, which further makes it obvious dream Jade just saw her past self.
Act 3 has been making very good use of scene retraces. They're always shown side-by-side so you can't really call them visual callbacks, but they do play a very similar plot role.
What exactly inspired Jade to pretty much beg WV to give PM her package in such a pushy tone and claim that "the freedom of [their] people depends on it"? Probably cloud visions that made it incredibly obvious WV likes being a mayor and PM likes being a mail lady. Maybe she also saw PM in person delivering mail, because this note was quite obviously written by dream Jade and the entire package is presumably mirrored between the dream and waking worlds.
The delivery mission has one problem though: AR is randomly shooting at everyone because he thinks he's the lawyer of the frog temple or something. We don't yet know AR wants to be a lawyer, but we will soon enough. Knowing how horribly Earth C's politics fell apart in the epilogues, I'm suddenly sad AR didn't get to rebuild civilization like the other two exiles did.
WV's attraction to PM reminds me how separate the exile arc is from the rest of the story. Their storyline has its own unique charm and it's unfortunately often forgotten about.
First explicit confirmation that PM is female.
I think Jade's letters are a very creative way to confirm the exiles' genders.
WV finally gives PM the present! Hooray!!!
Why are John's clown scribbles glowing?
I think it's to convey to us that these scribbles are mirrored in the waking world and/or early installment weirdness.
Jade flies to the other tower and checks in on John's dream self, who apparently "will wake up when he is ready". The panel where we see inside John's dream room is a major wham shot, especially the scary clown doll. It both answers (the first half of) a plot mystery and foreshadows the main antagonist of the first five acts, which is really damn cool. Sometimes it impresses me how efficient Homestuck can be at driving mysteries.
Speaking of John, you wonder if he got the birthday present you sent him? Or for that matter, if you even remembered to send it?
Darn! You get so confused sometimes. If only you had some system in place to help you remember things.
This page again shows us that dream Jade is considerably more forgetful than regular Jade. The book commentary on this page is very interesting:
Jade's dreaming confusion and forgetfulness is kind of an odd symptom that's never quite been duplicated by another waking dream self. There are two possibilities. One is I was still ironing out the dream self rules early in the story, and that symptom never panned out for others, OR, it is because her sleeping habits are imposed on her unnaturally by external forces. GUESS WHICH EXPLANATION I PREFER.
As a wise clown once said: can't it be motherfuckin' both things? It only makes sense that external forces, which may or may not be code for a certain self-important troll girl, would retroactively make themselves responsible for cases of early installment weirdness and story inconsistencies. I absolutely fucking hate that all this retroactive justification through *this one character* makes metafictional sense. Note the word "metafictional"—no way in HELL it makes regular plain old "sense".
Your MOON is getting very close to SKAIA. You had better go inside soon. It is never a very good idea to be outside during the ECLIPSE.
Maybe you can take the opportunity to log onto your computer and ask John about his present. You just know he will think it is awesome, and it will be a great way to thank him for the wonderful present he got you!
This scene hints that one of Jade's early conversations with John was typed by dream Jade, which is fully confirmed a bit later. A very good example of feeding attentive readers breadcrumbs towards the grand reveal.
I'm ending this post here, just like I did with the old version of this post. See you next time as we go back to Act 6 Act 5 and read Detective Pony's lesser-known sibling. And see you at some point in the future as I go through the last 100 pages of Act 3, ending with an iconic flash that is just SO GOOD AAAAAAAAAAAAAAAAAAAAA. correction: next 50 pages of Act 3, featuring an amazing flash that SHOULD be iconic but everyone forgets about for some reason.
Next => Part 12.1: Scrawlings in Puddles of Sloppy Discharge