< Part 9 | Part 10 | Part 11 >
Pages 836-951 (MSPA: 2736-2851)
Act 3, Part 2 of 5
Previously on Cookie Fonster Critiques Homestuck Rewritten:
See you next time as we frantically switch back and forth between a whole bunch of different characters like the Easter Bunny running late for his annual job of delivering candy and eggs to the world's children, this time during an actually fitting time of year. I wish I could say I had planned my post schedule to make the Easter joke work, but nope, just an incredibly lucky coincidence.

*clears throat*
*puts on pretentious narrator voice*
The day is June 5, 2019, and the Easter Bunny is displeased. He got so distracted reading and rereading the Homestuck Epilogues that he's now over a month late for his annual job of delivering candy and eggs to the world's children!!! So late, in fact, that a monkey took over Easter this year and delivered yummy bananas instead. Kids all around the world now eagerly await the Easter Monkey next year, much to the Easter Bunny's contempt. The Easter Bunny shall exert revenge on this frisky little monkey by, um…
by…
writing more blog posts about Homestuck?
In this blog post, I am the Easter Bunny. It's me. And I am going to announce that I think I'm now ready to resume my Homestuck blog post series. Maybe not on a custom web domain just yet, that'll have to be in the future. I'll just dive right in, conveniently avoiding the fact that I'm procrastinating on the post with the Unite Synchronization flashes and Caliborn: Enter.
PLEASE WATCH THIS YOU WON'T REGRET IT
It's time for Dave's guardian strife! And it's not interactive this time. Rather, it's a full-out flash of Bro Strider flash-stepping and puppeting Lil' Cal, who ends the flash flailing his legs over Dave.
My reaction to this flash when I got to it in my original Homestuck post series really sticks out in my head and probably happened because it hadn't been all that long since the grand Dave/Dirk reunion update. I was floored and breathless at how aggressive adult Dirk is. Is there a word for standing with an open mouth and breath held while watching something tense and aggressive? If there isn't, then that's one more reason to hate the English language.
Next up is a Jade/Rose pesterlog that takes place before Rose was properly introduced.
… Yeah, Rose and Jade's styles badly clash as usual. Same thoughts as when I last analyzed their conversation where it's kind of a stretch to call them friends. The plot stuff in this pesterlog is of note though.
TT: I require a font of frighteningly accurate yet infuriatingly nonspecific information.
TT: Do you know where I can find a wellspring of this sort?
GG: hahaha yes ok but we cant talk for long!!!
TT: You have plans?
GG: well yes i do but its just that you will lose your internet connection soon!!!!!
GG: and we wont talk again for a pretty long time
GG: not until you enter!
TT: Enter?
GG: yeah!
TT: This is what I was talking about.
TT: This was the itch that needed scratching.
TT: My avarice for the inscrutable. It is limitless.
GG: lol what did you want to know?
TT: You've been insisting today was the big day.
TT: We would all play a game you didn't know the name of.
TT: A game you said I'd get in the mail, and did.
TT: One that would help me answer some questions.
TT: But Strider is being obtuse, I can't catch John at his computer, you don't even have the game yourself, and on top of all that, my internet is unstable.
TT: So are you sure today is the day?
This is basically more casual reveals that Jade was behind a bit more than we knew at first. It's kind of cool seeing a flashback conversation with Jade hinting at stuff we already knew, rather than her hinting at stuff we badly want explained in ways that aren't imbecilic.
GG: there sure are a lot of challenges but yes i am sure!!
GG: dave is cool, you know he will come around when the time is right
GG: he just has a lot of work to do first
GG: and so do you!
GG: youll need to keep searching for a stable signal and power source, it will be hard but dont give up!!!
GG: and dont worry about me either, focus on playing with john first
GG: it all starts with you two!
TT: Is there nothing else you can say to prepare me for this?
TT: I'm sure you think little of blithely upsetting dark forces with Grandpa Moreau over there on Hellmurder Island, but honestly I've only read a few books on it.
Maybe it's because I've read the epilogues over and over again, but I think Rose talks almost like an actor with Jade. Exaggerating her poetic talk to the point where she's hard to properly converse with. I think it's fair to say she had broken the ice with Dave and John and can now talk to them like a regular person, but is still an absolute weirdo to Jade.
Oh yeah Rose mentions Hellmurder Island, blah blah blah foreshadowing. Was the foreshadowing intentional? Hell if I know. I would say no, but the phrase "hellmurder island" is dropped outright in Act 6 Act 1 which makes me think Hussie waited a long time to say it.
GG: haha dark? thats ridiculous!
GG: i dont really know what to tell you other than its not going to be what you think it is
GG: and most importantly you will have your questions answered, but they will be the ones you havent thought to ask yet!
GG: just be patient and be brave youll see
GG: it will be fun!!!!!!
GG: uh oh looks like youve got to go
GG: take care rose! <3<3<3
In the old version of this post, I pointed out that this passage "[has] been cited as a quote that essentially tells new readers what reading Homestuck will be like". At the time, that was just another thing I shamelessly stole from TV Tropes. But now, rereading it in 2019 I really feel that comparison. When I read these lines just now, I got the exact feeling you get when a friend tries to assure you that Homestuck is a good read. I'd argue it's even more applicable to the Homestuck Epilogues—certainly not what I thought it was going to be, and answered many questions I hadn't thought to ask yet, for better or for worse. And it definitely requires a lot of patience to fully consume the epilogues—perhaps also bravery to read along despite things you may not like (i.e. despite Gamzee).
oh my god this is good art
Here's where the scene hops start getting a bit absurd. After the long stretch of pages focusing on Jade, now we can't go more than three pages without switching to someone else. Harmless, welcome even, when reading for the first time; slightly annoying when writing long blog posts. I think the scene hops are a necessary step between the overly slow Act 2 and the ideal pace of Act 4.
We switch to Jade but not for long; her reminders transition us to a flash where John and Nannasprite fight two ogres. Using reminders as a transition device is fine I guess? Not much to write home about compared to some of the comic's beautiful transitions later on.
Not shown: PM the mail lady existing. Holy shit, I miss the exiles.
Now it's John's turn to contribute to Rose's walkthrough. And he actually displays a competent understanding of computer science! He professes "amazing hacker skillz" and "leet haxxor cred" which is just as funny to me now as it was almost four years ago holy shit has it been that long.
I suppose now's a good time to talk about Roxy, an expert programmer who is also John's number one love interest.* Even though they got together in the Candy Epilogue, Roxy did not teach John programming or anything like that, nor did she do very much with John that many fans (including me) had badly hoped. Their romantic tale in Candy is a story of OOF OW MY HEART. The two doing cool things together with their common interests is still a super fun thought though, and I wouldn't doubt that their dynamic would approach its ideal form once more following their grand reconciliation at 39 years old.
Anyway, John's walkthrough provides some genuine insight and humor. I highly recommend reading it if you had previously skimmed the walkthrough pages. It's much more readable than Rose's walkthrough, I promise.
* or was, until Terezi came along.
> Rose: Look for mad scientists.
There are no scientists to be found, mad or otherwise. Or anyone for that matter. The lab appears to be deserted.
Come on, Rose. Do you really expect to encounter a single mad scientist in a webcomic called Homestuck? Background characters are an absolute no-go in the early acts and whoever submitted this command should feel bad for not having already realized that.
Oh my god, it's a chessboard. I like the way this grid is designed; you might not notice it's a chessboard right away until maybe you take a closer look. This simple chess design should be enough to pique readers' curiosity at this mysterious lab.
The numbers in parentheses are my count of patterns Jade breaks, in case you forgot.
Jade goes down her stairs and (10) we get to know Grandpa Harley's wide array of interests, which is much unlike the other three guardians' singular obsessions. The flashing colors in each of these images are sneaky proof that Hussie planned out the alpha kids by this point. I really love that he foreshadowed them in such subtle but retrospectively obvious ways, with the bonus of answering the question of when he conceived of the alpha kids.
I'm obligated to mention that each of Grandpa's four interests connects to one of the alpha kids. Should be obvious which is which.
And here's, uh, the blue ladies. Not totally sure what to say about them other than that I imagine many readers who got to this page immediately remembered that Nannasprite is blue. Cool foreshadowing, I suppose? I like how Hussie seemed to put two and two together after he decided to make James Cameron's Avatar one of Jake's favorite movies.
This is your grandfather's collection of what he refers to as his BEAUTIES. No lovely lady will be fit for his collection unless her portrait has spent at least 20 years bleaching in the front window of a beauty parlor, a sort of establishment he's plundered no less frequently than ancient tombs.
You guess they were sort of like your sisters while growing up, and you were always encouraged to look up to them. They are all awfully pretty ladies you suppose, but it was always hard to get as excited about them as grandpa.
In the early acts, the beta kids referring to siblings in any capacity strikes me as a little odd. Maybe it makes sense here because Jade was raised on an island in the middle of nowhere and doesn't understand a lot of basic social norms, like the concept of "sisters". I don't know, just a thought. A plus side of Hussie working with a team to write the epilogues is that one writer extrapolated upon Jade's societal isolation in creative ways.
"Jade, study hard and keep your rifle at the ready. When adventure summons, I know you will rise to the task and take your rightful place among the DAUGHTERS OF ECLECTICA."
That old coot sure is a bag of wind!
Only now did it occur to me that maybe at some indeterminate point in time Hussie had some sort of conception of a place called "Eclectica". I'm a bit miffed that I don't live in a timeline where Eclectica is a major concept in Homestuck like Prospit or Skaia.
The Typheus minion exists? I think? I discussed it a tiny bit in this post, when Jade refers to it by name and talks about it with John.
Looks like someone's pestering you.
Even though you thought you logged off… ?
Oh hell, it's TROLL TIME. This little line is a vague hint that Homestuck deals with people from another dimension, which would be way cooler if most people who know about Homestuck didn't already know it had trolls.
carcinoGeneticist [CG] began trolling gardenGnostic [GG] at 13:04
CG: HI AGAIN, IDIOT.
GG: oh nooooooo
CG: SO I GUESS TODAY IS FINALLY THE DAY YOU FUCK EVERYTHING UP.
GG: >:O
CG: IS THERE NOTHING I CAN DO TO CHANGE YOUR MIND?
GG: you can leave me alone!!!!!
GG: how can you even be talking to me after i blocked you….
GG: AND after i logged out????
CG: YOU DON'T GET THAT I AM BETTER AND SMARTER THAN YOU IN EVERY WAY, FOREVER.
CG: YOU DON'T GET THAT BECAUSE YOU ARE INCREDIBLY STUPID.
GG: i get that youre a jerk and you should shut up!
GG: goodbye you jerk!!!!!!!!!
gardenGnostic [GG] blocked carcinoGeneticist [CG] at 13:06
OK, that's the end of TROLL TIME. This pesterlog does what it needs to and nothing more: showcasing a new character with apparently some future knowledge without revealing anything about who it is. I won't pretend I have much else to say about Karkat's first impression.
At the center, you find a little stage that looks perfect for supporting a spectacularly silly dance. Or it would if standing on it didn't make you a little nervous, and also if that didn't sound like a retarded idea given the circumstances.
It looks sort of like the various contraptions you've been deploying in John's house. You wonder what it does?
Rose is quick to catch onto patterns as usual. She doesn't seem to make much of this resemblance to Sburb technology, but on the inside it's safe to say she's already started formulating a fresh new batch of theories.

Rose's concern for structural elegance is at an all-time low, as is my concern for sylladex antics. But this panel above looks cool enough that I'll show it regardless.


In a sequence of panels not shown here, PM gets her own equivalent to WV: Ascend. We already know all the plot twists and exile station mechanisms, so no need for another giant flash. A simple set of panels showing similar events is good enough.
PLEASE WATCH THIS YOU WON'T REGRET IT IT'S SO GOOD
Dave's second round of Bro strife is much more face-to-face and even more terrifying/thrilling. For the most part, this flash is scary as ever when rereading and really drills down how scary Dave's childhood was. This feeling reaches its climax when Bro bounces Dave off himself through some precise flash-stepping and puppetry, until suddenly:
SBaHJ references are a foolproof way to take a big hard smelly crap over any moment of horror or trauma. These references are so funny I can never stay mad at any of them; my personal favorite is the "are you next?" right after Kanaya is tragically murdered. This particular gag has some greater significance though: it leaks a bit that Dave's life had yet to succumb to Cerebus syndrome.
Hussie you absolute fucking madman. Forget the meteor impact map or any of that nonsense. Instead, take a close look at one of the diagrams to the right. It's a depiction of an eight-player session that conclusively proves Hussie had devised the alpha kids by this act. Bragging rights, anyone??? I think people aiming to write complex and long-winded stories should look up to Problem Sleuth and early Homestuck-era Hussie.
Back to the meteor map, Rose zooms in on her location and then zooms out to Dave and Jade's locations. It doesn't take a sharp eye to tell that John and his three friends are the "chosen ones" and that they will all play Sburb, with each player's entry more grandiose and dramatic than the last. It's always a pleasure to see foreshadowing that ends up true to the letter.
Having reconnected to the Internet, Rose opens Sburb on her laptop which transitions us to the second half of John's ogre strife. Sburb as a transition device is pretty cool actually, and is used for quite a few elegant transitions in the early acts.
With help from Nannasprite, the battle ends with a cheerful victory dance and a triumphant high-five.
TT: Good work, John!
EB: oh, hey!
EB: you're back.
TT: For now. I'll have to leave again shortly.
TT: It looks like there's another large meteor headed for…
TT: My present location.
EB: oh, so you mean dave connected with you?
TT: Not yet.
TT: I'll explain later.
TT: But I think I've determined that activating the timer in the game is not directly responsible for summoning a meteor to your location.
TT: The countdown seems merely to exist as a kind of warning to the player.
TT: As well as a strange coincidence.
This short passage between John and Rose is good for getting less attentive readers up to speed. It clarifies that the countdowns exist as a warning, in case readers hadn't figured that out yet.
EB: um, ok.
EB: i don't really think i get it.
EB: is this relevant?
TT: Probably not at the moment. And certainly not to you.
TT: I have to go.
EB: ok, later!
TT: P.S. Try not to waste too much of that grist while I'm gone.
John is a good obedient boy who listens to Rose's words. He stays frugal with his grist until he figures more things out.
Not shown: John leveling up to the legendary BOY-SKYLARK rung.
JOHN: hey, nanna?
NANNASPRITE: Yes, dear?
JOHN: since i am trying to get up to that gate, and since you can sort of conjure floating beds and throw me around and all…
JOHN: couldn't you just throw me up to the gate?
NANNASPRITE: Yes, of course, John!
NANNASPRITE: But that would not serve your purpose well!
NANNASPRITE: There is a very good reason why you should build up to it. And then keep building!
Another case of the game refusing to allow obvious exploits. Sburb seems well-programmed at first, with care taken to prevent bypasses and skips. But that won't last much longer. With trolls from another universe added to the mix, Sburb can and will be broken in all the best ways. We'll see a lot of that in Act 4, get hyped.
NANNASPRITE: When you pass through the first gate, everything will change. You will find the place where the constellations dance beneath the clouds. And then your true work may begin.
I can't even keep track of these poetic phrases anymore. Hussie cranked out so many of them and the one quoted above is one of the most memorable.
Oh boy, it's worldbuilding time. Derse is a planet that exists or something, I don't really know what to say.
Look at the glorious Dad Egbert though. It feels so refreshing to see what he's up to and very heartwarming to see the Egbert family all tackle these creatures.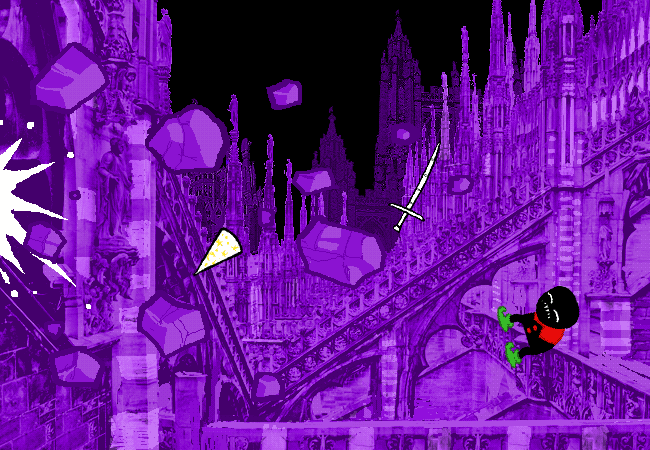 Did he just…
punch a giant hole through a wall?
This guy's absurd strength is one of the most underrated things about Homestuck. Please stop and take a moment to appreciate it before going on.
Skipped over the teaser of Jack Noir. I'll have more to say about him next post.
Next we finally get to play as PM, the second exile. The narration firmly shows she's obsessed with mail, treating it as a vital pillar of civilization and all that is good.
PM turns on Jade's exile screen, the same screen WV chose not to turn on. And boy are we in for a surprise. The image itself invites a heap of questions already. Why is it snowing around Jade now? What's this electric green interference?
Greetings.
Don't I know you?
As we can see here, the image itself was just the tip of the iceberg. Why does PM recognize Jade? How did the green interference move to the command station itself?
I'd count this as a pattern broken, but I think it's better saved for when this scene is revisited in Act 5 Act 2.
OH FUCK
WV was wise not to turn on Jade's command screen. It would have caused the entire command station to explode! The exile screens' serial escalation is done so perfectly, ending with a massive unexplained surprise whose true meaning nobody at this point could possibly guess.
Back to the Skaianet lab arc. While exploring the lab, Rose comes across some kind of little girl's room? If you see through the garish bright pink, you'll notice wizard and cat plushes abound, plus a bright pink version of the cat logo seen a few times in Rose's residence, and might guess that this is where Rose's mom grew up. This conclusion is way more obvious if you reread the comic knowing who Roxy is; it also shows how little Rose actually knew her mother.
You are accosted by a friendly MUTANT KITTEN.
This page needs no commentary. I included it out of obligation, because who in the world would want to read commentary on Homestuck if it ignores this wonderful page?
Not shown: John descending into his father's room.
Holy SHIT. This image is a wham shot if I've ever seen one. Stuffed heads of Sburb underlings, a picture of Jade arranged like a memorial, and a structure colored like Prospit and Derse??? This picture asks so many questions, all through simple details.
As Jade prepares to face her grandpa, you may notice a set of four dolls representing his variety of interests. It's only natural that since Grandpa has a multitude of salient interests, (11) he has a multitude of dolls to symbolize them instead of just one. And just like how Jade has one true fetch modus and one true shirt symbol, one could consider the blue lady Jade's true "corresponding doll". It's the same doll that would almost get prototyped into her sprite until a certain someone interferes.
Jade finally faces off against her grandpa!!! And it turns out he was dead this whole time because Jade is a filthy stinking liar. (12) Jade's grandpa is not her true guardian, as this joke flash shows us.
I'm really at a loss for words at this bait-and-switch. It isn't even cleverly hidden or anything, it's an outright lie. There's no way you could read Jade's descriptions of her grandfather before this page and not assume he's alive.
I do think it's worth pointing out that Jade's imaginary interactions with her grandpa get Cerebus syndromed in Act 5 Act 2, where Tavros proudly reveals how her grandpa died and then hits on her. That scene isn't talked about much which is a shame; it's beautifully written and excels in "what the fuck" factor.
He was so much easier to deal with when he was alive.
This page hammers in that Jade's grandpa is dead, if it wasn't obvious already. Done right without seeming out of place.
Another pattern broken: (13) Jade goes outside without a misattributed quote coming to mind. Her misattributed quote is saved for when she enters the Medium. I'm suddenly sad now that we STILL don't know the in-comic story behind Charles Dutton like we do with Harry Anderson or Barack Obama or Guy Fieri. The first Act 5 Act 2 book is coming in October; maybe Hussie will have a few words to say about Dutton there?

Let's take a moment to appreciate the Sentry Worm. Nobody ever talks about this guy, what a shame.


I refuse to acknowledge that any reader could have possibly thought Rose would refuse to acknowledge the mutant kitten.
You can't say no to cats, that's a fact of life.
Rose encounters an appearifier styled like an arcade for some reason. Roxy is quite the fan of old video games so maybe it's easy to imagine her pre-scratch self took an arcade and reprogrammed it to appearify things? I'm liking these obtuse hints at what kind of person Rose's mother really is, all of which painfully fly over Rose's head.
You mess with the controls…
Hey, Jaspers is alive!!!
Or, at least he was in the past. According to the time-stamp this was almost nine years ago.
Rose is momentarily excited to see her cat alive before she reverts to her usual stoicism. Are you ready for something adorable?
Four-year-old Rose is sitting calmly in an oversized chair, patiently jotting down notes about her mysterious little cat. My god, look at her. It's so cute to see that Rose has been a dedicated psychoanalyst since she was a baby.
It looks like you and Jaspers were having one of your sessions. You weren't making a lot of progress though, because Jaspers was no doubt being characteristically recalcitrant. You possibly jotted this phrase down in your pad. It's hard to remember though.
It's also adorable that Rose's narration describes Jaspers as "characteristically recalcitrant", instead of words that a normal 13-year-old would use.
Look at this cute little cat, playing with Rose's scarf.
In the present, Rose tries to appearify Jaspers but ends up demonstrating the mysterious workings of ectobiology instead. As the book commentary states, this scene is something of a tutorial to prepare us for the scene where John creates the beta and alpha kids.
Whoever was operating this machine in the past may have been making unsuccessful attempts to perfect the science of ECTOBIOLOGY.
"Whoever was operating this machine in the past"? Jeez, I wonder who that could be. It probably isn't Rose's mother or anything, that would be ridiculous.
Jokes aside, I think I've made my point by now that this scene reads way differently if you're rereading. Rereading the comic is a necessity if you want to understand even a fraction of it and this scene is no exception. Mom Lalonde's backstory is right in your face once you know who post-scratch Roxy is.
Back to the conveniently viewable flashback, Jaspers tells little Rose a secret and promptly vanishes and OH MY GOD, look at Rose's expression!!! She's stunned and beyond confused. I can't believe it's been almost five years since I first read Homestuck but I never stopped to appreciate four-year-old Rose—smell the roses, if you will (oh my god that's a fucking terrible pun I'm so sorry).
After two weeks gone missing where not even the appearifier can show where he is, little Rose finds Jaspers dead. What follows is a gloomy flash fast-forwarding to the present.
Little Rose continues to make the cutest expressions. She can never disguise sadness at the loss of a loved one.
Then Rose's mother does what all versions of Roxy are predisposed to do: hold an elaborate overdramatic funeral to exert her grief. Even as a young child, I'd bet Rose obsessively psychoanalyzed her "spiteful" and "ironic" mother. She probably spent the whole funeral wrapped up in intense maternal psychoanalysis rather than mourning their beloved cat.
IT'S JASPERS. HE'S ALIVE.
Well ok, he's still dead. But his body is intact. Turns out it wasn't some kind of DISINTEGRATIFICATOR like you thought.
It's more like…
AN ESCAPILIZER.
The flash ends with an image showing Jaspers' body is intact, accompanied by some amusing narration quoted above. As before, Rose lets her sugary inner self leak out a bit before remembering the cat is still dead and going back to her usual philosophizing.
And with ten seconds to spare, Rose appearifies Jaspers' body and leaves the lab. The story's impromptu coinings of complicated Sburb-style words always make me smile.
As Jade goes outside to find her elusive dog, we get a small flash of the same electrical energy that blew up PM's exile station. Together with the silhouette of Becquerel's face, all I can say is that's some damn cool foreshadowing.
John arrives in his dad's room and it's not at all what he expected it to be. It's a room full of ties, pipes, and.. business documents?
I still love that this flash's music is reprised in a much more horrifying context about halfway through [S] Caliborn: Enter.
Suffice to say, John doesn't have an easy time processing this. He promptly has a mental breakdown in a flash with dramatic music, as if this was some kind of terrifying revelation that uproots everything John thought he knew and now he can never see the world the same way ever again.
Except this actually is a terrifying revelation that uproots everything John thought he knew and now he can never see the world the same way ever again.
Look at poor John. He's trying to understand his father to the best of his 13-year-old ability.
So all those years, while you believed he was out busking up the corners with hilarious antics, he was working as an ordinary business man all along. He was just a man trying to make a good honest living for his son. Maybe he was too embarrassed to tell you the truth? Or maybe it was just that you'd never bothered to ask?
You guess you always just assumed…
A natural part of John being "homestuck" is that he's stuck in childish assumptions on what his father does for a living. If you're a little kid, maybe it's understandable if to some degree you genuinely think your dad is secretly a hilarious clown, but by the time you turn thirteen you should really know the truth or at least infer it from context.
All that said, just because Dad Egbert isn't quite the clown lunatic John thought he was doesn't mean he isn't an absolute badass. This transition from son to father is done so well.
The next page is where we get to know Jack Noir, which makes for a good stopping point. See you next time as Rose puts her psychoanalysis skills to the best use imaginable.