< Part 98 | Part 99 | Part 100 > (I'm close to a big milestone!!!)
Pages 5927-5946 (MSPA: 7827-7846)
Act 6 Intermission 5, Part 1 of 5
Man, "The Trolls" just aren't what they used to be.
A few months ago when I looked over the titles of my old 2015-16 posts, I realized that "3*(2+50)weekium Meteor Mindfuckery" would have been a much better name for the post titled "Karkat Freakouts Ad Infinitum", the post covering the beginning of the meteor journey. I've decided to use that title (which matches "Triennium Battleship Mindfuckery" for the start of the battleship journey) for the post that starts the tail end of the meteor journey, because I like that title a lot.
Act 6 Intermission 5 begins with a shot of the trolls' meteor approaching its destination, corresponding with the battleship's arrival at the end of the prior sub-act. It is accompanied with Karkat saying "DAVE ARE YOU THERE", which is a fun way to start this intermission: pretty much any conversation between Karkat and Dave is guaranteed to be hilarious, and Karkat's line indicates that they've grown quite a bit closer than they were last time we saw them.
Goofy alchemized computers are one of the few traditions from the early acts to survive this long, which I am very grateful for. I love the design of Karkat's little crab watch thing.
Karkat's attempt to reach out to Dave says a lot about both the meteor crew's current state of affairs and Karkat's inner drive for leadership. It also says a lot that Dave is the first one he contacts, instead of Rose or Terezi, the usual experts on Sburb-related matters. We're right about to find out why he chose to contact Dave.
I must say, this shot of Karkat observing the alpha kids' Skaia all alone is rather poignant. No one else is with him to prepare for the meteor's arrival—just Karkat Vantas, standing there alone while the rest of his friends are either dead, missing in activity, or trapped in horrible unhealthy relationships.
In true leaderly fashion, Karkat starts by addressing the elephant in the room: the meteor has no brakes, meaning nobody knows how they're going to get off. It's again poignant that Karkat is monologuing into the air about this important plot issue.
Karkat's face, man. His wistful frown, his forlorn sigh, his thick droopy eyebrows… I think this is the first time I've truly felt the emotional impact of this scene.
Remember that one time from the trolls' arc when the then-unnamed Eridan encountered a stray bottle of Faygo? This scene calls back to that little gag in a much more worrisome context: looks like someone is down with the clown.
WHERE ARE YOUR FUCKING PANTS?
And that someone is Terezi of all people. Turns out Karkat wasn't quite alone observing Skaia from the meteor: his smart, goofy friend Terezi is loudly snoring on the ground in her underwear, drenched in Faygo and surrounded by clown horns. This is a deeply upsetting panel which I again am really, strongly emotionally impacted by for the first time here.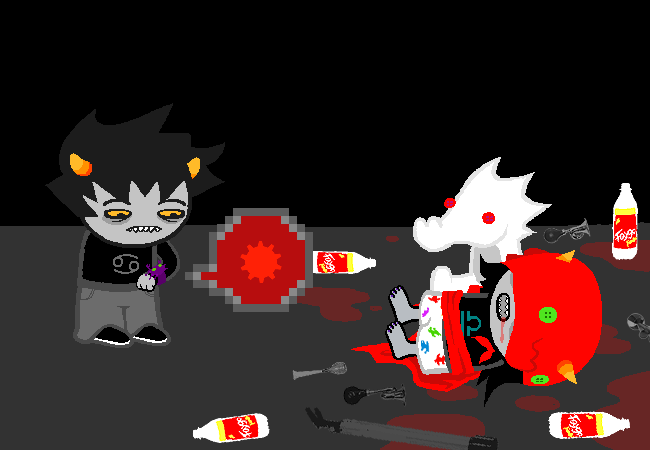 Right after Dave enters the conversation, he and Karkat demonstrate a common pattern in their interactions: both have a laughably bad understanding of the other's social norms and customs. It's one of several patterns I'm very pleased that the epilogues kept alive.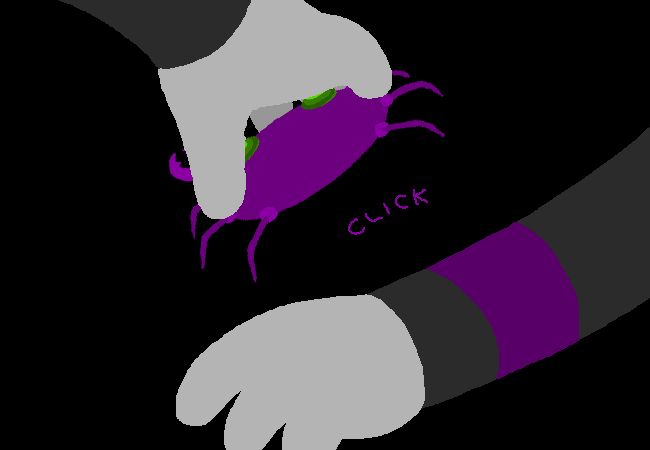 KARKAT: WELL, WHENEVER SHE WAKES UP, WE ALL NEED TO HAVE A SERIOUS TALK ABOUT THIS.
KARKAT: IF SHE'S IN THIS CONDITION WHEN WE GET TO THE NEW SESSION, IT'LL BE A GODDAMN EMBARRASSMENT.
KARKAT: NOT TO MENTION DEADLY! NEED I REMIND YOU WHO'S STILL FOLLOWING US? SHE DOESN'T LOOK PRIMED FOR BATTLE FROM WHERE I'M STANDING!
KARKAT: WE NEED TO ACT AS A UNIFIED FRONT, DAVE. WE NEED TO LET HER KNOW THAT AS HER FRIENDS WE CAN'T STAND BY AND WATCH HER DEGRADE HERSELF LIKE THIS.
DAVE: man i dunno
DAVE: sounds like you wanna make this needlessly melodramatic
When we're talking about Karkat, melodrama is an inevitable byproduct of leadership—that's just the sort of person he is. Dave is really giving him a compliment by saying he's being melodramatic.
KARKAT: STAND BY. I'M PUTTING YOU ON SPEAKER CRAB.
DAVE: speaker crab
KARKAT: YES. SPEAKER CRAB.
DAVE: man dont put me on speaker crab
KARKAT: SHE NEEDS TO HEAR FROM YOU DAVE. SHE TRUSTS YOU.
DAVE: god
DAVE: honestly she can do whatever she wants i put this all behind me a while ago
DAVE: why do you really want me in on this conversation is it just that you dont know what to say by yourself
Dave x Terezi has been brutally sunk, everyone. Not sure what to say, really—I honestly forgot that ship existed until now. I guess Dave not caring what she does anymore is a reasonable fate for those two.
KARKAT: MAYBE IT IS DAVE!
KARKAT: MAYBE THAT'S EXACTLY WHAT IT FUCKING IS.
KARKAT: I'M SORRY. I'M NOT A "GOD TIER".
KARKAT: I AM NOT SO FORTUNATE AS TO BE BLESSED WITH THE "GIFT OF GAB" LIKE YOU.
DAVE: what
KARKAT: THAT BADGE YOU EARNED. YOU KNOW, THE ONE THAT MAKES IT EASIER TO TALK TO PEOPLE?
KARKAT: LIKE, REALLY OPEN UP ABOUT YOUR FEELINGS AND SAY WHATEVER NEEDS TO BE SAID?
DAVE: hahaha thats what you think that does?
KARKAT: ISN'T IT??
DAVE: no dude thats not what gift of gab does
KARKAT: OK WHAT DOES IT DO THEN WISE GUY!
DAVE: its utility isnt really comprehensible to lowly mortals sorry
Dave and Karkat humorously break the fourth wall by bringing up the reason Karkat has to bring Dave into his honest talk with Terezi: neither of the trolls are god tiers, which means they can't speak by themselves in dialoglogs. I like how Karkat has a non-meta justification for wanting to use Dave's Gift of Gab powers: he completely misunderstands what that badge does. Dave's statement that it isn't comprehensible to mortals is probably just a funny way of saying he doesn't know what it does either.
DAVE: what do you actually want from her
DAVE: do you want her to stop drinking faygo and falling asleep in puddles of red fructose corn slobber
DAVE: or do you want her to somehow address the root of those habits and cut all that out for good
KARKAT: YES! I WANT HER TO DO THAT!
KARKAT: THE LATTER THING.
DAVE: yeah i can understand where youre coming from
DAVE: but in situations like this i think you need to remind yourself theres only so much you can do for somebody
DAVE: and maybe they arent going to want or need your help and you just have to figure out how to deal with that
DAVE: like at some point in your life one of your friends might start spending all her time with a guy you think is bad news
DAVE: and you have to decide if you need to intervene as a friend or just let it go because people can change or drift apart or whatever because thats just something that happens
Dave here is giving Karkat honest advice about dealing with unfortunate changes. The inevitability of friends drifting apart is an important moral in the epilogues and I find it interesting that this same moral is brought up in Homestuck proper in a more contested manner.
KARKAT: DAVE
KARKAT: YOUR WISDOM, MY GOD
KARKAT: IT'S KNOCKING MY SOCKS OFF. HOLY SHIT, PLEASE TELL ME THE SECRET TO YOUR WISE WAYS.
KARKAT: AND WHILE YOU'RE AT IT, MAYBE YOU COULD TELL ME WHAT THE FUCK YOU'RE TALKING ABOUT.
Unlike Dave, Karkat isn't the kind of person who takes well to raptures in his friends' dynamics, which he expresses in a rather sarcastic way. Deeply wanting his friends to all be happy is a strong trait of Karkat's, probably stronger than any other character. Definitely more than John, who treats his friends' relationships going in unexpected directions as grounds for a solipsistic existential crisis.
DAVE: look all im saying is
DAVE: there comes a time in every young womans life when she has to come to terms with the decision to gradually morph into a juggalo while all her friends and loved ones watch in dismay
DAVE: terezi has strolled through the dark carnival and taken a great brooding whiff of that decisions festive asshole and the choice she has made is all too clear
DAVE: shes down with the clown
KARKAT: NO, DON'T SAY THAT.
As of the epilogues, Terezi isn't the only young woman to come to terms with the decision to gradually morph into a juggalo. The exact same happened to Jane in Candy with her whole freakish affair with Gamzee.
DAVE: its true man
DAVE: you can live in denial for only so long
DAVE: but as your bro i have to say it like it is
DAVE: she and gamzee man
DAVE: that is literally a thing
DAVE: they are in the hate square together
DAVE: total kismespades dude
KARKAT: NO, THAT'S NOT WHAT I MEAN.
KARKAT: I MEAN, I KNOW THAT.
KARKAT: JUST WHY DO YOU HAVE TO PUT EVERYTHING SO "COLORFULLY"?
KARKAT: I GUESS I DO THE SAME THING, BUT YOU ALWAYS SEEM TO TAKE THINGS TO A DIFFERENT LEVEL OF GROSS. JUST PLEASE SAY SHIT NORMALLY FOR A CHANGE, OK.
God, Karkat and Dave really do have a lot in common. Karkat feels a bit of self-loathing tug at him whenever he's subjected to Dave's graphic metaphors for uncomfortable situations.
Dave and Terezi just weren't meant to be, were they? Her dating a clown on the side is enough to drive Dave away, which isn't anywhere near enough to drive Jake away from Jane. Roxy's strange clown loyalty isn't enough to drive John away from her either—she was the one who broke things off with him due to his massive existential depression.
DAVE: but what about you
DAVE: havent you been talking to gamzee this whole time
DAVE: or is he just balls out lying to you about sneakin around the meteor with terezi
DAVE: i thought moirails were supposed to be open with each other about stuff like that
KARKAT: YEAH. UH.
KARKAT: GAMZEE ENDED OUR MOIRALLEGIANCE QUITE SOME TIME AGO.
DAVE: oh shit
DAVE: sorry to hear about that
Though Dave was simply uncomfortable with Terezi dating Gamzee, he respectfully reacts to the revelation that Karkat's pale relationship with Gamzee has ended. This shows that he cares about Karkat enough to respect his values and relationships he may not totally understand, which is very sweet of him.
KARKAT: IT'S FINE. IT WAS REALLY A DEAD END PALE RELATIONSHIP.
KARKAT: AT FIRST IT REALLY SEEMED LIKE I WAS A NECESSARY PART OF HIS LIFE, KEEPING HIS SHIT UNDER CONTROL…
KARKAT: BUT AS TIME WENT ON HE JUST GOT COMPLETELY DISINTERESTED AND WASN'T KEEPING UP WITH HIS END OF THE THING AT ALL.
KARKAT: HE STARTED GETTING SO UNBELIEVABLY SELF SATISFIED AND PIOUS, LIKE WAY MORE THAN HE EVER WAS BEFORE.
KARKAT: LIKE HE'S JUST SO COMPLETELY CONVINCED HE'S FOUND HIS CALLING, THAT THIS SESSION IS THE GATEWAY TO THE PROMISED LAND WHERE HE'LL FULFILL HIS DESTINY.
KARKAT: HE'S SO CAUGHT UP IN HIS IDIOTIC SCHEMES HE COULDN'T GIVE A FUCK ABOUT ME ANYMORE.
KARKAT: WHATEVER. AT LEAST HE STOPPED KILLING PEOPLE.
It's rather emotional to see Gamzee's transition from the trolls' loose cannon to an unapologetic plot device described by Karkat, who was once his best friend. As with Dave/Terezi, I can only say pale Karkat/Gamzee was simply not meant to be.
DAVE: amazing i spent three years on this rock and never said one thing to the guy
DAVE: i saw him once tho
DAVE: just a glimpse in a dark hallway
DAVE: it was kinda like seeing a blurry purple bigfoot with a huge boner
KARKAT: OH GOD!
KARKAT: THAT FUCKING GOD TIER OUTFIT.
KARKAT: WHAT A GODDAMN FAKER. I CAN'T FOR THE LIFE OF ME IMAGINE WHERE HE GOT THAT THING.
KARKAT: I KNOW KANAYA SURE AS HELL DIDN'T MAKE IT FOR HIM.
KARKAT: THE MAN LITERALLY HAS NO SHAME.
DAVE: why is he wearing it
KARKAT: I DON'T KNOW!
KARKAT: I DON'T THINK EVEN HE KNOWS.
KARKAT: MAYBE TO MAKE A "GOOD IMPRESSION" ON HIS FAKE ASS RELIGIOUS IDOL, AFTER HE THRUSTS HIS SACRED COD PIECE THROUGH THE GATES OF SHANGRI LA.
DAVE: ahahaha the best thing we ever do together is slam this assholes dumb religion
KARKAT: YEAH!!!
DAVE: really its the most hilarious fucking horseshit ive ever heard
Karkat is bonding with Dave over how full of shit Gamzee is, just like he used to do with Sollux back in the trolls' arc. Ever stop to think about how Sollux was basically Karkat's starter Dave?
DAVE: i mean pretty much all religions are wrong but theres wrong and then theres WRONG
DAVE: as in ZERO CHANCE YOU ARE EVER PROVEN RIGHT ABOUT EVEN A SINGLE THING DUDE, EVER EVER EVER
KARKAT: HAHAHA! IT'S SO TRUE.
KARKAT: I WISH I COULD SEE THE LOOK ON HIS FACE WHEN HE FINALLY REALIZES EVERYTHING HE BELIEVES IS A LIE.
DAVE: be one sad clown that day
DAVE: his bulge will probably deflate and make this high pitch noise plus corresponding flatulence
Oh, the dramatic irony. Dave's descriptions of Gamzee make me laugh every time, so much that it's easy to forget Gamzee's religious beliefs are real. But to be fair, stable time loops involving himself are the reason his beliefs are real, what with all his preposterous narrative relevance.
KARKAT: HEY DAVE.
KARKAT: WHAT DO YOU THINK WILL HAPPEN TO US AFTER WE MEET UP WITH THE OTHERS.
KARKAT: I MEAN, AS FRIENDS.
DAVE: what do you mean as friends
KARKAT: I MEAN WILL WE STILL GET TO BE BROS.
DAVE: uh
DAVE: yeah?
DAVE: no offense dog but thats a dumb and neurotic question
Dave being sweet to Karkat in his own Strider way is kind of melting my heart. It's incredibly satisfying to see their dynamic develop from heated dick fights to this.
KARKAT: NO BUT SEE
KARKAT: WE'RE GOING TO MEET ALL THESE OTHER PEOPLE.
KARKAT: JOHN AMONG THEM.
KARKAT: AND JOHN IS YOUR BEST FRIEND, SO YOU WILL OSTENSIBLY RESUME THAT FRIENDSHIP WHERE YOU LEFT OFF.
KARKAT: AND JOHN AND I HAD A FEW TESTY CONVERSATIONS WITH EACH OTHER ONE DAY, AND IN MOST OF THOSE I MADE A FOOL OF MYSELF.
KARKAT: AND I GUESS WE BECAME FRIENDS THAT DAY? MAYBE??
KARKAT: BUT THE REALITY IS IT WAS JUST ONE DAY, AND HE'D BE WELL WITHIN A REASONABLE FRAME OF MIND NOT TO GIVE A CRAP IN HINDSIGHT ABOUT THE GUY WHO TROLLED HIM ONCE THREE YEARS AGO.
The thing with John, and I do mean specifically John, is that people he only got to know for a day tend to linger in his mind for an abnormally long time, almost as if his relationships with them are cryogenically preserved. It happened with Karkat, it happened with Vriska, and it'll much later happen with Roxy which is arguably the most emotional instance. I think it makes sense for this phenomenon to occur with John because he's the member of the main cast most attached to the grounds of canon.
KARKAT: AND THE SAME GOES FOR JADE!
KARKAT: I THOUGHT WE HAD A DECENT RAPPORT, BUT AGAIN, IT WAS ONE DAY FOREVER AGO. SHE PROBABLY BARELY REMEMBERS ME AT THIS POINT.
KARKAT: WHEREAS THAT DOESN'T MATTER FOR YOU, BECAUSE YOU GO WAY BACK WITH THEM. THIS IS LIKE A FUCKING *HEARTFELT REUNION* FOR YOU GUYS.
Though Jade isn't subject to the one-day phenomenon like John is, she does end up spending a lot of time with Karkat on Earth C as a side effect of her spending a lot of time with Dave, who she had a massive crush on since the story started. I think the reason Jade's prior dynamic with Karkat is nowhere to be found in the epilogues is because she doesn't cling to day-long experiences like John does.
KARKAT: BUT WHERE DOES THAT LEAVE ME??
KARKAT: I CAN HARDLY CALL GAMZEE A FRIEND ANYMORE. WHO KNOWS IF MY FRIENDSHIP WITH TEREZI WILL EVER BE WHAT IT WAS BEFORE. I USED TO BE PRETTY CLOSE WITH KANAYA, BUT NOW SHE AND ROSE NEVER LEAVE EACH OTHER ALONE FOR MORE THAN A FUCKING MINUTE.
KARKAT: ALL MY OTHER FRIENDS ARE DEAD, AND NOW WE'RE LEAVING THE DREAM BUBBLES BEHIND.
KARKAT: AND THEN THERE'S YOU.
KARKAT: SO
KARKAT: I'M JUST WONDERING WHAT HAPPENS NEXT.
Here, Karkat makes it extra clear why he's so worried that he won't be friends with Dave anymore: all his other friendships faded away one by one, and the only one left is about to have a series of extreme heartfelt reunions that have nothing to do with Karkat. His mention of Kanaya is especially sad because it starts to bring a negative side to the lesbian ship everyone loves.
DAVE: you forgot the mayor
DAVE: youre pretty damn tight with the mayor arent you
KARKAT: THE MAYOR'S FRIENDSHIP IS A UNIVERSAL CONSTANT, AND I AM INSULTED BEYOND COMPREHENSION AS WELL AS MY CAPACITY TO VOMIT THAT YOU WOULD INSINUATE OTHERWISE.
DAVE: yeah the mayor rules
Some positive aspects of life go without saying and are unusual to even mention; in Dave and Karkat's case, the Mayor's friendship holds that role. They both know that the Mayor has never and will never let them down, so he doesn't need to be mentioned when talking about friendship issues.
DAVE: but as usual you are overcomplicating this
DAVE: just like you overcomplicate everything
DAVE: friendship leadership romance
DAVE: shipping grids and dick battles
DAVE: this is real simple
DAVE: our meteor will somehow tokyo drift to a dead stop in the new session
DAVE: at which point we will keep being bros for life or something
DAVE: i will start being friends with john and jade again because they are my friends and never stopped being that
DAVE: john will also be your friend because hes cool and also a doofus who is easy to be friends with
DAVE: jade will be your friend too cause shes nice and likes being friends with people
DAVE: i can personally guarantee that she will be happy to see you
Dave knows John and Jade well enough to correctly guess that their friendships with Karkat will resume just as easily as their friendships with him. We already know that John could never possibly forget his fun and endearing conversations with Karkat no matter how short the timespan, and the epilogues demonstrate that Jade is easily complacent with being everyone's friend.
DAVE: and as for the new people i dont know about them but theyll probably be your friends too
DAVE: all i know is two of them are my parents and two of them are johns parents and aint no rule that says you cant be friends with your bros mom and pop
DAVE: especially when your bros mom and pop are a couple of sassy teens
DAVE: as for terezi i dont know i guess well see what happens
DAVE: and as for gamzee fuck that guy with a balloon poodle
DAVE: friendship lesson secured the end

Dave gives Karkat some final assurance that he'll have plenty of friends plus an obligatory "fuck Gamzee", but doesn't mention Rose or Kanaya in the list. I take it from this lack of mention that as of the end of the pre-retcon meteor journey, Dave barely thinks about those two anymore, which is again a negative side of Rose and Kanaya's relationship.
And then Terezi starts to wake up and Karkat honks a horn at her, ending this scene on a semi-humorous note.
The planet is colored red because it's the color of Trace's hat, the third Felt member.
What follows is a page titled "Act 6 Intermission 5 Intermission 1", which is an incredibly ridiculous act subdivision that only lasts for one page. Act 6 Intermission 5 has six sub-intermissions focused on Caliborn; denoting them as sub-intermissions helps make Caliborn's story feel more separate from the rest of Act 6 Intermission 5, and might even make it easier for readers to realize that they're learning the origin of the Felt, the green guys from the intermission.
HEY. YOU.
COMPUTER MAN. I NEED MORE HELP.
No.
COMPUTER MAN. ASSIST ME WITH MORE HOT TIPS.
No!
YES.
I'M HAVING TROUBLE UNDERSTANDING BLUE HAT.
This is a shameful exploitation of our arrangement.
We weren't supposed to talk anymore once you left Earth.
I DID NOT AGREE TO THOSE TERMS.
Every time we talk, you complain that I am being self indulgent.
But you always come back for more! It's like you can't get enough of me.
I think you might be obsessed.
GIVE ME MORE HOT TIPS ASSHOLE.
You only made that caltop so you could talk to me on the go, didn't you?
NO.
Please, don't lie. Who else would you use it to talk to in your solo session? GAMZEE?
I bet you haven't said one word to him through that device. You never even refer to him by his name.
THE CLOWN HAS BEEN AN ADEQUATE PEON. WHEN IT COMES TO DOING THINGS I DON'T WANT TO DO.
THERE IS NO REASON TO SPEAK TO HIM THROUGH MY FUN HELMET.
You should try to be better friends with him.
He basically ditched his best buddy for you.
WHO CARES?
He reveres you, and you treat him like shit.
Caliborn's first conversation with Hussie after leaving Earth goes off to a strong start: first, Hussie accuses Caliborn of being a massive tsundere, then he reanalyzes Gamzee's motives given what Karkat had just said about him. Interestingly, the epilogues have made it even less clear whether Caliborn's version of Gamzee is pre-retcon (as Hussie's self-insert implies) or post-retcon.
YELLOW HAT IS VERY FAST.
AS A MINION HE HAS BEEN VERY USEFUL.
BUT I AM HAVING TROUBLE DETERMINING THE ABILITIES OF BLUE HAT.
Yellow hat and blue hat?
You should come up with better names for them than that.
LIKE WHAT.
Like, I don't know.
Maybe some cool mobster names?
MOBSTER NAMES.
WHY WOULD I GIVE THEM MOBSTER NAMES.
Because mobsters are cool.
THEY DON'T LOOK LIKE MOBSTERS.
THEY LOOK LIKE FUCKING LEPRECHAUNS.
Anyone can be a mobster though. Even cherubs and leprechauns.
Being a mobster isn't about what you look like, it's about what's inside you.
WOW. THAT IS SO PROFOUND.
NOW STOP STALLING AND GIVE ME TIPS.
Here, Hussie is amusingly struggling to get Caliborn to fulfill the predestined event of the Felt becoming mobsters named Itchy, Doze, and so on. There's no reason for the leprechauns to be mobsters just yet in a reality that bends predestination to Caliborn's favor, and Hussie the author seems to be admitting through this panel that how the leprechauns became mobsters is left for the reader to figure out.
Are these the only two you've unlocked so far?
YES.
I HAVE CONQUERED THE SECOND PLANET.
AND HAVE NOW TRAVELED TO THE THIRD.
BEFORE I CONQUER THIS ONE. I WOULD LIKE TO KNOW WHAT BLUE HAT DOES.
He's pretty much doing what he does.
HE SEEMS TO BE STUCK.
IS HE BROKEN.
No. He's just slow.
WHAT.
That's his power.
Yellow hat is fast.
Blue hat is slow.
THAT'S A HORRIBLE POWER.
HOW IS THAT EVEN A POWER.
It just is.
ARGH.
I WAS LOOKING FORWARD TO ACHIEVING MORE POWERFUL MINIONS.
NOT MORE MALINGERING FOOLS TO TAKE UP SPACE IN MY DARK CARNIVAL.
DO THEY GET BETTER THAN THIS.
That depends on what you mean by better.
OH MY GOD.
OK. WE'RE DONE.
BYE.
I love the author's choice of using one-page-long sub-sub-intermissions to reveal the origin story of the Felt, with humorous commentary on a few leprechauns at a time. The end of this mini-intermission is sure to get readers who liked the Midnight Crew intermission excited for the return of more Felt members.
Act 6 Intermission 5 Intermission 1 is immediately followed by a quick look at what the beta kids' surviving sprites are up to. It feels pretty weird at this point that Nannasprite and Jaspersprite still exist, and it's especially easy to forget about Davesprite.
Davesprite lightly touches the fourth wall when he expresses confusion as to why he just executed a callback to Calliope's story segment not long ago.
Hmm, I wonder who could possibly be inside that fridge…
Davesprite goes on to note how strange it is that John Egbert, the protagonist of Homestuck, is sleeping on a couch the moment his crew enters the merged beta/alpha session. Those three years on the ship really took a toll on his mental health.
How odd indeed that John is the one sleeping through the Sburb session instead of Jade. Davesprite unfortunately doesn't care enough about anything to bother waking John up, which is both convenient and depressing.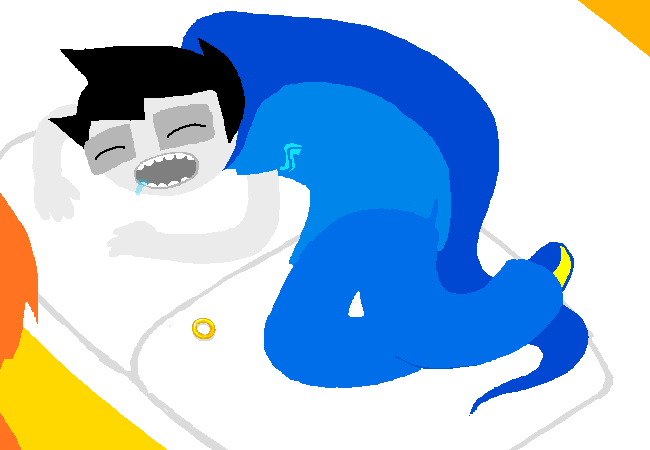 DAVESPRITE: i guess she left already?
DAVESPRITE: maybe there was an emergency somewhere and her doggy senses led her there
DAVESPRITE: maybe someone fell down a well
DAVESPRITE: what do you think john do you think our teen parents fell down a well
DAVESPRITE: nah i sincerely doubt that any of them would be that pathetic
DAVESPRITE: whatever it was it must have been important enough for jade to ditch us like this
DAVESPRITE: either that or
DAVESPRITE: maybe she was that desperate to finally get away from me
Davesprite is right to be confused that Jade immediately teleported away upon re-entering the Medium instead of taking some time to unwind. Jade in the pre-retcon battleship journey turned out to be by far the most on top of things, presumably because she took reasonably well to this smallish amount of company. Weirdly enough, in the post-retcon timeline (whose HORRIBLE treatment of Jade I still don't excuse), it's more clear why Jade ended the trip on top of things: she met dead god tier Calliope near the end of the journey who, if I recall correctly, gave her the guidance necessary to give her hope and prepare her to replicate all her essential actions that happened before the retcon.
DAVESPRITE: between you and me john
DAVESPRITE: i didnt really handle things with her as well as i could have
DAVESPRITE: oh well maybe real dave will treat her better
DAVESPRITE: or not i dont know
DAVESPRITE: i did her a favor cutting bird dave out of her life
DAVESPRITE: nobody really deserves bird dave as a boyfriend or a friend or anything its like getting one of the janky daves from the bargain bin at the dave depot
DAVESPRITE: or one of the marked down daves the day after national dave day
DAVESPRITE: its like somebody taxedermized your dave and expected you not to notice
DAVESPRITE: "feathers what feathers haha no that dave is totally normal and ok"
DAVESPRITE: you should just go back to being bros with real dave when you see him
DAVESPRITE: ill be fine ill just flap around and do my thing alone
DAVESPRITE: im completely alright with that at this point
DAVESPRITE: we had our ups and downs john but all in all it was cool to go on this road trip with you
DAVESPRITE: there were some times man
DAVESPRITE: the times
DAVESPRITE: im telling you they were unreal
DAVESPRITE: i bet you people would pay good money to see every second of the madcap stunts that were going down on this ship basically 24/7
DAVESPRITE: if hulls could talk wow
DAVESPRITE: haha just joking it was seriously boring as hell
DAVESPRITE: but i mean it was still cool so yeah
Oh man, I forgot how depressing this part was. Davesprite uses his absurd metaphors to convey his acceptance that he's a worthless inferior Dave.
DAVESPRITE: hey
DAVESPRITE: whats that ring anyway
DAVESPRITE: ive seen you with that ring before and i guess i was just like
DAVESPRITE: ok john has a magic ring for some reason
DAVESPRITE: no need to mention that or anything
DAVESPRITE: but where did you even get it
DAVESPRITE: you cant even hear me you got your snooze on so hard
DAVESPRITE: aint gonna wake you up to hassle you about no ring
Before storming off, Davesprite takes one last moment to point out a confusing plot point: that John found a magic ring in a dream bubble and proceeded to never do anything with it for a year.
DAVESPRITE: i probably should have said all this stuff when you were awake anyway
DAVESPRITE: like the stuff about friendship
DAVESPRITE: fuck it ill just leave another one of my patented magic notes taped to your shoe or your cowlick or something
DAVESPRITE: my magic notes rule ill miss leavin em taped on stuff
DAVESPRITE: i sure do talk to myself a lot dont i
DAVESPRITE: wow why have i never made this observation
DAVESPRITE: i probably needed to be a bird for exactly three years to finally have that epiphany
DAVESPRITE: i wonder if real dave ever had that epiphany
DAVESPRITE: probably not cause hes not a bird
DAVESPRITE: the bottom line is being a guy whos also a bird makes you think
DAVESPRITE: anyway im out
Classic dramatic irony. Davesprite inadvertently proves through his depressed monologue he isn't as different from regular Dave as he thinks.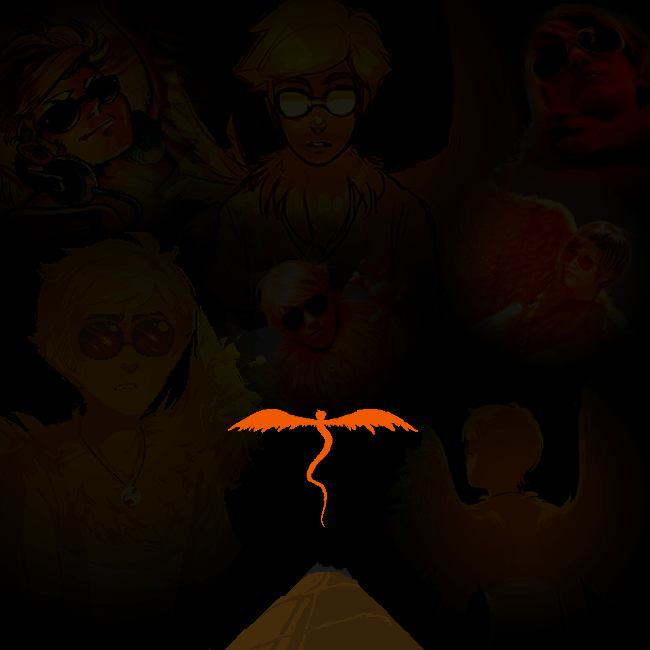 Davesprite ends his little segment by watermarking the sky with scenes of some of his most triumphant moments—watermarks that he knows only John will notice, almost as if telling him to remember the best of Davesprite despite their testy relationship.
Looks like consorts are one of the few Sburb constructs to carry over from normal sessions to dead sessions.
Act 6 Intermission 5 Intermission 2 shows us that Caliborn has made more progress on his planet destruction quest with a rather fun panel. The first four Felt members' gimmicks are all demonstrated in action: Itchy is zooming around at light speed, Doze is slugging off in the background with Gamzee, Trace is calling back to his incredibly confusing past trail thing from the Midnight Crew intermission, and Clover is doing a little dance that we will soon learn serves as a sexual advance. Lil' Seb is dancing around too, rounding off Calliborn's little crew.
I UNLOCKED MORE GNOMES.
I thought they were leprechauns.
I DON'T CARE WHAT THEY ARE.
Ok.
I HAVE NOW CONQUERED FOUR PLANETS. AND HAVE THE SAME AMOUNT OF GNOMES UNDER MY COMMAND.
YELLOW HAT. BLUE HAT. RED HAT. AND NOW PURPLE HAT.
Congratulations.
THE PLANETS ARE BECOMING INCREASINGLY DIFFICULT TO CONQUER.
I ALMOST DID NOT MANAGE TO DESTROY THE PURPLE PLANET. WITHIN THE ALLOTTED TIME.
UNFORTUNATELY. THE QUALITY OF THE UNLOCKED GNOMES HAS NOT INCREASED TO MATCH THE ESCALATING DIFFICULTY OF MY QUEST.
IT SEEMS TO BE JUST THE OPPOSITE. THESE GNOMES ARE SHIT.
What's wrong with the new gnomes?
OK. RED HAT? HE HAS.
*NO FUCKING POWERS AT ALL.*
UNLESS HIS POWER IS TO FOLLOW ME AROUND CONSTANTLY.
Yes. That's basically what he does.
PURPLE HAT IS EVEN WORSE.
IS HIS POWER TO DANCE AROUND ALL THE TIME. WHILE SINGING RIDDLES TO ME?
Yes.
AWFUL.
I love how Caliborn completely misunderstands the Felt's abilities as he goes through them in numerical order. It's a very comical reintroduction to these gimmicky green guys from the Midnight Crew intermission, helped even more by Caliborn's ever-changing terminology.
Caliborn is right that synergizing the leprechauns is difficult: taking down the Felt without Crowbar around was a piece of cake for the Midnight Crew (save for Clover and Cans). Later in Act 6 Intermission 5, we're going to see that Spades Slick, too, can successfully make the Felt more than the sum of their pointy hats.
FINE.
I HAVE NO MORE QUESTIONS FOR NOW.
Hey.
Did you kill that cute turtle?
NO.
But I can see your past trail.
You're standing there holding a gun, and pointing it at the turtle.
OK. THEN YES.
I KILLED THE TURTLE.
Boooooooooo.
Now that I think of it, Trace and Fin probably came in handy for tracking down crimes during their mobster days on the renovated Alternia.
… I guess that's the end of this post! I had made a plan for how to divide Act 6 Intermission 5 into posts a few months back and, sticking to this plan, it looks like this post didn't end up very long, nor did it take long to make—certainly nowhere near as long as my last post by either measure.
See you next time as I celebrate the 100th entry in my Homestuck post series by exploring the wonders of leprechaun romance, plus a completely ridiculous side bit about Caliborn's backstory.